Second Quarterly 97th Engineer Newsletter, 2013:
Updated: May 26, 2013
The last quarterly newsletter left off with an article about Marvin Miller, and now that we have a full web page of photographs from Marvin it is time to share those early TFOD and Vassincourt photos:
OLD PHOTOS FROM THE PAST COME ALIVE: (April 1)
Marvin Miller served at Trois Fontaine Ordnance Depot, France, from 1954–56. He probably arrived in early 1954, and the earliest document in his stack of photos and documents had a date of 15 March of that year. What I also learned from Marvin is that he had four brothers who served in the United States Marines. One of his brothers was a twin named Melvin, but that special sibling is now deceased.
His tour in France started out at TDOD (which was later renamed Trois Fontaines Ammunition Depot) as a munitions handler trained at Aberdeen Proving Ground (APG), Maryland. The US Army Schooling for Ordnance officers and enlisted was consolidated by 1940 at APG that established a single location where all ordnance education would occur. The Military Occupational Specialty code was probably 55B or an 89B.
One of my favorites of the many photos received from Marvin, which includes PVT Webster and James Monaco, also tells a story of our off–duty activities. Mostly, we did whatever occupied our time, as boredom often began after the first few weeks. Many who had motorcycles and cars spent hours tinkering with them, and as a mechanic I was often asked to help out: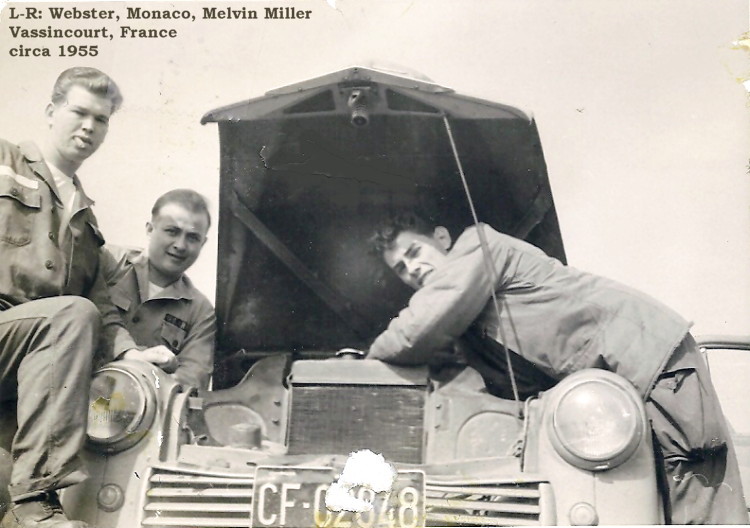 See the link on the left side Great Task Bar, under PHOTOGRAPHS: Photos 15 (TFOD)
A TOTAL FRENCH CONNECTION, MARRIAGE: (April 16)
I know of several families that began their "international togetherness" in France, and although it has been a goal to highlight the successful unions in photographs and stories, but it appears that won't happen as a group. Instead, I would like to highlight one couple who dated in 1965 and have been married since 1966.
Jacqueline Lehallé, daughter of a local Vassincourt land owner, and Lloyd "Moon" Mullins married on 2 July 1966:
There is a "rest of the story" coming, an amazingly interesting background article about Jacqueline's family: father, Hubert Lehalle and mother, Nathala Szymala. I'll be sure to let you know when this is ready for publication, but in the meantime, here are a few more photographs taken of Lloyd and his beautiful bride: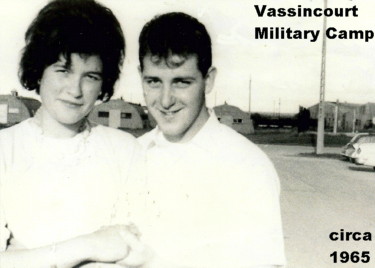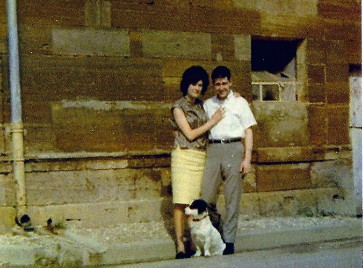 FLIGHT TRAINING AT VASSINCOURT? (April 1)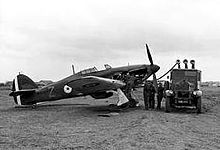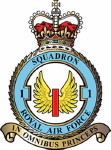 Yes, indeed! We have photographic proof from this following web sites:
Over time, we will also share previously unknown–to–us information regarding Vassincourt, but for now here is an interesting to share that the father of Jacqueline Lehallé also owned the property where the Vassincourt runway existed during the time of this story!
LOST AND FOUND ENGINEERS AND FRIENDS: (April 16)
Whenever possible, I will include in the newsletter anyone who checks in with connection to the 97th Engineers or anyone from the Trois Fontaines Ordnance Depot area. Let's begin with these two email messages (both men are on our notification list):
Love the site for the 97th. It brings back some great memories, although I only served with Company A for a short time, Aug. 1961 to Jan 1962, when I was then transferred to the 529th Ord Co., Massieler Germany. I remember a trip to Paris with Crys Perez , David Morin and a Civilian, who's name I don't remember, but he drove a VW with German tourist plates. I also remember drinking beer with Pvt Locust on the canal bank, only to find out the next day he had (should I say borrowed the beer from club), and the great sausage sandwich from the Polish canteen.

William Stroud
[Send us some photographs, William!]
Hello, my name is Richard Gee and originally a resident of East Orange, NJ. Basic training was at Ft. Dix, New Jersey, and in December 1958 was shipped to TFOD; I returned to the World in June 1960. I want to thank you for some of my best memories. It's funny, but when I first arrived at TFOD the weather was dreary—there was a drizzle of rain and it was cold. I thought I was having a nightmare. However, some 55 years later, I realize how good I had it and what a fantastic experience it was to be a part of TFOD and other posts nearby.

I'm still in touch with Bernadette who worked with me in the Comptroller's Office at the HQ's building. And, my best friend Calvin Vinson, who I met on the troop train to TFOD, is still a part of my life.

Let me know if you could use additional photo's, mostly from the TFOD area, and of course Paris, Amsterdam, Barcelona, etc.. If so, I will need some time to gather them up, and I'll send them to you by email if that's okay.

Rick Gee
[Rick, photos of individuals or significant locations and activities (with explanation) are welcome]
PARIS FROM A REVOLVING CAMERA: (April 22)
Lloyd Mullins sent in a web page that will show you what you missed, if you did not make it to Paris during your tour. Technology is amazing these days, and we all have speculated about what we could have recorded if digital cameras were available back then. Just click on the photograph of the Eiffel Tower, and try all the buttons at the bottom of the photo: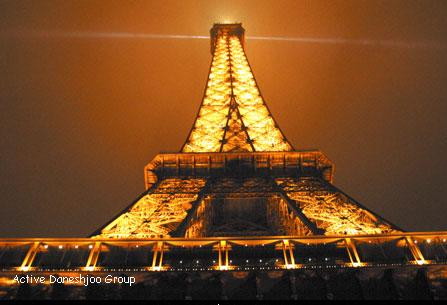 EXCELLENT WRITERS IN OUR GROUP OF ENGINEERS! (April 22)
There are several accomplished writers among our group of Engineers and Friends, and this one is also a very good photographer! Harry Puncec often shares stunning photos of his area of Colorado, but from time to time I am also privileged to read some of his writings. Now that we have a newsletter, it is easier to share his informative and well-written documents:
BRIGADIER GENERAL MICHAEL A. LEPEILBET, USAR, RETIRED:
Like most of us who served in the 97th Engineer Battalion (Construction), Brigadier General Michael A. LePeilbet exhibits a fondness and appreciation for his time spent as an enlisted man while serving with Company C, at Pirmasens, Germany. He recently joined our mailing list and roster, while eagerly providing many historical accounts of his experiences.
Michael LePeilbet served at Pirmasens from mid 1967 until the unit departed Germany in 1968, returned with the unit to Fort Riley, and served there until 1969. Over the next several days, as time permits, I will post his historical input to a web page devoted to house much of the information on hand, including an overview of his military career following active duty.
I might also add that BG Michael LePeilbet actively serves in the California Senior Legislature as a Senior Senator, a very important post that continues to support policies that improve the quality of life for aging Californians.
We welcome the opportunity to post material from BG LePeilbit's early years with the unit, as an enlisted man, and to highlight many of his accomplishments following his tour in Germany. Welcome to the 97th Engineer Battalion web site, General LePeilbet, and thanks for the chance to also help document some of the last events of the unit's service in Europe: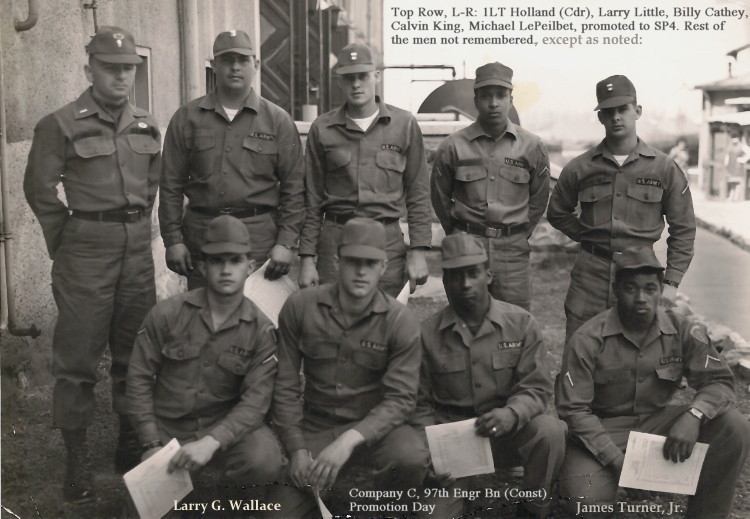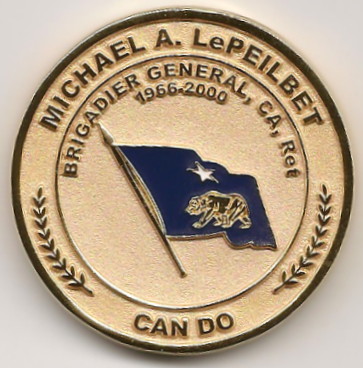 More coming soon!
97TH ENGINEER BATTALION CREST COMING SOON!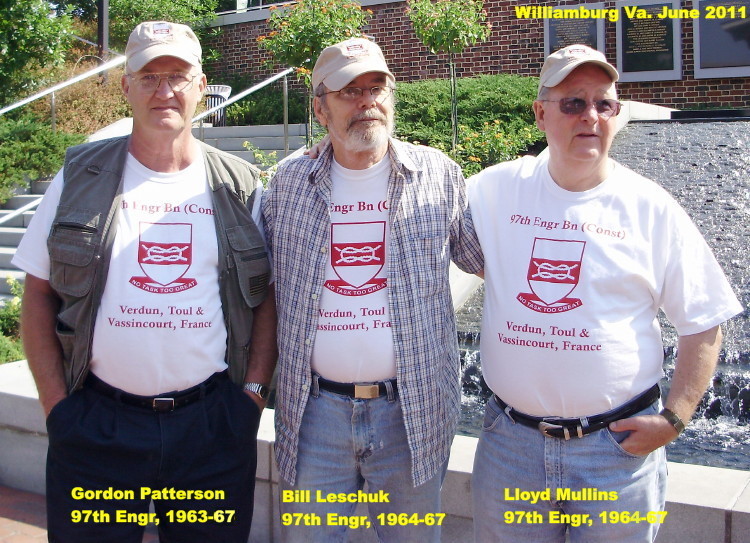 While the unit crests displayed above on the hats and t-shirts of Gordon, Bill, and Lloyd, you can have a miniature version of your own. John Neil Jednoralski, who served with the 97th Engr Bn (Const) at Fort Riley, Kansas, July thru November 1970, before going to Vietnam, now has 16 sets of battalion crests requested and will place an order that will total 25 sets. Anyone desiring a set can contact Neil at Jednoralski Enterprises: jednoralski.enterprises@cox.net.


Yes, if we can come together and have another reunion, we will have more shirts and hats made for the event. The next version will be entirely correct in listing locations.