for
220th Reconnaissance Airplane Company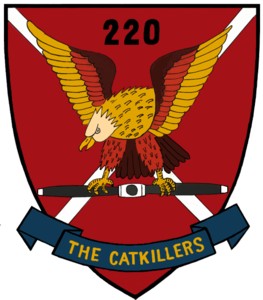 "Catkillers"
and Family,
and all Friends and Brothers in Arms
in memory of those who have served
E-MAIL LIST UPDATE:
Welcome to Gary Tragesser, Mike Donnick, Kenneth D. Wiley (Catkiller 26; no e-mail), and Robert Andrew Bergren (Catkiller 16).
The latest e-mail listing, Catkiller Group Mailing List, is available in text format, if needed. E-mail CATCOM EdPub or Bob McComiskie for a copy.
CATKILLER REUNION:
To restate the specifics: 220th Reconnaissance Airplane Company REUNION
When:
October 19, 20, 21, 2003
Where:
Palace Station Hotel & Casino
2411 West Sahara Ave
Las Vegas, NV 89102
(Reservations) 800-634-3101
702-367-2411
Staff:
Reunion 6 - Paul V. Brennan
Reunion 5 - John Hillman (Executive in Charge)
Reunion 4 - Jerry Bonning (Logistics) Rooms, hotel, meeting rooms, banquet
Reunion 3 - Jerry DiGrezio (Operations; notifications, etc.)
Keeper of the E-List - Bob McComiskie (send your changes and updates to Bob)
Newsletter- Don Ricks
Golf One-Joe "Beans" Brett (Sundowner Yankee)
GUEST SPEAKER: We hope to have an announcement soon.
We have reserved a block of rooms under: "220th RECONNAISSANCE AIRPLANE COMPANY" (CATKILLERS). Please state this when you make your reservations. Cost of rooms: $69 per night. You can make reservations now! Contact Paul V. Brennan (Reunion 6) with questions, suggestions, and recommendations.
REUNION RECON (ADVANCED PARTY):
Some members of the planning committee are meeting at Las Vegas in June, as an advanced party to gather information and make necessary arrangements, and anyone who wants to come is invited. The dates are June 6-8, at the Palace Station Hotel. If you plan to attend and want reservations, just mention the Catkiller Reunion and seek the same room deal we have in October. For further information, contact Jerry DeGrezio, Jerry Bonning, John Hillman, or Paul Brennan.
REGARDING CONTACTS WITH FORMER CATKILLERS NOT ON THE E-MAIL LIST:
If you know of other former members of the 220th RAC who are not on our mailing list but who might have an interest in attending the reunion in October, please do all you can to encourage their participation. If nothing more, you could let them know about our web site and newsletter. We need each of you there, in Las Vegas, to have an enjoyable, all-inclusive reunion. We were brothers-in-arms, members of an unique aviation unit, and jointly bound in history by experience and circumstance. No matter what our rank or position, each member was important to the mission (there is a sobering analogy to this statement that uses a tiny cotter pin as a teaching point to spotlight the importantance of individual attention to detail required to win a war). Please note, too, that none are wearing insignia of rank, or boasting of a loftier position than another. No, on the contrary; we recognize how good it is to have the privilege of making a hotel reservation, making the trip to Las Vegas, and finally meeting and greeting one another, on a first-name basis. We also look forward to honoring those who did not make it back or who will not have a chance to make their decision to attend. Please phone or write to that missing Catkiller, and personally invite him to our/his reunion for some good fun and fellowship.
ANNOUNCEMENT IN U. S. ARMY JOURNAL:
There is an announcement of our reunion posted in the above journal, and the link is:
MOTORCYCLE RIDE IN (OR TOO) VEGAS, ANYONE?:
Jerry DiGrezio mentioned something about taking a poll for interest in renting motorcycles for a ride during the reunion. There are several points of interest north, south, and east, and the fresh air and scenery would be enough to interest any who ride. If you think this is a good idea, let Jerry know. My own plan is to ride my Goldwing all the way from Tennessee (wife will fly), and Don Pepe said he might make that trip, too. With enough interest, we can have a formation of (slightly older and hopefully more mature) Catkillers flying low, again. A short ride up to Mount Charleston Wilderness Area (northwest), Hoover Dam (south), or a longer ride up to Zion National Park (about 160 miles, one way, to the northeast) might suit your roaming spirit. My wife and I enjoyed a rental car side trip up to Mt. Charleston on our last visit, but a trip down to and inside Hoover Dam might also peak your interest. Have water, will travel! Thanks for the suggestions, Jerry! DMR.
CATKILLER HOME PAGE:
Don Ricks has a photo page that has a link to Scott's Catkiller Home Page: Within the last month, I added several photos.
Again, there are new photos posted, including three of Alan O'Hollaren.
CATKILLER CREST:
Perhaps some of you more detail oriented readers might notice the improved version of the Catkiller crest (graphic name is ckcrest.jpg) atop this page. I spent about three days reconstructing and painting this graphic for a special purpose. We all own this crest, so feel free to use it as you desire. There is no copyright on the item.
The special purpose I have in mind is to produce stickers and transfers, both simple colored and reflective type, and I am in contact with a company in California that will produce a test run of these stickers for evaluation. I will cover the cost of the initial investment and will offer the items at cost, plus mailing, to anyone who desires to have one or more. The initial setup costs seem fair and reasonable, and later on the more I order the less they will cost.
While my motive for undertaking the project is for my own personal use, I believe you will be happy with the results and will want to order some for your children's (or grandchildren's) book bags, etc., your motorcycle, helmet, automobile window or bumper, or whatever. I will make up an HTML briefing page, with a photo of the results, when I receive them. Don Ricks
CATKILLER HISTORY:
Typical letter sent to relatives, from the commander, upon assignment to 220th RAC (courtesy of Johnny Moore):
220th Reconnaissance Airplane Company
212th Combat Support Aviation Battalion
APO 96308
2 Nov 1968
Mr. and Mrs. J. T. Turnbow Jr.
Box 171
Leachville, Ark. 72438
Dear Mr. and Mrs. Turnbow:
Your son, Jim, was assigned to my unit...on 1 November 1968. The company is located at Phu Bai, in the northern part of the Republic of Vietnam. Collocated in this part of the area are elements of the 101st Div, 1st ARVN Div, US Marines, Navy, and Air Force.
The 220th RAC utilizes the O-1 "Birddog," a light, single-engine, reconnaissance aircraft. This unit has been in Vietnam since June 1965, and is known throughout Vietnam as the "Catkillers." We support the XXIV Corps in their area of operation by providing day and night visual reconnaissance.
While your son is with this unit, be assured that he will have available the best food, clothing, and medical care the Army can provide.
If you ever have any questions or require my assistance, please feel free to write me at this address:
Commanding Officer
220th... [RAC]
APO San Francisco 96308
[signed]
James M. Wisby
Major, Infantry
Commanding
UNIT ORDERS, LISTS AND OTHER DOCUMENTS:
Thanks to Johnny Moore, here are abstracts from a few unit orders. These names might bring back or and reawaken your lost (suppressed) memory.
Unit Orders No. 74; 220th RAC, dated 18 September 1969; signed by Raymond G. Gebhardt, MAJ, IN: [extract]
Paragraph (Para) 1. Individuals (SSAN omitted) authorized to start, warm up, on the ground, type aircraft indicated: O-1
SP5s: Ervin F. Bradley, Francis Fetera, Felipe P. Garcia, and Johnny C. Moore
SP4s: Gary N. Anderson, Billy W. Bebieff, Tony C. Boothby, Daryl R. Broberg, Randolph A. Brown, Louis C. Chaki Jr., Sergio Chong, Barry L. Kime, Joseph N. Robinson, William A. Snyder, and Leslie G. Whalon.
Individuals authorized to taxi O-1 and U-6 aircraft during night and day hours:
SP5s: Henry R. Wessels, Wayne Woytowich.
Para 3: Following individual appointed:
Robert M. Boutwell, ILT, IN, appointed to Property Book Officer for 220th RAC and 134th Medical Detachment, APO SF 96308
Unit Orders No. 195, Hqs., 212th Combat Aviation Battalion; dated 24 October 1969; signed by Paul J. Florio, MAJ, IN: [extract]
Para 3: Aircraft Crewman Badge awarded (220th RAC):
SSGs: Kenneth W. Miller
SP5s: Johnny C. Moore, Felipe P. Garcia, Leslie G. Whalon, Barry L. Kime.
SP4s: Tannie Ellison, William Snyder, Joseph N. Robinson, John Vandever, and Randolph Brown.
PFCs: Dennis W. Plante and Keith A. Suffield.
Assigned to 220th RAC: Larry D. Oltjenbruns, 1LT, AR [Catkiller 40].
Para 4: Appointed Investigation Officer: Daryle A. Wesley, CPT, FA, 220th RAC. To investigate US Army aircraft accident involving 0-1G airplane, serial number 51-4810, 21st Avn Co, on or about 0215 hours, 23 Sep 1969.
Special Orders 157, Hqs, 212th CAB, dated 15 August 1969, signed by Paul J. Florio, MAJ, IN: [extract]
To be SP5: Charles M. Cole, Wayne Woytowich, and Johnny C. Moore, all of 220th RAC.
More abstracts to follow next month.
EDPUB MOVING:
Don Ricks has a sales contract on his home and will move by the end of the month (with no place to go, yet), so hold on to items for the April CATCOM (but which I will still TRY to publish). I'll be busy doing relocation duties, but there is no change in e-mail address or cell phone number. I'll still be reading e-mail traffic, via a laptop.
Paul V. Brennan Donald M. Ricks
Reunion 6 CATCOM EdPub
Atlanta, Georgia Pleasant View, Tennessee