220th Reconnaissance Airplane Company




First Quarterly 2007 CATCOM E-Newsletter
updated March 30, 2007 (morning)




"Catkillers"
and Family,
and all Friends
and Brothers in Arms,
in memory of those who have served
NEW CATKILLER PHOTO PRESERVATION EFFORT
I have not found the time and energy for this project, so it will not get accomplished in my time.
FOUND CATKILLERS AND E-MAIL ADDRESS CHANGES:
New email address for Glen Troha, Catkiller CrewChief, send in by Grayson Davis.
catkillercrewchief@gmail.com
CONDOLENCES FOR BOB MCCOMISKIE'S SISTER:
This sad news comes from Jerry DiGrezio, informing us of the death of Christine Stephanian, the sister of Bob McComiskie. Our condolences go out to you, Bob, and God be with you. We know this a difficult time for you and your sister's family:
"Brothers,

I regret to inform the Catkillers that Bob McComiskie lost his sister last night to leukemia.

Her name was Chris Stepanian and tentative arrangement are being made by the R. L. Farmer Funeral Home in Haverhill, MA.

Please contact me if you require any additional information.

Jerry DiGrezio

Catkiller 25/3"
Christine (McComiskie) Stepanian

January 31, 2007



Mrs. Christine (McComiskie) Stepanian, 49, of Groveland, passed away Wednesday surrounded by her family at the Beth Israel Hospital in Boston.

She was born in Lawrence, May 16, 1957, daughter of the late Robert and Anne (Thomson) McComiskie.

Christine was educated in the Pentucket Regional School system and received her Bachelors Degree in Business from Franklin Pierce College.

For the past 10 years she had been employed as the Transportation Manager for Parlex Corp. in Methuen.

Christine enjoyed hosting family gatherings for all occasions, her home was open to all. She also enjoyed traveling, gardening, cooking and golf. Her dedication to family, kindness of heart and unfailing perseverance were an inspiration to all who knew her. She was so greatly loved and she will be so dearly missed.

Her survivors include her husband of 28 years, James S. Stepanian, two daughters Anne Stepanian and Christine K. Stepanian, all of Groveland, 2 brothers and a sister, Robert and his wife Nancy J. McComiskie of No. Andover, Anne W. and her husband Jon Howland of Groveland, John and his wife Jill A. McComiskie of Groveland, aunt, Jeannie Thomson, cousins, Alec and Ursula Thomson, mother-in-law, Charlotte E. Stepanian, brother and sister-in-laws Robert and Lori Stepanian, Patricia Jaffarian, Steve and Stephanie Stepanian, Scott and Coralie Stepanian, as well as nieces and nephews, Sean, JR, Jen, Michael, and Monica McComiskie, Jaime and Steve Harper, Megan Belair, Michele Jaffarian, and Joshua Gleason.

Relatives and friends are respectfully invited to her Funeral Tuesday at 11:00 at the H.L. Farmer & Sons Funeral Home, 106 Summer St. Haverhill. Interment will be at the convenience of the family.

Calling hours at the Funeral Home will be Monday from 4-8 pm.

Contributions in her memory may be made to the Leukemia Society, 495 Old Connecticut Pass, Suite 220, Framingham, MA, 01710.
CENTRAL FLORIDA TORNADO CONCERNS:
Some of our Catkiller brothers and their families might have been effected by the recent tornado. We have heard from Sarge Means and Stephanie, and you can read the e-mail below. If you know of anyone else affected (certainly if they need assistance), please let us know:
All:

We said we thought we'd found Paradise; we didn't know it would be close to being for real!

We appreciate your calls and concerns; we never knew so many people thought they were in our wills!!!

We are VERY fortunate, and blessed. We had our bedroom windows blow in -- just as I looked out to check the size of what I thought was basketball sized hail -- and the screened-in lanai was damaged. Of course, our five new palms leaned over, but can be uprighted. We have two lawn chairs somewhere in The Villages, we know not where!

We are into day three without power; that tuna is goin' taste pretty gamey!!! We are fortunate in that we have gas for stove and hot water so are well fed --see above!!! -- and clean. (a real positive for Steph!!!) Our "land line" phone is working and we're trying to call many of you on it as we try to conserve cel phone batteries. (They are charging right now as I use the plugs here at the support center.)

I drove around the neighborhood this a.m. About 100 feet from our house two houses are completely leveled. One in between them only had roof and side of house damage. It was unreal. A half mile from us is probably what many of you saw on t.v. It just looks like a swath of destruction ran right through. We called a gal friend last night and she lost everything. She was standing in her living room when a fireball came in the back, went straight thru the house and out the back. The report from our closest country club/restaurant is that the kitchen was in the parking lot. Guess that means it's take-out only for awhile!!

What's eerie is that we can drive the mile to the town square and life is going on as usual; dancing and singing in the square, restaurants and shops open, and golf carts running around everywhere.

Gotta sign off, someone else needs to use the computer. Hope to "converse" with you from home screen e'er long.

Love to all.

Sarge and Steph
UPDATE CONCERNING SARGE AND STEPHANIE:
Catkillers:

I first stopped by the villages to see Sarge Means and wife Stephanie and the damage they suffered by the tornados that hit them recently. They were lucky as many houses nearby were completely destroyed; both are doing well.

Later I was in Melbourne and stopped by late one evening to see John "Bear" Kovach and his wife, Beverly. They both looked great.

If these photos are filtered on your server, let me know and I will send them as attachments.

Charles Finch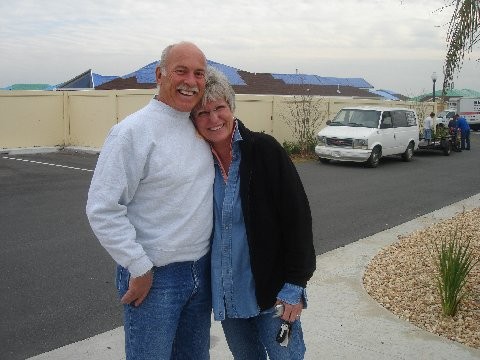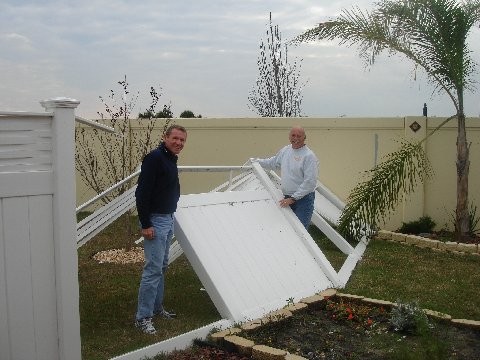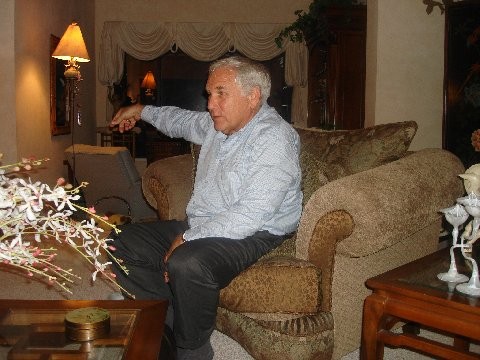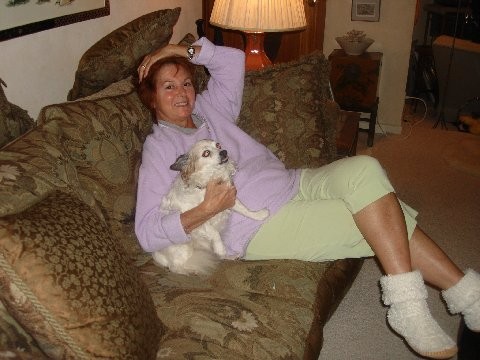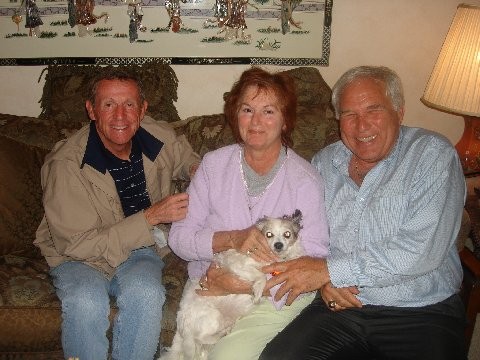 NOTE FROM JOHN HILLMAN:
As you might know, John Hillman has experienced a relapse and is again under his doctor's care. He sent this note yesterday, and when you are in prayer please include our well-loved brother, John (and his ex-wife Riga), in your petitions and prayers. May God bless and keep you, John and Riga:
Don:

Thanks so much for the offer of help, I appreciate any help I can get from the MAN upstairs. I don't mind if you mention it in the newsletter. This development was not unexpected, it's the nature of this type of Cancer. I was told long ago this would occur, the doctors were right apparently. I simply view this just like a chip light in the tri-boarders area........acknowledge the problem, formulate a plan of action, implement it, and if the plan was good, the results should be the same. We have no control over the hands we are dealt, all we can do is play them to the best of our ability. Being a " glass is half full person, " I believe this is but a little bump in the road which I will overcome.

Don, thanks very much for your thoughts. I hope this note finds you in good spirits and good heath. You and all my other brothers are in my thoughts often.

John
GOOD IDEA FOR HOME PROTECTION:
Grayson Davis sent in this hot tip for home intrusion alarm enhancement (thanks, Grayson!):
Put your car keys beside your bed at night. If you hear a noise outside your home or someone trying to get in your house, just press the panic button for your car. The alarm will be set off, and the horn will continue to sound until either you turn it off or the car battery dies.
ANYBODY KNOW OF A CATKILLER 39, FROM 1967?
This message came from Dick Tobiason, Catkiller 26 (dtobiason@bendcable.com). How about it, Jim Wall, was there a Catkiller 39?

[Note from Jim Wall: Going to meet Rob Whitlow om 3-10-07, a marine back seater who flew numerous missions with me. He is bring his flight log. Maybe we can determine who catkiller 39 was. I am thinking it might have been Rick Vance, but am not sure. Will let you know latter. Jim Wall catkiller 38]
"Do you have a way of finding out the name of Catkiller 39 (Aug. 19, 1967)? My brother was an F-100 pilot (Phu Cat) and lead a flight of 3 Huns missions there that lead to a Silver Star for him and a Medal of Honor for USMC Capt. Stephen Pless for rescuing Army CH 47 flight crew members.

CK 39 was involved early in the mission and relieved on scene by a USAF FAC. I was medevaced from Hue five weeks before the mission.

Thanks,
Catkiller 26
ROD STEWART GOING TO VIETNAM, AGAIN:
Dear Catkillers, Headhunters, Seahorse, Devilguns, Doggies, Ringnecks; Leathernecks, Squids - and other like past playmates:

It has been many long years, but I am going back to Vietnam to see what I will see. Leaving in a week and will come back when I am damn well good and ready - but am planning on at least a month - and then who knows. Jean is going too and will keep me out of trouble (where was she back then!)

If you have comments, interests, or items for me to look into - feel free to drop a line. As I had the opportunity to see a lot of the country in the 60's and early 70's, it will take some traveling to re-view what needs to be re-seen. After all these years and still humpin a ruck!

I will attempt to do email and even post some Dispatches up on the web. If you want me to alert you when something new is up - let me know and I will add your email address to that list.

Di di mau!

Rod Stewart
Seahorse 16
Catkiller 13
Headhunter 13
Manifest 6
RODonIsle@aol.com
DISPATCHES FROM VIETNAM, FROM ROD STEWART:
Dispatch #1

Dispatch from the Gate 94

Things have changed a bit since the first time I packed up to go to Vietnam. My budging canvas cylinder of an army-green duffle bag has turned into an hi-tech red nylon case - complete with wheels - in hopes that some of the country has been paved. But this bag also has shoulder straps - I guess need for a rucksack was permanently ingrained in me at the Infantry School.

Instead of a packed pile of olive drab cotton fatigues, towels and skivvies, a helmet and nomex flight suits - I now have easy drying micro-fiber shirts and rip-stop trousers with zip off legs - made in Vietnam. My shoes are rot-proof synthetics that Velcro tight over support stockings - a G-suit for the 19 hour flight. 60 years and 45 pounds of baggage this time. The last time, at 21 years, I was hauling the weight of my world.

That first flight was on a tired government charter by World Airways. We made two stops crossing the Pacific for fuel and visits to some other American conquests - Midway and the Philippines. I flew tiny spotter planes in Vietnam. Today's plane is a huge 747, which is longer noise to tail, than two of my flights in Vietnam. I was not always a careful pilot, and you taxpayers got the bill.

The departure lounge is full of faces of the new America. The ear picks up tonal dialects of Southeast Asia, the harshness of Koran, and choppy gate of Japanese and Mandarin - interrupted by those speakers switching into English as needed.

Many Vietnamese wait to board. Young businessmen - and women, with Blackberrys and briefcases; students in shabby style; and a pair of red robed monks copying my hairstyle. At least my bare scalp is the same this time - but now more naturally so.

I can only imagine the changes to Vietnam that have passed since I last left there as a scared and cynical soldier. Those years of combat represented a major portion of my then adult life, and undoubtedly altered me, for better or worse, away from the life I would have otherwise lived. Pointless to ponder.

So now I sit jammed in a frequent-flier's economy seat with far less room than I ever remember. The headrest in front is reclined into my keyboard. My knees grind into an inflight magazine. It would be funny if not for the little paper napkin (that outweighed the pretzels with which it was served) which read: "United has the most leg room of any US carrier." We HAVE changed. A plane full of our infantrymen, accustom to more roomy foxholes, would have rebelled.

But this old traveler just looks out the window onto the largest thing on earth. I will cross the Pacific Ocean in the span of 4 hit movies and 5 meals that surpass the finest C rations. I naively had no fear the first time I crossed this ocean on my way to war. The last time, I knew better and was rightfully apprehensive. This time, I fear only that, like America and Vietnam, I have changed too much for this to be the adventure it should. Tomorrow night we land in Saigon, and then we shall see.

- Rod en Route
*************************************************************************************************
Dispatch #2

Dispatch from Tan Son Nhat Something was abuzz as we exited the terminals arrival area. Customs and Immigration had been painless, and with bags in hand, we found a sea of faces - all turned to us as we open the double doors into the late night heat.

Tan Sun Nhat airport no longer has its squadrons of US Air Force jets, but their huge concrete hangers are still there. The ramp where I first climbed down into the humid heat bomb of Vietnam is now covered with US built Boeing airliners, from all over the world. 40 years of change for the better.

We pre-booked a hotel off the web and airport pick-up was included, so we scan over the heads of the shorter Asian crowd for some type of shuttle bus or van. A group of white faces, Brits by the look of them, lean on their bags appearing to wait for another of their group - but instead they were looking for me! or they thought they were. Behind them stood a man, holding up a sign on a long stick that read Welcome to Vietnam Mr. Rod Stewart. After a 19 hour flight, this was a very welcome sight to us but not to those tourists. A collective groan went up as this balding American and his jet lagged wife turn out NOT to be the rock star and consort they had hoped for. We piled into the hotels sedan and headed into the heart of the city.

Saigon is not as I last found her; she is now 6 million and growing. The ubiquitous smell of the GIs burning their crap with diesel fuel is happily absent. Starbucks has not arrived, but a Gucci Coming Soon was plastered across a storefront. Now officially called Ho Chi Minh City, she is not just another big city not yet. Bicycle rickshaws are still about, but the 3 to 4 million Honda and Vespa scooters have replaced the bicycle. Toyota sedans can't be far behind. The beautiful girls ride past, not in the gorgeous flowing silk au dai dresses and conical hats that I had admired so much - but in designer jeans and pant suits, chatting away on cell phones. The traffic is epic.

Our driver is Tuan, who no sooner finds we are Americans than announces he is anti-communist and a Catholic. He was in the Vietnamese Rangers during the war and agrees, almost wistfully, that that was a long time ago, when we were both very young. Many ex-soldiers here put their English skills to good use in the tourist industry. It is lucky break that I learned English as a youth as my lack of language gifts are again reinforced. My phrases of Vietnamese have been mostly forgotten. I love hearing Japanese and Germans settling their hotel bills using my native tongue. Kinda makes me feel like a Latin speaker during the homogeny of the Roman Empire.

It is Friday night so we try to walk off my spinal kinks by joining other couples strolling along the Saigon River. My back injuries flaring up as I return to the land of their birth seems an ironic form of Uncle Ho's revenge. 19 hour flights are not an advance of civilization.

The Saigon is one of 9 navigatable branches of the Mekong River. On our first morning, as soon as we can negotiate a breakfast bowl of pho noodles and a cup of Vietnamese coffee, we will hop on a bus heading south, to start our journey on this mightiest of Asia's rivers.

- Rock Star Rod
2007 QUIET AIRCRAFT ASSOCIATION (QAA) REUNION ALERT:
Our 2007 QAA Reunion will be in the Dallas-Ft. Worth (DFW) area during the middle weekend of October.

A recent tornado in the Ft. Rucker area (Enterprise, AL) negated our plan to reunion there for 2007.

The Ft Rucker, Alabama, USAAM local area of was heavily damaged in the storm. Rebuilding will take an unknown amount of time. Motels/Hotel rooms and other facilities might be needed by dislocated persons, construction, insurance, disaster relief and other workers at the time of our reunion. They could be unavailable; or at best, scarce. So, we will not impede their efforts with our pleasure trip and postpone our visit there..

More reunion information will be posted by email, letters and on our websites: quietaircraft.org, prizecrew.org, and YO-3A.com

Note: The DFW area has a wide variety of facilities and attractions, it is centrally located, and is accessible by major highways and commercial transportation.

Dale Ross Stith
President, Quiet Aircraft Association, Inc.