This page now complies with W3.org's requirements for HTML codes/CSS styles (see Cat Bar certification tags).
This is a repeat from previous quarterly newsletter, but the link is important enough to keep atop this newsletter. Our link to Catkiller group reservations page at Penn's Landing in Philadelphia is below the photo. You may begin making reservations using the link: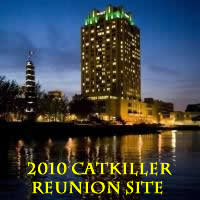 Click below to access these important links:
2010 CATKILLER Hotel RESERVATIONS Site
In the lower right hand corner of Hyatt Hotel wed site photos are usefuul links to further information. On the first page photo is a link to seventeen photographs of various hotel areas, and another to a nicely done fact sheet regarding the hotel. Look around the site, and when you see a photo, check the same lower corner area for other links.
Make your reservations anytime you desire, the earlier the better.
Sandy Drechsel has provided a very useful and important interactive communication site for reunion business and information. Please click on the link below. This site contains the original announcement, a survey, and will in the future contain any other official announcements or initiatives in support of the reunion committee's efforts:
back to top
Sandy Drechsel published the 2010 Catkiller Reunion Registration Form, and you will need Adobe Reader—which is a free download. If you don't have Adobe Reader, please click here, download the free software, and install it to your computer; then you should be able to open the file with no problems. If you can't open them and would prefer them faxed or mailed, please contact Sandy at this link.
When you have firm plans to attend the reunion, please send the editor, Don Ricks, an e-mail and he will add a

red star beside your name on the online roster—which indicates you will attend. Your support and attendance could mean others will want to also attend and meet with you. We are going to have a great time!
Thanks for all your hard work, Sandy!
back to top
This might be a found Catkiller. A message was sent to Stan Bloom asking if he was a Catkiller. Regardless, this video is amazing to watch:
This 3300 ft strip near Danang is where I flew L-19 Bird Dogs when I was in the Army. That length is fine for my airplane but not so easy for DC-8s. This incident happened about a year after I was there. I still cannot believe the Seaboard World charter pilot got his airplane safely in there and out again. I understand the Flight Engineer got off the airplane after getting the engines started to save additional weight.

Stan Blumm

Seaboard World Charter Plane Lands At Marble Mountain
---
Original Catkiller Stuart Miller checked in and will attend the reunion. The roster was updated to reflect new information available.
back to top
The following e-mail addresses bounced during an e-mail check on January 6 and were removed from the editor's notification list. If you know of valid contact information for these persons, please contact the editor:
Alec Knight (CatkillerClubs) (alec.knight@sbglobal.net)
Gene Hayes (Catkiller10) (hayes2934@bellsouth.net)
George V. Quiggle (CommoClerk) (ethel@csinet.net)
Herb Johnston (Catkiller) (HERBNBB@JAM.RR.COM)
back to top
This request for information is from Dale Robertson (aka Warrior Six), a former member of the 131st. His request was also passed to the webmaster of the 219th RAC. Dale's e-mail address is: dalewr99@hotmail.com
"I'm an old Mohawker and flight school buddy with Vic Wood and Charlie Liffick, from the 219th "Head Hunters." If anyone has any info on either, I'd appreciate an update. I know Vic was shot down or crashed, circa '70—'71, but I do not know the particulars. Vic is said to have passed away in December '82, from those injuries. Anyone having knowledge of specific events, please update me. I lost track of both after flight school.

Thanks, Dale Robertson(Spud 11)"
---
"I was a O-4 serving as Headhunter (HH) 16, from Jan. 1967 — May 67. LTC Richardson's cut a deal with me — if I would serve as his S­1 at the 223rd Avn Bn, through Aug 67 (and extend a short while which happened to take me through Tet 68), I could then move back to Pleiku as Headhunter 6, on 1 Sept, a deal I didn't pass up.

While HH 6, a good friend, MAJ Gary Clark, was Catkiller 6. We visited back and forth with each other a few times, but I lost contact with Gary and Barbara. As I recall, he (or Barbara) was from New Mexico, Do you have any info on them? [If anyone has any information on Gary Clark, please contact Fletch Maffett.]

With my thanks and Best Wishes for the New Year,

Fletch Maffett
Col US Army (ret)
843-379-7605
83 Petigru Dr
Beaufort, SC 29902"
---
CPT Mike Potter, an Air Defense Artillery officer, sent in two messages regarding his history in Vietnam. Some of our members might remember Mike, and his experiences are certainly familiar when compared to the AOs who flew with us. Thanks for the input, Mike.
"I just finished A Hundred Feet Over Hell, by Jim Hooper. I spent hundreds of hours as an aerial observer in the same area flying out of Dong Ha and Camp Carroll for the 108th, the 1st Arvn Regiment, and the 101st, and sad to say I didn't know much about the Catkillers. It's a great book, and one of the few that talks about northern I Corps other than Khe Sahn. I enjoyed learning about your men very much. Thanks for such a great web site.

I never did fly with the Catkillers. I was an ADA 1LT when I arrived in 9/69, assigned to the 8/4th Arty in Dong Ha. I was detailed to the 108th Arty, originally in the Fire Support Coordination bunker at Dong Ha. I bunked with the aviators, and they were a very rowdy group. When not treated like a mushroom in the bunker, I would catch a ride with the 108th choppers to help out as an AO. After 3 months I was assigned as the 108th Arty Liason to the 1st ARVN Regiment, at Camp Carrol. I flew almost daily missions as an Arial Observer, using 108th choppers and occasionally went out as an Forward Observer in support of the 1st ARVN Regiment. Occasionally I'd get a call from the 101st Airborn when they would have need of Arty support south and west of our AO, like when they lost one of their Generals sightseeing in an OH-6 north and west of Khe Sahn. My call sign was "552". After I was promoted to CPT, I took over command of B Battery, 8/4th Arty (175mm guns) in C2, until I left in the fall of 1970 to go back to school and pursue a new career. I retired from the Army the end of 1987.

blessings,
Mike Potter"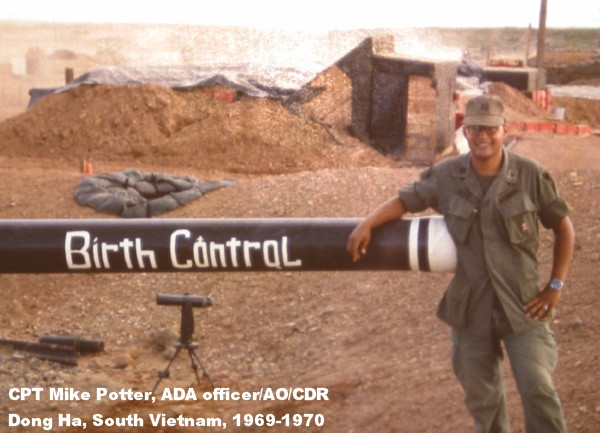 ---
This e-mail came to us from Peter Henderson, via Jim Hooper. For anyone who remembers Peter, we have his e-mail address:
"Dear Mr. Hooper, By way of introduction, I was with the 82nd Airborne Division and flew the backseat with the Cat Killers from July-September of 1968. I have read your book, "A Hundred Feet Over Hell" and it has, of course, brought back many lost memories.

Would it be possible for you to sign the dust cover of my book? If so,please forward an address, and I will send it to you with a self-addressed envelope.

Please thank your brother from us "80 deuce" troopers for his service.

Peter Henderson
Third Brigade
82nd Airborne Division
1968"
back to top
Gene Wilson, Catkiller 5/3, recently wrote a significant historical essay of activities within the unit from June 1966 to June 1967. He is also responsible for a significant increase in roster additions, based on his personal records and recollections, which are supported by his experiences of reviewing many enlisted and officer efficiency reports and flight records. I cannot recall any other document revealing as much as this one — and we salute Gene for his efforts to get this information into its proper place. Gene encourages and we hope that some of these bullet statements might later be expanded by input and additions by others.
Due to another reunion commitment over the same weekend, Gene will not be able to join us in Philadelphia this year. He does wish to send his best regards to all Catkillers at this special occasion. And he does want to be sure that he can purchase a 220th RAC "Catkiller" shirt to show off at the Aerial Rocket Artillery (ARA) Association reunion, which includes his 2nd RVN tour unit, the 2/20th Artillery (ARA), 1st Cavalry Division. Thank you, Gene! (Notice his allegiance and calling to 2-2-0!)
Now for some of the "missing" history (that is the original unit patch above):
1966:

"Most of us replaced originals who had taken the 220th from Fort Lewis, WA to RVN in 1965 — guess that would make us the second team of Catkillers, to be followed by many more — all of whom made their place in Catkiller history.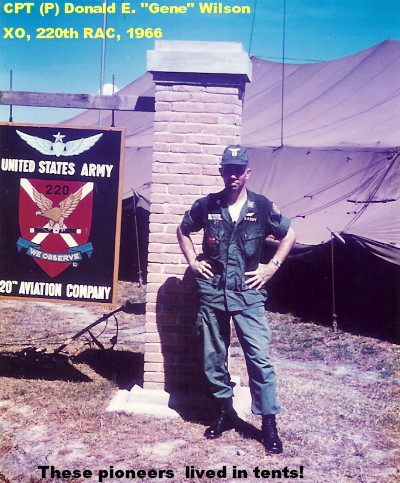 MAJ Bill Schmale, our CO and original XO, had extended his tour in order to command the unit. With his experience from the formation of the 220th at Fort Lewis through the deployment, digging the first foxholes at Phu Bai and weathering the northern Monsoon and the first battle of the Ashau, we were guided well and quickly found our places on the flight lines and in the air.



The 2nd Plt and Company Hq were heavily involved with in the 3rd Marine Division in Operation Hastings north of Phu Bai which resulted in being included in the Troop List for the award of the Navy Presidential Unit Citation.
The 3rd Plt in Danang/Marble Mountain later worked closely with 1st Marine Division in their AO south of Danang and were also included in the Marine Troop List for another award of the Navy Presidential Unit Citation.
3rd Marine Division (Fwd) in Phu Bai [based in Danang] soon became HQ 3rd Marine Division at Phu Bai.

As soon as MAJ Schmale unshackled me and let me stray a bit from the XO's desk and the Orderly Room, one of my initial objectives was to visit each of the platoon locations. I quickly learned why the 1st Platoon in Quang Ngai was often called the "Lost" Platoon. I note that 1st Sgt Morrell was always ready to climb in the back seat whenever someone from Phu Bai flew to any of the platoon locations.

We soon traded our MACV shoulder patch for the new 1st Aviation Brigade patch — we were still "in color" then. The totally subdued look did not come until sometime later. There was also somewhat of a time lapse for the "new" jungle fatigues and boots to find their way north of Hai Van Pass.


We then moved on paper from the 14th Combat Aviation Battalion headquartered in the Phu Tai valley west of Qui Nhon to the 223rd Combat Aviation Battalion in Nha Trang.
We lost Bob Garth at Quang Ngai in September.
We played "musical beds" at the Company Headquarters at Phu Bai as PA & E replaced our weathered GP Medium Tents with the new construction of the cantonment area.

There was also an "extra" concrete pad poured (or was it just a vacant lot?) on the back right corner that for some reason was not the recipient of a building permit (they must have run out of building materials), but the Marine AOs were able to commandeer a Sea Hut courtesy of the local SeaBees and join in our happy family [Now you know the 'rest of the story' of how that odd billet got there.]

We enjoyed a great Thanksgiving dinner at Phu Bai — which included a formation of Catkillers from Quang Ngai [with a super account in One Day in Viet Nam — A True Story of an Army Bird Dog Pilot by Gary Hook (Lloyd Rugge's cousin). Our Mess Sergeant, SFC Neal DeNoux, did a fantastic job for the troops. Only a few of us were totally aware of his "deals" in trade with the local SeaBees and the "deliveries" by Air America crews that enjoyed our mess hall on stop-overs.

The Army Chief of Staff, GEN Harold K. Johnson, in his Christmas visit to the RVN, and particularly, his stop at Phu Bai and the 3rd Marine Division, resulted in his flight crew's use of the Catkiller Hot Spot where he also delayed his departure from Hue/Phu Bai Airport long enough to promote CPT(P) Gene Wilson to MAJ on the Catkiller ramp. [I never saw another Army Chief of Staff (or former one) up real close again until an old friend, John "Shali" Shalikashvili, came back to the Fort Lewis area in his retirement.]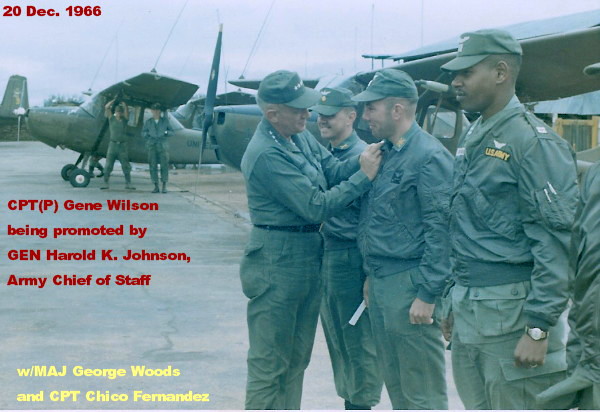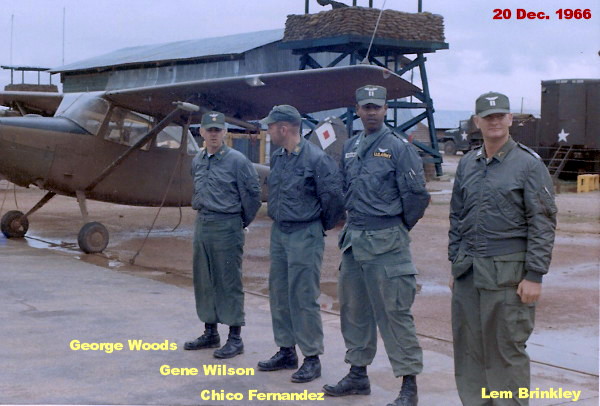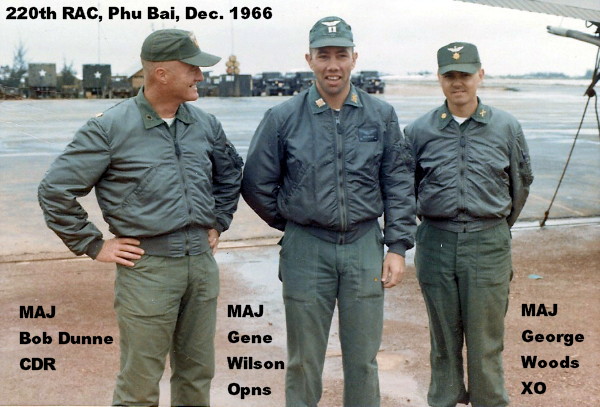 Otherwise, Christmas 1966 was a relatively quiet period with a colorful display of green and red flares from alternate bunkers around the defensive perimeter on Christmas Eve — what a great target designator for the enemy had they been in the mood for an attack — however, they must have been in the holiday spirit too.
While thinking of Santa Claus, is there anyone who has not heard of the exploits of "Catkiller Provider" — then SSG Roger Putnam, our 3rd Plt Sgt at Marble Mountain? What did you need? Roger could find it or had a contact. Only he may remember where and how many Conex containers he had spotted along the coast at airfields. And Roger always seemed to be part of the welcoming committee when anyone stopped over, passed through or spent the night in Danang for whatever reason. He was also well known by the area SF units and a case of chicken or steak was a great passport among them.


1967:

We lost Lloyd Rugge at Quang Ngai in January.
A cold and very wet Monsoon season north of the Hai Van Pass — We burned a lot of cardboard box material in waste baskets so that the clerks in the orderly room, operations and supply room could use the typewriters. The mechanics in the Maintenance Hangar had to rub their hands together a lot. But the humor of "Chico" Fernandez kept us from thinking about it.

After the lull following an 81mm mortar attack that walked from south to north just behind the tails of the 131st Mohawks on the PSP between them and our Hot Spot, Carl Collins (Marine AO) and I tried to locate any mortar positions with an illumination mission that was fired by the 3rd Marine Division Artillery Officer who was on duty that morning with a "drafted volunteer" crew from a truck company — an interesting mission about which we learned the details sometime later — and also after we learned that we had taxied over, or at least very near, a "dud" mortar round on the taxi-way on our way to the active runway. We flew until first light and landed at Hue/Citadel to wait until the entire Phu Bai airfield had been swept and reopened before we could come home.


We watched young Jerry Tastad´s hair turn gray after a series of events during (unknown to him until his return) and his coming back "home" from his R & R to Hue/Citadel.
Since we could not get quotas for Escape, Evasion and Survival Training at the Air Force program at Clark Air Force Base, we "worked a deal& with the Navy and Marines to get most of our pilots to the Jungle Environmental Survival Training (JEST) at Cubi Point, Subic Bay, in the Philippines. Upon completion of the course, there was also time for a Mini-R and R before the return flight to Chu Lai.

During a PE of a 3rd Platoon aircraft, Joe Hamm, our Maintenance Tech, discovered a whole lot of 30 cal. shell casings in the belly among the pedal cables under the back seat. Checking things on the QT with Jim Carlin, the Plt Ldr, revealed the hand held LMG with a home-made stock that "Catkiller Provider" used to deal out punishment to VC from the back seat. Answering one urgent call on the Platoon FM radio for "Provider" resulted in the award of Silver Stars for the crew of him and Joe Hodges.


The Hue/Citadel platoon was heavily involved in the siege of Khe Sanh.
3rd Marine Division (Fwd) moved to Dong Ha.
US Army 175mm Guns moved into position at the "Rock Pile" and Gio Lin (sp?).

In the Spring of 1967, our 4th Platoon returned from "extended duty" with the 219th RAC in II Corps (since the initial deployment in 1965 due to the size and configuration of the I Corps and II Corps areas of responsibility). The platoon was assigned to Dong Ha (maintaining 4 aircraft and crews there), with the primary mission north of the DMZ with the Air Force (at that time as far north as Vinh) and adjusting the fire of the 175mm guns. An email message from Lloyd Oake, a crew chief/mechanic at Phu Bai, who volunteered to be a part of the new adventure up north, stated that except for the incoming mortar and rocket attacks — "Dong Ha was one of the best times of my life."


Can you remember (or could you ever forget) the arrival of the US 40mm "Dusters" and truck mounted Quad—50s and their test firing (especially the night firing) at Phu Bai, before they were deployed up on the DMZ with the 175mm Guns?
This was about the same time that we saw our first fresh "real" ICE CREAM from the Foremost "Milk Factory" that had been constructed in Danang. Then it was not long before China Beach at Danang began to look like Coney Island.
The 101st Airborne Division then started its move into the Phu Bai area and I Corps by establishing Camp Eagle.

Jay Snell's report(s) of what appeared to be clouds of dust from heavy equipment and trucks and some kind of a road being built across the border in Laos became believed after we (Jay leading the way and me following the leader) took two Marine Colonels, the 3rd MAF G-2 and G-3, back there on a two ship mission for a look-see. They were "radio silent" for the entire flight — but I will never forget the first words when they got back on the ramp: "Well, I'll be damned — they are building a road back there!"

Al Orth (Marine AO) and I took something that was "heavier than the usual" with several air bursts off our tail on a day BDA mission for an LZ prep and then a couple of nights later Bobbie Johnson had air bursts (confirmed by the fire balls — 37mm?) below his slightly higher "night" altitude and it appeared that we now had some kind of a new weapon that was capable of a time or VT air burst in our AO for the first time. (Nobody believed us in this report either—till later)


We lost Bobby Jermyn at Dong Ha in May.
In May 1967 we could "feel" that things were really "stepping up."
We also started flying night radio relay missions over the Ashau Valley for Long Range Patrols as preparation was beginning to reenter operations in that AO.

MAJ Courtney Smith, then my 3rd CO, stood me down as a "gift" for my 33rd birthday on May 27th, a few days before I headed for Cam Ranh Bay and home, and CPT John Sutherland, the 3rd Plt Ldr, took my place in Operations. As humbling as it may have been, we were all replaceable...."
back to top
After several inquiries about the operation of a Catkiller Recognition Fund, the current reunion chairman and staff suggest we do not solicit funds for an official "flower fund." However, any individual desiring to donate funds for the purpose of sharing in the honor given our fallen may send donations of $25, or less, to our volunteer bereavement point of contact, COL Charles Finch, U. S. Army Retired:

1331 Parrott Trace
Greensboro, GA 30642
Home 706-467-9389

You may also get Charles' address on demand from our Keeper-of-the-List contact, Bob McComiskie.
back to top
John Fisher (John_Fischer@worldnet.att.net), a 183rd Recon Airplane Company organizer, sent this message for distribution. We also want everyone to know the Catkillers will host a reunion at Penn's Landing Resort in Philadelphia in the latter part of June, 2010. We also invite you to take part in this gathering. Everyone is welcomed, so see the information at the top of this page:
"I am extremely pleased to invite you to attend an All Bird Dog Unit Reunion, hosted by The Veterans of the 183rd Aviation Company (Seahorses), at the Cheyenne Mountain Resort in Colorado Springs, Colorado over the extended weekend of September 9 thru September 12, 2010. This facility is a four star resort that offers many activities and extraordinary facilities. We have a very favorable reunion room rate for the reunion of $88 per night. This rate also applies to the three days prior and three days after the reunion for those of you who wish to enjoy the Colorado Mountains, the many sites and experiences offered at the resort beyond the reunion dates. The Resort has also waived their usual their normal Facilities Service Charge. For a preview of what you will experience, view the Cheyenne Mountain Resort web site.

The Colorado Springs—Pikes Peak area has a lot to offer, see, and do, and if you are interested you can visit the Colorado Springs Convention and Visitors Bureau website to get more information.

There are two registrations that you need to complete before the reunion. The first is the reservation with the Cheyenne Mountain Resort. You should contact Cheyenne Mountain Resort by phone as soon as possible to make your reservation. You can cancel your reservation with Cheyenne Mountain Resort up to 48 hours in advance of your check in, without penalty. By making your reservation now, you insure that you receive the discounted room rate of $88 per night for either single or double occupancy; and more importantly, you help the Committee and the Resort in planning a great reunion. There is no guarantee that you will get the $88 rate after 75 rooms that have been reserved by our group have been taken. If we get the 75 rooms reserved early in 2010, we are in a much better position to negotiate more rooms at that rate. To make your reservation and get our reunion rate, call (800)428-8886, and tell the reservationist that you want to reserve a room for the 183rd Aviation Company Reunion. The Resort's online reservation service will not work for reunion rates. If you do make a reservation, please let me know so that I can include you on all reunion related mailings.

The second registration will be the Reunion Activities Registration which will include dinners or banquets, activities and souvenirs, etc. Since we are still in the planning stage, you do not need to complete the Reunion Activities Registration at this time. If you are interested in attending, please contact me and I will put you on the communications list and send you all future Reunion information.

We are very interested in having as many veterans of other Bird Dog Units who served in Vietnam attend and encourage you to invite guys that you know from other units to attend and be part of an All Vietnam Bird Dog Reunion. In the past we have had representatives of the 219th, 74th, 73rd, 220th, 221st, 185th, 1st Cav, and perhaps others that I cannot recall. We encourage your attendance as it makes a much richer experience for all of us and we hope that you will have a reunion within our reunion. Since, we do not have complete rosters of other Bird Dog units, we ask if you would please pass this invitation on to other friends in your unit, flight school class, or other Bird Dog units. If you are a webmaster for your unit, we would appreciate you placing this invitation on your website.

If you are interested, please contact me at the address listed below and I will place you on the list. You will be receiving a lot more information about the reunion over the next few months, but if you have any comments, questions or suggestions, please do not hesitate to contact me.

We will be looking forward to seeing you in September at the Cheyenne Mountain Resort.

John C. Fischer"
back to top
Most of us, including me, were/are not aware of the exemplary success our first unit commander, Major Jerry Ralph Curry. Sometime after retiring as a Major General, General Curry wrote and published a book that traces his life in the military, and after retiring he went on to serve in high positions within the government.
A remarkable interview, now posted on YouTube, occurred several years ago when CNN News interviewed General Curry. He was outstanding in his statements and gracious in manner as the interviewer stumbled here and there, but one of the highlights of the interview, for me, was a video clip of Major Curry while in the 220th Recon Airplane Company! You will enjoy this very much. I encourage you to take the time to view this very interesting clip and to check out General Curry's book at the link provided:
I will soon obtain a copy of his book, read it, and let you know what I further discover about this great American soldier and statesman. This book is available from online book retailers like Barnes and Noble and Amazon (ISBN-13: 9780978742881). His lovely wife, Charlene, is also an accomplished author and has a book available online, too (ISBN-13: 9780978742874). Click on the photo to access the Amazon.com site to consider his book:
See additional information about General Curry at the Curry For America site, as well as at his personal web site.
back to top
Writing a book review is a serious undertaking, especially for the prospective reader of that book and its author. Both want fairness, insight and relativity within the review. As I read Jerry Ralph Curry's From Private to General, I saw all three elements throughout the book, but those were not the only qualities present. There was love, vision, wisdom, courage, common sense, intelligence, determination, self-control, compassion, understanding, and later grace, plus several more I'll get around to.

The younger Jerry had a swift and effective education, a receptive heart, and a spirit of thinking outside the box—any box he was ever placed in. From his early childhood he understood there was a challenge with every step. From his courage to squarely face those challenges, to excel in schools, to his huge step to become a Boy Scout and then an Eagle Scout, Jerry's effective learning and development stage set the course of his life. His parents, extended family, teachers, counselors, friends and neighbors contributed to an eager learner. He did not give up or give in, no matter what the challenge. Early in the book, he wrote about his scouting days, where he took the Boy Scout oath as his credo and the scout's law his personal guide. Their effect on his manner and style are evident throughout his book.

I'll tell you plainly that it was difficult to ever put this book down. I stopped to sleep and to eat, and became impatient when interrupted. You will agree when you read this book that integrity was prominent and always present in Jerry's life. He joined the army to help fight in Korea, but events moved him in a different, defining direction. From his early military years he showed a keen desire to learn, participate, command and to direct. Those opportunities were not always given; he earned with hard work, skill, and determination everything he ever acquired.

This infantry officer's long climb to the rank of major general included flying both fixed and rotary wing aircraft, combat operations duties, combat command, combat leadership, and major staff and command duties in Europe and Asia. Later he worked and excelled in politics and government. With each step you learn from a dedicated son, soldier, husband, father, and a great America. Yes, I place Jerry Ralph Curry in a place of honor as an exemplary citizen soldier. My high regard is based not only upon his own excellent record, but also on my own life experiences, a twenty-three year army experience, and twenty-two years of government service.

Get a copy of General Curry's book, and you will enjoy it. With the final page ending you, too, will have a deeper respect for this soldier.

Donald M. Ricks
CATCOM Editor

back to top
"This is what I got involved with for the memory of Catkiller Mike LaFromboise. Marines contacted me about this project, and I sent some money for the Catkillers; also contributing was Lanny Thorne from our Marine backseater group. I felt we needed to be on the wall for Mike and the Catkillers.
Charles Finch, Catkiller 19"
Two photos below are from the camp: [red box added for emphasis, DMR]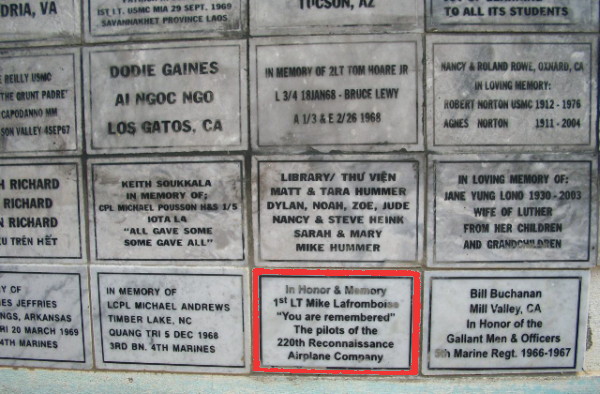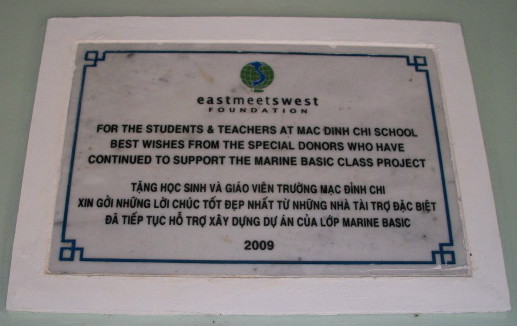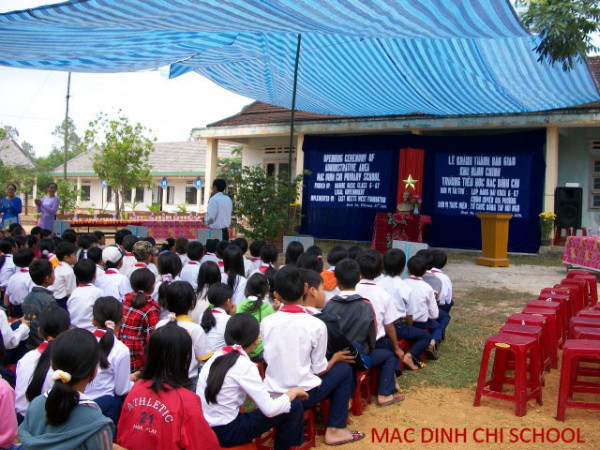 back to top
John Hillman, Catkiller 46/3, shares this sad news for all who read the newsletter. Everyone who knew Gene will agree with John's statement, and we will miss Gene from our ranks. God bless his family: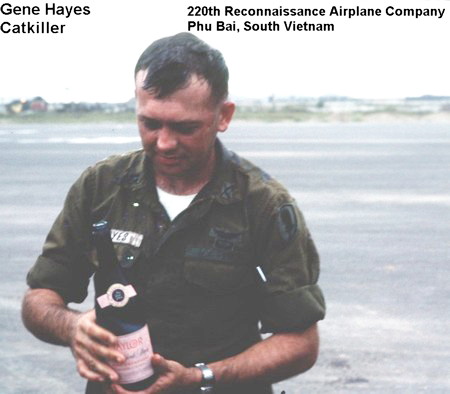 On March 13, 2010, Gene Hayes, Catkiller 10, of Rome, Georgia, passed away from complications arising from cancer. Gene had been ill for some time, went through some treatments, surgery, more treatments, was bed-fast for a short period of time, and then checked out about 1300 hours on Saturday the 13th of March. Gene was my roomy in Phu Bai, and we enjoyed long periods of conversation over an occasional drink in the room or in the club or where-ever, as most of you know. The Good Lord must have needed a good FAC, as he sure called one home last Saturday. Gene was a good friend, comrade and buddy, I will miss him, and I loved him.

John Hillman
This is the only obituary I could locate:
Gene Funderburke Hayes died:
Gene Funderburke Hayes, 68, of Greer Drive, died March 13, 2010. Daniel's Funeral Home has charge of the arrangements.

John spoke with Gene's wife, and she has requested no flowers since the funeral has already been conducted. Gene was buried with a military ceremony, and John will pass along Catkiller condolences to his wife and kids. [DMR]
If you wish to send personal condolences, you may send it to:
Mrs. Gene Hayes
2 Greer Dr NE
Rome, GA 30161

back to top