220th Reconnaissance Airplane Company




October 2003 CATCOM E-Newsletter



"Catkillers"
and Family,
and all Friends
and Brothers in Arms,
in memory of those who have served
CATKILLER REUNION, LESS THAN THREE WEEKS AWAY!:
---
Countdown to the Catkiller Reunion
---
220th Reconnaissance Airplane Company REUNION

When:
October 19, 20, 21, 2003
Where:
Palace Station Hotel &Casino
2411 West Sahara Ave
Las Vegas, NV 89102
Reservations:
800-634-3101
702-367-2411 [Hotel Group ID for reference is: PCI220T]
To locate the hotel on a map, visit this site and type in the above address: Rand McNally Maps
Staff:
Reunion 6 - Paul V. Brennan
Reunion 5 - John Hillman (Executive in Charge)
Reunion 4 - Jerry Bonning (Logistics) Rooms, hotel, meeting rooms, banquet
Reunion 3 - Jerry DiGrezio (Operations; notifications, etc.)
Keeper of the E-List - Bob McComiskie (send your changes, updates,
and requests for a copy of the official list to Bob)
Newsletter- Donald M. Ricks (for newsletter comments, info, etc.)
Golf One-Joe "Beans" Brett (Sundowner Yankee)

HOW TO CONTACT REUNION STAFF MEMBERS: E-mail Bob McComiskie or Don Ricks (at the above e-mail links), or John Hillman (e-mail link at bottom of page), or any staff member, if you know their e-mail address.
We have reserved a block of rooms under: "220th RECONNAISSANCE AIRPLANE COMPANY" (CATKILLERS). Please state this when you make your reservations. Cost of rooms: $69 per night, or ask about their smaller garden rooms. You can make reservations now. Contact Paul V. Brennan (Reunion 6), John Hillman (Reunion 5), or any other staff member, with questions, suggestions, and recommendations. A link to John's e-mail address is at the bottom of this page.

Reservation Numbers:

As of this date, there have exceeded our fifty allocated rooms, but don't give up. If anyone has difficulty reserving a room, please let Jerry Bonning know. Let us try to work something out, before you give up and go to another hotel.
NOTE: .


ITINERARY FOR CATKILLER REUNION

| | | |
| --- | --- | --- |
| TIME | ACTION | LOCATION |
| 0800-1700 | ARRIVAL | MEETING ROOMS |
| 1900-2100 | NO HOST COCKTAILS | MEETING ROOMS (Check with hotel desk for room numbers) |
| 0800-1700 | AMUSE YOURSELVES | LAS VEGAS |
| 1700-1800 | COCKTAILS | BANQUET ROOM |
| 1800-1845 | PHOTO OPS | BANQUET ROOM |
| 1855-1900 | OPENING REMARKS | BANQUET ROOM |
| 1900-2000 | DINNER (Please e-mail or call Charlie Finch with your dinner selection) | BANQUET ROOM |
| 2000-2030 | BUD BRUTON, Vietnam Today | BANQUET ROOM |
| 2030-2045 | JOHN HILLMAN, Tribute to KIA/MIA and deceased Catkillers | BANQUET ROOM |
| 2045-? | CARL DRECHSEL, CLOSING REMARKS | BANQUET ROOM |
| 0800-1700 | AMUSE YOURSELVES | LAS VEGAS |
| 1800-2100 | NO HOST DINNER, at to be determined | To be announced |
| 2100-? | GET TOGETHER | MEETING ROOMS |
A note from Jerry DiGrezio about the No Host Dinner on October 21:

"The response to the Smith and Wolensky dinner was underwhelming at best. The vast majority would rather go to moderately priced eating establishments. The idea of having more than one place reserved and letting everyone choose last minute got favorable response."
This last day dinner is something we will work on while in Las Vegas, and more information will be probably be available and posted at the hospitality suite.
BANQUET MENU SELECTION [Time critical]:
This is a repeat of an Alert message sent out the the e-list on September 19. There are still about thirty attendees who have not sent their choices to Charles. Please take a few moments to respond with your selection:
We have a very important task to complete, and Charlie Finch will appreciate your prompt input. Here is how you can assist him:

There are three choices from which to select your dinner main course for the October 20 banquet . Please send Charles Finch an e-mail stating your choice and the choice of any accompanying guests: The cost of each selection is $27.50, all inclusive. That amount will be collected by the Catkillers Reunion staff at the reunion, so please have that amount ready and in hand.



Salmon.


Chicken Parmesan.


Sliced Roast Sirloin, with peppercorn sauce.
Contact Charles Finch (Catkiller 19) via e-mail, or Mobile: 706-338-8756.
Charles has a deadline to get the choices in to the hotel staff, and it will certainly be helpful if everyone makes this a priority response to him.


Thanks for your cooperation.
LAS VEGAS WEATHER AND STATISTICS, OCTOBER:
Check the following link for a look at current and historical weather (since the late 1800s) for Las Vegas:

Las Vegas Weather

Nevada Climate Summaries

Western Regional Weather Summaries

Aviation Digital Data Service (ADDS)

Weather.com 7-10 day forecast
GOLF AT LAS VEGAS:
This is a note from Joe Brett, Golf Six. He has spent considerable time and effort to set up for your golfing pleasure and needs your decision and response, soon:
"I need to know who wants to play golf [and when]. I have someone lined up to schedule us, but I do not know how many want to play. We have Monday and Tuesday scheduled for 8 players. If nobody chimes in, I will cancel and just make tee times at the reunion."

E-mail Golf Six (Beans)
CATKILLER HISTORY:
Bill Dortch was the Maintenance Officer in 1970. Does anyone have a clue to his whereabouts?

Back in July, 1987, Catkillers on the mailing list received a snail-mail newsletter from Jerry DiGrezio, who wrote to express his feelings about their last reunion. Fortunately, we have a photo of that letter. It tells us that no matter how much time goes by, good friends enjoy getting together to have fun and renew friendships. Thanks to Sarge Means for sharing this one [if you can't read this, contact Don Ricks for a larger version]:


Here is what Sarge Means had to say in a recent e-mail, and I thought you might like to read his comments. He departed for a business trip to the Balkans and was not available to approve the use of his comments. On faith that he wouldn't mind, here they are:
You asked about the newsletter after the reunion. Here are my two cents' worth: I would love to see a CATCOM with a summary and photos of the reunion. Perhaps a paraphrasing of Bud Bruton's presentation, and any tributes which are planned. I think we definitely want -- and I'm sure the committee has thought of this -- to have pads at the reunion onto which folks can write, at a minimum, names, addresses/e-dresses, etc. Perhaps those that wanted could mention the thought that comes to mind immediately when they think of a Vietnam "Catkiller moment," funny or sad, job related or off-duty related. If we received enough input, we could divide it up amongst a group of "compilers." Info could be saved to disc and sent to the one final editor. Once it's sent out, things will probably go silent until the next reunion but it would be a great review and wonderful, hopefully, for all, especially for those not able to attend.

Within the past two weeks I have come across a page that Jerry DiGrezio sent out after the reunion at Rucker years ago. He wrote a nice letter, which I have copied and shall bring to Vegas, and a list of names and addresses. I was unable to attend that shindig but it was certainly enjoyable to read his comments once again. I would like to think we could do the same thing this time around."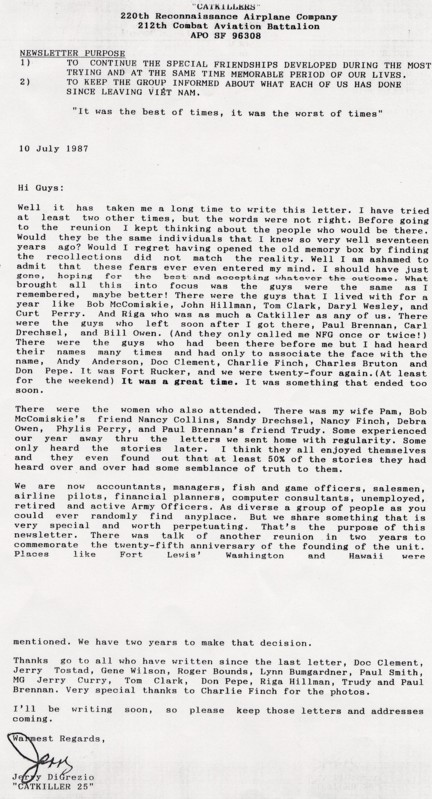 AN IMPORTANT REQUEST FROM CHARLES FINCH:
If you will, please respond directly to Charles with the requested information:
[For reunion purposes] "I need to know the unit service dates of each 220th Catkiller attending the reunion, by MONTH and YEAR, at least. Many have submitted only the year, such as 68-69. It will be most helpful if you include the starting DAY/MONTH/YEAR to the ending DAY/MONTH/YEAR, for you tour. Thanks for your help."
Use the following e-mail link to send your information to Charles Finch
PHOTOS FROM VIETNAM:
For those who did not receive the announcement, there is an additional page at the Catkiller Photo Page. There are some news one of Glenn Stewart, Paul Smith, and Bob McComiskie. Don't forget to bring your photos to Las Vegas.


Can anyone identify the soldier in this photo?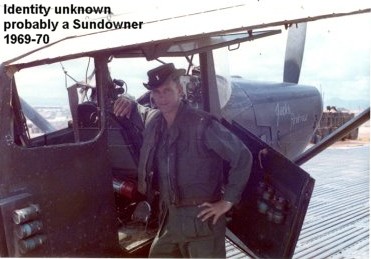 Alan O'Hollaren's 212th CAB photo annual for 1971 will be at the reunion, thanks to [Redacted], and here is one final scan, page 5. See the rest in person: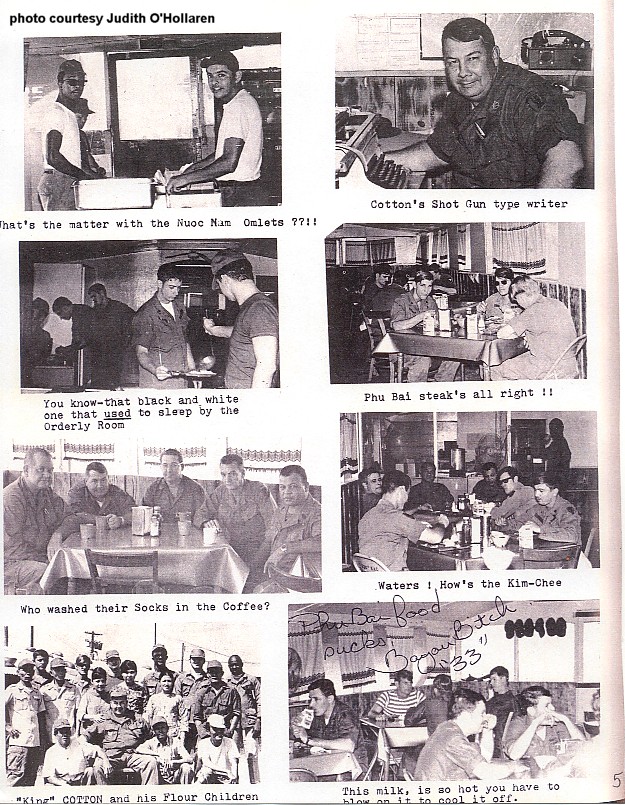 MORE CATKILLER HISTORY
These proud Catkillers received the Distinguished Flying Cross, and someone caught them on film shortly after the ceremony. Left to right: Bill Norton, Len Bumgardner, Don Pepe, Sarge Means (photo courtesy Sarge Means):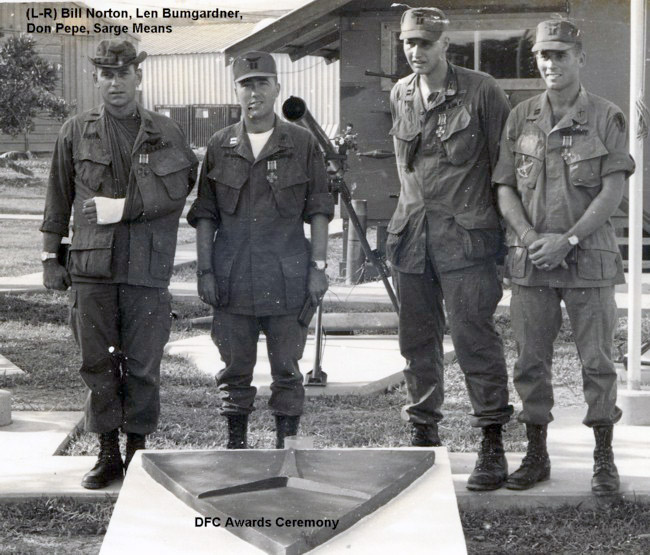 Have you forgotten what ten cents in Vietnam looked like [courtesy of Glenn Stewart]?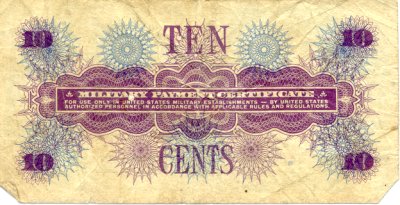 From an old, lost e-mail from Al Paulsen:
I can offer an update on one of our Catkillers.

The WO-1 Smith that Joe Brett mentioned in his note must be Paul Smith. I haven't talked to him for a couple of years. Last I knew he was with the National Business Aviation Association and living in Alexandria, VA. After his Catkiller tour he went on to became dual rated and an IP and Instrument Examiner. He spent about 5 years in Alaska flying brass around the state. After he retired from the Army he worked for Embry Riddle in AZ and then the National Business Aviation Association in education and training. I saw him a couple of times in the 1990's when he was attending some Boeing education seminars. You may recall he was also the Catkiller Officer's Club OIC for a while in 1970-71 and organized a special formal dinner complete with roasted duck. While he was with Embry Riddle he had a J-3 Cub (or 2) that he flew around for fun.

Has anyone been in contact with WO Wade Godfrey? He was instrumental in installing the wing mounted camera pods in 1970. He's another great guy that I'd like to get in touch with.

Best Regards, Al Paulsen
SAGA OF THE BARRELL ROLL [OR, "I FORGOT TO SMILE, TOO"]:
Many of you know some the historical saga of the "Bird Dog Barrel Roll" by our one-and-only, Glenn Stewart. You are about to enjoy the account firsthand:

First, a little background: Glenn and I (Don Ricks) attended Infantry Officer Candidate School (OCS) together, back when we were young and aggressive. You just had to love this candidate, Glenn Stewart, who had a reckless but winning smile. He often got into trouble with the tactical officers employing that often too ready, charming, and challenging pearly flash. Charming, indeed. One day we received a limited pass to leave the company area, specifically to the post office and shoppette area. While there, Glenn talked (charmed) me into drinking a coke, using that winning smile. Why, "nobody will know" Glenn even bought the cokes. Of course I went along, totally enjoyed it, and we were caught using "pogey bait," an infraction of the rules which demanded the cruelest private punishment available, short of bodily harm. Being a Alabama country boy, I really didn't know any better. Glenn, being a man of the world, knew the consequences but pressed on, anyway. To make a long story short, we wound up in the tactical officer's den, inside our sleeping bags, zipped up to our chin, flat on our backs. Glenn wasn't smiling, and neither was, as we were ordered to do sit-ups. In a few minutes we were as wet as river rats, and during the lengthy sit-up session enough water came out of us to fill about four coke cans. It took all weekend to dry our sleeping bags. I did not drink another coke until after graduation, while Glenn frequently came up to me, beaming toothily, and testing my resolve with, "Don, let's go get a coke!" This OCS event did not dampen Glenn's enthusiasm for having fun and living on the edge, as we see in the "rest of the story:"

"I remember flying an afternoon mission in the Freedom Bridge area of the DMZ. We were a bit south of the river, checking out an area with a lot of recent foot traffic. I can't remember whether I had Brett, Charlie Douglas, or Ziomek riding behind me. Several trails went into a particular area but didn't come out, so we decided to adjust a little 8-inch on the center of mass, to see what was cooking. The first round went about fifty yards over. The next one landed about twenty yards short. All of a sudden five or six NVA started scrambling in several directions. After a FFE with VT and firecracker, there were several acrobatic routines performed by running NVA soldiers, who fell motionless. We cruised on down a little to see if there were any stragglers, and lo and behold there was one. I had loaded my CAR 15 with 30-round magazines, loaded with a tracer every third round. Firing out the window I pinned this guy down under a big bush. When he popped his head out I would walk fire right near him, and he ducked back into the bush. All the while another fire mission was cranking up. I climbed up to a respectable altitude for better observation and safety. The very first HE round that came in hit right in the dead center of the bush. Where there was a large bush, there was now a huge smoking hole. We had destroyed a small staging area and about a squad of NVA. I was stoked!

After I dropped my observer off at Quang Tri, I decided to return to Phu Bai for the usual evenings festivities. As I was flying south, I came up behind three Hueys flying in trail formation. They were puttering along about ninety knots, approximately five hundred feet lower than me. I moved over to the right of them, about five hundred to a thousand feet laterally. I was feeling so much adrenaline from the mission, I just got a sudden overwhelming urge to do a fly by with the Huey formation. Since I was already higher than the Hueys, it was easy just to push the nose down and pick up airspeed. As I came abreast of them I passed them on the way to about a hundred feet below them. I then pulled the nose up and did a big, slow lazy barrel roll, climbing up about fifty feet above them and settling out abreast of them, slightly ahead. I throttled back to wave to them. The next sound was one I shall never forget. As I recall, it went something like:



"This is Red Cannon on guard!" "Army 0-1 pilot....tail number xxxyyx,
Your ass is mine!"

When I got back to Phu Bai, I was asked to see the CO immediately. I believe it was Maj Gebhardt. When I went into his office, he had an ashen face. He said, "Do you know who you buzzed on the way home?" I replied, "No sir." He then said, "Well, you will. You did an aerobatics maneuver right next to General ######, who commands the artillery for the 101st Airborne Division. He wants you on his carpet real soon, so stand by!"

I never saw Red Cannon, but I was grounded for one week. I think I spent much of that week stumbling around with a hard-roller committee celebrating red eye.

And that's the story of the barrel roll.

Glenn"
E-MAIL LIST UPDATE:
We welcome Roger Anuskewicz, of Chicago, IL; James M. Wisby (Catkiller6), of Hopkinsville, Ky.; and Jerry D. Jackson, who sent in the following:
"I was a Catkiller in 66-67 with the 2nd Platoon at Hue. On a second tour in Vietnam, I spent the last six months as the S-1/Adjutant of the 212th Aviation Battalion, which included the 220th. So, I had an opportunity to visit the Catkillers, occasionally. It was a bittersweet duty, but I also was involved in the 220th stand-down at the end of 1971." [Jerry lives in Nocona, Texas.]
Roger Anuskewicz wrote:
"I was a CatKiller from Sep 71 thru Dec 71, when unit went home. Will have to look up my call sign, I think 49? Where have the years gone." [Roger, we would like to hear more about how the unit was sent home, so if you have time to write up something, we will publish it. Thanks.]
JOHN HILLMAN's E-MAIL: The only e-mail address valid for John S. Hillman is the following: catkillerjsh@aol.com. Please remove any reference to other e-mail addresses. Thanks.
DON RICKS' EMAIL: Please delete the old e-mail address for Don Ricks (att.net). His e-mail address is: donrix@catkillers.org.
This request is from Ed Miler:
"Gentlemen,
Since you guys seem to be the keepers of rosters of those of us who served with the 220th RAC, perhaps you can help me locate James M. Wisby, Catkiller commander in 1968 and early 1969. An email address, a USPS address, or a telephone number would be great. Thank you so much."

Ed Miler, CK 6 (1969)
Then a few days ago, Ed sent in this quick update:
"Gentlemen, I am happy to report that I have been in contact with the real Jim Wisby, CK6, that he is alive and well, and that I will no longer be bothering you about his whereabouts. He and his wife, Jo, are in Hopkinsville, KY, and the email address is [James M. Wisby]. Just thought you might want to know.

Ed Miler"
No bother at all, Ed. You do good detective work!

From Jerry DiGrezio:

"Please add a request for info on the whereabouts of Steve Grass, one more time. He went to college with me, and I only found out he was a Catkiller by accident when John Hillman was showing me some pictures. Lo and behold, there is Steve sitting on the bar!!!"
Anyone knowing anything at all about Steve Grass, please contact Jerry. We search for many others, too, including Bob Arrington, R. M. Boutwell, Warren F. Metzler, and Scott R. Burke.
CATKILLER HOME PAGE:
Thanks to Scott Cummings for maintaining this site at:http://www.catkillers.org

Photo page:www.catkillers.org (contains a link to previously published newsletters and alerts).

CATKILLER CLOCK:
Leon Skeen, also producer of our Catkiller T-Shirts, has a few clock prepared, and you can have these shipped right away. Contact Leon at the links below. Another interesting bit of history is that Leon flew helicopters for the 108th Arty in Phu Bai. Some of you might even know him, as Leon remembers Joe Brett.
This clock is available from Leon Skeen, and here is a recent message the tells you about and how to order:

"The clocks are only $25 plus $5.00 shipping. Each is approximately 7.5 X 9 inches and hand made, so expect some slight differences from clock to clock. I ship them without the hands installed to avoid damage to the hands. Easy installation instructions are included and it only takes about 1 minute and a pair of small pliers to install them.

Here is the URL to my: Clock/Plaque Site . I am giving a discount to the Catkillers, so pay no attention to the prices listed on the website. "
CATKILLER LICENSE PLATE FRAMES?:
Dave Heffernan, of Windermere, Florida, makes Catkiller License plate frames, both auto and motorcycle. See our September newsletter for more information. Dave donated and sent four raffle prizes for our reunion in Las Vegas. Thanks, Dave.
You can view Dave's web site, which describes his Production Frame Examples, at this link.
REUNION RAFFLE DRAWING:
We are going to have two raffles, with five prizes each, at the banquet on Monday evening. These are the prizes::

Raffle One:


A Catkiller Sweat Shirt.
A Catkiller Polo Shirt.
Choice [2 each] of Four Catkiller License Plate Frames [produced and donated by Dave Heffernan].
A Cat Hat.
One Gag Gift.

Raffle Two:


A Catkiller Clock [produced and donated by Leon Skeen].
Two Catkiller T-shirts [one large, one extra large with Catkiller Crest and words, "Las Vegas, 2003."]
The remaining (2) License Plate Frames [donated by Dave Heffernan].
Four Catkiller Reflective Stickers [two each of the small and large].
One Gag Gift.

Winners must be present to win! [but, you can always "arrange" with a second party] . Dave Heffernan has also donated two sets of license plate frames for raffle prizes, and Leon Skeen donated the very nice clock. So, when you purchase a raffle ticket, expect to have a good chance at some very nice gifts.


Ticket prices are six tickets for $5 (each drawing). That means: For ten dollars you will have twelve tickets (six chances for each of the two raffle drawing). We will use two different colored tickets.
CATKILLER LOGO GOLF SHIRTS, T-SHIRTS AND STICKERS:
These are still available from Jerry Bonning and Don Ricks.
For the R.A.C. Wear shirts, etc., visit the following URL:

Jerry Bonning states: Orders for shirts with a Las Vegas delivery are closed. Got a bunch of last minute phone calls. I will be taking one last order at the reunion, then I'm out of the retail clothing business for good.
T-shirts:


We met our goal of fifty t-shirts! Thanks to all who sacrificed their time and money, but for a nice product. I was well pleased with Leon's work, and I certainly hope you were, too. To order these shirts, contact Leon Skeen. We now have $75 in profits to help pay overhead expenses at the reunion.

Catkiller T-shirts can be ordered directly from the producer, Leon Skeen. Please visit the following link for more information on how to order:
Reflective Catkiller sticker decals:

Satisfaction guaranteed! If you want some of these, visit the following link:. Those not sold via mail will be available at the reunion. Once these are gone, they are gone!



About profits: Jerry Bonning and I did not enter into the above ventures with a profit motive, but as personal projects to satisfy our own desires for the products. Jerry quite eloquently stated to me that if we needed funds it would have been just as easy to ask for them. However, as these individual projects progressed, we realized that there might be others who would want to acquire the items. Thus, they were made available at a small and reasonable profit.


We appreciate the support and enthusiasm generated for the items, and we will do our best to help anyone obtain these items in the future. From the t-shirt and sticker projects, we realized over $300 in profits, but some of that came by way of generous donations from Catkillers and friends showing their appreciation for the items under production. My thanks to those Catkillers and Sundowners who gave above and beyond the amount required. Every cent of profit will now go to help pay for our hospitality suite and incidentals. Jerry Bonning will receive a check for the final amount at the reunion.
PHOTOS AND CDs AT THE REUNION
This is a repeat of the message sent earlier, as a reminder to all who plan to bring photos to the reunion (for sharing):
"I need all who plan on bringing photos to pre-burn them onto a CD for me. Please scan only 1 pic at a time, no groupings (I know this saves you time, but it will triple my time trying to separate them.) This will save on time as well as insuring that you retain the originals.

I also ask that you include on that CD your name and the time-frame the pics were taken. JPG format is preferred, as I will be making a PPT presentation with some of these pics as well.

My plans are to assemble these pics, in chronological order, and then burn them to a master CD. I want to give a copy to all of the attendees of the reunion, but it is going to take a good chunk of time to get them all burned. I've already got the CD's and the jewel cases are starting to accumulate as well.

I would like to propose a $5 shipping/handling fee to cover my costs of getting the CD out to you by mail. I will have a small form that you will need to fill out so I can gather the mailing information needed. For those who do not have access to a scanner and CD burner, don't worry I'm still bringing my hardware so I can scan them for you. I'm just trying to buy some more time for me to spend with Dad and the guys!


So remember:


Pre-burn all photos in JPG form before leaving for Vegas.
List personal name and time frame on outside of your CD (then pack the CD in your suitcase) I added this for some of you forgetful flyboys!
Remember to fill out the supplied form in Vegas (so I can mail you the finished product).
Have ready $5 for shipping and handling.

Thanks for the help,

Heather M. Hillman-Easley, Catkiller....46/3B"

An additional note from Heather concerning Sunday, October 19:
I looked up Jim Vernon this weekend while my husband and I were in Eureka Springs, and had a wonderful visit, all be it a short one due to other obligations. He and his wife are planning on coming out to the reunion but still have not made any travel plans or hotel res. Dad says that we've met the quota for room res. but I fear that there may be more out there that have not made arrangements [Not to worry; contact Jerry Bonning before you go elsewhere.]

Also, I've talked Dad into going to see Tom Jones on Sunday, if you can believe that, and if anyone else would like to go we would love to get a group together. I've already purchased tickets. We won't be sitting together, but it's @ the MGM Grand, and since Celin D won't be performing.....Anyway, see you in Vegas.

Sincerely,
Heather Hillman-Easley

Note from CATCOM EdPub: I plan to fill up a CD with ALL the newsletter files that have been generated since this newsletter started (all in my Catkiller directory), and it will include photos found at the photo site. Heather, we appreciate your willingness to take on this time-consuming task, and I consider the $5 shipping and handling fee a bargain!
LASTLY, WHEN IN LAS VEGAS, DON'T PLAY POKER WITH CHARLIE FINCH!!!:
Don: Here is a photo of yours truly, in a Catkiller T-shirt, with my 1971 280SL (that was paid for by those who played poker at Phu Bai). Won $13,000 during my tour, and everyone knew that I wanted to buy the Mercedes 280SL.

Tell everyone to let me know the months of their tour in Phu Bai.

Charles Finch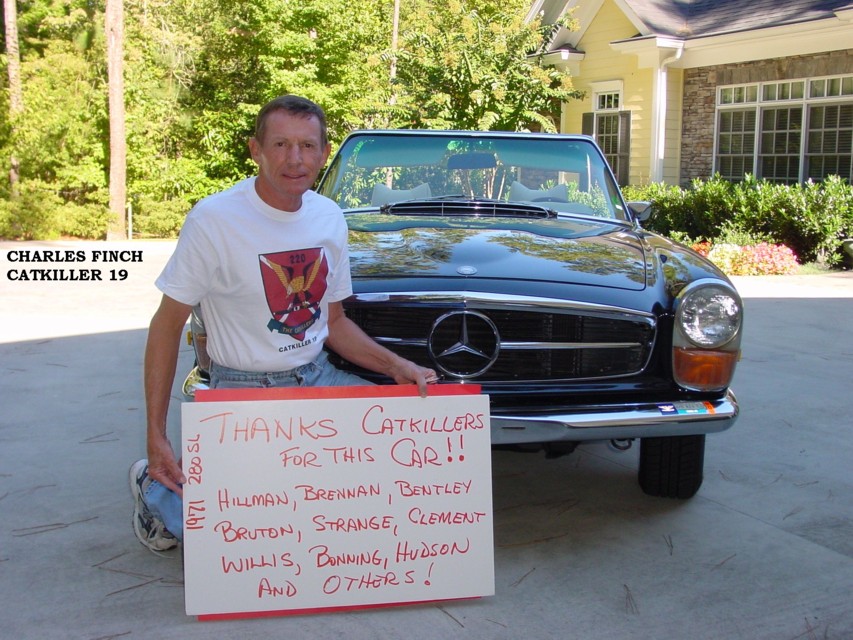 We'll see you in Las Vegas!
Paul V. Brennan
Reunion 6
Atlanta, GA
John S. Hillman
Reunion 5
Okmulgee, OK