220th Reconnaissance Airplane Company




October 2004 CATCOM E-Newsletter (published September 25, updated December 8 (afternoon))



"Catkillers"
and Family,
and all Friends
and Brothers in Arms,
in memory of those who have served
DEATH OF CATKILLER (1966-67) PALMER HAINES:
This note came from Roger Putnam this morning. I know you join with Roger and Jerry in prayer and condolences to Palmer's family. More information when available:
"Don,

I'm sorry to forward sad news to you about another Catkiller death. Palmer Haines, from year 1966-67 was killed in a plane crash this past week. He was flying a charter plane from New Mexico to Texas, and crashed near Austin. The exact cause hasn't been determined yet. Several Catkillers from his year are planning to attend the funeral. The note from Jerry Jackson, below, has sketchy funeral information. I'll forward more when it's available.

Following is link from an Austin TV station with the details (if the link doesn't work, copy and paste should get you there.)

Details of Palmer's passing

I thought you would like to know. Please pass this on to the Catkillers via your newsletter, if you will.

Shelley & Roger Putnam
San Antonio, TX"

-----Original Message----- From: Jerry Jackson [mailto:jjax@dtnspeed.net]
Sent: Friday, September 24, 2004 3:29 PM
To: Bill Montgomery; Dale Schofield; 'Roger Putnam'; 'Dick Tobiason'; 'Jay Snell'; 'Jerry Tastad'; 'Jim Glaven'; 'Joe Davis'; 'Joe Hodges'; 'Ken Trent'; 'Mike Misenheimer'; 'Palmer Haines'; 'Ray Alexander'; 'Jerry Jackson'
Subject: Sad News

I am sad to report to you that Palmer Haines was killed last night in an aircraft accident. When I returned home this afternoon, there was a message to return a call to Palmer's phone number. His wife answered the phone and gave me the information that I'm relaying to you. I've never met Pamela, but she sounded like I figured Palmer's wife would. They are finalizing funeral arrangements this afternoon. The known: the funeral will be at 1100, Tuesday in Montell, TX, which is west of San Antonio and north of Uvalde, TX. There will be a celebration after the funeral at their ranch.

He was piloting a Cessna twin which developed engine trouble - apparently both engines, although I'm not sure that's very clear now. It happened west of Austin, TX and he was "diverted to Lakeway" which is a small town about 10 miles west of Austin. He was "working" and I think there were 4 people onboard and one survivor.

If this doesn't make any sense, please call me. I made a bunch of notes that I am trying now to decipher. My home phone is 940-825-6685 and cell 940-867-4399. Pamela's home number is 830-597-4393. If you know anyone that I have not addressed this to, please let them know.

Pray for his family.

Jerry
UPDATE ON FUNERAL ARRANGEMENTS FOR RETIRED DELTA PILOT AND CATKILLER, PALMER HAINES:
The following information sent by Charles Finch, who is working on gathering specifics and arranging for flowers:
"Thank you to everyone who wrote concerning the death of retired ATL MD-11 Captain Palmer Haines. Funeral services information is below.
David L. Roberts"
[e-mail traffic follows:]

Palmer Swift Haines, Capt Delta Air Lines, Retired
Died Tues 23 Sep 04, age 62 yrs, 8 mos
Aircraft accident Cessna 421 dual eng failure @ 23m'... Palmer deadsticked towards Lakeway apt ( Austin, Texas ) landing short in trees. The one survivor credited Palmer's professionalism for saving his life.
Spouse: Pamela E. Haines


Moonfire Ranch
P O Box 671
Camp Wood, Texas 78833
moonfireranch@yahoo.com


RD 1973-2001
Mia/Atl/Lax/Atl
Retired on MD 11
Obit... Canyon Broadcaster, Camp Wood, Texas
Thanx, Kenny Matthews

*******************************************************************************************************************************

"Dear Dave,

This is Bridget Matthews. I am Kenny Matthews' wife and am sending you this email in his behalf. ***If there is any way you could forward this email to Delta Pilots and anyone else you feel should receive this information... I would really appreciate it.

Kenny has asked me to pass along to you some particulars regarding the funeral arrangements after the recent loss of former Delta Pilot Palmer Haines who died last week in a plane crash near Austin, Texas.



WHEN: The service will be held on Tuesday, September 28,2004
TIME: 11:00 am
WHERE: The Church of the Assumption near Camp Wood, Texas Interment will follow at the Haines Ranch (I'm not quite sure how far that is from the Church)


Pamela has ask that there be NO TIES or SUITS. She would like for everyone to dress comfortable, jeans and boots if you have them.

There will be a gathering or reception with food and drinks after the interment. All are invited.

There have been rooms blocked at the hotel...Woodvine Inn located in Camp Wood, TX. Phone # 830-597-2310. Please be sure to let the hotel know that you are with the Haines Funeral.

Directions to the Church of the Assumption are as follows: From San Antonio...

Hwy 90 west into downtown Uvalde, TX
At the Courthouse Square, go right (north) on Hwy 83/55

When you get north of town you will go over a bridge. Take Hwy 55 to the left after the bridge..(I think it only goes to the left or.. north northwest)

Stay on Hwy 55 for approximately 30 miles. The church will be on your left. There will be blue ribbons tied about.

In lue of flowers the Haines family has asked for any donations that you wish to make be sent to: Dioceses Of West Texas Attn: Water Ministry, Palmer Haines As I am sure you will understand, Pamela Haines and her family have there hands full at this time. If there any further questions that you need answered, please feel free to contact me or Kenny and we will do our best to answer them.

Sincerely,

Bridget Matthews
M) 817-629-3692
&
Captain K.R. (Kenny) Matthews
Delta Airlines, Retired
M)817-629-3176"

******************************************************************************************************************

"Subject: Death of retired Captain Palmer Haines
From: Douglas Boston
To: Dave Roberts

Dave,

It has been reported in the Austin American-Statesman that Palmer Swift Haines was killed in a small plane crash approximately 10 miles west of Austin, Texas. He was flying a charter for a company out of Ingram, Texas near Kerriville on a trip from Angel Fire, NM to Austin Bergstrom airport. He reported engine trouble to the Bergstrom tower and stated he was going to attempt a landing at Lakeway airport short of his intended destination.

Haines was carrying two passengers, Margaret Cardwell 82, and her son James Cardwell 49, both of Austin. Margaret Cardwell perished in the crash and her son is in critical condition in an Austin hospital.

Palmer Haines was a Vietnam veteran and was reported to have flown to Honduras to help drill water wells with a group from his local church.

Doug Boston"
***********************************************************************************************************************

Charles Finch sent the following update on our actions with regard to an appropriate group response:
"I sent a check today to the Dioceses of West Texas, ATTN; Water Ministry for Palmer Haines.

He was a very popular pilot for Delta Air Lines just like he was serving the 220th. If I hear anymore about the accident, I will forward the information to you.

Wish I could have gone to the service, but it just got back last night when I heard about it.

I will contact the family later this week. The service is today.

Charles Finch
706-467-9389"
DEATH OF JOHN MULVANEY, CATKILLER 3/16:
Ray Caryl reported this sad news on October 19:
RAYMOND CARYL" <2tandem@msn.com>

Don, I'm saddened to tell you that we lost one of our own on October 7th. Mary and I just found out when we returned from vacation on Friday night, and I confirmed it with John Mulvaney's wife, Joyce, on Saturday.

John died at home in Houston of a heart attack and was buried at the VA cemetery in Houston on October 12th. John was unable to attend our reunion last fall, because he and his family were traveling to Boston so he could be reunited with his daughter, Nancy, whom he had never seen.

John was one of the good guys. Always calm and cool in the air and on the ground. He was someone you could always count on. He backed me with Major Clark when General Tolson (commander of the 1st Cav) complained about me jumping telephone poles, as I passed his helicopter along Rt. 1, one day while returning to Phu BAi from Dong Ha (Tolson's helicopter was low-leveling down the other side of the highway, but I guess THAT was all right........him being a GENERAL and all).

Joyce told me it was OK to let the rest of the CatKillers know. She sounds as though she is holding up okay, and their son and other daughter live close to her in Houston. She told me that life with John "wasn't always easy but it sure was wonderful".....sounds just like John to me.......raise a glass in his memory.......I think John would like that. Her address is: Joyce Mulvaney, 4327 Countrytrails Ct., Spring, TX 77388.

Ray Caryl 32/42
PASSING OF LEN RICKS, WIFE OF DON RICKS
Kyung B. "Len" Ricks passed away on December 7, 2004, at 10:02 am. She had been suffering from adenocarcinona of the stomach for some time.
Donald M. Ricks

Obituary for Kynug B. "Len" Ricks (appeared in the TennesseanDecember 9):
SPRING HILL, TN
FRANKLIN, TN

Mrs. Kyung Bok "Len" Ricks, age 47, died on December 7, 2004 at her home in Spring Hill. Mrs. Ricks was born in Kongwol-Kun Province, South Korea on August 12, 1957, the daughter of Tae Lyong Park, an engineer for the Westinghouse Corporation, and Hwa Soon Kim, a Methodist missionary in Korea. Len made her home in Spring Hill. She was an active member of Hillview Baptist Church, Franklin. Mrs. Ricks was a naturalized American citizen.

Survivors include:

Husband: Donald Milton Ricks, a retired army officer and employee of the Federal Aviation Administration in Nashville, of Spring Hill, TN

Stepsons:
Jimmy Triquneaux of Elsenheim, France :
James Arthur Ricks of Parker, CO

Stepdaughter: Leona Marie Ricks, Atlanta, GA

Sisters:
Kyung Lam Chung of Seoul, South Korea
Kyong Ja Lee of Atlanta, GA
Kyung Ok Young of Rockvale, TN

Brothers:
Hang Uong Park of Seoul, South Korea
Kyung Chun Park of Leesburg, VA

Several nieces and nephews in America and Korea

Services will be conducted 1:00 PM Friday, December 10, 2004 at Hillview Baptist Church, 1642 Lewisburg Pike, Franklin, TN, with Pastor Lee Barnett officiating. Burial will follow in the Memory Section of Williamson Memorial Gardens. Family and friends will serve as pallbearers. Visitation will be from 6 8 PM Thursday at the Williamson Memorial Funeral Home and one hour prior to service at the church Friday.

Williamson Memorial Funeral Home, 3009 Columbia Avenue, Franklin, TN is in charge of arrangements. 615/794 2289
UPDATE ON JOHNNY AND KAREN MOORE:
This e-mail note came from Ron Lammonds, September 28:
"Don; Sorry I haven't passed on info about Johnny's funeral. He was buried at Tahoma National Cemetery with full Military Honors. It was very nicely done; as anyone who has ever seen can attest. I will try to get some photos scanned and sent out to you.

Johnnys' wife Karen is back home and is still going through physical therapy but is expected to make a full recovery. Hope all is well with you and yours.

Best regards,
Ron Lamonds"
FOUND CATKILLERS AND E-MAIL UPDATES:
Recent additions to the e-list and roster include:

"My name is Thomas Alegi (SP4). I was with the 220th RAC in 1968 as a Aircraft Maintenance person. I would like to be put on your e-mail list and also your members list.

I have been looking for the 220th RAC on the Internet for along time. Nice to be with friends.

Thanks,

Thomas Alegi
747 Benham St.
Hamden, CT 06514
203-288-3481
talegi@comcast.net "

Michael Mulcahy, son of Catkiller Richard C. Mulcahy Jr checked in and asked to be added to the newsletter list. Welcome, Michael.
This one is an interesting life summary by Dennis Williams:
"Donald. I was a little bit behind you along the same path. I spent an interesting Jan/Feb 1971 at Ft. Jackson SC, near tank hill in the old WWII barracks. almost died there with upper respitory infection. Until the finally packed me in ICE. From there to Avn. School at Ft. Rucker AL as a Mech on 01 Birddogs/U6 Beavers. I was second in my class with a 94 average, promoted to E-4 out of that class. They tried to get me to go to Warrant Officer School, But said ,I would have to sigh up (Indefinite) being an old Georgia boy , it sounded like a powerful long bit., so I declined their offer.

I was sent from Rucker to, 221st at Vinh Long for a while. that unit stood down after about 3 Months an I was sent to the 220th Hue/ PhuBai , wasn't there long until they stood down, and I was sent to be a door target/crew chief on Whop/ Whops HHC 11th Cbt. Avn at Marble Mtn. . I flew with the Airfield Commander there, Col. Holliman. The day I left Danang, going to Siagon to leave country, Col. Holliman was shot down. (a round in the foot 50c), and the Cpt, an Englishman, flying with him took a round in the gut.). They were both medivacked back to the US, don't know what ever happened to them.

While in the 220th I met a friend by the last name of Clark. When the 220th stood down he went to the 62nd Avn Co at Marble Mtn. Danang, and I went to HHC. We flew several mission together, Clark was later killed in an accident at sea. They had landed on a ship, when taking off the tail rotor struck a light pole, and they plunged into deep water.. Do you have any info. on Clarke or where hie was from. Seems like he was E-4 but may have been promoted to E-5.

I got my A& P License while still in the service a t Ft Carson Col. and spent 25 Years with Northwest Airlines in Atlanta, except for about 6 mo. working in Memphis. I was an Inspector for the last 8 years and took a layoff in Dec. 2002. Didn't like their offer to send me to the ice palace, in Minnesota. I can retire from NWA in Dec. but haven't completely decided.. My wife Myra & I are Realtor's with RE/MAX, united in Villa Rica, GA. We have 11 rental homes at present, keeps me hopping, and I couldn't carry those to the Ice Palace with me.

I never could get on the Cat Killer site. Must have punched the wrong letters. Welcome Home, Have a great Day. If you find out anything on Clark let me know. I flew bird dogs with a warrant officer Philip O Free, think he finally made W4. He now gives check ride for Fed X Pilots in Memphis TN. Phillp was with the 221st he got to come home when they pulled out. Philip taught me a little bit about flying. At least enought to git us home if he got hit. I have owned a Cessna 150 for a while. or the same one twice. I flew out of Villa Rica International (ha). Take care

Dennis W. Williams
326 Rockmart Rd
Villa Rica, GA 30180
denniswga@earthlink.net"




Photo of Dennis Williams is below:
These Catkillers had their e-mail message from the editor bounce within the last several days. Anyone knowing the correct e-address, please contact them:

Tastad, Jerry W.
John Michael DeMots (Catkiller42)
Don Long Catkiller18)
Herb Johnston (Catkiller) [New e-mail address for Herb is: HERBNBB@JAM.RR.COM (per Bob Cortner)]
Dennis Iaeger (Catkiller)
Bob Kilduff has a new e-mail address. Please remove your old one and communicate using the following: bkcatkiller@bellsouth.net
Michael Mulcahy, son of Catkiller Richard Mulcahy, has a new e-mail address: fmmulcahy@msn.com
This e-mail from Mike Humphrey came to my mail box some time ago, but I have not heard from him since responding to the e-mail:
I have pictures that I would send to you of [the] U-6 that I crewed. It was flown back and forth to the DaNang to pick up parts. I have picture of Maj.Stokes birthday cake and LST going to catkiller beach. Some other pictures also.

Mike Humphrey [flyboymike2@hotmail.com]
A LITTLE BIT MORE PHU BAI HISTORY:
Alan O'Hollaren's 212th CAB photo annual for 1971, page 19: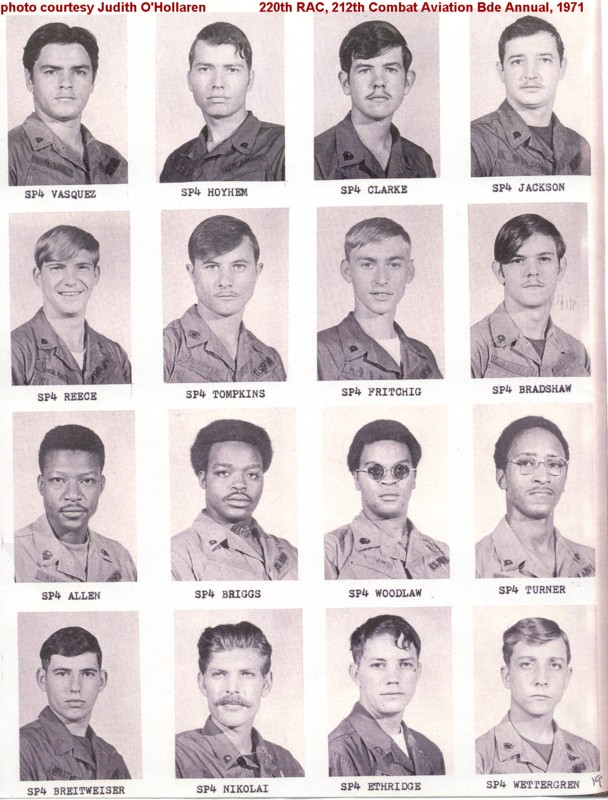 CATKILLER T-SHIRT ORDER FOR CHRISTMAS?
Leon Skeen continues to offer Catkiller t-shirts at a fair price, and you can order them anytime you desire. As a further money-saver for the hilidays, Leon has offered the following:
[Ask for] someone from the group [to] take orders up to a cut off date and collect all the money in advance. Send me the complete order at one time. I will do the shirts for $8.00 each, plus the actual shipping cost, for Hanes Beefy-T's. For a 6.1 oz, 100% cotton T, that is not Beefy-T, the price would be $6.00 each, plus shipping.

I am now using a color laser printer, with dye-sublimation technology, which is much faster and cost less.
Our challenge would be to determine the actual shipping costs. If someone wants to take on this task and come up with a reasonable way to manage the project, please volunteer.
NEWSLETTER UPDATES:
The size of the newsletter might grow during the month. Please check back, and if you have input for the newsletter, please send it in. The last date updated is posted at the top of this page.