220th Reconnaissance Airplane Company




December 2004 CATCOM E-Newsletter
(updated January 13, 2005 morning)



"Catkillers"
and Family,
and all Friends
and Brothers in Arms,
in memory of those who have served
CATCOM ENDING UNTIL NEEDED AGAIN
Just as I wrote at this time last year, things have been quite on the Catkiller scene. While we might have a need to make announcements from time to time, the newsletter does not have sufficient input to warrant publication on a monthly basis. I shall maintain the e-mail lists for sending as-needed announcements, and when a significant event occurs you will receive a notice, if your e-mail address on file remains up-to-date.

In addition to the ending of our newsletter, Scott Scummings has agreed to transfer all files from my web hosting site to his server, when we can get together to accomplist that task. When that occurs and when you access any of our main pages, there will be a link at my site which directs you to the appropriate file at his server.

Until we hear different from Bob McComiskie, he continues to main the official Catkiller roster, with all the personal data and information you desire maintained.
PERSONAL THANKS FOR CONDOLENCES, ETC.:
We have experienced the loss of several Catkillers, or their spouses and other family members, this year, a sad and painful reality for survivors and friends. The emotional experience of the death of a loved one is indeed a personal one for those effected, and no one can know the depth of sorrow, grief and pain one feels at such a time. From a simple statement of, "I'm sorry," to ""I cannot know your sorrow and grief, but let me help, if I can," comforts those grieving and provides a comforting link to someone who cares. To all who have taken the time to send cards or notes via e-mail, and who made personal phone calls, your action speaks loudly of your capacity to share your compassion and love for others, and to effectively lift others out of their untimely and difficult situation. Christmas is going to be a different family experience for some this year, and reflections on the life and times of their departed loved ones will surely enter their thoughts during this special season.
On a personal note, my wife, Kyung B. "Len" Ricks, died this month, a shockingly quick event for our family. A brave and remarkable testimony of spirit, grace, acceptance, and personal strength came forth from this much-loved young woman, especially during her short Hospice stay at home. I have never before witnessed such bravery, before such overpowering odds, and complete trust in God; she was honored by many during visitation and at the church service. I was honored, too, to have married such a beautiful and remarkable person, inside and out. The flowers, notes, and cards sent by family, friends (which included the Catkillers) and neighbors were numerous (and much appreciated), and now as I read the past newsletters of 2003-04 my heart shares a common bond of understanding with those who recall and mourn their loved ones. Thanks to all who care and share yourself in times of need.

Don Ricks
Catkiller 49
CATKILLER HOME PAGE NEWS (repeat from this time last YEAR!):
Scott Cummings purchased a large storage area web server and even has a new domain name. He plans to do some extra work on his web pages and will probably have an announcement soon regarding how this will effect your access to the site. When he gets ready, we'll let you know. Thanks to Scott Cummings for maintaining this site at:www.catkillers.org/

Photo page:www.catkillers.org (contains a link to previously published newsletters and alerts). Since this will be the last newsletter, this entire site might soon be absorbed by Scott Cummings' new web site. When we can work out the details, he will let you know. Until then, this site remains active and available. Personally, I would like to know that all our recent contact success does not become lost and outdated. Robert McComiskie has done a very good job for us in establishing and maintaining an up-to-date e-mail contact list. We will continue to discuss how to best gather and store the latest e-mail and other contact information for Catkillers and Friends. If you have any input, suggestions, or recommendations, please let us know.

A SOLDIER'S PLOT OF GRASS:
This was forwarded from Leon Skeen: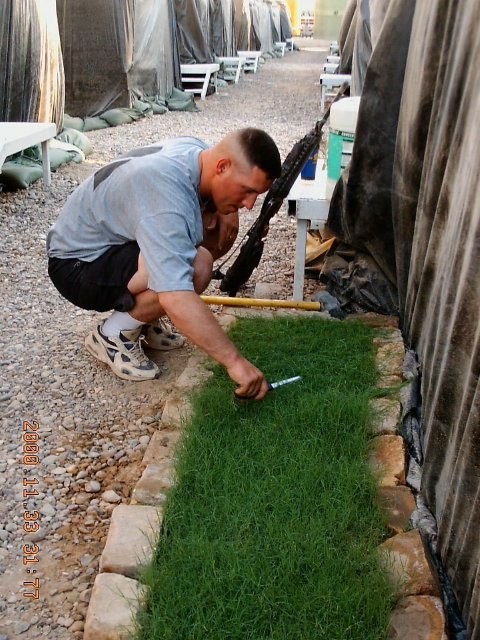 Here is an unknown soldier stationed in Iraq, stationed in a big sand box. He asked his wife to send him dirt, fertilizer and some grass seeds so he can have the sweet aroma and feel the grass grow beneath his feet.

If you notice, he is even cutting the grass with a pair of a scissors. Sometimes we are in such a hurry that we don't stop and think about the little things that we take for granted.

Upon viewing this, please say a prayer for our soldiers that give (and give up) so unselfishly for us.
DOC CLEMENT's HEART SURGERY:
We got a note from Charles Finch (January 10) that Doc Clement had had a heart attack and follow-up by-pass surgery. Here is the latest report:
"Catkillers:

Just got off of the phone with DOC. His voice is a little weak but he sounds great. He made me laugh for 15 minutes with his story about his attack.

It was on Friday night with tightness in his chest. He took some aspirin, some TUMS, and then the pain would not go away so he had his next door neighbor take him to the hospital.

He was operated on that night. He had 4 blockages and DOC said he could see them all on the TV screen when they did the heart cath. He went into surgery and his biggest complaint was having the ventilator in his throat.

Doc has been walking and sitting up and if you want to call him, the phone rings right in his room.

HOSPITAL PHONE number is 336-718-6116.
Brenda's phone number is 336-926-2135.
Home address;
163 Fescue Drive
Bermuda Run, North Carolina 27006

Brenda's email is brendaclement@yahoo.com.

I will see DOC on THURSDAY. Like I told him, he is probably healthier today than he was on Friday night.

Brenda is grateful for all of your emails and calls as well as prayers.

Thanks again.

Charles Finch"
DOC CLEMENT RECOVERING AT HOME:
Doc Clement sends this message from his own keyboard; God bless you Doc, we are happy to know you can still type, albiet slow!
"Just want to give a BIG thanks to all of my brothers out there for your prayers and good wishes. I got home yesterday after the heart surgery on Friday night the 9th of Jan., it is truly amazing the ability of the doctors now, home after 5 days with open heart surgery, I truly thank you guys for calling and checking on me.

I only had 6 months to retirement at USAirways ( if we last that long) so I just retired early. Will be recouping for the first couple months in Winston-Salem, NC thur the program that they have set up at the hospital then down to Miami. If anyone wishes to contact me here are the address and phone numbers.

Doc Clement
163 Fescue Dr.
Bermuda Run, NC. 27006


NC Home No. 336-998-0780
Miami Home No. 305-892-9465
Cell 336-926-4182
Email docclement@yadtel.net


Doc Clement
1800 NE 114th St #1806
Miami, Fla. 33181


You can't believe how long it has taken to write this email, now I know why they have drug tested us all these years.
Thanks again Catkillers you have truly helped a brother.

Doc"