MEMORIAL DAY, 2009: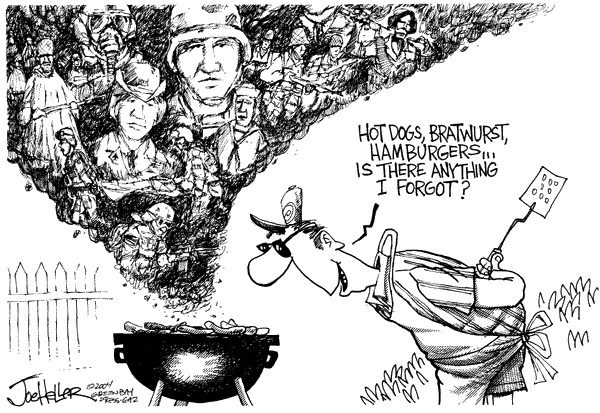 Jerry DiGrezio says it about a well as anybody could. God bless you this day, and thank you for your service!
"May 21, 2009

BROTHERS...

As I am ready to turn 65 on my next birthday (YIKES! Am I realy the F— old!) my mind often brings me back to my 25th year spent with the finest group of individuals that I have ever been priveleged to know. It was a different time unencumbered with email, computers, Ipods and cell phones. Today my son who is again in Afghanistan is able to speak to his wife on a daily basis. We had "Snail Mail!" The 4 - 6 days it took for the letter to arrive back in the "world" and the same amount of time for an answer caused our attention to be turned to each other rather than the frequent contact with home. Couple that with the almost total lack of female contact (except for guys like Hillman!) and bonds were formed that will never be duplicated.

The fine book by Jim Hooper, "100 Feet Over Hell" has a quote saying that we Catkillers fought for each other. I cannot think of a truer statement. It was for the guy on your wing, the guys on the ground and the brotherhood of aviators that existed there. Remember how the war stopped when an aviator was down? I remember when I had to make a forced landing at the strip next to FSB Birmingham, the most dangerous part of it was the chance of being showered with the debris from the possible midairs from the numerous aircraft orbiting my position!

So, on this Memorial Day weekend I fondly think back to when we were able to strap that Birddog to our ass, take off and perform a significant mission to support our soldiers. But most of all I think of the aviators and soldiers with whom I served. I never had a male sibling but as a result of that year I can say that I certainly have a "Band of Brothers."

Have a safe Memorial Day...

Jerry DiGrezio
Catkiller 25/3
1970"

---
Catkiller Rod Stewart returned to Vietnam a few years ago and wrote this poem, which he now appropriately shares with us. Thanks for the memories of your trip, Rod, and for these heartfelt sentiments pouring from the poem:
In Memorial — Rod Stewart Catkiller 13
"Return to Nam
By Rod Stewart

Hello old friends I'm here again, you knew that I'd be back.
Yet far too late to change your fate, or return the life you lack.
Not up in the air in a pilot's chair, on damp red dirt I stand.
Back at the place I last saw your face, this unforgettable forgotten land.

Our deadly toys and all of you boys that shared in this grim lovely place.
I recall you one and all, all your sounds your smells your face.
But awake from dreams of your mute dying screams, I smile as I open to see.
I still have a life, a home and a wife, all that you gave up for me.

This land where you fell and once was our hell, is a better place now than then.
The country that sent us, that broke us or bent us, now thanks us for where we have been.
Peace finally came and all of your names, are carved on a long wall of black.
When reading you there you made me swear, to carry my thanks to you back

Thanks brothers for caring when war was scaring, my youth down to my bones.
For showing me ropes and keeping my hopes, of someday seeing our homes.
For drawing their fire when things got dire and cramps came to the brain.
To fly a low pass that would be your last, dying to ease a grunt's pain

Back here in Vietnam I write you this song, it's all I have courage to say
I should drink you and toast you love you and roast you, each start of every day
Those times we had the good and bad, for the love and the beer and a song
The pain of your grave the pain I was saved, has gnawed me a little too long.

So goodbye my brothers, you and the others, thanks for the life that I've had.
The living you taught me, the time you bought me, has been happy rather than sad.
I've tried to keep living, to use what you're giving, to spend it wisely and true.
It's been a good run that soon will be done, each moment paid priceless by you.

Dong Ha 2007"
---
Finally, on this day, please view this video, and remember that NOTHING has changed in our history or the constitution. Our men and women serve their country, and many have died to keep us free. We merely need re-commitment that they did not fall for a worthy and exalted cause—only to be made ineffective by a catastrophic national failure by our citizens, who are the ultimate final line of defense. Everyone, be counted among those who are and wish to be Born Again Americans:
CATKILLERS.ORG LAUNCHED
This is to announce that the Catkiller page is now at catkillers.org:
Some of the instructions may seem confusing, at first, and repetitive, but you will soon locate and understand how to navigate to each page. Essentially, the Cat Bar is the site index, but there are, at present, some hidden files accessible from other minor pages. I will soon have all of them indexed at a site index page. All pages have not yet been converted, and some will remain as they were, but the process will continue for a few more weeks. Be patient, please, and ask a question, if you don't understand all the technical stuff.
Donald M. Ricks
Decatur, AL
E-mail: donrix@catkillers.org
E-mail: donrix@catkillers.org
BOOK REVIEW: A HUNDRED FEET OVER HELL:
Warriors pass to other men, who also become warriors, the example and masculinity needed to succeed as a warrior. That is why we have check pilots, instructors, standardization pilots, and heroes like the real characters in Jim Hooper's book A Hundred Feet Over Hell. These men were able to do their job well because of other men doing their jobs well; like the company staff, the supply chain, maintenance support, and the guys who kept the airplanes flying. No man accomplishes much in life without other men, but we often find it difficult to acknowledge this fact. Jim Hooper writes with skill to demonstrate the interconnectivity between men of strength, courage, and acquired ability and the success of men who follow. Without our consensus examples, men struggle to discover their true identity and purpose. This book is full of real men, who knew who they were, from the flight line soldier to the one who launched the rocket or made the call for help to support units, these are the men who made war. Our warriors, indeed!

As I read Jim Hooper's book, full of his skillful presentation of words and deeds provided by the men highlighted in his book, my mind naturally wandered back to the first days of my own Vietnam era flight experiences. I felt the passion, the often un-acknowledged fear, the awesome exhilaration of the moment. This book will take you back to memories you thought you had forgotten. These accounts are real, they are accurate, they represent what made the unit successful, and they anoint this book a treasure to own and read.

This is a book about men being men; it is all masculine and provocative. Bill Hooper said it plainly: "War was our life. It was what we did." Camaraderie lives where men share experiences and respect for one another. The 220th RAC enjoyed a sterling reputation, because there were standout warriors in every level of unit operations, and this book makes that clear. It is also why the commander merely continued to throw darts when these men let off steam. Leaders knew these men required an outlet. In the words of Bill Hooper, "Perhaps the saddest thing of all was that I would learn to be unemotional about killing, eventually joining others who were very good at it." Those emotions were often soothed by strange and aggressive brotherly behavior. Jim Wisby, Catkiller Six, made a profound statement, as descriptive as any to affirm the pilots of the unit: ..."because they were virtually on their own from takeoff to landing, it also required a personality bordering on controlled recklessness." These men loved, laughed, partied, set the example, and influenced everyone in the unit. The enlisted men were strong and valuable, too, inspired by the success and reputation of their officers.

I could write more but choose to merely state that this book is a gift, a labor of intense love for the men of the 220th RAC. Get your copy, and order a copy for your best friend, children, or for anyone you feel will benefit from a Wild At Heart example. An excerpt from the aforementioned book quotes King Henry V, who wrote to his men in 1598:

This story shall the good man teach his son;
And Crispin Crispian shall ne'er go by,
From this day to the ending of the world,
But we in it shall be remember'd;
We few, we happy few, we band of brothers;
For he to-day that sheds his blood with me
Shall be my brother; be he ne'er so vile,
This day shall gentle his condition:
And gentlemen in England now a-bed
Shall think themselves accursed they were not here,
And hold their manhoods cheap whiles any speaks
That fought with us upon Saint Crispin's day.

Thank you, Jim, for a commendable job in putting together the essence of our beloved unit.

Donald M. Ricks
CATCOM EdPub"
Reader Comments:
"To all my Swampfox and Shotgun Friends and Bird Doggers:

I have just finished reading this book by Jim Hooper about the 220th Catkillers out of Phu Bai. I highly recommend it, as it has a lot of first hand recollections . You guys will probably know some of the people in book. It was special to me, in that one of their lost pilots was a close friend (college roommate) and in my wedding, First Lt. Mac Byrd. To date, his remains have not been found—that I know about.

Sam Givhan"
Swamp Fox 31
---
This one came from a gentleman who wrote a "real" letter to the editor:

My reply via e-mail, as best I understand the event discussed (firsthand corrections or additional information welcomed):
Tom. the name "Catkillers" is absolutely meaningless and came about by mere chance. It is told in our circles that while the unit was headquartered at Danang, South Vietnam, and before the unit had a motto, call sign, or mascot, the subject came up at an assembly of company members. Someone suggested they have a contest to obtain call sign suggestions. From that conversation came the suggestion that they draw collected names from a hat. This happened, and they adopted from the draw the call sign "Catkillers" from that day forward. Several designs were put forward, and from those designs came the prototype of our current digitized symbol and patch. It has been an evolution process over time.
---
COWTOWN WARBIRD ROUND-UP , APRIL 25-26, 2009, FTW AIRPORT:
Dale Ross Stith advises there is another Warbird Fly-in this month, at Fort Worth, Texas, from April 25-26. Click on the link to read more about it. On the site are eight pages of great photos from the 2007 fly-in, as well a few videos of arriving aircraft:
Of course, being partial the the birddog, I stole one of their better photographs to post here: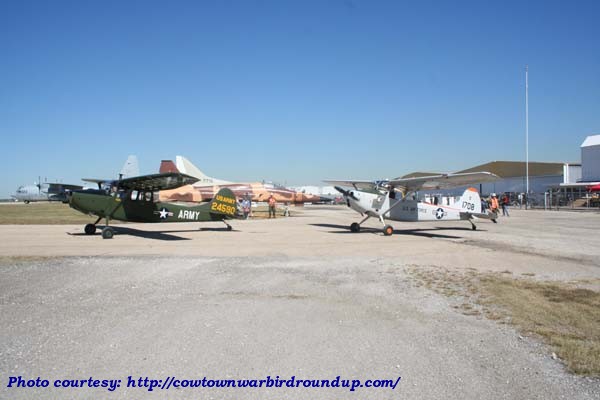 Dale also advises there is another planned OV-10 Bronco/FAC Museum/Veterans Memorial Air Park activity in Ft Worth. This is long-range, but you might be interested in it:
"We [VMAP] have been selected to host the 2010 All FAC Association reunion. We have offered to host the bi-annual event for several years. The event will be held in October, 2010.
CATKILLER REUNION, 2010:
Bud Bruton states that we need representation from our enlisted members and Artillery (Forward) Observers (those we fondly call "backseaters") to serve on the 2010 reunion committee. From those two groups, we specifically seek interested volunteers to serve on the committee, currently scheduled to meet in Philadelphia, arriving June 25 and departing June 28, 2009. If you want to contribute your time and energy and can meet in Philadelphia in June, contact Bud Bruton (bbruton@brutonfinancial.com) for further information and instructions. If you want to contribute your skills and talents in other areas, contact Bud Bruton. The sooner, the better.
CATKILLER ROSTER NOW AT NEWSLETTER SITE:
After many continued e-mails asking for corrections and additions to the Catkiller roster of unit personnel, I have added an updated version of the roster at this site. If you follow the instructions and submit your data, I will see that it appears on the web site. Here is the link to the roster:
The CATCOM Newsletter index is now located and accessed from the Cat Bar.
Roster Review Comments:
"In reviewing the roster I just realized that I had forgotten to include two additional corrections. I have been mistakenly identified as CK 31. I was never in the 3d Plt but was in fact a charter member of the 4th Plt when it was founded at Dong Ha in the spring of 1967. I was CK 40. Also important is our platoon leader. He was a great guy and is absent from the roster completely. The original Catkiller 46 was Captain Bob Freck. I believe he lived somewhere in the Missouri/Mississippi area but I have been unable to find him. [Changes made, and Bob Freck entered on the roster.]

John M Holihan
Catkiller 40"



---


"Thanks Don. Vung Tau. I was a WO-1 (W3152371). Other Catkillers in Danang at that time were WO-1 Norman S. MacPhee and WO-1 Ron Santos. I was shot down west of Hoi An on June 13, 1966 I was a Warrant Officer, not a Captain, thanks for the addition (and promotion, even though temporary). I flew for the Danang platoon from Mar. to Oct. 1966, and then transferred to the 54th Avn. Co., where I flew Otters for the balance of my tour. [WO-1 Santos added to the unit roster]

Don Medley"



---


"Served 1970-1971 under CPT Spann. [CPT Spann added to roster]

William W. Nunn
Catkiller 42"


---


"My info should read as follows: BUSTER, MORRIS R., Crew Chief, SP5, Phu Bai, Dong Ha. [Info corrected and e-mail updated.]
My new e-mail is r-buster@att.net
Rich Buster
Grass Valley, CA"


---


"When I arrived in RVN in June 66 I was assigned to the 2nd platoon, based in HUE. About Half way through my tour, our call signs were changed to numbers, instead of letter designations. My new call sign became Catkiller 21, instead of Catkiller Echo. This was true for the whole 220th organization; all letter call signs were dropped and replaced by numbers. The number 2 in 21 designated the 2nd platoon. If you were assigned to the 3rd platoon, your call sign began with the number 3. 1_ was for the 1st platoon, 2_ second platoon, 3_ third platoon, and 4_ fourth platoon. Call signs were kept until you were assigned to a new platoon, or rotated back to the US. Newly assigned pilots would then get whatever numbered call signs were vacant.

Regarding rank, I arrived in RVN as a 1LT and was promoted to CPT, half way through my tour. Left RVN in June 67.

Richard (Dick) Bielot"


---


Just to elaborate on the info in the roster, I was assigned to the company from November of 1967 through June of 1969 and then returned to the states as a SP5. My final six months in the spring of '69 were spent as one of two company tech inspectors. I logged over 50 hours in the back seat of various birddogs, riding along on test flights with John Kovach and Tom Adams. I hope to make it to the 2010 reunion in Philadelphia.

Charlie Fitts

[Charlie, every pilot certainly appreciates you and the other maintenance personnel who did a great and special job keeping the airplanes flying. It would be a welcomed addition if one of you could write a brief on your typical routine and contributions. Thanks from all of us. Don Ricks]

---


I was a SP4 in the unit from Jan—Dec, 1970. I spent my first two months or so as the first radio teletype operator (after we set up the radio teletype unit and strung the antenna with guidance from a General Dynamics consultant who spent time with us). The last 9 or 10 months of my tour, I was the graveyard flight operations/air traffic control specialist.

Richard Phillips

---


"William "Dusty" Rhodes, SP5, Flight Line, served in the 220th from May/June— Nov. 1970. I was with the 199th Swamp Fox from November 1968—May 1970.

Dusty Rhodes"

---


"After looking at the roster, I noticed two pilots who were at Quang Ngai who are not listed. They should be part of the original Catkiller group. Monty Price, 1st Lt., was there when we arrived and was with the 220th for at least 9 months. Also, Ron Fero, WO, was killed in a midair collision with an ARVN pilot during an operation. He had a private from the group who was with him that was also killed in the crash and I can't remember his name. Ron's name is on the Vietnam Memorial, as is the Private [named in the Virtual Wall data and entered on the roster] I'm sure. Monty Price was my room mate at Quang Ngai, and he was from San Antonio TX. [see Virtual Wall link at the roster for Fero.]

Regards,

Jim Keathly"

---

"Regarding the entry for WO CASTREN: his first name was Floyd. He was my flight school classmate and a Catkiller in 67-68. He was a WO and probably the maintenance tech while a CK. He and I attended the Aircraft Maintenance Officer course at Ft. Eustis, VA just before deploying to RVN. He passed away about 5 years after being medically retired from the Army and suffering the ravages of Type 2 diabetes. Agent Orange exposure was suspected as the cause.

Another CK that is not on the roster is CW2 Wade H. Godfrey. He was there during my tour, 70-71. He was in the same flight school class as Paul Smith. He was in charge of the Camera Pod project. I dont know if you remember that, but it was an aerial camera mounted inside a metal canister about the size of a 5 gallon bucket with spherical ends front and back. It mounted from one of the wing racks instead of a rocket pod. It took vertical photos . I think the S-2 shop at Camp Eagle processed them. The last time I saw Wade was at Ft. Stewart, GA in mid 1971. I'd sure like to know where he is these days. He was a great guy and very committed to his Catkiller missions.

Going over some old orders and memories, here are a few other Catkillers that were there in 70—71:

Cpt Richard J. Wright; Lt. ? Soriano (aka: Siddhartha) (flew second ship with me on night artillery recon over Laos during Lamson 719 in 1971); Cpt. William R. (Bill) Dortch, (Aircraft Maintenance Officer); ISG Donald Kunimura was the First Sergeant while John H. Stokes III was the CO (first half of 1970); Maj. Jack L. Guinn took John Stokes' place as CO in July 1970

Sorry I can't provide more current information on these. Thank you for your work on the roster. I really appreciate it!

Best wishes,
Al Paulsen"

---

"I arrived in RVN on May 25th, 1969. My normal DEROS date should have been May 25th, 1970 but I got a one day drop to May 24th. My last day with the 220th was May 22nd. Major Gebhardt told me he was flying to DaNang that afternoon and offered me a ride which I accepted. While waiting for him outside the Orderly Room, with my duffle bag in my hand, tears flooded my eyes for a half minute for no reason at all. I whipped out my handkerchief and pretended to blow my nose and quickly lit up a smoke to make it look like all was normal.

Once in DaNang we went to the 212th Avn Bn HQ where I reported in as ordered, met two Sgts I had trained with for 7 months stateside - a nice reunion - and slept the night there. Next day, May 23rd, we took a military flight to our departure site (Cam-ranh Bay?) and after checking in and chow I took a shower and on the way noticed an M60 firing into the night from a bunker not far away. I hit the sack at about 10 and they woke us up a short time later for transportation to the airport and the Freedom Bird. I was a draftee, and upon arrival at Ft Lewis I was separated from the Army, as I had less than 150 days to serve.

In reviewing the roster I see that Larry Landersheim was KIA the day after I left - May 23rd, 1970. What happened? During my time with the Catkillers we did not suffer a single casualty other than an EM who took a bullet while driving a truck away from Phu Bai.

I worked in the Operations bunker and spent many a night on the midnight — 8 AM shift.

On my flight to "The World" I was sitting next to a guy who was in my Basic Training Company and Radio Op. School at Ft Dix. The last time I haad seen him was Feb 5th, 1969 as 20 of us from the radio school - one week short of graduation - were shipped down to Ft Gordon, Ga. for radio teletype School. I was startled to see him as I knew right away he had been in RVN more than a year. He said he extended his tour to get the same early out as me — he was also a draftee.

Best regards

Joe Mead"
---
219th AVIATION COMPANY (HEADHUNTERS) REUNION, OCTOBER 2009:
"Be sure to check out the website for the 219th Aviation Company Headhunters Reunion scheduled for this October 14—15, 2009.

Go to Headhunters Reunion Page

Hope we see everyone there!

Bob Brewster
219th Headhunters Webmaster"
THE SEARCH FOR AO WILLIAM NORTON:
We began to search for an Artillery Observer assigned to the 108th Artillery back in February 2003 (see the newsletter). The AO flew with the Catkillers and was involved in notable combat operations with our aviators. Recent information obtained from Jack Bentley, Catkiller 16, indicates that CPT William W. Norton, the man we sought, might have gone to flight school and later died in Florida. Jim Hooper, who at the time was conducting research for his upcoming book A Hundred Feet Over Hell, wanted to consult with Norton concerning his recollections during his work with the 220th RAC. Many people diligently sought to locate Norton, to no avail. This week, several of us communicated again concerning Norton, and we discovered a man by his name listed at the Vietnam Helicopter Pilots Association (VHPA) web site. They have a record that a Norton by that name died in 1994. An excerpt from a letter from Jack Bentley led to the further discovery:
"In 2003, I wrote to the National Personnel Records Center (NPRC) in St Louis and obtained a morning report for the 108th Arty GP, dated July 4th 1969. The report showed his name as William W Norton, and he was being assigned to the 95th Evac Hospital. This seemed to confirm my recollection that Bill had been injured in a fight with his roommate (Mike Briscoe another 108th observer), and was sent back stateside. I know Bill planned to go to flight school, and the class number would make sense as well.
Here is the VHPA entry for CPT William W. Norton:

"NORTON WILLIAM W
CPT William W. Norton was a potential VHPA member who died after his tour in Vietnam on 12/31/1994 at the age of 59.
Davenport, FL
Flight Class 70-26
Date of Birth 07/30/1935
Served in the U.S. Army
This information was provided by Bill Sullivan [died a few days before Jack had an opportunity to speak with him].
This information was last updated 06/19/1995"

Source: http://www.flyarmy.org/DAT/datN/G61776.HTM
This is a photo of Jack Bentley and William Norton: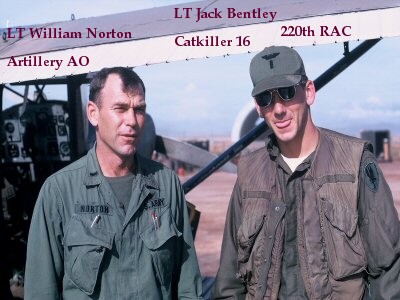 We shall continue the search to ascertain if the man who died in Florida was, in fact, AO Norton.
SOCIAL SECURITY: SPECIAL EXTRA EARNINGS FOR MILITARY SERVICE:
Thanks to Paul Brennan for this tip: "If you haven't yet filed for social security benefits, you might benefit from viewing the following web page at the Social Security Administration:"
QUIET AIRCRAFT ASSOCIATION ARTICLE:
Dale Ross Stith send an interesting article about the development of the QT-2, a prototype which lead to production of the YO-3A. You can view the article, written by Dale, at the following link:
---
BLACKWELL FIELD FLY-IN, 2009:
It appears that Curt Perry and Daryl Wesley enjoyed the day at the airport in Ozark, Alabama:
Daryl Wesley and I went to a fly-in at Blackwell in Ozark, Alabama, two weekends ago. There were nine birds there; all of them very nice. It was good to see the care that had gone into all of these planes. We met a Black Ace (21st RAC), a Headhunter or two (219th), and several other interesting fellows. They had an informal fly-by (flight of two) but nothing like the Catkiller (last-flight) fly-by's. No champagne at the end, either, not even a beer. Anyway, a good time was had by all. The event was sponsored by the Warbird Foundation. Curt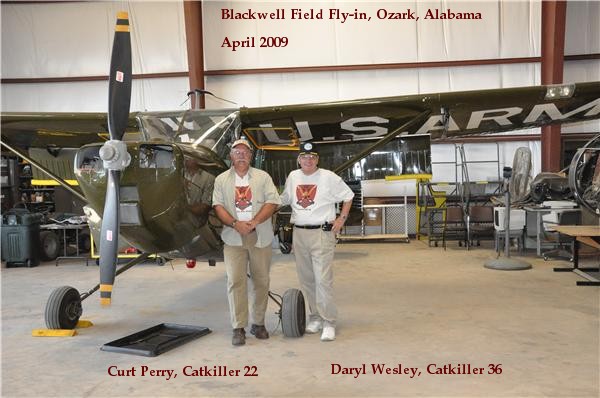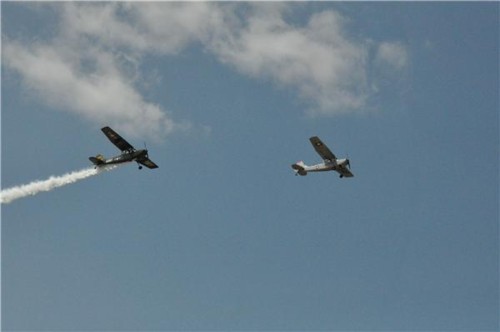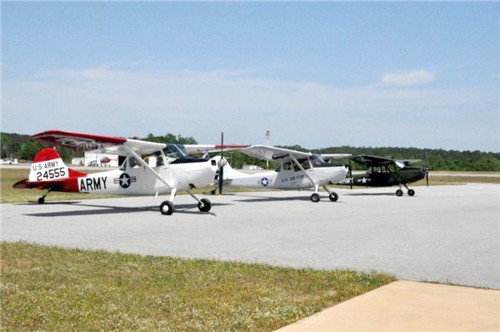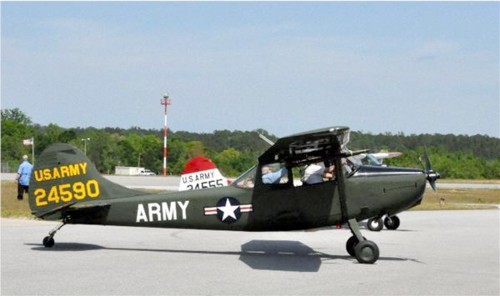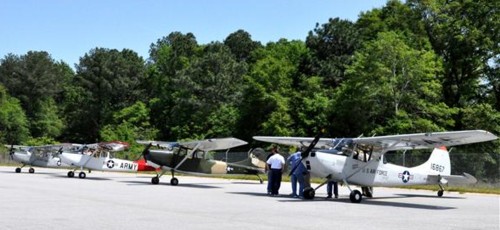 BIRD DOG HISTORY 101:
This link came from Jack Bentley, and it covers a variery of multi-service L-19s. You might enjoy some of the highlights: