This page now complies with W3.org's requirements for HTML codes/CSS styles (see Cat Bar certification tags).
back to top
Greetings from the Great Northwest
Home of Fort Lewis, where the 220th Aviation Company
was organized on 15 April, 1965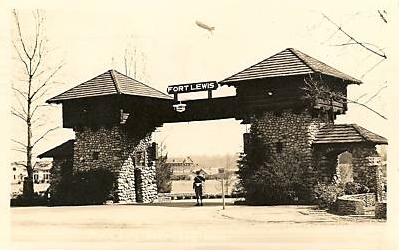 MARK YOUR CALENDARS!
Plan a July 11th arrival, 12-14th time of your life, and departure on the 15th, for the 2012 Catkiller Reunion in Seattle Washington. You may even want to come early and stay late while you enjoy a mini-vacation in the area at the height of our summer season. Hotel rates will apply for 3 days before the reunion and 3 days after the get together.
The hotel will be the DoubleTree Guest Suites, Seattle Airport/Southcenter with unlimited access to more than you can imagine—via the new Light Rail from SeaTac to downtown Seattle—plus many other opportunities within 100 miles or an hour or so in almost any direction.
There is a KOA Campground near the hotel for those who may wish to make this an RV outing. In Fact, here is an "Available Activities" page to help with many decisions regarding what to see and do in the Seattle area (information compiled and presented by Charles Welsh):
At this time we are looking at only three scheduled events — a very informal pizza/salad buffet welcome "mixer" (cash bar) in the hotel atrium on Thursday evening, second, a 220th and associates crew breakfast for all those who served and worked with the 220th (separate breakfast for the ladies to discuss Seattle opportunities), and, third the traditional sit-down Banquet (cash bar) on Saturday evening.
We will take a "straw poll" on the registration sheet to see if there is enough interest for those who might like to refresh any memories of Fort Lewis — or see it for the first time.
Friday will be a totally free day for individuals or "era" groups to do your own thing with the opportunity for many mini-reunions of old friends during the day and evening. We will be offering assistance to ensure that your time during these few days is well spent. And rest assured that the Hospitality Suite at the DoubleTree will be available for your R and R time.
We solicit your assistance in these areas before the reunion:
Contact others you think may be interested in attending.
Send us up to three of your best photos from Viet Nam for use in the Hospitality Suite and Banquet. These photos should have information attache—who took the photo, where, and year. Send to catkiller2012@earthlink.net
We would like to have some short war stories from you. Up to three of them, limited to two single-spaced typewritten pages from your time with the 220th. Your name, time frame in country and location should be included. There should be no offensive material in the stories because we hope to publish these on the web site and possibly even a tell-tale booklet (at cost) after the reunion. These can be from anyone in or who worked with the 220th.
The attachment to this notice gives you a preview of Things To Do in and around Seattle. We will have more information for you later. Come prepared to enjoy every moment of this reunion and your visit to the Great Northwest.
Present Committee Members are:
Charlie Welsh, 1965—66
Gene Wilson, 1966—67
Lloyd Oake 1967
Al Paulsen, 1970—71
Norm MacPhee, 1966 (Chairman)
Dick Wolfe, 1970—71
Jack Bentley, 1968—69
Rod Stewart, 1967—68
Dick Tobiason, 1966—67
We are looking for additional assistance from all year groups who served in the 220th during 1965-1971.
Our email, if you wish any information or would like to volunteer to join us is:
Your Reunion Committee
back to top
Flight simulations are becoming very sophisticated, as readily available videos prove. Still photos, like the Air Force O-1 Birddog photo below, and two at the top of this page, give you an idea of what you can see at sites like YouTube. One video in particular provides an interesting tour of just how amazing high this area of entertainment flies. Just take a good look at these two video links sent in by Patrick Webster (Catkiller 44), 1969—70: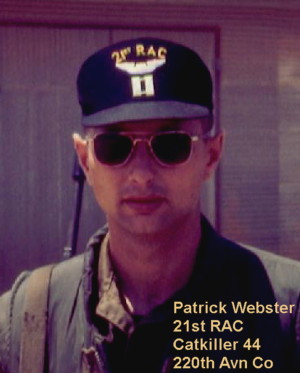 "Flight Simulator X (FSX) is an open architecture program. While the program came with default aircraft and world wide scenery in the basic package, the open architecture has allowed programmers to create additional aircraft and scenery improvements , both free for download on the internet, as well as payware for purchase as downloads or boxed. Because of the realism of FSX itself, and the high quality of add-ons, the effect has been to create an enormous world wide industry and computer flight sim community. The two add-ons that make the pics I sent to you graphically interesting are the Sibwings O-1 and the Orbx Pacific Northwest Scenery add-on. Amazingly, as detailed as the scenery is in the pics, the scenery is not at the most detailed level! To take advantage of all of FSX's capabilities requires an extremely powerful computer. In my own case, I have a gaming laptop computer which is one of the fastest around. Even so, if I try to max out scenery detail, it slows down the frame rates on my computer to an unacceptable level. So, the scenery you are looking at in those photos is about two levels down from what it should be in detail.

So, how did I get the pictures [AF-O-1-15081]? FSX allows you to easily transition from interior to exterior views while static, taxiing, or flying. It also allows one via a toggle switch to vary the view angle through all axis 360 degrees. So, via the toggle switch I can view the airplane from inside/outside while flying it and do so at every conceivable angle, front, rear, top, bottom, etc. Another feature that is helpful is the playback and pause modes. As an example, I flew our 220th bird for a couple minutes over Seattle, paused the flight and then clicked playback. Once in playback mode, I could transition my views, just like in real time. When I got a view angle I liked, I paused the playback. Then, using the Capturewiz software, I took a screen shot of the area I wanted. Simple as that. Actually, the screen capturing techniques I use are rather rudimentary. Some of the folks in the flight simming community have elaborate screen capture programs and utilize video capture extensively. Many are very proud of the vignettes they have produced and upload them to be seen on Youtube. I picked two links I thought you might find interesting. One is from Orbx which they put on Youtube to show how realistic their scenery is. It is unique because it starts out in a car and then transitions respectively to an R22 Robinson helicopter and then to the Sibwings O-1. The second features the Sibwings O-1 being used in an emergency rescue and to show its STOL capabilities.
For more excellent Birddog (The Lovable One-Niner: A Complete History of the Cessna L-19 Birddog, if you will, according to Minard Thompson, arthor) photos and research, check this link sent by Patrick. There is interesting history, too:
The Bird Dog in the Vietnam-Laos Wars
back to top
This entry comes from Patrick Webster, Catkiller 44:
" The 21st RAC, based in Chu Lai, had its 1st platoon permanently located in DaNang, at Marble Mountain Air Facility (MMAF) during all of 1969. Physically, the platoon Operations Hqs occupied a wooden building, about 20 by 40 feet, next to the PSP parking ramp on the west side of MMAF. The 131st Mohawk Company was next to us. Also, The 212th CAB Wings of Freedom HQS was only about 400 feet away (too close for comfort!). After my initial orientation in Chu Lai, I was sent north to DaNang to assume command of the 1st platoon from CPT Mike Frazier, who was rotating statside. I arrived in March and remained in my position of platoon leader until I was reassigned to Phu Bai in early November. During my brief period with the 220th, I was a member of the Company HQ staff, but flew most of my missions out of Dong Ha and completed my tour in early March.

The call sign I had with the 21st was Blackace 16. I was at Marble Mountain for about eight months before finishing out my tour in Phu Bai [with 4th Platoon of the 220th]. I mentioned it before, but we had a picture of a mean looking cat posted above our flight planning area in our operations shack at Marble Mountain (It was there when I arrived and there when I left). If you look at the picture I sent, taken in our 1st Plt ops building planning room, the cat is visable behind Denny Sherman's head.

For your information, the pilots in the group pic are 1st platoon pilots CW2 Jodie Dobbins, 1LT Jim Crichett and CPT Denny Sherman, of the 212th CAB HQ staff. We had a lot of respect for guys in the 220th. We worked extensively with 1st Marine Division air controllers attached to VMO-2. Although our Marine backseaters also flew missions in the newly acquired OV-10 Broncos, they preferred the low tech O-1s for FAC purposes because of the relatively low speed, excellent stay time, and fantastic visibility (the Broncos had distorted vision where the curved Plexiglas met the fuselage). We had some interesting hair raising air support missions with the Marines, but nothing on the scale of what the guys in the 220th encountered during 1968.

Finch, Clement, Hooper and the others recounts of some of their missions were down right high drama!! Those guys were a little wild and crazy—but obviously dammed good pilots!! I am glad Jim Hooper's book [A Hundred Feet Over Hell]gave them an avenue to relate their personal experiences and convey to readers a deeper appreciation of the inherent dangers of being a FAC and the mental mindset of this special "band of brothers." Quite a contrast when compared to the modern day "FACs" who remotely control the flights of Predator type aircraft from sanitized flight operation rooms thousands of miles away from the target area!"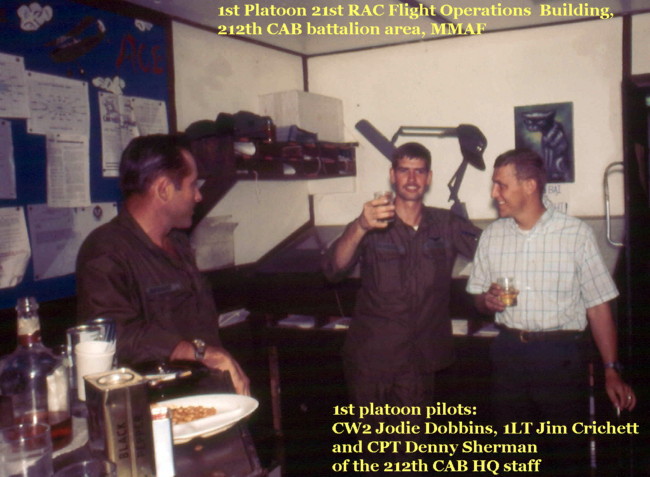 Welcome Bill Johns, Catkiller 20, from 1971. His information is on the roster and in the note below:
"I was Catkiller 20, CW2 Bill Johns (William M. Johns). I was in the 220th throughout 1971. Flew with many of the Catkillers listed including Brown Cabell, 1971. Ken Wiley, Catkiller 26, was my platoon leader."
---
This came from Jim Hooper, who received the message as a result of his book, A Hurnderd Feet Over Hell, being read by a former 108th Arty AO:
[Jim,] "I purchased your book last year. I was Sundowner Charlie for the 108th arty group during August 1970 to January 1971. The Catkillers were great guys. I have been very quiet about Vietnam service to my family. This book helps tell the story of my participation. Thank you.

Stuart Grange"
back to top
One of the first changes you might notice is the top header graphic. It no longer includes supported units, as there were too many to appropriately display their unit insignia, crest or patch. Another change is the Home Page. There, you will find our chain of command, a well-crafted Evolution of Unit Designations and Patches, and a complete listing of Units Supported by the 220th Aviation Company. Soon, as information becomes abvailable, we plan to add additional data regarding the nature and mutual benefits of support provided each unit. Gene Wilson has been busy for several months working on these areas of interest and history.
At the top of the Catkiller History Index page (or see top of Cat Bar) is a repeat of links found on the Home Page, as well as another link to a growing, work-in-progress overview of Company Commanders and Unit Staff, which includes what is known about the command structure for each commander. Also from the Catkiller History Index page (1967), you will find an interesting and informative article written by a Columbus Inquirer regarding Roger Putnam, Catkiller Provider.
Also added with this newsletter's files is a 1967 history page devoted to Marine 1LT William Anthony Berry. This page came about through excellent initial historical detective work by Gene Wilson, and through the help of a host of interested citizens in Berry's hometown of North Jackson, Ohio. Our thanks to everyone involved.
As you view the changes and updates to the web site in the Evolution of the 220th Aviation Company, the units it supported and the names of key members in the Company, we can use the input from any volunteer to actually start creating rosters for all members of the platoons as we "grow" the Catkiller roster for the entire company for the 2012 Reunion. We also welcome any other information and/or stories from your time with the 220th. [Gene Wilson].
The above appeal draws attention to more eyes and thorough reviews of what is being put on the newsletter site. One man is not enough to cover and make perfect everything that comes through one computer. This site is getting much larger than one person, so your assiatance, however small it might seem, is essential to any improvement and health of not only the newsletter, but also to the validity of our unit history records. [Don Ricks].
back to top
The Catkiller Roster continues to impress visitors with its new look. One reason is the addition of thumbnail photographs, which puts a face to a name. Thumbnail photos appear when available. If you have a favorite one, and want it used on your line, please send it in.
Check the text portion at the top of the roster page to find information about additive data also being included on certain roster lines. Anything noteworthy can also be added, from military awards to outstanding civil service recognitions. Recently added are citations for medals above the Bronze Star level. If you have a citation, please send it in. A few example are entries for Harold Bordeaux, Larry Deibert, and Roger Putnam.
back to top
Gene Wilson, our third executive officer and now historian, recently visited Larry Deibert at his home in Oregon. Below is a statement about the visit written by Gene: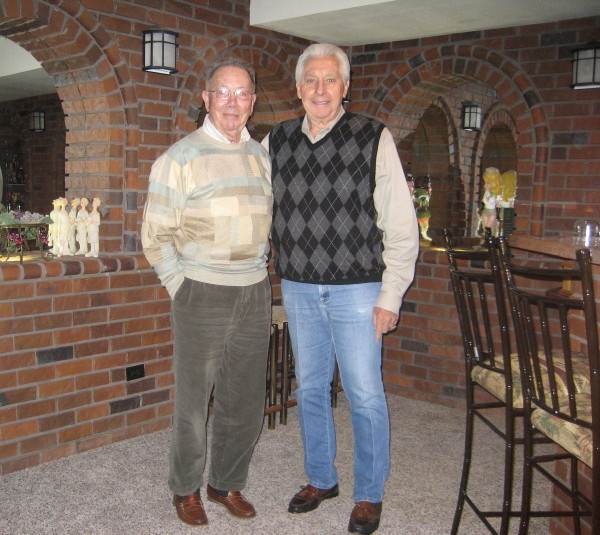 "Friday, March 18, 2011 was a "Gold Star Day" as my wife, Ellie, and I visited with Larry Deibert and his wife, Suzanne, near Portland, Oregon. After meeting them for lunch at Shirley's Tippy Canoe on East Historic Columbia River Highway, just ouside Troutdale, we departed via the "back way" to their home in Corbett atop the Columbia River Gorge for a very special afternoon. I had not seen Larry since June 1967 in Phu Bai, and we were able to recall and share many memories.

Larry actually became Lloyd Rugge's replacement at Quang Ngai in January 1967. Due to his immediate track record with the 1st Platoon, his prior experience and demonstrated maturity, when "Chico" Fernandez departed, Larry was selected as the best qualified replacement as Assistant Operations Officer. Larry is truly unique in that he was an "older" volunteer as an Oregon National Guardsman - a humble, quiet person, we were indeed quite fortunate that he was assigned to the 220th. He later requested command of the 4th Platoon at Dong Ha and is one of few who served the unit very well in three different positions. His initial routine recon mission on September 10, 1967, that shortly thereafter resulted in his award of the Distinguished Service Cross certainly marks him as one, if not the, most decorated member of the Company among us. In addition to several other awards while he was with the 220th and also as Guardsman and Reservist, he is recognized today as the most decorated living former member of the Oregon National Guard. As the current Civilian Aide to the Secretary of the Army (CASA) for the State of Oregon, he is the equivalent of a three-star-general. If you have not read the write—up in the 3rd Quarter 2010 CATCOM, which includes The Oregonian article, it is a must!"
You might find this video interesting and informative, representing a bold step in doctrine and technology: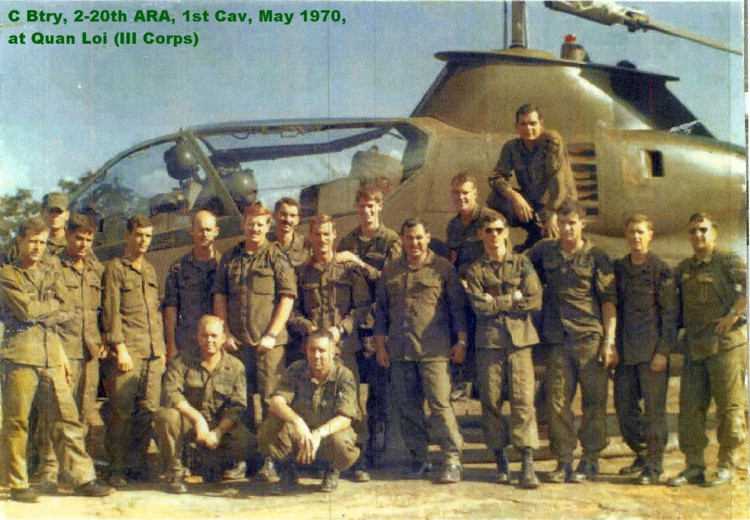 "This is C Btry, 2/20th ARA, at Quan Loi (III Corps), on my 36th birthday. My "Blue Max 66" outlaws during Operation Shoemaker in Cambodia for the Nixon Incursion—As I count heads, the three crew pairs on daily ready "Status" (the two minute "Hot", the "Blues" and "Standby 1" crews) were either on a mission or otherwise not able to make the photo-op. Except for my Maintenance Officer (under the hat), my Operations Officer (on my right) and our DS Maint Det Cmdr (on the far right), all of these young aviators were were 1st tour 1LT to CPT and WO1 to CWO aviators, like most of our/your younger later Catkillers. On the first morning of the Operation we launched 6 Cobras (three fire teams of two aircraft each) with every lift of Infantry going across the border [we (C Btry +) had 24 of the battalion's 36 AH-1Gs with turn-around missions about as quick as we could make it happen].

The "Old Man" of C/2/20th is the one squatting on the right [as you look at the photo]. I always looked up to these guys and flew front seat with many of them. My XO, who took the photo, was on his 2nd tour with 2/20th. My Operations Officer, Tony Hutson, on my right, was my 3rd Plt Ldr and SIP until I moved him into the Opns Bunker. He was a young SF NCO on his 1st tour in Vietnam, a WO in a Huey lift unit on his 2nd tour and after a direct commission was a CPT on his 3rd tour with us - and still under 30 years old.

"We were soldiers once...and young..."

Gene Wilson"
Editor's Note: Jim and Bill Hooper have a proud heritage of successful direct involvement in hostile military actions. Their father served as a naval aviator in the Pacific and Asian waters, Bill in Vietnam, and Jim in Africa and the Balkans as a war correspondent and photographer (and author of A Hundred Feet Over Hell). Their photos are below the caption of their father's photo. When Jim shared his father's action photos in private, plus the fortunate email account below, I was amazed and asked if he would give permission to share it with all of you as well. I certainly like this part of the job!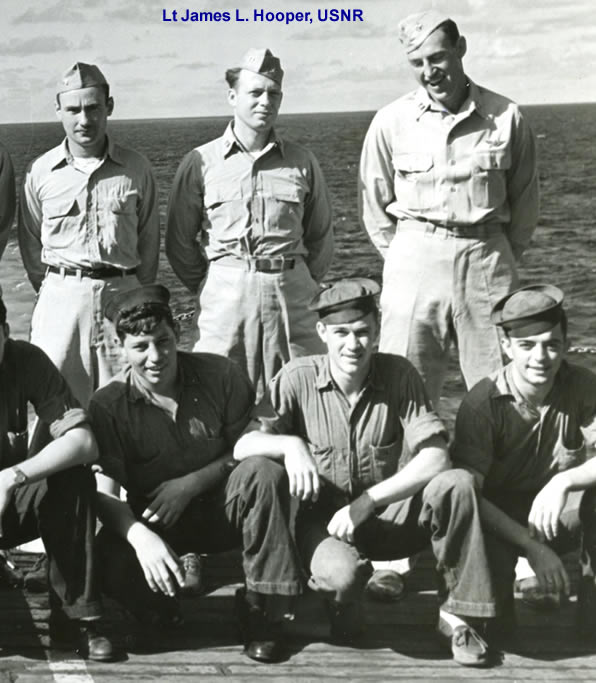 "Lt James L. Hooper, USNR (standing center), aboard USS Hornet CV-12 between Hawaii and the South Pacific in late 1943. After being land-based at Henderson Field on Guadalacanal, from where they conducted operations against Japanese naval and land targets in the Soloman Islands, and then a brief spell on Majuro Atoll in the Marshall Islands, the TBM Avengers of Torpedo Squadron 11 returned to the Hornet. In June 1944, as part of Air Group 11, VT-11 launched to hit targets on Guam and Rota, then bombed enemy airfields at Iwo Jima, Tinian and Saipan. Two weeks later, Hornet formed with the Fast Carrier Task Force to intercept the Japanese First Mobile Fleet that was steaming through the Philippine Sea to oppose the US Marine amphibious assault at Saipan. The squadron participated in the first strikes against Okinawa in October 1944, and two weeks later hit the retiring Japanese Fleet during the Battle of Leyte Gulf. It provided close air support for the landings on Leyte, Luzon and Mindoro, as well as bombing Clark Field and shipping in Manila Harbor. In January 1945, the squadron struck land targets and ships on and around Formosa, and was the first US Navy force since the beginning of the war to enter the South China Sea, with VT-11 striking targets in Saigon and Cam Ranh Bay, a convoy off Qui Nhon, more shipping around the Pescadores Islands, and Hong Kong. After sixteen months of combat operations, Air Group 11 returned to San Diego in February 1945."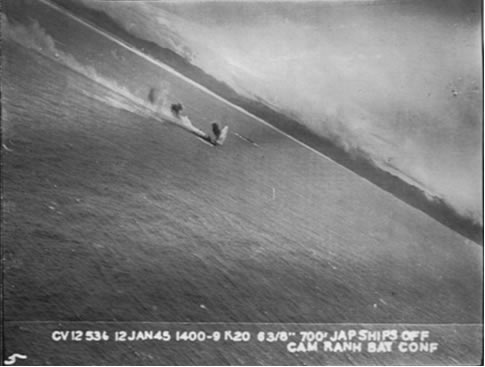 Lt James L. Hooper's in-aircraft photo of combat operations off Cam Ranh Bay, Vietnam, 1945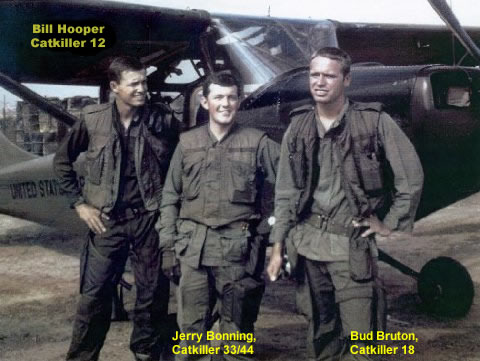 From left: Bill Hooper, Jerry Bonning and Bud Bruton, 220th Aviation Company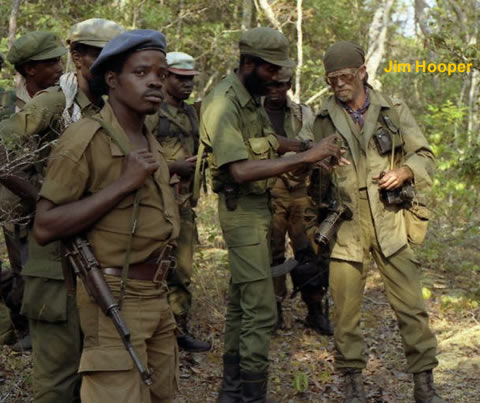 Jim Hooper with Unita rebels in central Angola, 1989
From Jim Hooper: "Last year I wrote a review on a new book about the Doolittle Raid, which prompted a reader to ask if I was the same Jim Hooper who flew with VT-11. I explained I was the son and asked the sender to contact me via my website. This came in the next day:


Below is the result of your feedback form. It was submitted by Shane Harvey (crippleddrake (at) gmail.com) on Thursday, December 02, 2010



Comments: "Jim - I emailed you yesterday about the USS Hornet. My great uncle, Wilfred "Fritz" LeBlanc, was a gunner in VT-11 with your father. On Dec. 12, 1944, an Avenger flown by your father crash-landed in the ocean immediately after take off from the deck. Your father and the radioman (Trobaugh) survived, but Fritz went down with the plane and neither were ever recovered. I tried to track down men who had served with Fritz a few years back and had limited success. I saw your name on the book review and remembered your dad's name and took a shot. What are the odds? Anyway, I don't know how much your dad ever shared with you about his time flying from the Hornet in WWII or the guys he served with, let alone Fritz, but would be interested in discussing it with you at some point.

Sincerely, Shane Harvey"

In a message dated 02/12/2010, JH00PER (at) aol.com writes:

"Hello, Shane-- Three years after suffering a debilitating stroke, my father died in 2000 at his home near Honokaa, Hawaii. Sadly, his logbooks and most of his photos were stored in a very damp garage and had turned to pulp. I do remember a photo taken on the Hornet's flight deck of him in the cockpit of his Grumman TBM Avenger, with Trobaugh and your great uncle standing on the wingroot.

The story I remember about the crash was that after launching, he banked right. When he attempted to bring the aircraft wings level, there was no left movement in the stick. He at first considered the possibility of landing on another carrier a few miles ahead and slightly to starboard, but when he relaxed pressure on the stick, it moved further right and the bank increased. Worried they might end up rolling inverted, he closed the throttle. The Avenger's right wing hit the water and they did two or three cartwheels, the entire tail section breaking off aft of Trobaugh. Dazed from the crash, my father released his harness, and the fuselage sank out from under him. A few seconds later, Trobaugh popped to the surface, his face bleeding. The tail section in which your great uncle was trapped had already disappeared. There was the strong possibility that an aileron control cable had slipped a pulley and jammed - or a tool had been left inside during routine maintenance, and accomplished the same thing.

As you are probably aware, the previous day they had been bombing Clark Field, near Manila, when their TBM was hit by Japanese AAA fire. With part of the cowling blown away and probable damage to the manifold and/or carburetor, the engine wound to a stop. My father pushed the nose down and dove from about 10,000 feet, desperately trying to restart the engine. Leveling off below 500 feet directly down the runway, he looked to one side and saw a heavy caliber AA gun swinging in incremental arcs as the gun crew tried to lead him. Coughing and wheezing, the Pratt & Whitney R-2600 fired up and they escaped out of range. With the engine running very roughly, they circled to clear the 4,000-foot mountains that lay between them and the fleet. It was a slow process; whenever he added power, the engine stopped and the process of re-starting as they lost altitude was repeated. Shepherded by F6F Hellcats, the Avenger eventually was able to cross the mountain peaks and head for the Task Force. Because of the possibility of a wave-off on final approach to the carrier and unable to add power for a go-around, he elected to put it into the water. They were picked up by a destroyer barely thirty minutes later and transferred the same day back to the Hornet. I remember a photo of the three of them eating celebratory bowls of ice cream in the galley.

A few years ago, I found a website dedicated to VT-11. On it was a photo of the pilots, to include my father, celebrating Christmas, 1944, in the wardroom. I left a message, heard nothing in reply, and the site disappeared soon thereafter.

Kind regards, Jim"
Our host contract for the web site (at which you now view this page) comes due for renewal on April 27, 2011. As of today, we have assurance of funding for an additional two years, thanks to your generous contributions to our Bereavement Fund. That fund has not only served to benefit our members and friends in the area of bereavement, but also the continued maintenance of this growing historical collection of memories.
Charles Finch, our bereavement coordinator and manager of the fund offered $200 to cover web site contract costs (a great deal for us), and he states the fund is solvent for the immediate future. However, if you wish to contribute to our continued heartfelt bereavement initiatives, or have questions about the unit's fund, please contact Charles Finch at cfinch4444 (at) aol.com. Don Ricks, Editor
Those who recently expierenced a shortage of Jim Hooper's smash hit, A Hundred Feet Over Hell, will soon find its third printing run on the shelves of your favorite book store or popular online book outlets within a few weeks. Congratulations, Jim!