Second Quarterly 2012
CATCOM E-Newsletter
Updated: June 30, 2012
Countdown to the reunion, July 12, 2012:
WE ARE CIRCLING THE AREA, COORDINATING AND FINE-TUNING THE REUNION; HOPE TO SEE YOU THERE!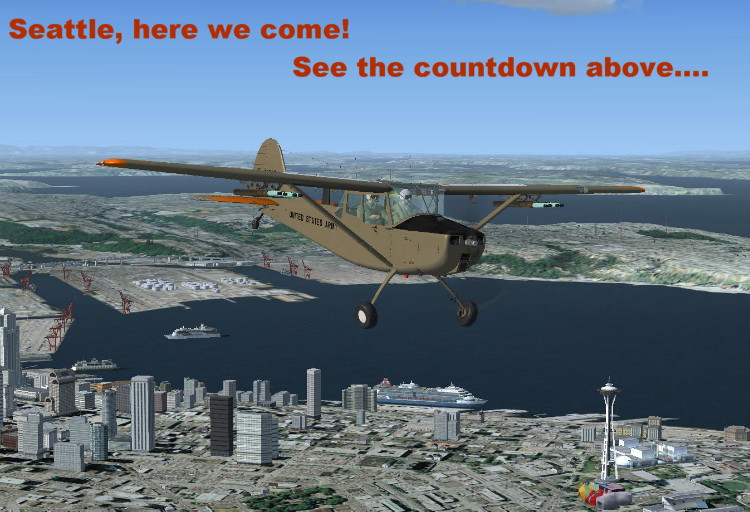 back to top
1LT Cy Sineath served with the 220th Aviation Company as an AO with 108th Artillery Group, with a callsign of Sundowner Tango. Cy checked in today and sent in this note and photograph. Welcome to the group, Cy:
"I came across the Catkiller website recently. Wow, what memories! And, a good job by someone on the website. I flew as Sundowner Tango, 108th Arty in 1971. I'd love to reconnect and talk with some Catkillers here in the Atlanta area where I now live. I'd be happy to speak with anyone, anywhere! In fact, as a writer, I am working on my fifth novel which will include some activity based on the 220th RAC and I need to do some research.

It appears that you list Sundowners in your directory. I´d be honored to be included. I arrived in country in January 1971 as a 2LT, fresh out of FA Officers Basic. I was promoted to 1LT while serving as an AO. I left RVN when the 108th deactivated in November 1971. When I returned to CONUS, I spent two years with the XVIII Abn Corp Artillery at Ft. Bragg, then got out. I´m in contact with two other Sundowner AOs who flew with the 220th at the same time. We met up in D.C. several years ago for a small reunion.

I'm attaching a picture of me back then.

Best regards,

Cy Sineath"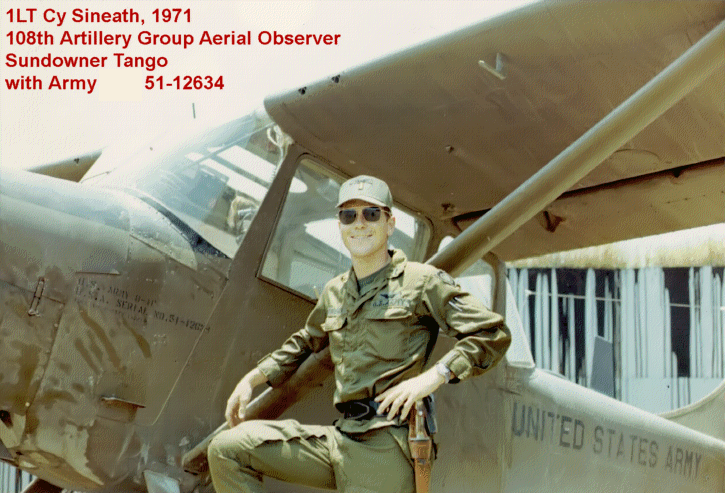 back to top
back to top
This is our current list of attendee who have actually sent in their registration forms, as of 7–2–2012. We anticipate more will join this list during June, based on verbal and email statements. However, the cut–off date for registrations received is July 7, 2012:
List of 2012 Reunion Attendees
Al Paulsen + 1
Albert Slater + 1
Andy Anderson +1
Bill Everett +1
Bill Snyder
Bob Arrington +1
Bob Copland +1
Bob Laferriere
Bud Bruton
Charles Finch +1
Charles Goode +1
Charles Richardson +1
Charles Welsh + 1
Darl McAllister +1
Dave Ohare +1
Dave Troha +3
Dick Bielot + 1
Dick Tobiason + 1
Don Ricks + 1
Gary Miller +1
Gene Wilson + 1
Bob Rowland +1
Dennis Currie

Glen Evans
Henry Milan +1
J. D. Richards
Jeff Thompson
Jerry Curry +3
Jerry Jackson + 1
Jim Carlin +1
Jim Fadden
Jim Morris + 1
Keith Klett + 1
Kennedy Kohibrand + 1
Leonard Bumgardner +1
Larry Deibert + 1
Leroy Burkemper + 1
Lloyd Oake + 1
Mal Mixon + 1
Nelson Kunitake + 1
Norm MacPhee + 1
Paul Brennan +1
Paul Garin +3
Paul Smith + 1
John Hillman
Roger Bounds +3
Pete Blevins +1
Phil Caverhill + 1
Ray Alexander +1
Raymond Caryl +1
Rod Stewart + 1
Roger Putnam + 1
Sarge Means + 1
Scott Cummings + 1
Tim Moriarty
Toby Decker + 1
Tom Murray
Walter "Chico" Fernandez
Don Pepe + 1
Francis Alexander + 1
Kurt Onley
Doc Clement
Don Pellecchia
Jack Bentley + 1
Roger Bradley +1
Carl Collins
Bob Link
Otha Dent + 1


Count: 124
One on the above list who signed up to attend is a good looking Marine named Charlie Goode (home state, Alabama!). Here is a stunning photo of a proud soldier standing next to an almost equally stunning Birddog. From among these men came some amazing military careers and accomplishments. You just might hear more about this subject in the future. Charlie, we are looking forward to being with you and all the many distinguished men and their ladies who have signed up for the reunion in Seattle: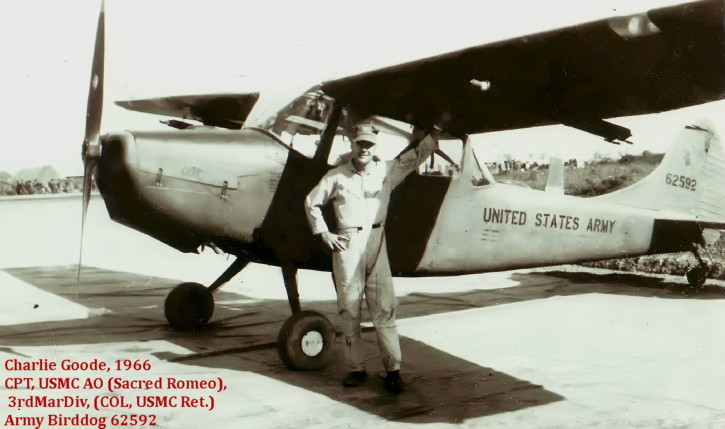 back to top
Perhaps only the keen-minded, sharp tec-type person will sense subtle changes that are coming, but they won't catch the eye of the average person who just wants the information. Practically all our web pages are being upgraded, streamlined and validated with the newer hyper-text mark-up language (HTML) technology and Cascading Style Sheet (CSS) innovations, and it will be easier with the assistance of a MacBook Pro computer and Adopbe's Design Premium CS5.5. I hope to learn even better HTML and site management skills from these excellent programs. Don Ricks.
back to top
Dave Ohare must have a mind (memory) he can control, contrary to my own experience, so we shouldn't be amazed that he has amazingly renewed it via some old photos from his collection, while at the same time adding to our history. Photos do help jog our memory, but a better act at memory jogging was when we took time to write on the back of photos. Digital photography and remarkable software now makes it easier for us to place text directly on those we want to document, and fortunately we see a lot of that being done on our Catkiller web site collections—thanks to memories like Dave's:
"I'm attaching some pictures that may be of interest. The first was taken about September of 1967, in Dong Ha just outside of our hooch. We in the 4th Plt. were still living full time up there. The men in the pictures (left to right) are me, LT Richard W. Johnson "Rick" and CWO Wayne E. Pozdol. You have Rick in the rooster, but not Wayne. [Wayne is now on the roster.] area.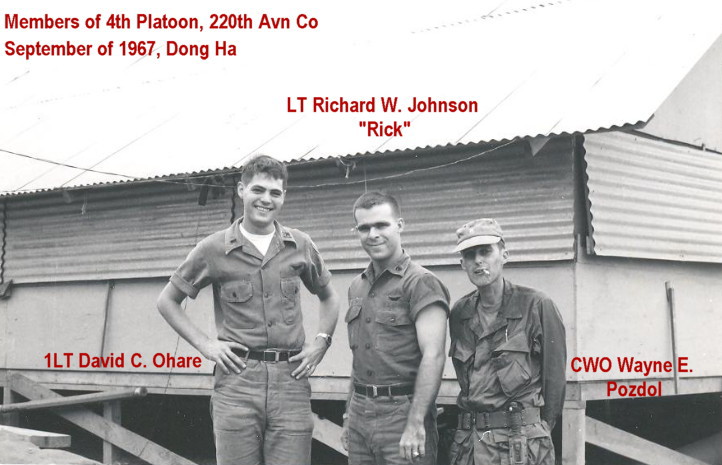 The second picture was taken at Marble Mountain in April, 1968. Again (left to right): Rick Johnson, Terry Schruggs, and John Billing "Rik". The only reason I include this, is there is no picture of Billing, since he is deceased I thought we should have one. Rik was in 2nd Plt in Hue and after his wounding in the DMZ, he then was assigned to the 3rd plt. He was also the Company IP [instructor pilot].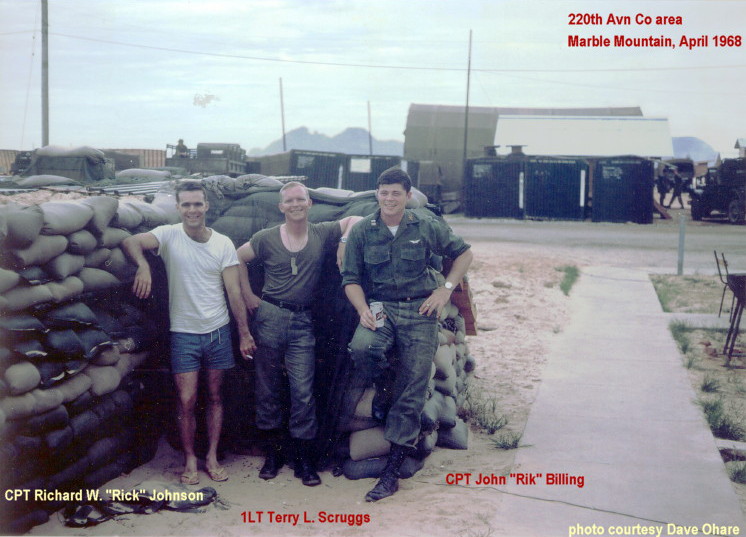 The last picture is of John Mulvany and myself, and the only reason I include this one is it shows some of the changes that had occurred at Marble Mountain between June of 1967 and April 1968. Picture 2 and 3 were taken in the same location. Can anyone say build up.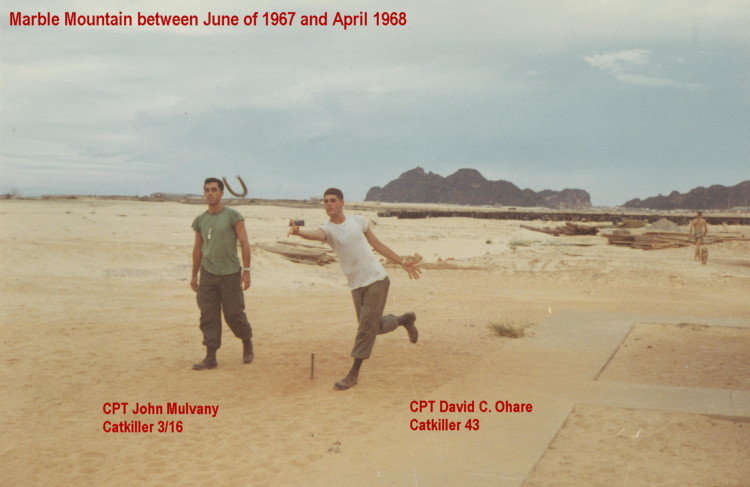 I also have three more Marine AO names, LT Thomas F. O'Tootle, Lt Robert E. Happy and LT Robert W. Carswell. They all where serving under Jess Mulkey and flew out of Dong Ha and Phu Bai.

Dave Ohare"
---
This is one of many excellent photos received from Ray Caryl, and others are within several articles he now has listed on the history index. Can anyone positively identify SGT or Specialist Battee?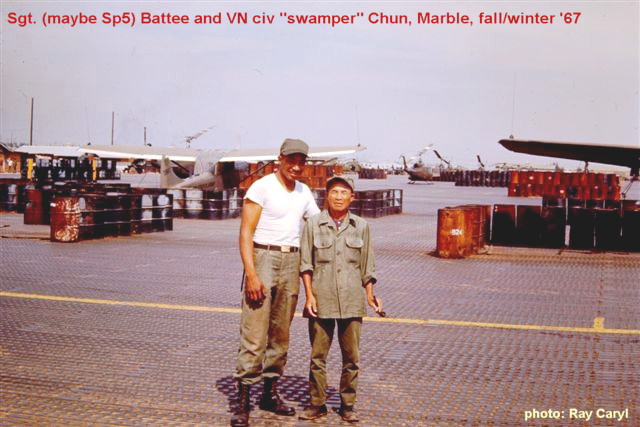 back to top
The link posted here is a year-group listing for Army Aviation Digest, which expands to a the specific year list when clicked upon (PDF files). One possibility for saving a personal copy of those old issues is to click on the floppy disk icon as the selection bar appears when your mouse nears the lower center of the pdf page. Left click on that icon and you will see a "SAVE AS" window appear. Save the file to a directory on your cvomputer, and you then have a personal copy.
Those past year editions contain many interesting articles, including one with an overview of the 220th Aviation Company, circa 1969. I have reported the incorrect links to issues for years 1968 and 1969. Until their webmaster corrects those links, here is the specific link to the May 1969 issues, the full index 1968-69 issues and below that the archives index to all issues:
back to top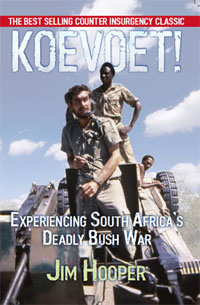 Jim Hooper, author of A Hundred Feet Over Hell, shared the good news of his long-awaited update and revision of a hard to find, rare original documention of the little known Southwest African / Namibian insurgency titled Koevoet! This launch event took place during March 2012, at the Imperial War Museum in London.
You can view a gallery of photos as well as a report of the successful gathering during the standing–room–only event by visiting the link to this CG South UK web site. Click on the link provided under the article heading:
back to top
Folks, this is emotional, and all the while I have lived this was not something we citizens consider "Common Knowledge." Thanks to Jack bentley, now we all know, and it will make the emotional strings of your heart stretch and perhaps sing. I hope the link works for you and that CBS doesn't remove it anytime soon:
back to top
The last day for ordering any "logo items" such as hats, pins, etc., will be June 1. Your order must be to us by that date.
The final MAILING date for registrations will be July 1. Registrations will be accepted on a "walk–in" basis, but some things might not be available at that late date.
The proposed group trips to Mt. Rainier and Arlington Air Show are cancelled due to low participation. You are encouraged to make arrangements to go on your own. Web sites below will help:
Arlington Air ShowMount Ranier Tour
The last day to add your name to the trip to Ft. Lewis is June 1, 2012.
back to top
Regarding the Army Aviation Museum, Ft. Rucker, Alabama:

We are developing a relationship with the museum at Ft. Rucker. The objective is to have the 220th represented there, along with other Bird Dog units.

The Museum Director agreed to accept and make available CD copies of our web site. We agreed to provide two copies each October. One is for archive purposes and one for public use, via a viewer, in the Observation section of the Museum.

The museum director requests your ORIGINAL Catkiller items from the Vietnam War. If you have such items and are willing to part with them, here is your chance to contribute. Bring them to the 2012 Reunion, labeled as to what they are, who donated them, when they were in the unit and where. If you are unable to attend the reunion, please send your donation items via mail or delivery service to:

Catkiller Reunion Committee
6258 Brennan Court
Nine Mile Falls, WA 99026

Someone from the reunion committee will get them to Ft. Rucker in person. Your contributions will also be displayed at this year´s reunion, if received in time.

As an example: One member will donate three items; a "Blood Chit", A set of survival maps, and a set of Navy "Junk Fleet" wings awarded for flying naval coastal recon missions.

One of our committee members constructed and supervised development of a memorial display to our fallen. It will be at the reunion and a visible part of the memorial service. We plan to take this item to Ft. Rucker for storage or display at the museum. Future reunion committees may retrieve the display for display during reunions.

2012 Reunion Committee
back to top
Searching for unique photos for the roster seems to surface many outstanding photos, and sometimes all you have to do is ask. We finally received one with the image of CW2 Ron de los Santos (left, Feb. 1966–Aug 1966) and Don Medley (right, March–October 1966), 3rd Platoon, Da Nang, obviously taken in 1966. Ron and Don arrived in Vietnam together with Norman MacPhee and Lem Brinkley: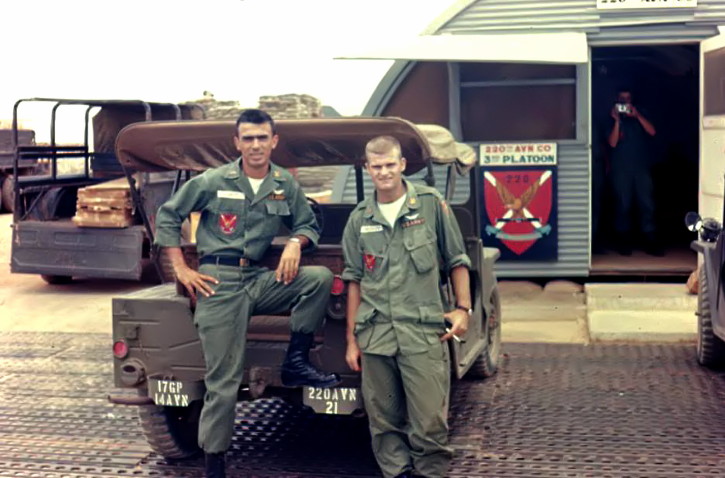 back to top
It has been a considerable time since we have had any posted news about the YO3A group that was once a part of the 220th Aviation Company, so here is a news article about a restoration completion event. The restoration look like a new bird, and we know those involved were well pleased. According to Dan Hagedorn, Chief Curator, The Museum of Flight, this aircraft will eventually be on display at their facility located at 9404 E. Marginal Way South, Seattle, Washington 98108:
"Here are some great photos taken by Karl Grote at Paine Field, Washington, when the restoration of YO–3A 69–18005 was displayed. Note the six-blade prop! Karl Grote was a U.S. Army SP5 when we left for Vietnam with the YO–3As. Karl inspected the crew chief´s work, and his commitment to the YO program in Vietnam vital.

Kurt Onley"

"Congratulations to the Museum Of Flight Restoration Team, The Elliots, and Karl—what an impressive restoration job – and a beautiful result.

Dale Ross Stith
Lockheed YO-3A Team
CONUS and RVN 1969–72"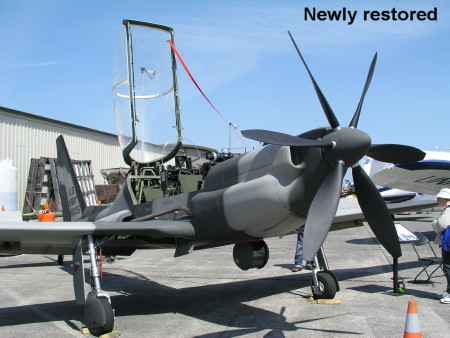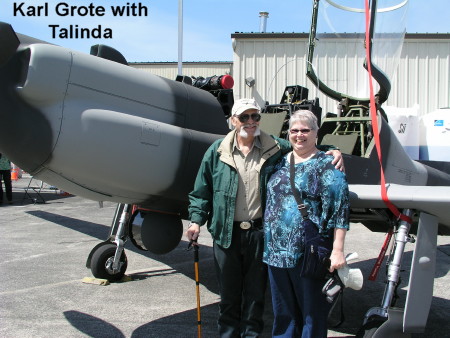 back to top
We received notification through Thomas Parker that his father recently passed away following a long battle with cancer. The following link to the web site hosting Wayne's obituary speaks well of this comrade and of his life after Vietnam. In an email to Thomas, we expresed our condolences to Wayne's family and friends, and there is a comment at the obituary site. As we received the notification, also came a few photographs that Thomas requested we post at our newsletter. Thanks for the history as we honor your father, Thomas:
back to top
Hello, Norm:

Just wanted to take an opportunity to wish you the best of luck with the Catkillerís upcoming reunion. All of us from the 183rd hope itís a blast with lots of vetís showing up.

I´m the webmaster for our site and just want to let you know we are holding our reunion this fall, Oct 18—21 at the Embassy Suites/ Airport/ Nashville, Tennessee. We would welcome all sister units to attend with us.


Take care,

Bob Howland
Seahorse Webmaster
Today, June 30, the end of this particular quarterly newsletter, brought the sad news of the death of one of our early crew chiefs, Larry Huston. Scott Cummings shared this news from Larry's sister, Pam. After speaking with Pam and offering our condolences, she promised to search through Larry's photographs for more photos than what we now have to offer. If you have photos of Larry taken in Vietnam, please share them with us. From various information that came in from our enlisted men who knew Larry, his tour was most likely in 1968 and 1969: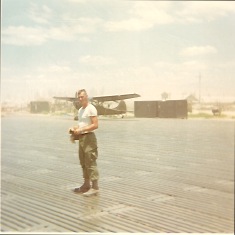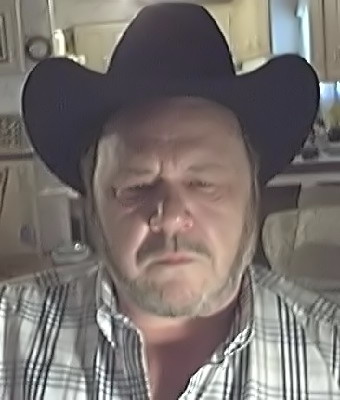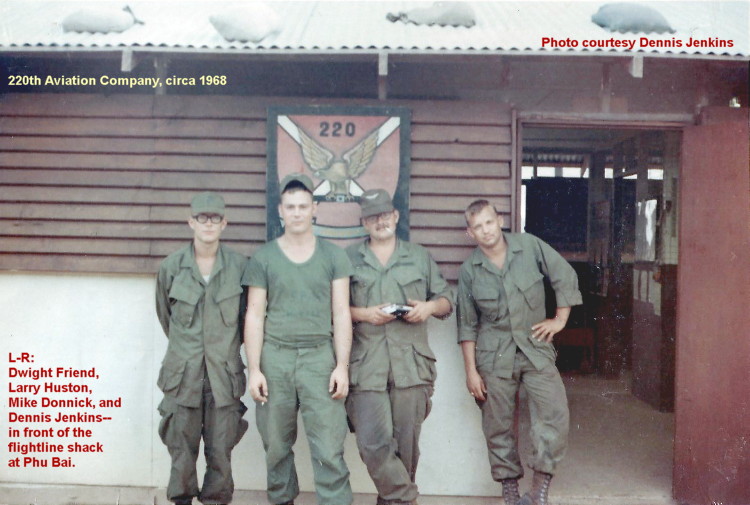 The following link to the obituary for Larry Huston provides information about the funeral scheduled for Monday, July 2, 2012 in the Rio Vista Cemetery:
Comments:
Don, I am very sorry to hear about Larry. Please see the attached photo (above). From left to right Dwight Friend, Larry Huston, Mike Donnick and me. The picture was taken in front of the flightline shack at Phu Bai.

Dennis Jenkins

---

Sorry to hear about Larry Huston´s passing. I remember him very well. One time he jumped in and stopped a fight in the EM club that would have turned very serious very fast, had not Larry intervened. This was in mid–1969, so I am thinking that the 67-68 was actually 1968–69.

Regards,
Alec Knight