Second Quarterly 2013
CATCOM E-Newsletter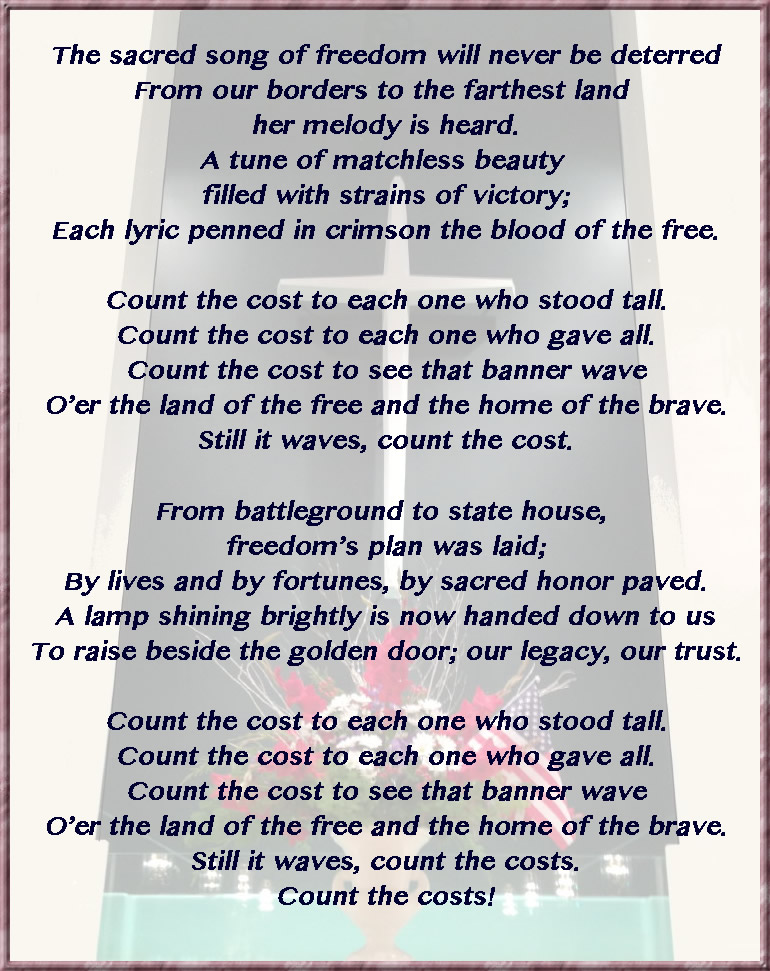 Updated: June 13, 2013
back to top
We received a note from Mike Sharkey, Catkiller 46, 1967–68, who has just completed a tour back to Vietnam, much like we plan for May 2014:
Hi Don, My wife and I recently got back from an awesome 21–day trip to Nam. While there we visited Hanoi, Ninh Binh, Ha Long Bay, Da Nang/Marble Mountain, Hue (I was with the 2nd Platoon flying out of the Citadel strip until Tet), Phu Bai, Can Tho and Saigon. I would like to send you some pictures I took during the trip, as well as some 1967 Catkiller photos I found while searching for some photos to use as reference points while there. There are about 20 pictures in all. I have the 67 photos on flash drive. [They will be use appropriately. DMR]

Best regards,

Mike Sharkey
---
A message from Gordon VanHaitsma, 101st Airborne DivArty:
Thanks for your service!

Interesting how on Memorial Day, one looks back to the day, 68/69, scanning the web for the units with whom you remember doing time with. I was back seat observer on night missions over the AO, fully surrounding Camp Eagle (101st ), to report rockets and mortar incoming. Your pilots (early 1969) got me back safely each 2.5 hour mission, twice per night. Many thanks.

Gordon VanHaitsma 101st Div Arty
back to top
Messages to these Catkillers have recently bounced. If you have update contact information to help ensure they receive messages, please help us out:
Michael Pate (CatkillerMech69), mike01@windstream.net
Buddy Donnelly (Catkiller68), buddy.donnelly@gmail.com
Kenneth Lorentz (just dropped off and no clue to his current location)
---
Walter "Chip" Boyce, Catkiller Crew Chief, 1967–68, checked in with this statement and two photographs. Chip is now on the email notification list and the web roster:
I was a crew chief on Birddogs in the 3rd platoon at Da Nang, Marble Mountain Air Facility. I arrived in Phu Bai in early April, 1967, and was assigned to Da Nang sometime in June of that year. I served there until I left Nam in April 1968. While there, I achieved the rank of SP5. Others in the platoon at the time, that I can recall, include crew chiefs Jose Munoz, Louie (Stache) Brodeur, Jerry Warren, and "Hare" Purvenas. Platoon Sgt was Lee Berry. Capt. Stackhouse (the flying winemaker) was the platoon OIC, Lt. O'Hare, and Capt. Caryl are the only other officer/pilots that I can recall.

Originally from Bellmore, New York, I have resided in Sebastian Florida since January 1996. I retired in December, 2009, after 42 years at Northrop Grumman Corp.

Walter (Chip) Boyce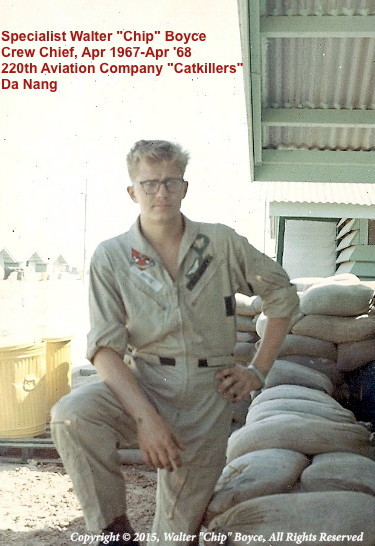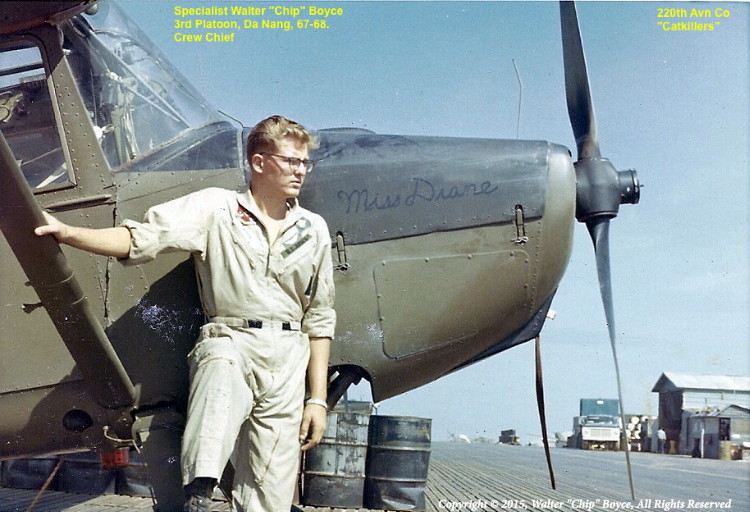 ---
As you know, we recently lost Colonel Tank Meehan, and there is an article honoring him on the Catkiller History Index. Today, I posted information regarding Tank's replacement when he departed Vietnam. His was 1LT Jerry Spette, he is on the roster, and from Jerry comes this statement he wants to share:
I was a 1LT with XXIV Corps G-2 II Sect.(7/68-11/69). I was assigned by LTG R. Stillwell one day to confirm/deny a POL pipeline entering South RVN from Laos. Lee Harrison was my first pilot. We tried twice to fly over the area, but were prevented from completing the mission because of bad weather. We tried again to no avail, and then later that week my pilot, [Don] Pepe, took me in and we got down to 400 feet for a good look and some photos. Pepe was "short" and didn't completely appreciate the General's curiosity. As it turned out, the Montanyards had laid down some tree trunks to separate their property. I guess from 10,000 feet they looked like pipes to the air force.

I was subsequently assigned TDY to the 220th, replacing Maj. Tank Meehan as the Visual Aerial Recon and Surveillance Area Control Coordinator (VARSACC). I was there with an enlisted clerk to schedule 220th daily missions. Evidently the 220th was OPCON to XXIV's G2 Air section. I was able to do a lot of back seat flying and got some good targets and intel for the G-2.

I lived with [Don] Pepe, who bunked behind his bar in the hooch. We certainly had some wild times after a days flying. I remember singing Dawn and watching a Birddog model flying around the O–club, and I became a pretty good dart player. After a short time I was detailed back to the Imagery Interpretation section at HQ , but my clerk stayed. I was eventually asked by your CO to come back to the 220th in late 69 and fly with some of the new pilots to help orient them to the area, call signs, etc.

All the names have partially faded, but the faces are firmly etched in my memory. We all had a lack of years back then, but there was certainly no lack of dedication. I really enjoyed the short time I was at the 220th. I'm very sorry I didn't take as many photos on the ground as I did in the air. I'm really proud to have worked and played with you guys.

Jerry
Catkiller 01
---
A man with extensive experience during his Vietnam tour checked in today: Daniel W. Johnson, SP5, Crew Chief, 2nd and 3rd platoons, Phu Bai and Da Nang. Daniel also served in the 184th Aviation Company (Nonstop), from November 1969–August 1970, in their maintenance platoon and as the U6 (Beaver) Crew Chief. Daniel is now on the roster and email notification list (will post a photo when available).
back to top

Many of you have already viewed the story presented to highlight a significant and heroic action by Pan American World Airways pilots, just as WWII got underway for the United States in the Pacific. This story of the adventure is linked to the Catkillers in only one way: one of the later pilots of this Boeing B314 Clipper was the father of our own Catkiller Jan Smith, who sent the "rest of the story:"
I tossed that tidbit your way because I saw that you had the link to that historic flight in your last email along announcing the AO logbooks. The Smith in one of those logbooks wasn't me, as I was still a Headhunter then. But, classmate Rick Billings appeared there. Ray Caryl accompanied me from Marble when we went to meet my father, Captain Smith. Caryl still talks about that fond memory, with fresh smelling stewardesses and a taste of ice cream being his most vivid recollection (yes, Pan Am called them stewards and stewardesses right up to their demise).

All the best,
Jan Smith [Catkiller 41, 1967–68]

There was a longer, more detailed video about this which came out several years ago. It included such details as that the "bad" gas in Ceylon was ordinary car fuel, with octane too low for the needs of these engines. That when they flew over the Arabian peninsula, they were over clouds and not positive of their position. It was pure coincidence that, just when the clouds cleared off, that they overflew Mecca. When they stopped in Leopoldville to refuel, they took off down river at their max take–off weight. They barely struggled into the air, just before reaching some rapids downstream. And, when they arrived over NYC and broke radio silence, it was a shock to all there as no one had an idea where they were or whether they had even survived. I have a 1948 seniority list, which Pan American's Captain Robert Ford isn't on. Apparently, he left Pan Am after the war to pursue other interests.

This is the plane that my dad also flew. He first flew it from the base in RIO before transferring to NYC.

He was still flying for Pan Am when I went to Vietnam. A couple of weeks before Christmas 1967, he went through Danang piloting an R&R flight. I was at Marble Mountain, about 3 miles away at the time, and so got to see him in the middle of that war.

My father's full name was Hamilton Smith, Jr.. He was No. 4 on Pan Am's seniority list and No. 1 of the New York–based captains. To my regret, I have no pictures of my dad in uniform. He was great at taking pictures but preferred not to be in them. Many thanks for the hard work you put into being the glue that holds many of us together. Jan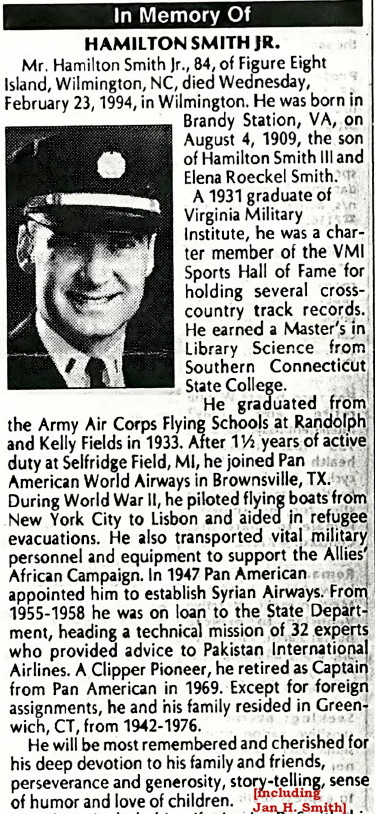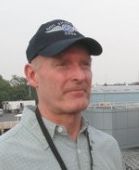 Jan H. Smith
back to top

Please excuse my feeble attempt to have more to say than the commendable work practically completed by a committee of men with an honorable mission. This notice is to wholeheartedly support their efforts, as requested.
The introduction, process–to–completion goals, and donation instructions stated in the documents Norman MacPhee provided effectively convey everything the committee needs to say. For the last six months or so, this committee of men invested incalculable hours of unselfish work and personal time to arrive at this point. You will find an insightful look into the memorial design and concept in viewable Word or PDF files accessible at the bottom of the introduction letter below. In addition, Charles Finch made a trip to Fort Rucker (along with several other men), met members of the museum staff, and produced this video to help you visualize the placement of the monument and to compliment information supplied by Norman:
First came the selection of a company that went right to work on their idea, produced an exceptional design, and submitted a reasonable estimate for the proposed monument. What effectively remains now is the necessary fund raising that will guarantee the monument's placement at the selected Fort Rucker site.
My enthusiastic appeal to you is that now comes our part, to read all about the proposal, understand the concept, and to provide your support in the form of contributions. The committee's actions also provided for potential tax advantage for your donations, depending upon your filing status, which is another indication of their thoroughness. I personally commit to a donation of one hundred dollars for myself and for each person on any panel I knew or with whom I personally served. Several have also committed to the same level of support. Please do what you are able to do.
Hello All Birddog Unit Members,

We are ready to go to the fund-raising portion of our Memorial Project. The linked Word and Adobe PDF files explain how to make contributions.

What we need are 360 guys willing to kick in $100. Some will give more, some less. We can do this if all the units contact as many members as they can. We will track donations by unit and post the results on the web site (there is no per unit requirement for donations). Please post this on your web sites and send it out to all of your contacts.

We would like to thank all the committee members and those who assisted with the design aspect of this project. There are too many to list here.

If you need more information regarding this, please contact either:



Norm MacPhee
509-465-3158

Burk Blob
919-285-4112

Thank you.

All Birddog Unit Memorial Committee


Norman MacPhee provided the below graphic to show the latest figures for donations received for the Birddog Memorial, as of 15 June 2013. We have exceeded the goal!
Hello all, I am calling for an end to the formal memorial fund raising as of June 30, 2013. Any funds received after that date will be deposited to a fund with the Museum Foundation to be used for Birddog and other fixed wing projects in the museum:

Army Aviation Museum Foundation, Inc. (AAMF for checks)
PO Box 620610
Fort Rucker, Alabama 36362-0610 Here is a brief financial report concerning the monument. Please note that the Monument and Benches are a done deal.

We would like to purchase blank pavers (if we need them) to form a design around the monument. If enough etched pavers are sold, we will not need these. The challenge coins (not yet designed, but, priced) could be a small gift to donors. Also we plan a 16 page (or so) dedication brochure with format recommendation to come out shortly. Donors would be sent an advance copy, others would have to purchase or be charged in fees some way.
If any of you has a better idea, let us hear it.
Just so you know, the pages we are working on are:


Cover—picture of the monument, maybe with a unit member sitting on a bench with a grandson
Page 2—Depiction of the "12th Panel", remaining space to be used by IBDA for whatever they deem appropriate.
Page 3–13—Unit panels along with a 16 picture montage of pics from the unit. (Be working on your unit 16…the number used may have to be lowered for space, so, number them in order of importance) Note that this should not be a contest to get "your buddies" in the pictures, rather, to show generally what your unit was about.
Page 14—In Memory Of List
Page 15—(Only for Donors)—Donor List
Page 16—Dedication Schedule


Thank you all for getting us here.

Norm MacPhee, Birddog Unit Memorial Committee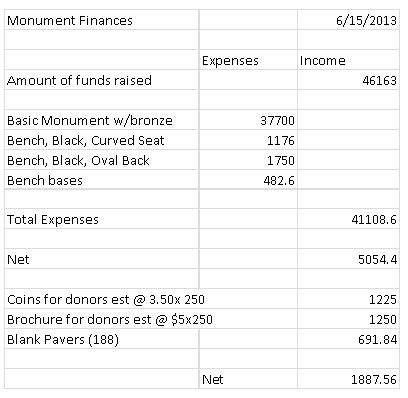 Please remember that if you can normally take a deduction for income tax purposes, donations for this memorial fund is a legitimate tax deduction when you follow the instruction contained within the fund–raising documents provided with this article.
back to top
As you might have read in the Birddog Memorial Fund–raiser material, you may honor a specific individual to whom you wish to contribute "IN MEMORY OF" by designating them when you make a contribution. That specific individual(s) can be from any unit.
Below is a list of those for whom contributors have already designated. Once we reach our stated fund–raising goal, we will also release figures showing designated amounts per individual:
Birddog Memorial Contributions
"In Memory of"

Ben Hartman, 220th
Ron Fero, 220th
Bob Garth, 220th
Lloyd Rugge, 220th
Franklin E. Weisner, 219th
James Houston Roulette, 220th
Floyd D. Caldwell, 220th
Melvin Leroy Shipman, 220th
Michael Hope, 74th
Peter Kellogg, 184th
Tim Sanders 1st MARDIV USMC AO Blackcoat
Dave Teague, 219th
Hugh McNiel "Mac" Byrd, 220th
Tommy Flanagin, 221st
Maj. Arthur Ecklund, 183rd
Johnnie P. Sawyer, 219th
Tom Schafer, 219th
Lynn Higley, 219th
Danny Mack, 219th
Gunnery Sgt. Bernard Moran, USMC
John Pappas, 219th
Lee R. Peters, 220th
Col. "Tank" Meehan, USMC AO 220th
Capt. Dean Robertson
CWO Morris Marty, 176th Avn.
Roger Melvin Pisacreta, 219th
David Edward Cinkoski, 219th
Arlie Deaton, 219th
Richard K. Harper, 73rd
Jerry Clark, 73rd
Chuck Getman, 219th
David Watson, 220th
Captain Samuel Freeman, 101st Airborne
Sp4 Hatada, 199th
Sp5 Jerry Lee Rodman, 221st Crew Chief
Deceased Members of the Army Otter Caribou Assn.
Maj William O. "Bill" Schmale, 220th
Donald "Lee" Harrison, 220th
Tommy Smith, 221st
Captain George Aikin, 219th
Richard E. Jaeck, 73rd
Jimmy Cartwright, 73rd
Marlin E. McCohen 73rd
Terrance Bozarth, 220th
All 66-67 Catkillers
All 71 Black Aces
John Price, 175th AHC
Capt Wallace A. Kell HH36 65/66, Qui Nhon
Bobby Ray Jermyn, 220th
All Who Made The Supreme Sacrifice
Michael S. LaFromboise, USMC
1st Lt. Ronald A. Walter, 17th Cav/A Troop
CW2 Lloyd Steven Rainey, 74th and 185th
Charles "Vic" Wood, 219th
Arlie Deaton, 219th
John Pappas, 219th
Capt. Bryce C. Bessor, 219th

back to top
We constantly seek new information to help us understand the events and lives of those who served in our unit. Often—until we ask a question, prod someone to dig deeper into their memories (and documents), and go the extra mile to actively locate information from any source—via proactive means we find pursuable clues for further investigation and documentation. It is very difficult for one person to tell a completed story, second–hand. Help is needed from many sources, and we sometimes get lucky, or perhaps an amazing clue will merely surface through a seemingly disconnected source. Whatever comes to receptive eyes can be useful, or at least serve as a motivator to let us know we should research further and document, if possible.
Leading into this next article is a solid example of what was meant in the above statement. The article immediately above this one is the announcement of the fund–raising initiative for our All Birddog Unit Memorial. As the editor, I have an active interest in everything published here, and so when asked to comment on various projects my attention is focused. It takes a community effort, if you will, to seek a level of publication excellence that truly reflects the experience level and accomplishments of our members, and the standards to which we strive to attain in publishing a web page is truth and accuracy. Having now previewed the eleven panels that will be on the proposed memorial, courtesy of excellent work by Burk Blob, from the 74th Aviation Company, it was easy to compare and review the names of those who were KIA/MIA from each unit. CWO Louis F. Keeven, of Florissant, Missouri, is on the memorial list from the 183rd Aviation Company, as well as the list for our Cakkillers unit. Before reviewing these lists, we did not know anything further about CWO Keeven. We want to correct that by further documenting a soldier who we now know was an experienced combat veteran when he came to our unit.
In an effort to help make sure the panels were correct and represent our history, I sent an email to several of the memorial committee members, asking for clarification on the duplicate name placement on those panels. We discovered, through several follow-up emails, that CWO Keeven had served in both units. From that bit of information, the most natural action was to do an internet search for the circumstances of Louis Keven's death in December 1967, and the to discover where he might be buried. The best clue came from the information posted at The Virtual Wall site, which listed the soldier's home town in Missouri. Next came a search for a grave site in that state, which produced further important information and a photograph of Louis Keeven's grave marker: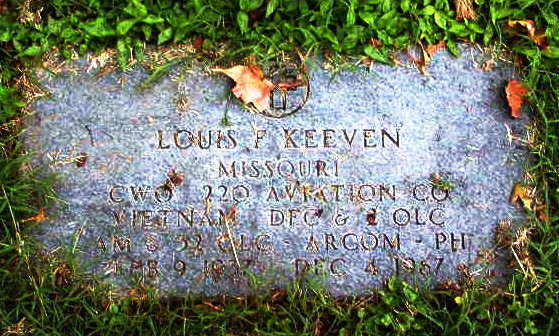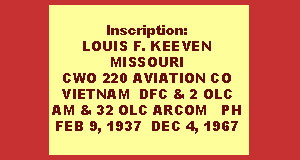 From the thirty–two Air Medals and the three Distinguished Flying Cross Medals awarded, it is obvious Louis was, indeed, an experienced combat veteran and pilot, and an older than average pilot. The logbook supplied byDon Pellecchiaconfirms that CWO Keeven flew a mission in Catkiller aircraft 14645, on 28 October 1967 (page 21), and that Don annotated the later date of Louis' crash on 4 December. There was no further entry of the surname Keeven following that one entry. We have recently learned from Mack L. Gibson, Jr. (then a Seahorse major) that three aircraft from the 183rd Aviation Company (Seahorse) were sent from their home base to conduct a special operation within the DMZ (our AO). Those aircraft stopped at Da Nang for an overnight stay before flying on n orth. That night they were attacked by mortars, and one of their aircraft received a direct hit to a wing. Whether CWO Keeven was there at that time is unknown, nor do we know when he arrived in the unit from the 183rd. Gene Wilson will likely be busy looking for "the rest of the story."
It is also worthy to note here another significant historical act by a marine aerial observer during the mission on which CWO Keeven was killed. Charles James Ramsay, Capt., USMC, was that aerial observer, and he was able to fly the aircraft back to Dong Ha and land it, for which he received the Distinguished Flying Cross. Less than two months later, Captain Ramsay would pay the ultimate sacrifice while flying as observer with WO William Arthur Kimsey, Jr., on 21 January 1968. Their remains were not discovered until 1998 and finally identified in 2001.
Just as we have now taken action to correct the surname spelling of SP5 James H. Roulette on the Vietnam Veterans Memorial—based upon very timely input by Catkiller Crew Chief Glenn LaRocque, 1968–69— and also corrected both our roster and KIA/MIA pages, and conducted follow-up research to confirm the information at his gravemarker, we also want to further honor Louis Keeven's service with the 183rd Aviation Company and the 220th Aviation Company. It is our goal, therefore, to determine, as completely as possible, the service record of this soldier and report on our findings at this site. If anyone, including men who flew with the 183rd, has any information, photographs, orders, family information, or other helpful input, please contact me. Don Ricks.
COMMENTS:
To illustrate the point made above regarding seemingly unrelated information, these following grainy photographs were received from Roger Putnam. They show a damaged aircraft at Marble Mountain airport in 1966, following a mortar attack. What are the chances of these photos being from either the 183rd or the 220th Aviation Company? We will attempt to obtain the original for advanced scanning of both the crew chief and the aircraft, with a goal of ascertaining if the serial number can be obtained from the aircraft, or if anyone recognizes the crew chief. When available, we will post the results: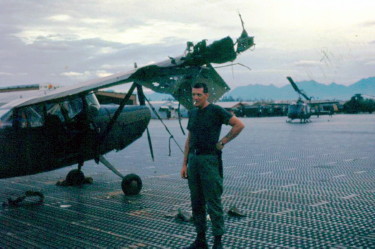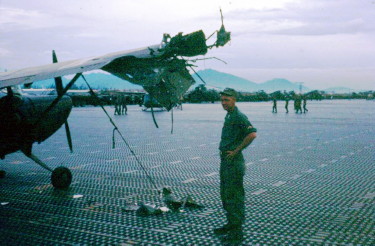 back to top
The photograph of Tank Meehan's gravestone is certainly unique, just as he would have wanted it to be. The Catkillers had a special relationship with this outstanding Marine officer, known as Catkiller 1. Thanks to the Meehan family and Charles Finch for the forwarded image (photo enhanced for easier reading):
As a reminder of how important those military papers are that you have stored safely in your secret place, we received a set of documents from then 1LT Hardy Z. Bogue, who not only went on to a great military career, but also earned along the way several impressive awards. A service member's DD Form 214 contains a listing of the awards and decorations (section 13), training, and rank when released from active service. Hardy's record shows these awards, in addition to those we all received for service over there: Bronze Star, Distinguished Flying Cross, Air Medal (44 awards), and the Purple Heart. He retired a Senior Army Aviator and earned the Meritorious Service Medal during his career. Well done, Major Bogue!
We knew Charles Finch, Catkiller 19, had received a DFC, but there was no available paperwork to document the award. Charles discovered the poor quality but readable document and sent it in today. Both Hardy Bogue and Charles Finch have new entries on the DFC and unit roster pages, with access to eith their citation or certificates. Here is part of the message that accompanied the DFC orders from Charles (this was a very intense time for Charles and all who flew during that period, as his note implies):
(speaking of his DFC citation...) THIS IS SO HARD TO READ; CANNOT FIND THE ORIGINAL.

The action was 17 June 1969. Paperwork was lost and the actual award was presented at FORT RUCKER, 29 APRIL 1971.

This was in the DMZ, and believe this: A man in North Carolina was below me and helped put me in for the award, as it was the third day during which we had protected his unit on the east side of Hwy 1. He contacted me when I returned from Viet Nam—has since died—and I cannot find his name.

I was hit three days in a row in this same area and was still upset that Lafromboise was killed on 12 June, for no good reason, but that is another story.

On 14 June, Major Miler came up to Dong Ha and talked to me after I had flown 8 hours. The flight surgeon told me I should be taken off the DMZ as I had combat fatigue.

I blew up 2 trucks on the 16th, killing many NVA and then went back on June the 17th and just flew 5 hours, killing more.

Major Miler allowed me continue flying the DMZ.

Charles Finch
As payback for all the intense pressures of a young man at war, Charles just finished a golfing outing at the recent Chick Fil–A Bowl Challenge (Golf), and as you see from the broad grin they all had a great time during a worthy cause (click on the video to see more):
I was the volunteer chairman again for these coaches and players for the CHICK FIL–A CHALLENGE (fourth one for Charles).

It was my pleasure to take Steve Spurrier and his wife back to the airport. I have known him for quite some time, and he is a good friend of Nick Saban. I first interviewed Steve in 1965, when I was doing sports at Georgia and he was at Florida.

I get to score Roy every year. Great man.

Charles.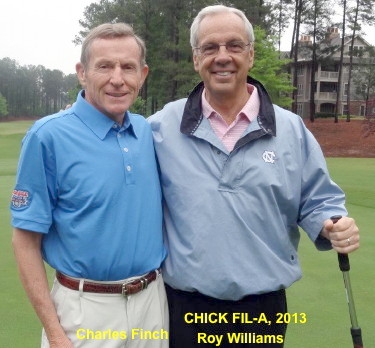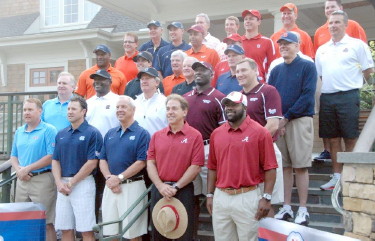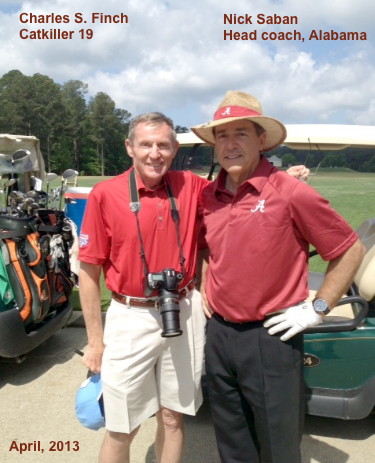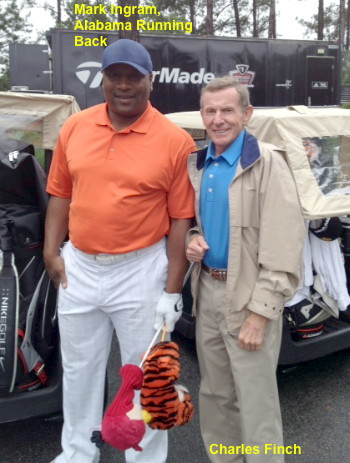 back to top
In a moment of weakness, I asked Jeff Fozard, author and retired army warrant officer, to give me a price on a colored shrimshaw version of the Catkiller patch. Jeff allowed me to get the best of him, I believe, which caused a lot of tedious work on his part, to expertly cut into an ivory oval to make the belt buckle image pictured below. I won't reveal the asking price but will just say that it resulted in much more work for the money than he expected, and it's the first time I ever got the best of a warrant officer! Now, only he knows the amount of time spent on the project, but I gather from his emails that he wishes we had never met. Someday, when I stand before judgment, I will most likely have to account for his pain. My cockeyed smile in the second photo does not reflect my feelings nor insinuate a cockeyed deal, so please don't read too much into this casual photo. First, the buckle, then the smile: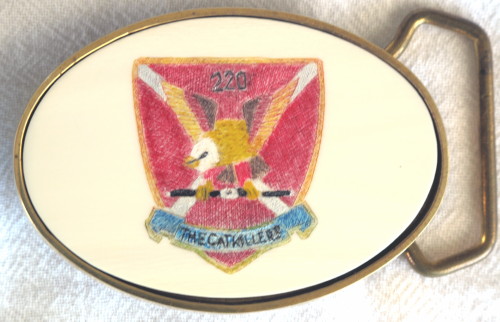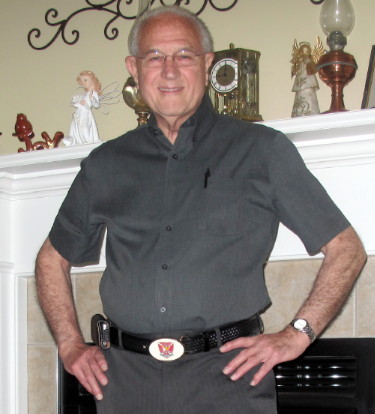 back to top
Courtesy of Sam Givhan, 199th Avn Co "Swampfox 31," here is a "Great Article about 73rd Aviation Company's 50th Anniversary Reunion:"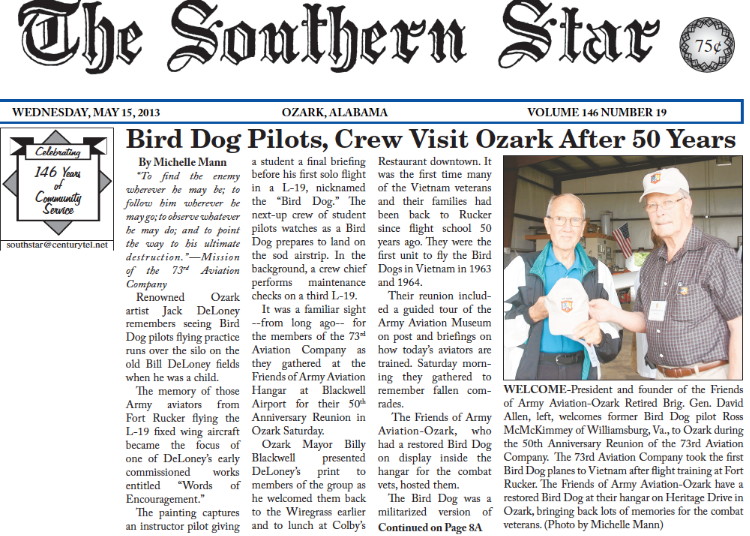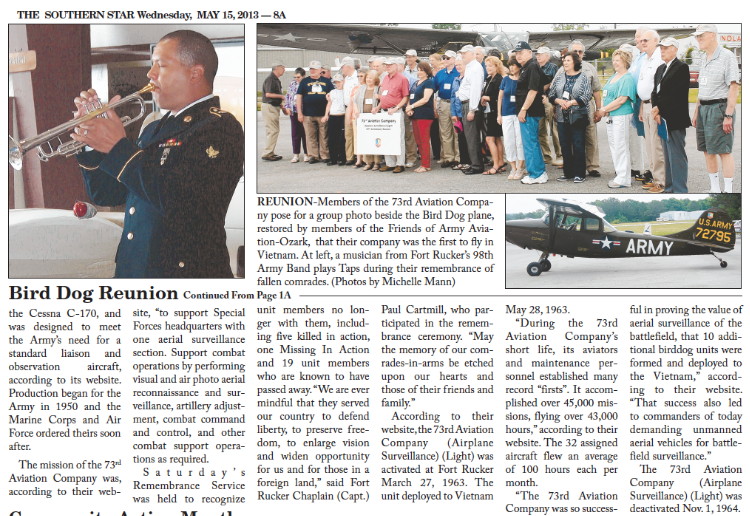 back to top
A friend and flight school classmate of Catkiller Captain Mark Raymond Tomasevich, Captain Francis A. Doherty, Headhunter 45, inquired a few days ago about meeting Mark at Camp Holloway, just before Frank returned home from Vietnam. Frank speculated that their meeting occurred about September 1970, just before he returned from Vietnam. That inquiry resulted in a few days of asking about Mark, who was an IP directly out of flight school when he arrived in the 220th Aviation Company. Further investigation and an internet search revealed that our inquiry began too late to locate Mark alive. He died last Saturday, on May 11th. I spoke to Mark's widow and expressed our condolences, and she confirmed Mark was indeed assigned to the 220th Catkillers, as she stated the unit designation. Here is the obituary from the Seattle Times: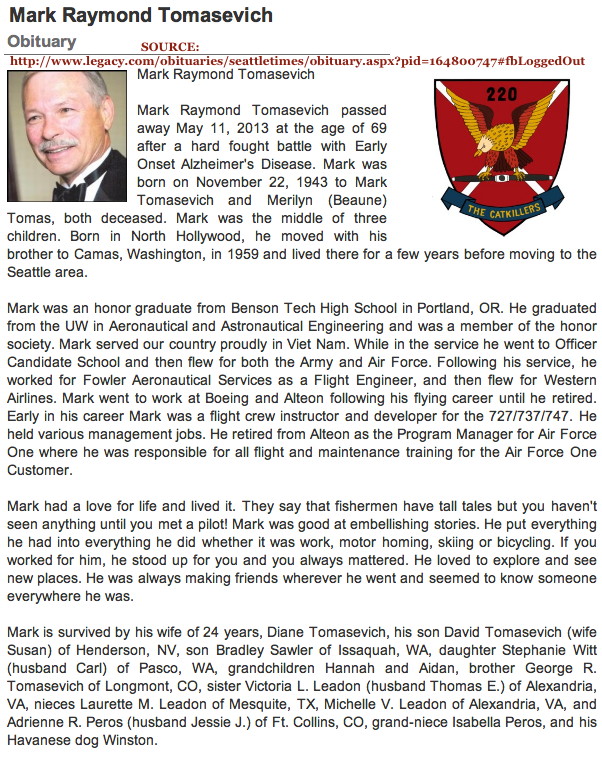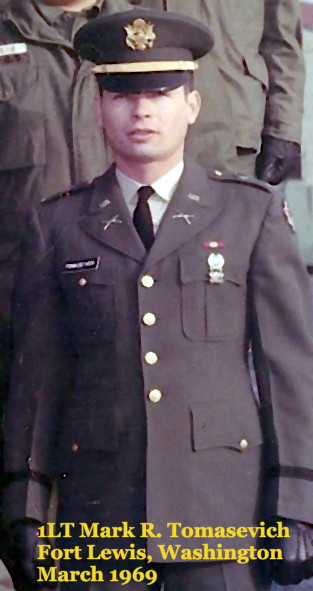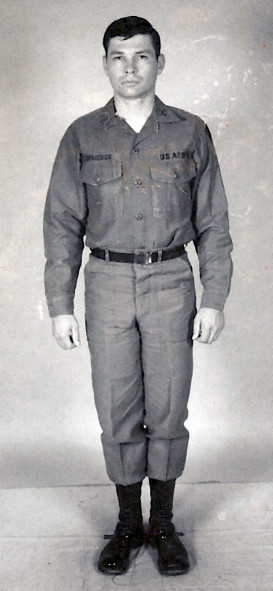 Here is a recent email from Paul Smith, Catkiller 18/40:
When we were in Seattle, I took the opportunity to call Mark's house to check on him. He was a mentor when I was in the 1st Platoon (18) and a great pilot. When I next had the chance to speak to him he was a chief engineer for Boeing and he arranged for me to fly the 777 simulator. We had a nice lunch and visit. Not sure what year that was. During the reunion when I spoke to his wife and mother, I came to understand that Mark was in the final stages of Alzheimer's and did not have visitors.
back to top
Those from our unit who might have known some of the men who flew Mohawk aircraft in Vietnam might find this site informative. They have three newsletters posted and available for review:
back to top
Larry Ray Huston, Catkiller Crew Chief (1968–69), was a cool guy, and he was a super crew chief, and he was a proud member of the Catkillers, in life and in death. As you might recall, Larry died on June 29, 2012. The last article of the Second Quarterly CATCOM Newsletter, 2012, contains the announcement and obituary.
Recently, we received information through Scott Cummings that Larry's sister had a monument made for her brother. The unusual but heartwarming point she made was to have the Catkiller patch engraved on the headstone above Larry's name. Here is a photo of the ultimate tribute: