220th Reconnaissance Airplane Company




Third Quarterly 2005 CATCOM E-Newsletter
updated September 19, 2005 (afternoon)



"Catkillers"
and Family,
and all Friends
and Brothers in Arms,
in memory of those who have served
UPCOMING EVENT FOR SOUTHEAST BIRDDOGGERS:
This note is from a staff member of the International Bird Dog Association:
"SE area Birddoggers: Tom Kahlert has sent along a notice about the annual Moontown Grass Field Fly-In (near Huntsville, AL), 20-21 August. From everything I have seen on this event in the past, this is one you should get to. A great grass field, what can be better?"
Moontown Airport has a web site, at the following link (click on "Events"):


MOONTOWN FLY-IN MEETING:
Bob Cortner, Bill House (Aloft 40, went to flight school with Don), and Don Ricks took advantage of a nice day and the fly-in to meet for a few hours at Moontown Airport. What a beautiful private airstrip! What a beautiful day! We had a good time, and the only exciting thing that happened was Bob stealing electricity from a mobile home, next to which he had parked his motor home. Following are a few photos (The Bird Dog belongs to Tom Kahlert, I believe):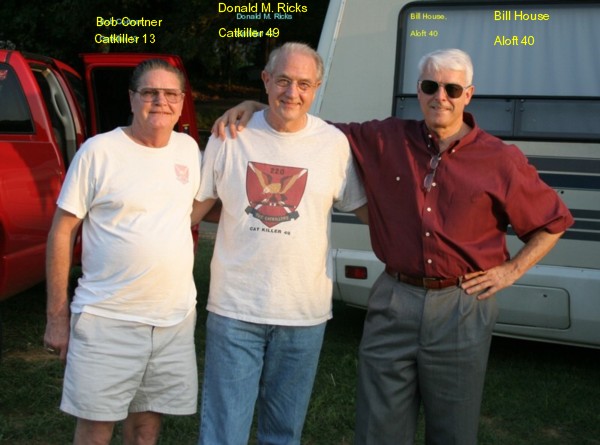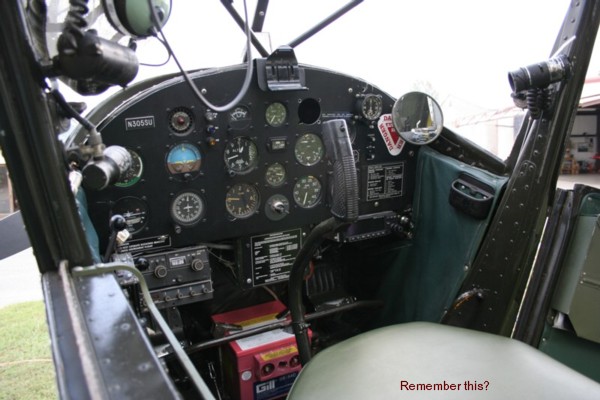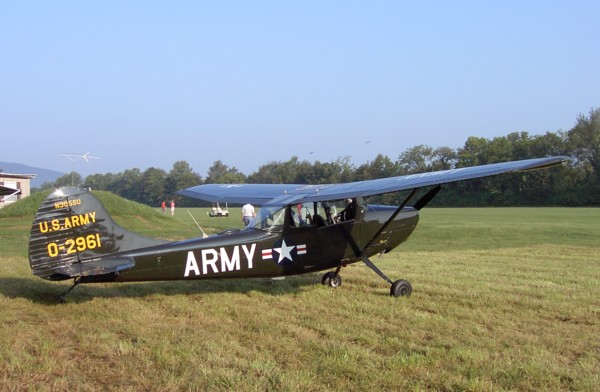 FOUND CATKILLERS AND E-MAIL UPDATES:
Mike Donnick, Catkiller Mechanic, 1968-69, made contact on September 12, and his information appears below. Those who flew out of Dong Ha will remember Mike as I do:
Hi, I am SP5 Mike Donnick, and I have been wanting to correct and provide correct info about myself and tell you I have enjoyed the web site tremendously. I came to the Catkillers as a crewchief in May of 1968, and came back stateside in December of 1969. I started out in third platoon but was asked to join the first plattoon in fall of 1968. I spent almost all of my remaining time with the Catkillers as the mechanic at Dong Ha. I live in Marshfield, Wisconsin. Address: 1613 E. Doege St. The zip code here is 54449. My e-mail address is sd-90mac1967@yahoo.com. My home phone is 715-384-8582. I believe I am listed as a cook!!!. I was unable to make our first reunion, but I hope someday I may see some of you again. You will always be in my heart, as the finest group of guys I've known. Sp-5 Donnick.
CATKILLER PLAQUE, SOLID WALNUT, 2005
A few days ago I received in the mail the plaque you see pictured below, which was carved from a solid plank of walnut. This was a surprise gift from my older brother, Doug Ricks, also a Vietnam Vet (flew helicopters). Doug commissioned this work from one of his friends, William R. Stanley, Sr., a disabled Vietnam Vet. As you can see, it is a nice job and probably the only one of its kind around. The crossed rifles (I was an infantry officer) were added to the design by my brother, so I suppose any design you might come up with would be possible. I am sure there is a phone number for anyone interested. This would make a great reunion fundraiser or personal gift!:

Artist's name:

William R. Stanley, Sr.
1761 Elm Street
Chico, CA 95928-6644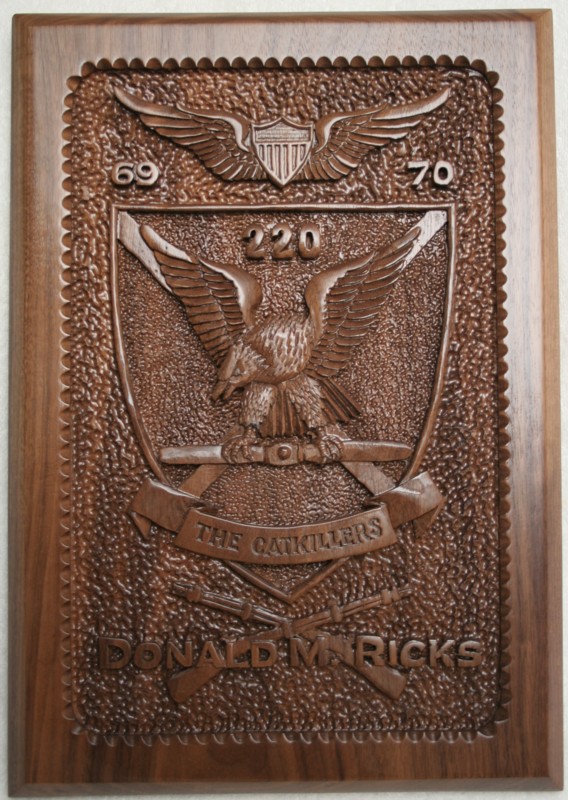 "SOLDIER'S MAGAZINE" ARTICLE CONCERNING CW5 (Retired) SARGE MEANS: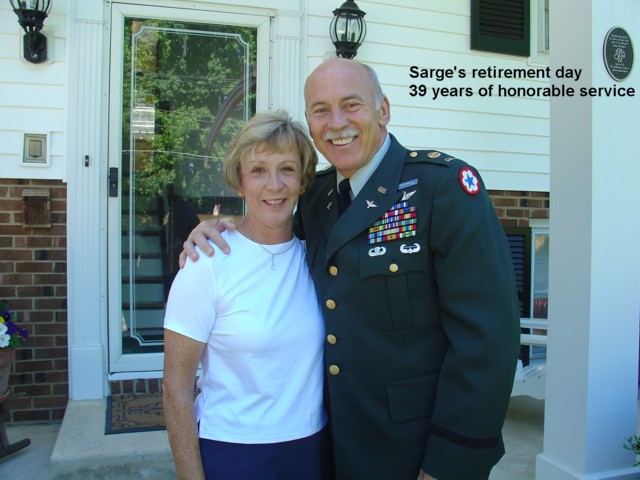 Sarge and his good friend, Nancy Finch, pictured above.
Click on the following link to view a PDF file published by Soldier's Magazine:

"Link removed"


Source: http://www4.army.mil/soldiers/archive/pdfs/, August 2005 issue
NEW CATKILLER T-SHIRT DESIGN:
This came in from Leon Skeen, designer of our Catkiller t-shirts:
"Latest T shirt design. The small print on the front would have the catkiller # under the crest with "Catkiller" arched over the top of the crest. I used a Legal sized design for the back. It is much bigger than the letter sized."


Contact Leon Skeen at:


PS: No affiliation with Leon Skeen
FAMOUS QUOTES:
"I have yet to meet a man as fond of high moral conduct as he is of outward appearances."
Confucius, Chinese philosopher, 551-479 B.C.