Reunion Registration Form
MIA LEE HARRISON'S BROTHER TO ATTEND REUNION IN HOUSTON:
Scott Cumming's web site has brief comments concerning MIA and Catkiller Major Donald Lee Harrison, but to view specifics concerning how he entered into MIA status you must search the internet for Lee's name. Here is one link that contains considerable information, less Lee's callsign:



Steve Harrison, brother of Major Donald Lee Harrison, will attend the Catkiller reunion in Houston October 6 - 8, 2006. We look forward to our visit with Steve and his wife, Ann.

If you served with Lee, in or out of Vietnam, and plan to attend, please contact Carl Drechsel, Catkiller 30, Reunion Committee Chairman (cdrechsel@houston.rr.com; 281.333.8328).
JERRY BONNING DOING WELL!
For those of you who don't know Jerry Bonning, he is one of our reunion committee persons, and recently he had a medical concern. Below is a brief, written by our good man, Jerry Bonning. We are indeed thankful there are miracles reported each day, and we are also very pleased that Jerry is still with us and will attend the reunion:
"June 6th an x-ray reveled a mass on my right lung. This mass was confirmed by a CAT Scan. The resulting Bronchiscopy and PET Scan indicated that the mass was cancerous. On August 8th I underwent surgery to remove the upper lobe of my right lung. Unfortunately after three attempts the surgeon was unable to complete the operation (seems I kept trying to die on him) but he was able to get 7 large samples of the mass to biopsy. I have to thank all that prayed for me and wished me well because the pathology came back negative for cancer.

Update, The cancer board at University Hospitals has determined that what ever I have is not Metastatic, Yeh!!! The board thinks it might be fungus based. They have turned me over to Pulmonary Medicine. My Pulmonologist is putting me on 3 months of an anti fungal to try to clear up the mass. Let us hope my liver does not fall out first. Had a CAT scan last Monday. The Pulmonary guy was able to measure the mass before the operation and last Monday and the mass is about half the size it was six weeks ago. More good news, Yeah!!!!!!!!! To my untrained eye the mass also looked less dense but that is just my opinion. Am recovering form the operation very well Started work last Monday. I am just now pretty much able to get through a whole day. See you guys soon. "

Jerry Bonning
Catkiller 44
JOHN WAYNE'S POINT OF VIEW?
Larry Oltjenbruns forwarded an interesting graphic of an American icon, John Wayne (producer unknown), and imposed on the graphic is a sentiment with which many of us would agree. You be the judge:
CLEMENT, GREY, AND FINCH MEETING IN FLORIDA:
Charles Finch sent in a few photographs of a Florida meeting between Doc and Brenda Clement, Nancy and Charles Finch, and Gene Frey. Gene worked for the FBI and lives in Florida:
SARGE AND STEPHANIE MEANS VISIT THE FINCHES IN GEORGIA: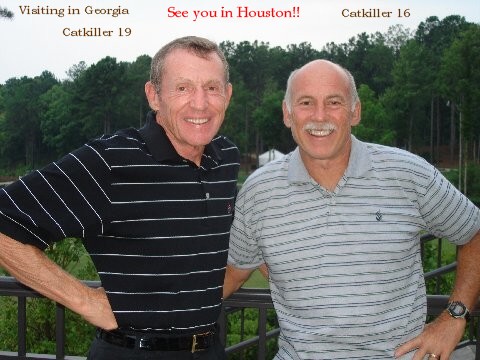 FOUND CATKILLERS AND E-MAIL UPDATES:
Jerry DiGrezio sent in a contact in his area:

I recently was contacted by Roger Bradley who was a crew chief that deployed with the unit. He works as an aviation mechanic at the Nashua airport and we are getting together to swap lies very shortly. His phone number is 603-464-4971.
Charles Finch sent this information on two Catkillers:
"Finally heard from Fred Willis, a Catkiller during time frame '68-'69. He is an evangelical preacher (Baptist orientation) on the road with his wife, Ann. He called me from Oshkosh. He will spend most of the next year preaching in Alaska. He does not have email, will not come to the reunion, and only has a cell phone. He did not know that his former roomate, Terry Scruggs, had passed away. He only gets mail that is sent to his daughter in SC. I believe he is in an RV doing his preaching.

Dave Rogers, one of the original Catkillers of the '65-'66 era, is still undergoing treatment for Chronic lymphocytic leukemia (CLL) and cannot come to the reunion, but said you could mention him on the web that he is 73 years old, and still getting around fine.

I am still trying in vain to run down other Catkillers, but I have been down more blind alleys than I would like to say, Charles Finch"
Richard (Dick) Bielot, of New Smyrna Beach, Florida, checked in and inquired about the Catkiller reunion in Houston. We look ford to seeing you, Dick!
"I was a member of the 2nd platoon, 220th Aviation Company in HUE, from June 1966 to June 1967, call sign "Cat Killer Echo" and then "Cat Killer 21".
Catkiller Vernon Seybold checked in with this message (vernon.seybold@us.army.mil), Seybold, Vernon W CIV NGNH:
"I have been visiting this site for some time and decided to write. My name is Vernon Seybold, and I served with the 220th from March '68 to October '69 in Phu Bai. I worked in the engine shop with Frank Fatera. There's a lot of soldiers names I cannot remember. These are a few:

SFC Johnson was the Maint Sgt, Sgt Faust, Sam Cooper Airframe. My favorite, Cpt Kovach, hell of man, not very good at Volley Ball, which we use to play when there was time. Have to go back to work. It's always interesting visiting the web-site.

Vern S."
Catkiller 5/33, Donald E. "Gene" Wilson, checked in with a nice note and some important unit history. It was good to read your note, Gene:
"Hello Don (and Carl),

I just read the reunion update and I had neither seen nor talked with another Catkiller in many years until I just stumbled onto the web site a few weeks ago. Now I have already swapped a few emails and had a super time talking with Roger Putnam, the one and only "Catkiller Provider" and 3rd Plt Sgt in DaNang, on the telephone. He lives in San Antonio and I believe that he will be at the reunion in Houston. I wish that I could be there, but our calendar this year just has too many things to do already on it. However, I do want to say that all of you who are involved with the web site and the reunion are doing a fantastic job!

I checked into Phu Bai in early June 1966 and took Jay Weight's place as "Catkiller 5". Bill Schmale was the CO - he had extended after being Jerry Curry's XO from the very beginning - from Fort Lewis to Phu Bai. With a change of command and an influx of new Majors [At that time I was a CPT(P)], I became "Catkiller 3" when George Woods arrived in October as the new XO and stayed there until my 3rd CO, Major Courtney Smith, "stood me down" on my birthday on May 27th before my DEROS o/a June 2, 1967. CPT Walter "Chico" Fernandez had been the Operations Officer, and I had hoped to become "Catkiller 26" or "Catkiller 46", so that I could give him his job back, but it was just didn't work out that way. But I must say that we made a great operations team for the time that we were together. For the past few weeks since combing over the web site and my "stuff" that has been buried for years, I have been "collecting" my me mories of Phu Bai and my Catkiller days of 1966-67. If anyone would like to compare notes, I will be glad to share what I have.

Please give my best regards to all the Catkillers at the reunion. I would also like to talk to Carl Drechsel about getting one of those good looking Polo shirts!

Donald E. "Gene" Wilson
7620 - 98th Avenue SW
Lakewood, WA 98498-3271
(253) 582-9249
dew1952@comcast.net

OLD PHOTOS:
Charles Finch sent in a few old photos, with captions:
"Best Maintenance Officer (

John "Bear" Kovach

) in the 220th and one heck of an IP. We were blessed to have him serve with us. The Officer's Club LIVED because of John and his bouts with Mike Sharkey.

Charles Finch

Since none of us have seen this young Army Aviator since 1969, here is a picture of

Roger Bounds

on the USS NEW JERSEY where he and I spent Christmas with Bob Hope, Ann Margaret, the Gold Diggers, Les Brown and you know all of the rest.

I had a cheap camera. He had the big expensive NIKON. He took TONS of pictures, but to this day has NEVER, EVER shared them with me. Maybe he can bring some of his pictures to the reunion in Houston.

Roger was one of the best. Had no fear and would kill as many with the lethality that brings a smile to my face.

Charles Finch"

PRAYER REQUEST FOR JOE MEAD'S BROTHER:

Please say a prayer for Joe Mead's brother (see message below, dated 7-13-06, and you can e-mail Joe at: themeads@optonline.net):

Don:

I will not be attending but I wanted to pass along a bit of personal information. My oldest brother is 80 and is not expected to survive this night. He has been very ill since November. He was Navy/Aviation in WW2. He was on anti sub patrol in NA, SA, Af, EU and the Pacific. He signed up out of high school and reached the rank of petty officer.

He was so proud of me when he learned that I was assigned to an aviation unit in Vietnam. All of you guys gave me some respect and I want to thank you.

Home is the sailor, home from the sea.

Joe Mead
Montvale NJ

Joe sent this message the following morning, July 14:

Don:

John passed away peacefully early this morning.

I have in front of me the telegram my Dad sent to him on the day I was born Jan. 31, 1945. It is addressed to J P Mead AOM3/C. I looked it up - Aviation Ordnance Man, Petty Officer 3rd Class (E-4).

As he directed, the remains will be creamated.

On Thursday next week we are going to have a funeral Mass in Toms River, NJ for the family only, to include a piper and 3 choirs. My sister Rose will play the organ. This will be a day we will remember for a long time.

Thanks to all for your prayers and thoughts.

Joe Mead
Montvale, NJ

MINI-MEETING IN MASS, BOB, CURT, AND JERRY:

Here is a picture of Bob McComiskie, Curt Perry and I having dinner at a Chinese restaurant in Lawrence, Mass., on September 15:

FINALLY, SOMETHING TO MAKE YOU SMILE!

Whatever your class year, we all received a message from this Statler Brothers tune. Thanks to my friend, Chuck Goodrum, for sending the link, and the web page master for this special treat!