220th Reconnaissance Airplane Company




Third Quarterly 2007 CATCOM E-Newsletter
updated September 17, 2007 (morning)
Let's Say Thanks



"Catkillers"
and Family,
and all Friends
and Brothers in Arms,
in memory of those who have served
NOTE FROM JOHN HILLMAN:
As many of you know, John Hillman had a major health concern during the last several weeks. He is now back in Oklahoma, recovering and mending and being cool. Many of you prayed, called him, sent cards and letters and showed your love and concern. Friendships are special gifts in times of need, and John appreciates your presence in his life. John is available for calls, etc., so feel free to get in touch with him. If you require contact information for John, send me an email.
Update: August 13, 2007: From John Hillman:


Don....

Here's a little blurb about my hospital stay. I really appreciate the concern expressed by my brothers.......thanks guys.

John



Here's the story on my little health problem this summer.

On June 19 I had a scheduled chemotherapy treatment which went well. June 21 I leave for Las Vegas to play in the World Series of Poker with plans of staying perhaps a month. I arrive in fine shape, play in two tournaments and some cash games, doing well in the cash games and after about 5 days become rather ill and weak. I spend two days in the room trying to store enough energy to get back home. I return home on June 27 and have Sherry take me to the hospital that evening. The VA Medical Center at Muskogee wants to place me in ICU but they have no vacancies so they ship me to Little Rock. I end up spending about 21 days there, then am transfered back to Muskogee until I'm discharged on July 28.

While in Little Rock, of which I have very little recollection, I was placed on a ventilator, had my heart shocked back into rhythm, and received 6 units of blood among other things. The diagnosis was pneumonia, severe, which had been present but undetected for quit a while due to me receiving chemo which masks certain blood test results.

I get transfered back to Muskogee and go into the physical therapy unit because now I can't walk due to the fact I've been flat on my butt for three weeks. Now I get to learn to walk again. Let me tell you this is too much fun. I'm out of the wheel chair and off the walker now and am getting around pretty well, a little improvment every day. They tell me in about another month or so I should be back to normal. They obviously don't know me well, I've never been normal, hell, I used to drive Bird Dogs.

Anyway folks, that was my little summer adventure. I really appreciate the calls, thoughts, prayers and good vibes from everyone, I know it helped. Sorry it took me so long to get this to Don for inclusion in the newsletter but this therapy is about to kill me. I have no idea how I ever played sports in school and handled the practices, what happened ?????????? Thanks again everyone, I am so proud to be a part of this very special brotherhood. I love you all very much.
LATE NEWSLETTER AND LIFE:
Yes, the newsletter is a month late, but it has been a busy time for the Editor. During the month of June I visited France (courtesy of the United States Air Force's space A travel), came back to a busy week of personal business, then departed for Ecuador on a missionary trip with Happy Feet International and my church. While there, a personal matter developed requiring my immediate attention in Atlanta, and upon arrival back in the United States I hit the ground running. Life happens, and we get busy, even in retirement. Thanks for your patience. If you have contributions, please send them in for publication.
GENE AND DEBRA FREY VISIT CHARLES AND NANCY FINCH:
Courtesy of Charles, here are a few nice photos of the Frey's visit to Greensboro, Georgia: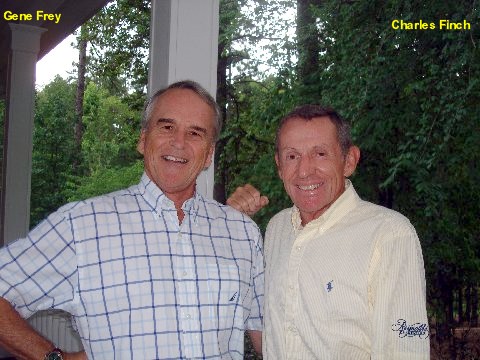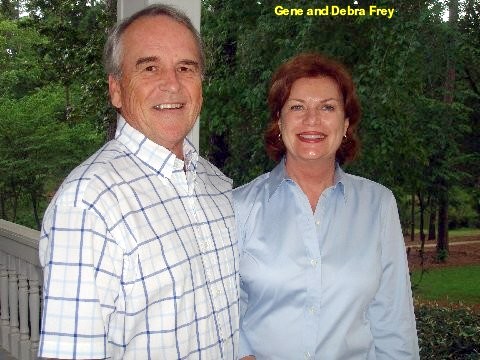 ROD STEWART'S DISPATCHES ON THE WEB:
Rod posted his Cambodia/Vietnam dispatches at the following web site, with additional photos:


Hi Don:
I put those Dispatches from Vietnam up on a blog site (click on above link) and added the photos to illustrate the stories.

Rod
SOME UNIT HISTORY FROM CATKILLERS AND FRIENDS:
Norm MacPhee sent in an e-mail that contained unit history, so it is a pleasure to share this with you:
Hi Don,

I REALLY enjoy the newsletter.... you are doing us all a great job with maintaining the contact.... I just emailed the t-shirt fellow to see if he would do a few with Danang on them.... this happened before the organization became Phu Bai-centric! Actually, the largest platoon was in Danang during the early times, and the toughest duty was in Quang Nai due to lack of everything. I landed there once, and that was enough! The reason Danang was larger was we had a mission the others did not have... sent a Birddog north and south along the coast every morning and evening to find\prevent the bad guys from overtly using ships to deliver supplies.... during my time only one was ever caught.... near Phu Bai and sunk by the US Navy. So let's think that the prevention worked..... the coastal mission was easy except for the long distance one got from home....II corps border or DMZ was a long way from Marble Mountain with the rough running O-470 (mine seemed to go to auto-rough on take off!

Thanks again for the newsletter.

Norm MacPhee, CW2, Danang, 66-67
This e-mail from Jerry Spette adds additional informative tributes to the unit history section. Jerry, I was one of those new guys in the latter part of 1969. Thanks for your information and the value you were to us with your experience and expertise:
Hi Don.

My name is:
Jerry Spette
66 Manville Road
Pleasantville, New York 10570
914-769-7758


I was a 1LT with XXIV Corps G-2 II Sect.(7/68-11/69). I was assigned by LTG R. Stillwell one day to confirm/deny an POL pipeline entering South RVN from Laos. Lee Harrison was my first pilot. We tried to fly over the area, but were prevented from completing the mission because of bad weather. We tried again to no avail, and then later that week my pilot, Pepe, took me in and we got down to 400 feet for a good look and some photos. Pepe was "short" and didn't completely appreciate the General's curiosity. As it turned out, the Montanyards had laid down some tree trunks to separate their property. I guess from 10,000 feet they looked like pipes to the Airforce.

I was subsequently assigned TDY to the 220th replacing Maj. Tank Meehan as the Visual Aerial Recon and Surveillance Area Control Coordinator (VARSACC). I was able to do a lot of back seat flying and got some good targets and intel for the G-2. I lived with Pepe, who bunked behind his bar in the hooch. We certainly had some wild times after a days flying. I remember singing "Dawn" and watching a bird dog model flying around the O-club and I became a pretty good dart player. I was eventually asked to come back to the 220th in late 69 and fly with some of the new pilots to help orient them to the area.

All the names have partially faded, buy the faces are firmly etched in my memory. We all had a lack of years back then, but there was certainly no lack of dedication. I really enjoyed the short time I was at the 220th. I'm very sorry I didn't take as many photos on the ground as I did in the air. I'm really proud to have worked and played with you guys.

Be well and stay safe.

Jerry
WHAT'S HAPPENING IN CATKILLER LAND:
Catkiller 25, Ed Hatton, of Valley Forge, Penn., sent in this e-mail I can share with you. Thanks for the nice photos, Ed:
Hi Don,

Thanks for the update.

I'm still working for Lockheed Martin in Valley Forge. I'm fortunate to have a fellow Green Hat Class 68-1 member, George Sucher (and his family) just 15 minutes from my home in Berwyn, PA.

My youngest son's wife is originally from New Orleans, giving my wife and I the excuse to travel there for St Patrick's day. I march (walk) in the St Patrick's day parades. Here's a link to the evidence (I took all the ones for 2007). The first picture is my son, Eric, and I.


Cheers,

Ed Hatton
Catkiller 25
890 Contention Ln, Berwyn, PA 19312
ethatton @comcast.net Verizon wireless: 610-304-2979
Land line: 610-647-2030

LET'S SAY THANKS:
Please visit this web site and send a card to our service members in uniform:

THE REAL STORY BEHIND THE STAR SPANGLED BANNER:

I was going to save this Windows Media File for Flag Day, but it is too good to not share.

Want a heart-stirring rendition of the Star Spangled Banner? Watch this video!



QUIET AIRCRAFT ASSOCIATION NOTICE:

---