Third Quarterly 2013
CATCOM E–Newsletter
Updated: 30 September 2013
back to top
Catkillers:
Attached is a photo of my wife and I with the widow and daughter of Chuck Douglas, Sundowner Charlie 69–70. I last saw them 33 years ago at the death bed of Chuck, who had only days to go. Judy Douglas told me that Chuck stayed alive long enough to say goodbye to me. He was a brother to me and it was very special gathering for all of us. We laughed and saluted an ol pal and cried a bit during the evening. I had not told so many stories since I was drunk at the bar in Phu Bai.

I know many of our group knew Chuck so please share this photo. Left to right is Cory Douglas, Lt Beans, and Judy Douglas. Standing in front is Cori Brett, Beans 6. The photo was taken two weeks ago in Pismo Beach, CA.

Joe Brett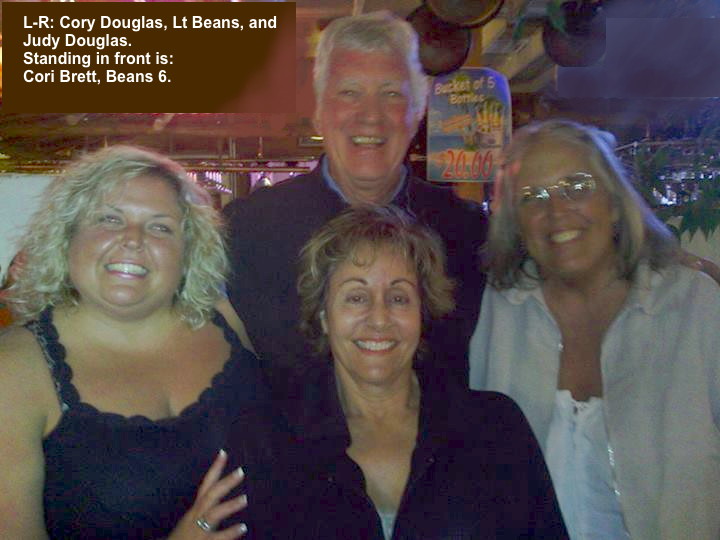 ---
It is always good to hear from those silent–but–know–they–are–there hard workers like Robert.
Hi Don,

Great job on webpage maintenance. I'd like to provide some personal updates: I arrived at Phu Bai from Danang 29 June 1968 as a SP4 67B20 mechanic. I was an A&P, having attended Spartan School of Aeronautics before being drafted. I worked inthe Maintenance Hanger for a while, then worked with Glenn Troha at HQ Line Shack. Glenn was replaced by SP5 Lynch, who was replaced by SP5 Norm Leeser, then I made SP5 and replaced him as HQ Crew Chief. Did an engine change on Catkiller 672 (Beaver) and had major problems but finally got it running and airworthy after a loooong stay in the hanger. Leeser and I built the "porch," observation deck and paved the area with PSP and built the PSP revetments around the HQ line shack. Could not find enough red paint for red/white color scheme so had to dilute the red with white and it ended up pinkish and white, probably until it was torn down.

I left PhuBai morning of 9th July 1969 and evening of 10th was a civilian, waiting in SeaTac airport for a ride home.

Keep up the great works. Happy to see the site regularly updated/maintained. I have lots of pics and the 212th CSAB "welcome" booklet, I'll get them scanned and forward to you over the next few months.

Best Regards,
Robert (formerly Lewin, now Freihoff-Lewin)
---
For YEARS I have asked a busy Scott Cummings to send a photo suitable for the roster. Yeaterday he sent a super representative shot of him behind an army pick–up truck (well, sort of). Scott was young and handsome, like most of us back in those days, and held an important job within the company. Bob Strickland, seen in the next section below, was in the platoon and served with Scott in the motor pool. They recently engaged in a phone conversation following publication of Bob's photo. See how important those photos are?
While I am picking on Scott, here also is a recent photo of him and Bob Cortner, Catkiller 13/28, taken at Pampa, Texas, during a visit to the Panhandle by Bob just a few days ago. Now, I have also asked Bob several times to send in a photo, to no avail, so making a composite of the one above and another from a group photo available from Mike Sharkey is a before and after shot of both in the second photo: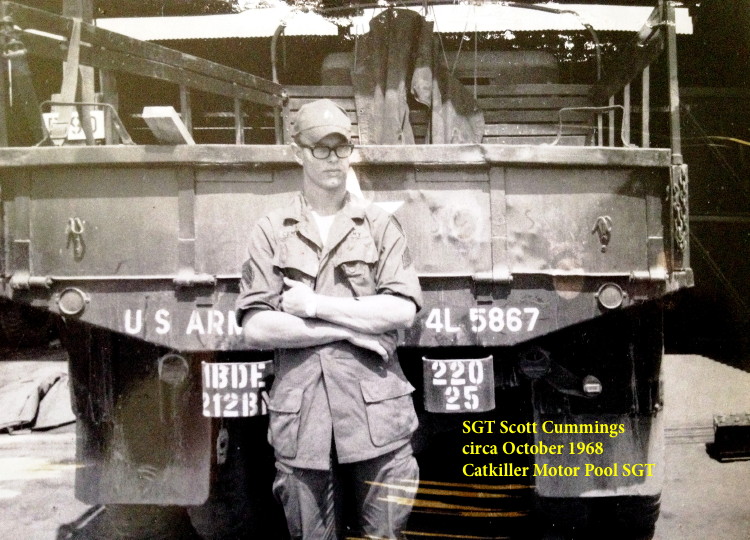 ---
Landon Thorne is a retired Marine Colonel who flew in Catkiller backseats out of Dong Ha in 68–69.

Landon invited Charles Finch for the day to his home at Brays Plantation in Sheldon, South Carolina, last week. He also has reached the age of 70 and has lived an incredible life. Landon is graduated from Yale University, along with his brother David who was a classmate of John Kerry. David was the Ambassador to Italy but is now working at State with Kerry. Landon's sister, now deceased, was the first wife of John Kerry.

This 12th Marine AO was a joy to be around at Dong Ha and has his own Bird Dog.

Charles Finch [Looking good for 70, both of you!]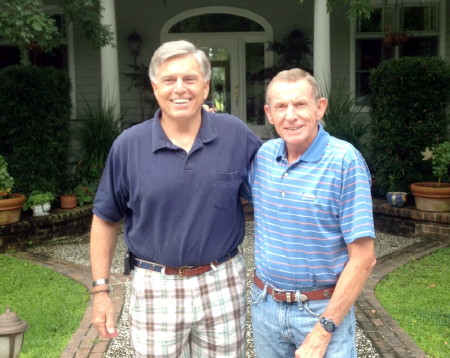 back to top
This was an especially productive week, so far, regarding contact with earlier era Catkillers, directly related to the latest list of names received from Gene Wilson's resources. These include:
Donovan E. Behny, Aircraft Maintenance Officer, 1965–66, Newport News, Virginia.
Robert P. "Bob" Covino, 231st Signal Detachment Commander, 1965–66, Ridgefield CT
Dominick L. Cereccia, SFC, Platoon SGT 3rd Platoon, Da Nang,1965–66, and 1SGT 1967–68, Niceville, Florida
David J. Antonoplos, Sr., 1st Platoon Leader, Quang Ngai, 1966–67, Eufaula, Alabama.
These men are now on our email notification list and the web and official rosters.
---
On Monday, July 22, I spoke with Catkiller Crew Chief Joseph C. Kemper, 3rd Platoon, Da Nang, 1965–66. You can see Joe Kemper being interviewed by Veterans Legacy Vietnam at this site: Joe Kemper on Vietnam and the Army
---
Donovan Behny, who was with the unit as it departed Fort Lewis, sent a package of material that included rosters of the various platoons—and a photo taken after he returned from Vietnam. The rosters will be incoporated into the existing web roster and then published in separate files atop the web roster: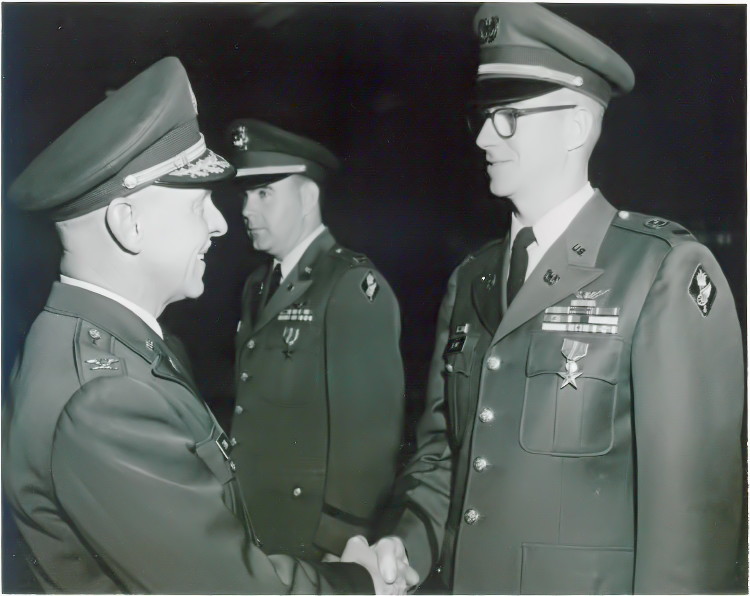 ---
A pleasant surprise brought an soldier back to light when his daughter contacted us to share her father's contact information. Thanks, Lisa! SGT Robert L. Strickland, Catkiller Motor Pool Sergeant, 19868–69, lives in the state of Oregon. While he doesn't use conputers much he does have a phone. You can obtain Robert's number and address from the editor or Keeper-of-the-List: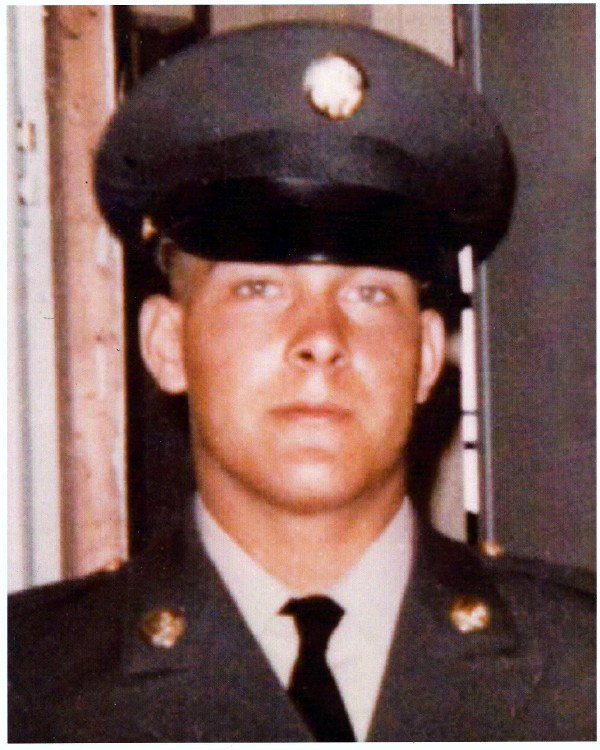 Hi Donald. My Aunt in Oklahoma found this wallet size picture in my Grandma's photo albums. This was literally the only military picture that anyone in the family has of my dad. Which I find so strange since they're a very close and a large Native American family.

Also I will spend some time over the next week or so showing my dad how to search around your website. I've read some pretty amazing stories on there. Here is his phone number and address for anyone to contact too. He has okayed this of course.

Robert L. Strickland
503–413–9999

I told him the names of those men you said who may contact him too.
Thanks again,
Lisa
Here is an old photo of Robert and two other unidentified men taken at Phu Bai (SGT Strickland is on the rear fender of the jeep. According to Scott Cummings, who worked with these men in the Motor Pool, they are: "on the jeep with Strickland are (left) SGT Jimmy Oliver, and (center) SP5 Paul Benton, 1968."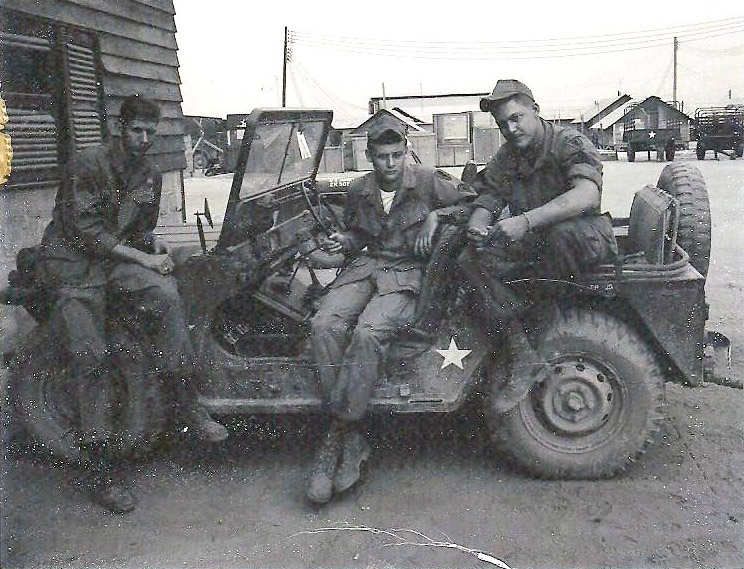 ---
Two ORIGINAL Catkillers who came over with the unit were located today, both assigned to 1st Platoon, Quang Ngai, and career soldiers, too. SP5 Ronald Allen Whipple (SFC Ret. after 26 years) served as Crew Chief of Birddog 72957. SP5 Kenny R. Vegoran (CSM Retired after 32 years!) also served as Crew Chief on 72957! These men were located through information shared by 3rd Platoon Crew Chief Joseph C. Kemper's documents recently received. Ron and Kenny promised to share photos and stories in ther future. Welcome to the roster and notification list to all three mentioned here.
---
SP5 Jackson Moody, Crew Chief and Maint mechanic sent this email and had been added to the roster and newsletter:
Don, this is Jackson Moody. I was in the 220th from June 1968 till June 1969 and worked at the main maintence shop at Phu Bai tower. I am in the picture on the first page with Johnny Moore and 3 others drinking beer. I used to play music when we had a break

I have lots of pictures and names of Catkillers in 68/69.

Jackson Moody
back to top
Jan Smith, Catkiller 41, continues to be an active contributor to this newsletter, which is widely appreciated from comments received. Here Jan shares with us an email and a few photographs of a Birddog worthy of praise. It is obvious that Les is proud of his bird, and he has asked to be included on our email notification list:
This is an E model owned by a Quiet Birdman, who is in the Quiet Birdmen Soquel-Monterey Bay (SMB) Hangar, Les Pue. It was originally in the Italian Army and then the Armed Forces of Malta, which are the colors on it now.

Jan

Jan, Here are two photos of my Birddog, N841CP, inside and out. The guy [in the photo] is not me but a friend where we parked at a strip in Idaho. I'm very proud of the fact that my instrument panel is almost authentically military, with only a few mandatory exceptions—like the placards and the stall warning. [Les' aircraft is based at Reid-Hillview Airport (KRHV), San Jose, in Santa Clara County, California, USA]

Les Pue, Los Altos, California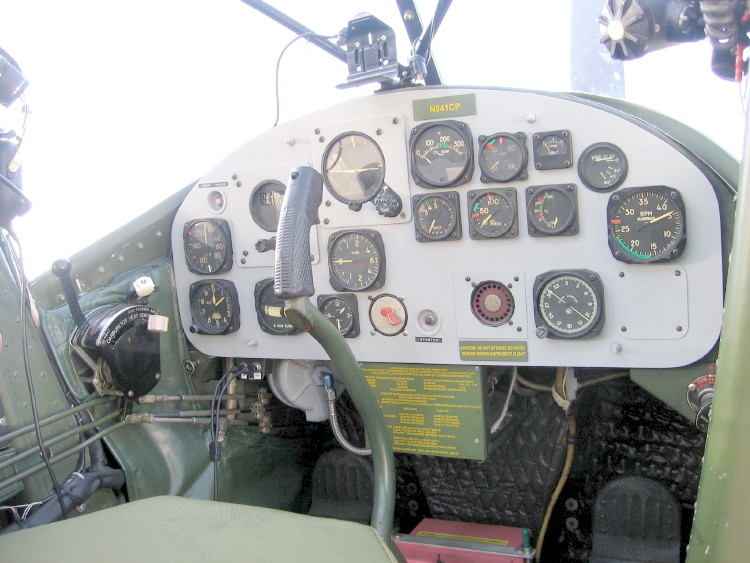 back to top
CW2 Donald Mann, Catkiller 32, shared with us a photograph of his complete Catkiller 32 party suit for 1971. Did we really keep all this stuff? Yes, and it is a good thing. Keep digging for that treasure, men!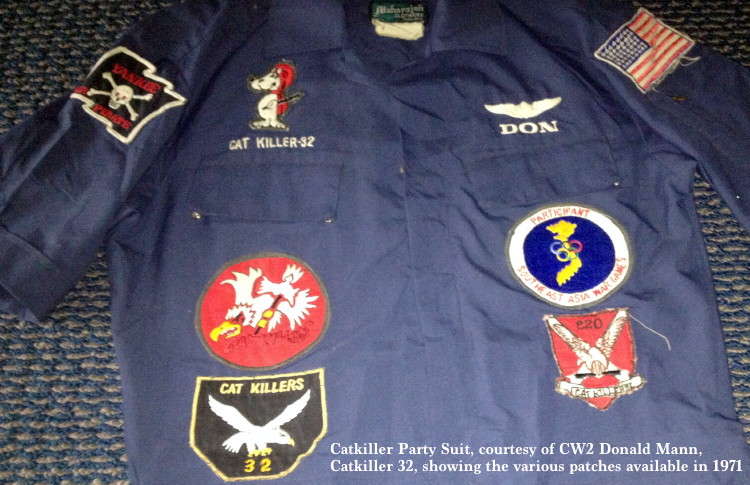 You will note a new Catkiller logo patch from that same era supplied by Pat Snyder, Catkiller 11, who will soon have his own photograph contributions presented in a dedicated page, because there are so many photos: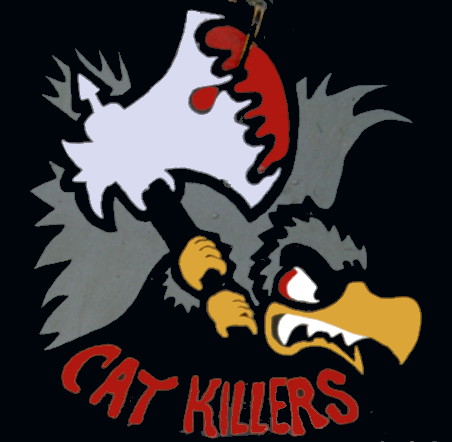 Also in recent days we have received several hard-copy rosters from 1968-69 provided by Catkiller 15, Don Pepe. These are atop the web roster.
We also have, as of today, from Gene Wilson, a complete order from 6 June 1966, for 1st and 3rd Platoon members (about half of the 44 men listed were enlisted) who received the Navy Unit Commendation Ribbon Bar for their service during the period 18–23 August 1965. This has been a very productive series of acquisitions for unit history!
back to top
Whether you plan to visit Vietnam as part of the upcoming Vietnam Battlefield Tour 2014 or not, you will appreciate these positive comments. Janet (Jan) Schaeffer is the widow of Marine AO Jack Schaeffer, and a very articulate and helpful military wife who has been very thorough in every encounter with the 220th Aviation Company. Thank you for the excellent commentary and photographs, Janet.
Jan reports that the Phu Bai airport is now closed to tours (they were the last one to visit), at least for a while, but from the photos there wasn't much remaining to admire.
NOTE: For those interested in the Vietnam tour planned for May 2014, the dates are now firmly set, as per the comments from Bill Stilwagen below:
Don, we have finalized the dates for the VIETNAM TOUR—2014 as May 4—May 18. The program (same as last time) is attached: Vietnam Tour 2014 PDF File.

We will gather at Los Angeles on Sunday, May 4th, and return to Los Angeles on Sunday, May 18th.

With your permission, I will post this tour to our website as a private tour to give it a little more exposure. This tour will change slightly as special requests come in.

[Bill Stilwagen]
Commentary by Janet Schaeffer: For anyone contemplating taking the "Return to Vietnam tour," I would highly recommend both the tour and the tour company. On March 16, 2013, my 3 children and I and 12 others departed Los Angles for the Northern I Corps Tour. Bill Stilwagen was our tour guide for Vietnam Battlefield Tours. We saw a part of the country that 99 percent of the tourists to the country never see. We saw the battlefields of Northern I Corps, but also met the people and saw the interior as we traveled Route 9 across the country to the Laotian border.

The trip more than met my expectations. I had a list of all the battlefields where my husband had served and Bill was able to show me all that were accessible. Jack was an AO with the Catkillers in March–May 1967, which was a reason for our stop at Phu Bai. Most battlefields are unmarked and a GPS locates the area. Jack returned to Vietnam in May 1968 and was a CO for K company, 3/9, which was reason for visiting the battlefields near the DMZ.

Bill has done many trips to the country and is extremely knowledgeable on the history of the war. A local guide accompanied us the entire time and added translation if necessary and also added the cultural aspects of the country. The veterans on the tour provided my children with a perspective of what the war was really like with their stories about their experiences during their tours of service.



All of the comments regarding the tour that are posted on your site are correct. The hotels, food, and transportation are all more than acceptable. The accommodations were 1st class, the food is good and almost all meals are included in the tour. The bus is comfortable and air conditioned and the driver is very experienced in squeezing through small spaces. There is even some free time for shopping and Bill has connections to be able to direct you to specific shops for hard to find items. A stop at the DMZ Bar in Hue is a must. Sign the wall and watch the traffic and people go by from an outside table.

The Vietnamese people are friendly and very welcoming to Americans. I've attached two photos of a chance encounter (totally not planned) with NVA veterans at the One Pillar Pagoda in Hanoi. It was a very friendly meeting as evidenced by the smiles and many pictures were taken:



The last picture that I attached is a photo of the group taken at the Ho Chi Minh Mausoleum in Hanoi. Our tour had a wide range of ages, but all enjoyed each others company:



If you have reference photographs of specific areas in the country, be sure to take them. I had the aerial photo of Phu Bai and the Catkillers HQ (which I shared with the guy that we met at Phu Bai). Jack spent more than a week with his company tearing down Khe Sanh and had taken pictures which included the mountains in the background and I was able to match almost every one and determine exactly where he had been located when he took the pictures. I also had aerial photo of Hai Van Pass and was able to match these, too, as we approached the pass and as we climbed the area by the old installations.

I'll be happy to answer any questions that anyone has about the trip. I would recommend this trip and company to anyone who wants to return to the country.

Jan Schaeffer
Other photos submitted by Jan Schaeffer: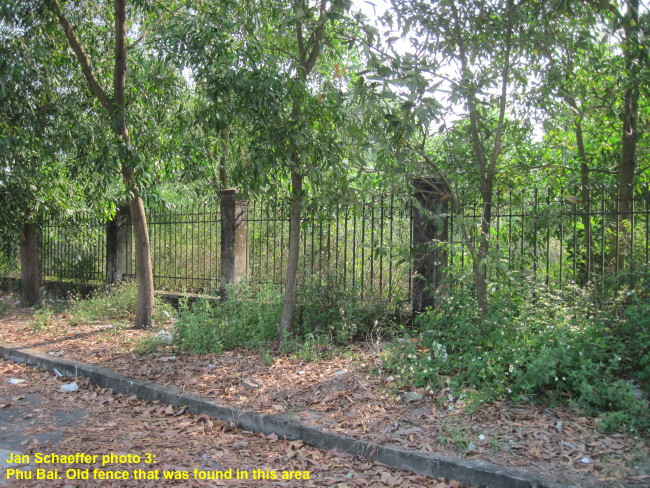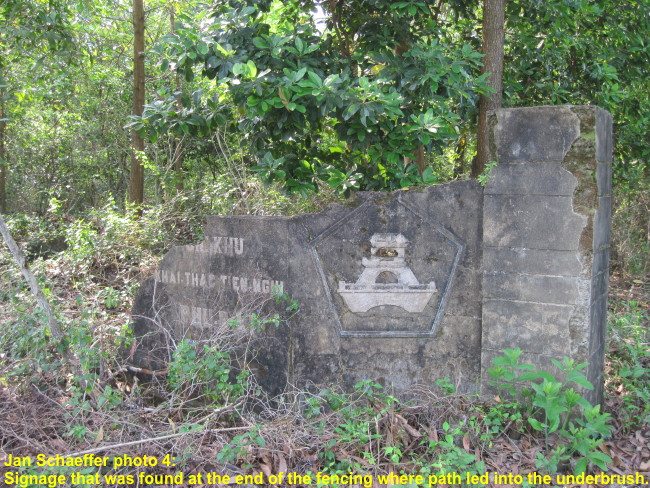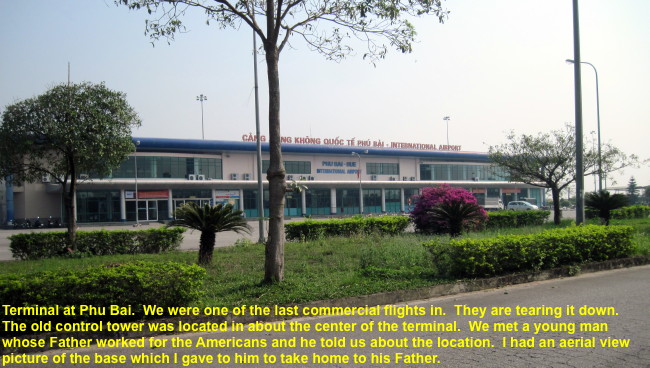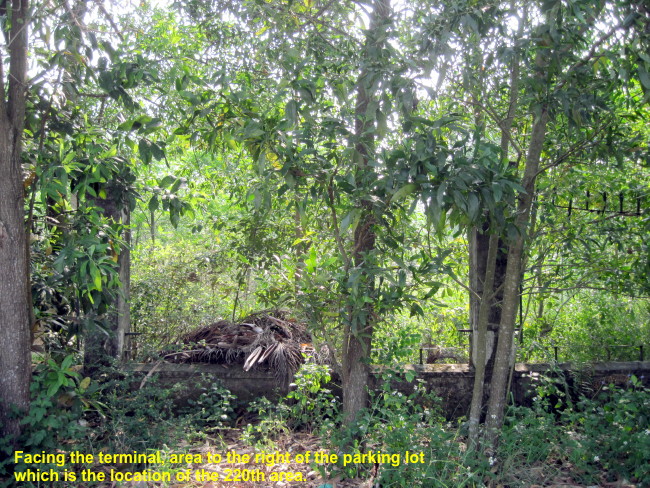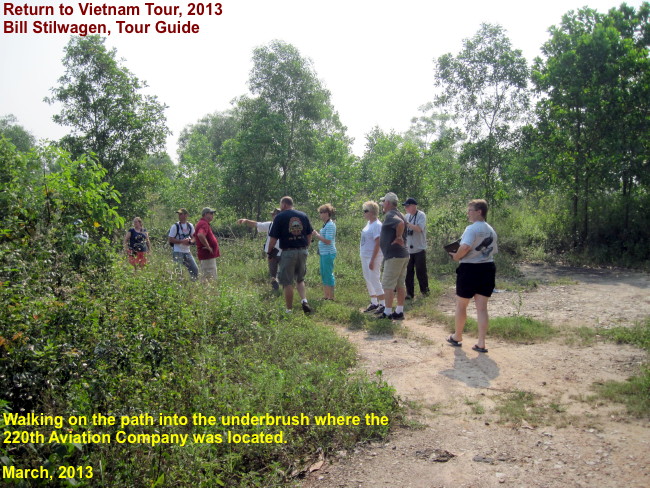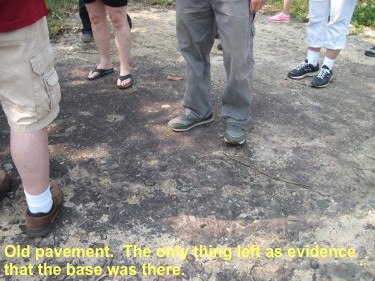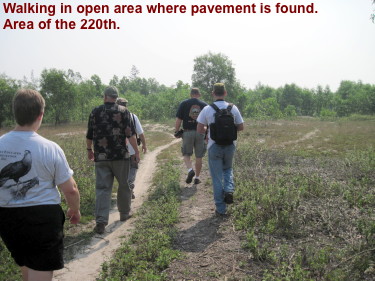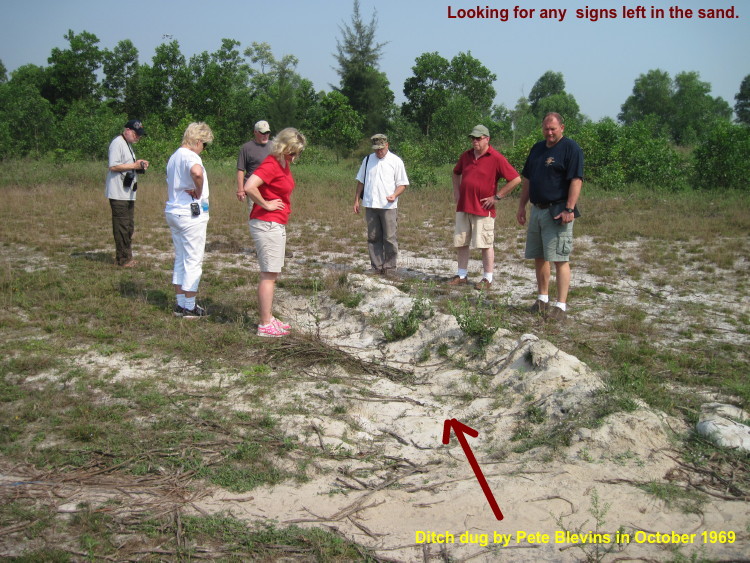 back to top
The Army Aviation Digest collection at this site can keep you occupied all day! It is a great compilation of interesting reading over the years, but the only drawback is the download time for some of the thicker files, so a fast connection speed helps. A PDF read is required:
back to top
MAJ J. "Jay" Ormon Weight served successively as the Aircraft Maintenance and Unit Supply Officer, and then Executive Officer, during 1965–66, and departed Vietnam leaving his former job to CPT (P) Donald E. "Gene" Wilson. Jay, as he was known, continued to serve his country and retired as a Lieutenant Colonel: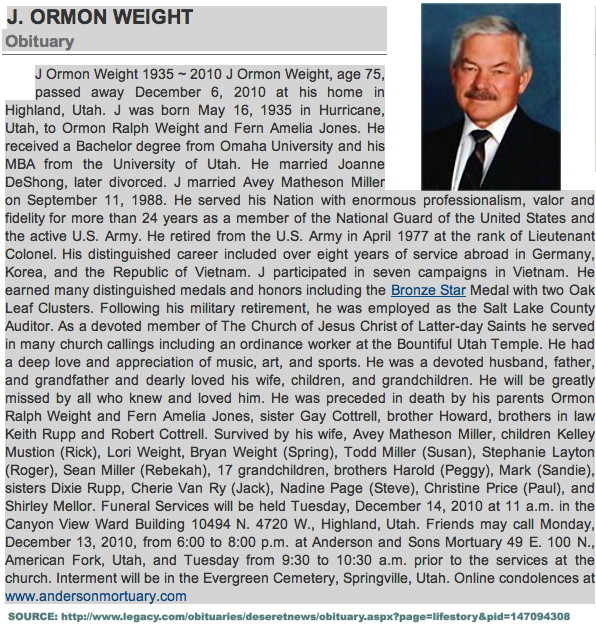 Thanks to Jim Turnbow, Catkiller Tech Supply 1968–69, we share this trivia with our Friends, the Marines!
Also of interest to any Marine fortunate to have served with the 1st and/or 3rd Marine Divisions, you will find some interesting reading at this SEA TIGER link.
back to top
There are several men on our MIA/KIA memorial page without photographs taken while in the unit. One of our goals is to find and post as many as possible. Ray Cluggish recently helped in the effoprt to document two of those men with a photo taken while they were together. These photographs are from a platoon party at Da Nang in the latter part of 1966 (we lost Lloyd Rugge on 26 January 1967). Since Ray Cluggish was there and took these photographs, the party would have been before Ray departed 3 September 1966. Jim Carlin served in the unit from June 1966, so we can reasonably date this party sometime between June 1 and the first part of September. The unit commander and his operations officer attended this function: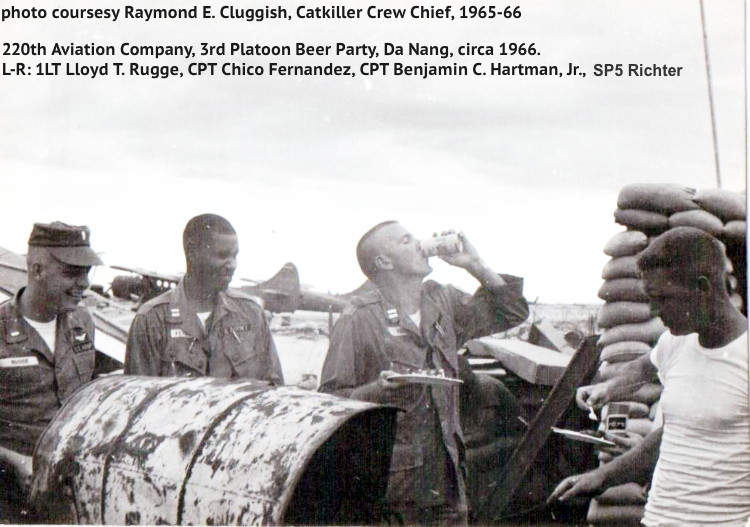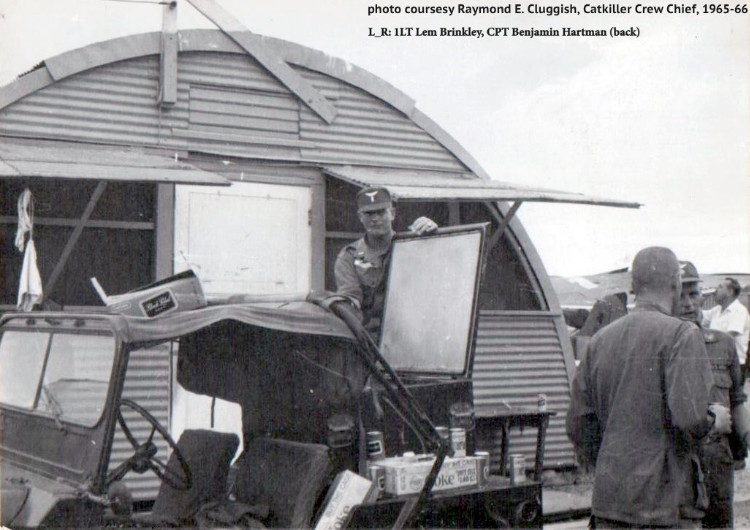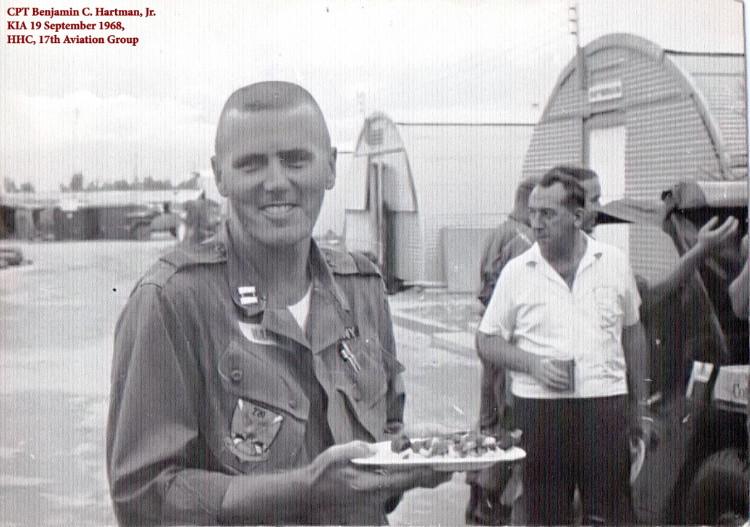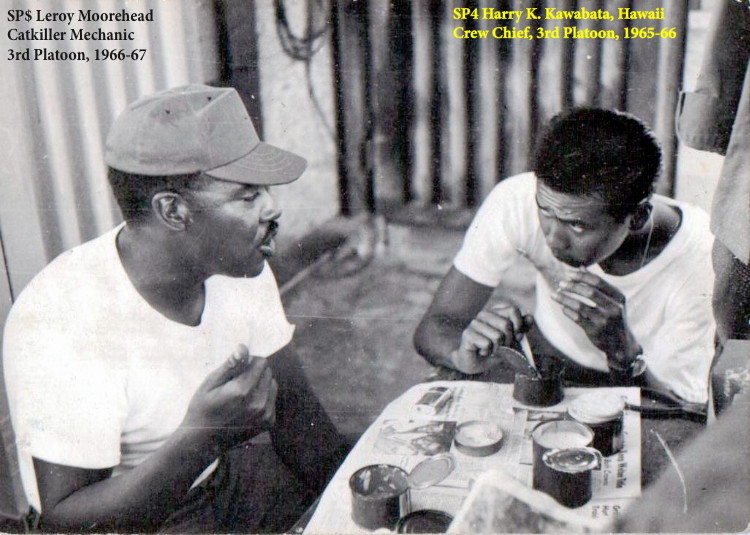 On the picnic table above, from left to right, unknown, Norman MacPhee (in 18th Otter Company at that time), Jim Carlin, unknown, possibly Roger Putnam, and possibly CW2 Ron De Los Santos. Confirmations appreciated.
A copy of the above photograph of Captain Hartman is now shared with the Vietnam Veterans Memorial Wall, courtesy of Ray Cluggish. If you can assist with identification of any person not identified, please contact the editor. Thanks. back to top
If you were at Phu Bai in the early, early days you probably relate well to this photograph from Joe Kemper. Weather is what greeted him as he arrived. Can you just imagine....?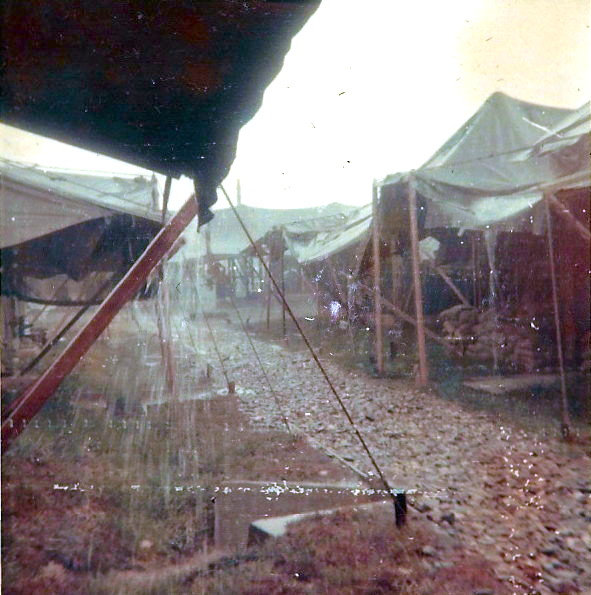 back to top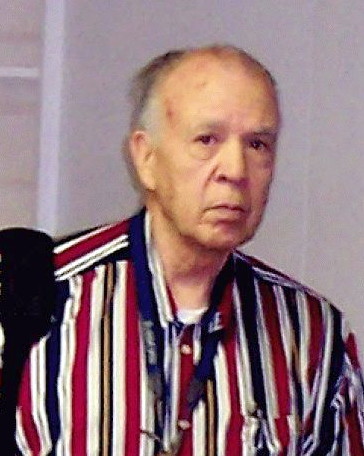 Robert Henry Teer, Jr, loving husband and devoted father, went to be with the Lord on May 7, 2005. Henry was born April 11, 1937 to Robert Henry Teer, Sr. and Chellie Ann Bozeman Teer in Mexia, TX. He was preceded in death by his father. Henry is survived by his wife of 46 years, LaRue Pendley Teer, daughters and sons-in-law, Lisa and Jim Thomason of Bedford, Dana and Randy Allen of Cleburne, Karen and Paul Jordan of Irving; son and daughter-in-law, David and Neisha Teer of Houston; grandchildren, Jimmy, April & Amber Thomason, Sarah, Katie & Rachel Allen, Jennifer & Janae Taylor, Meliya Teer; mother, Chellie Teer of Fairfield; brother Michael Teer of Grand Prairie; sister Barbara Teer Barnes of Meadows Place. Henry graduated from Hardin-Simmons University in 1959 and went on to serve as an officer in the Army for 6 years, including 1 year in Vietnam for which he was awarded the Distinguished Flying Cross, the Air Medal with 18 Oak clusters, Navy unit commendation ribbon and numerous other honors. After his service in the Army, he fulfilled his lifelong dream of soaring the skies as a pilot with Braniff International for 26 years. After retiring from being a pilot, he joined the FAA where he worked as an Aviation Safety Inspector.

SOURCE: R. H. Teer Obituary

CPT Robert H. Teer, Jr., is buried at Dallas—Fort Worth National Cemetery
back to top
CPT Lynn Bumgardner and Charles Finch in their youth provide this before shot of Lynn to demonstrate how well he has held it all together, albeit its a sharper image in the article photo. Congratulations, Lynn, for the vitality of youth carried forward and for that great smile still going strong!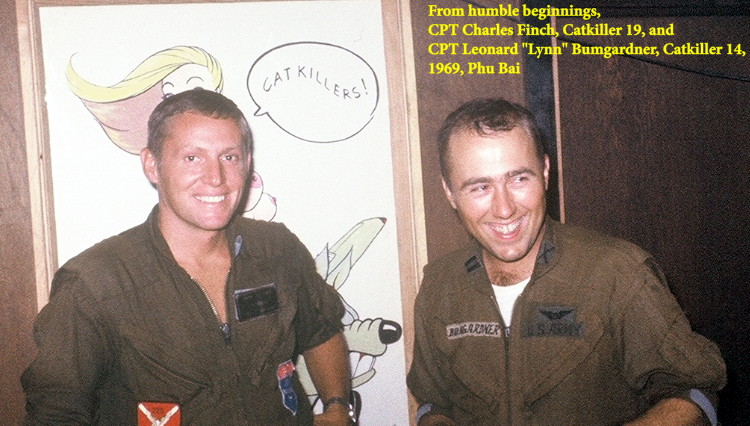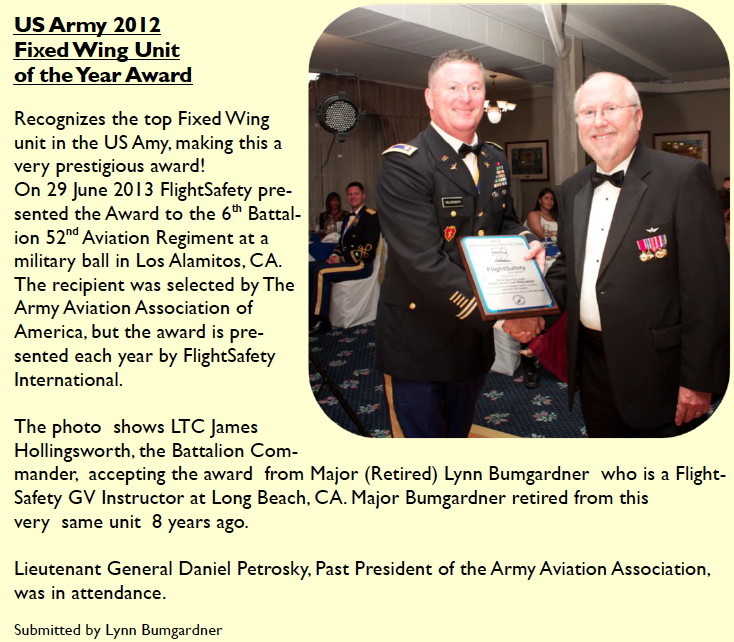 back to top
We are saddened to report the death of Major Gary L. Clark, Catkiller 6, 1967–68, after a short illness. The information came from Gary's wife Barbara. We do not yet have an obituary but will post one when available.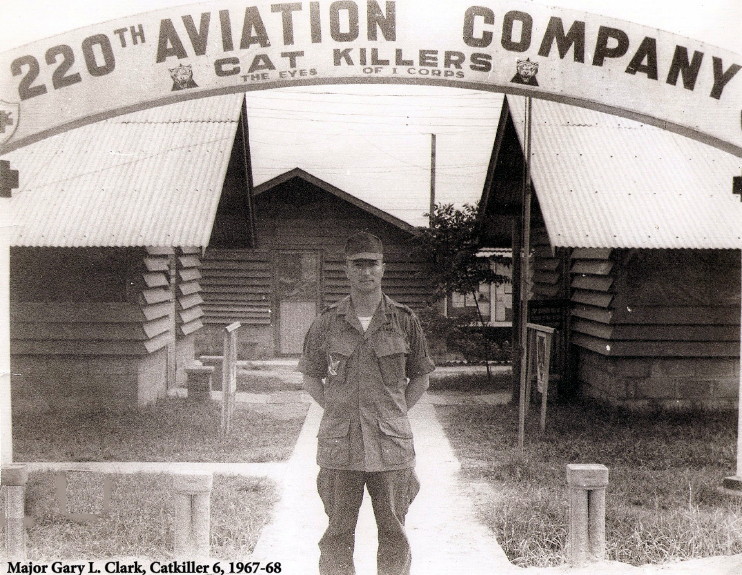 Below is a note and obituary from Gary's friend, Dick Williams:
This current photo was taken while Gary played music. He was a good trombone player and drummer, and he loved Dixieland. I play cornet and we had played often on Jazz Sea Cruises. I mistakenly said he was a helicopter pilot in my announcement to jazz fans, but most won't know the difference.

Gary had Leukemia for almost five years and they certainly made the best of it. He was one of the happiest people I ever met.

Dick
Gary Lee Clark of Southern Shores, NC passed away on September 2nd, 2013.

He was born in Oklahoma City on October 2, 1932 and attended college in New Mexico where he met his wife of 60 years. He served in the US Army as a career officer, performing duties in Korea and Viet Nam where he received the Distinguished Flying Cross (DFC) award. He finished his military career working at the Pentagon. Upon retiring from military service he operated his own business as an electrical contractor in Las Cruces, NM.
He was an enthusiastic aviator and jazz musician, and in his later years he volunteered in the Civil Air Patrol (CAP) and with the Dare County Middle School's music program. In his summers he and his wife would attend various Dixieland festivals near and around Silverdale, WA, as well as other locales.

He is survived by his wife Barbara and their four children: daughter Laura & husband Craig Tillett of Kitty Hawk, NC; daughter Holly Clark of Silverdale, WA; son Byars & wife Robin Clark of Parkersburg, WV; and son Gary Lee Clark, Jr. of Seattle, WA. He is also survived by eight grandchildren who lovingly called him PopPop along with two great-grandsons and two more great-grandchildren expected soon. His greatest love was family and he especially enjoyed playing music with his grandchildren and all his Dixie-Do-Daz. A celebration of Gary's life will be held at All Saints' Episcopal Church in Southern Shores on Saturday, September 14 at 12 noon. A reception will follow from 1-3PM at the home of Craig & Laura Tillett at 4236 Carrenda Lane, Kitty Hawk. For those interested, his wish was to have any donations given to "Camp Heebie-Jeebies" (c/o Karla West, 1705 E. Second Street, Whitefish, MT 59937) a non-profit organization for young musicians to learn traditional jazz.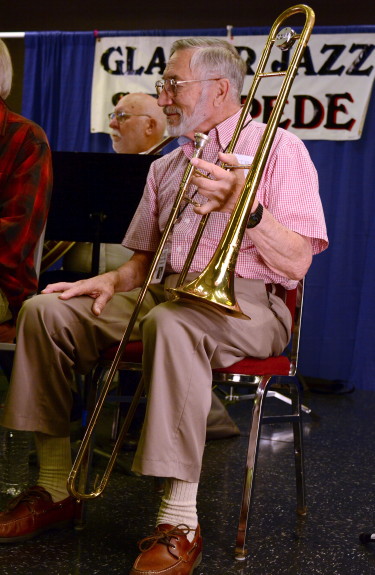 back to top
Wirt G. Epling served as First Sergeant for MAJ Jim Wisby and MAJ Ed Miler. Colonel Miler discovered the obituary and sent it in. Unfortunately, we are a few years late in acknowledging the passing of this well–liked soldier and First Sergeant. We are in the process of contacting his family and have only an obituary to share at this time. Our condolences to Sergeant Epling's family and friends: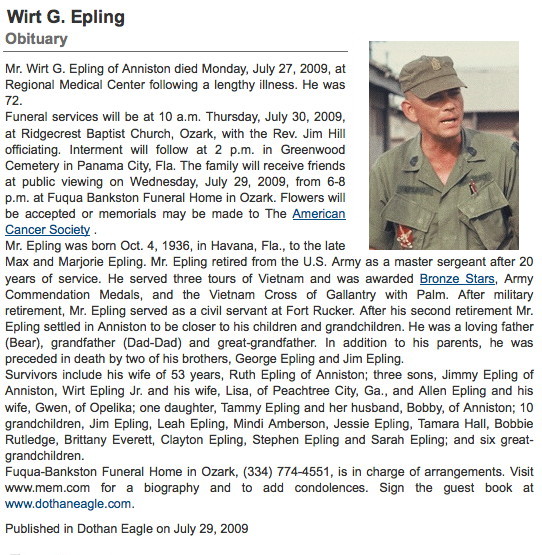 back to top
Bob Toston served with the 3rd Platoon while in Vietnam. Word of Bob's death came from his long–time friend Randy Jones: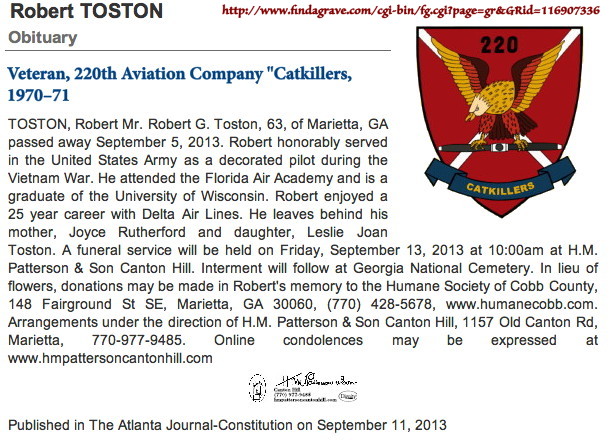 COMMENTS:
Catkillers: We laid Bob Toston to rest today at 12:30 in the Georgia National Cemetery—it is one of the most beautiful cemeteries I have ever seen—up on top of a North Georgia mountain where you can see for miles around. It is rated as one of the top military cemeteries in the country.

Sorry to hear the news about John Hillman.

Randy Jones

back to top
In addition to those shown as deceased above, two were also verified from Social Security records. We are unable to locate an obituary:
ROBERT D. HOLT, CPT, 1971, born 23 August 1949 and died on 2 July 2003 at the age of 53, Folsom, California.
DENNIS RAY TEDDER, CW2, 1971, born 23 September 1946 and died 1 December 1982 at the age of 36, Eufaula, Oklahoma.
back to top
Several days ago Jerry DiGrezio called Bob McComskie and asked if he would like to take a trip to Oklahoma to visit an old friend and comrade. Bob packed. Just a few days later they are in the company of a concensus All-Alerican pilot, warrior and well–respected Catkiller, John Hillman. Jerry sent this photo via email, and while I asked him via phone how to cite where the photo was taken I also has an opportunity to speak with John. When I asked if there was anything he would like to add to this paragraph he said, "Thanks to all for the thoughts. I'm hanging in there."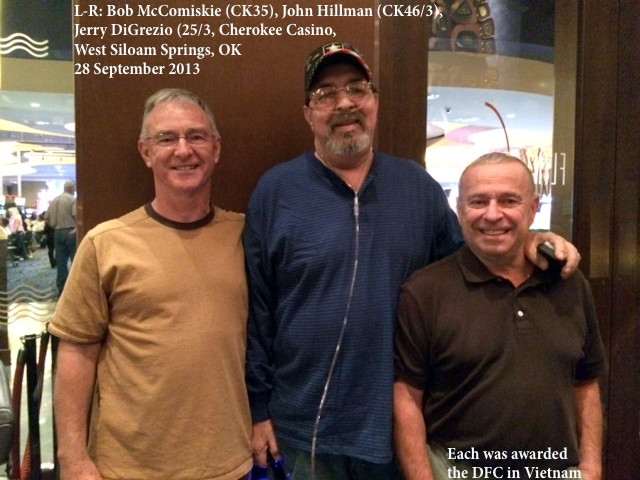 Bob and Jerry took John out to an enjoyable dinner at a restaurant in the Cherokee Casino (John was well pleased!). Please keep John and his family in your thoughts and prayers.