CATKILLER REUNION, A MEMORABLE AFFAIR!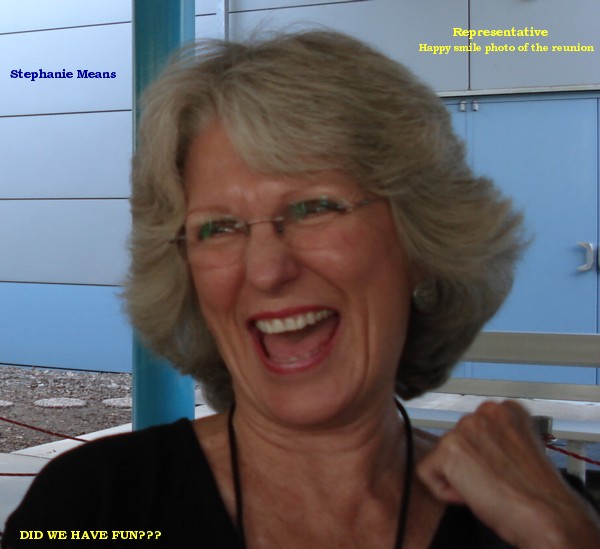 As I stood talking with another Catkiller, late on the evening of the banquet, I enjoyed his enthusiastic expressions and obvious joy at being present that evening. His choice of words, gestures and body language said much about his impression and enjoyment of the event. I felt the same way. Then, he said something that made me dwell on his words for a while after our conversation. He said that my "take" on the reunion would be interesting reading, and that he looked forward to what I would have to say.
Being in this position and uncensored, for the most part, I take such freedom seriously, and with a sense of responsibility, to represent the spirit of why we are together. The camaraderie we share is not something planned or manipulated by any group or individual. It just happens to be a natural thing we enjoy at each event. Love is the greatest gift, as we are informed in the bible, and we certainly have enormous assets in that area. I saw evidence of that moving resource in action from the excellent efforts of our reunion committee, our speakers, the emotional memorial service, and in the expressions, gestures and body language of the attendees throughout the several days of our reunion. With those words to set the tone for any further comments, I feel it an honor to present my "take" on the reunion, but I need your help to record this event. I will build the story over the next several weeks, so stay tuned:

The reunion staff did an excellent job, and in the words of Sandy Drechsel, an extraordinary lady, the accomplishment was a "total team effort." Sandy is a gracious and lime-light shunning super event organizer, to say the least! As you signed in and picked up your plastic bag of goodies, any clothing you might have ordered, patches, event tickets, and an excellent Catkiller name tags, you could not avoid the obvious: someone did a fantastic of job putting all of that stuff together! Did you see the Catkiller candy? A small thing, but a big attention-getter!
The reunion banner was a work of art, from someone who obviously knew and enjoyed their work. As one opened the program directory, it was quickly revealed that our reunion committee, especially Sandy (the reunion event coordinator) and Carl Drechsel, had transformed their vision of a perfectly organized reunion into impressive reality. I shall always treasure those early moments of realization that our best assets was and is a caring and loving group of men and women who enjoyed and relished the challenge of their task.
John Hillman's comment to Carl and Sandy sums up the gratitude each of us feel for their hard work, and excitement we felt when the reunion was over:
"Sandy and Carl:

I do not possess the vocabulary to adequately express my gratitude and appreciation for all your hard work which resulted in a GREAT reunion. My only regret is I wish more could have attended. I came to a realization this last weekend which may be felt by some others. [Yeah!]

I am and have been a lot of things in my life. A son, a soldier, a father, a grandfather, a student, pilot, gambler, teacher, executive, to list just a few. Above all, however, I was, am, and forever more will be...A CATKILLER !

Thanks again from the bottom of my heart,

John S. Hillman"
John's comments were similar to many others that acknowledged the effect of Sandy and Carl's contribution, and I want to share with you one from a caring and giving member of our group, Charles Finch. Whenever he is involved in an undertaking like this, Charles makes us all smile and be very proud of his enthusiasm and strong desire to pull all of us into the level of enthusiasm he feels. Thank you, Charles and Nancy, for your contributions and much behind-the-scene work to help our camaraderie grow stronger:
"I echo everything that John says. I have been in Winston-Salem with my sister who is with Parkinson's and suffering more than I care to mention. So after driving non-stop 900 miles to ATL and then to Winston, I had much time to reflect. Needless to say, it was special to be in the company with those who served and those who faithfully supported us that did serve.

What stands out to me is how Carl and Sandy took this on knowing there would be many sacrifices along the way and what a small support staff they would have.

Never complaining, always leading, always inspiring with their correspondence, and overwhelming us all with their professionalism and dedication to the mission. The example they set should remind each of us of how a project can be accomplished without a lot of meetings or discussion among the committee. They had a vision and never altered their heading.

Carl and Sandy are two unique individuals who touched all of us more than I can adequately describe. Both of you are too humble to ever acknowledge our praise but DAMN you must be so proud of what you did in Houston.

I will send out all of my pictures to everyone that I can to include those that could not attend.

I wish we had put Don Ricks' guitar playing on the agenda. He was terrific in the hospitality suite.

Grayson and Becky, Bud and Jaque are also to be commended for their efforts.

It was hard to say good bye to so many, and I am not sure what the future holds, but we can all let the Houston memories soak in for a long time.

Bless each and everyone of you and all of the Catkillers. We are a proud group that gained even more strength by having this reunion and one that would be impossible to top.

Charles and Nancy Finch
We gathered at South Shore Harbour Resort, and many photos were taken. I need your assistance to tell the story with those photos: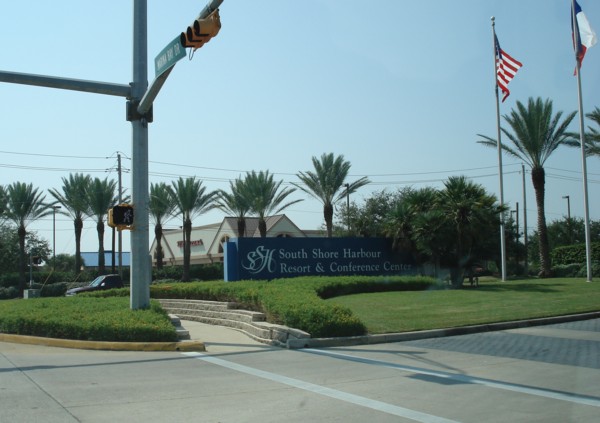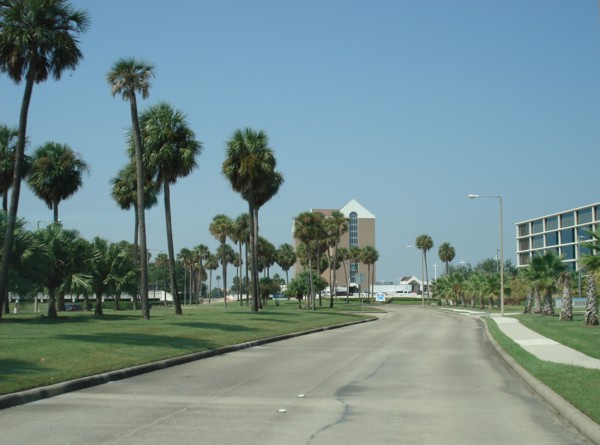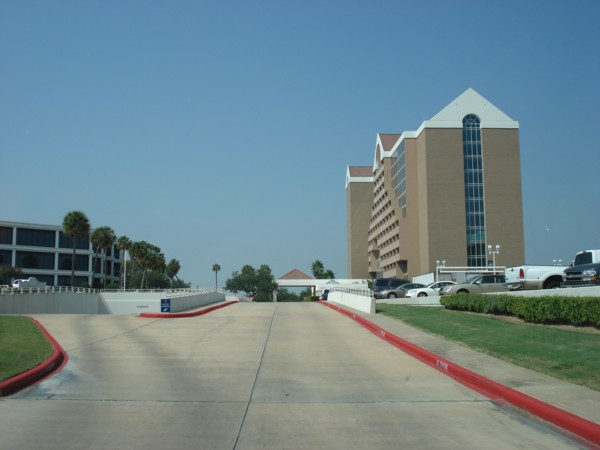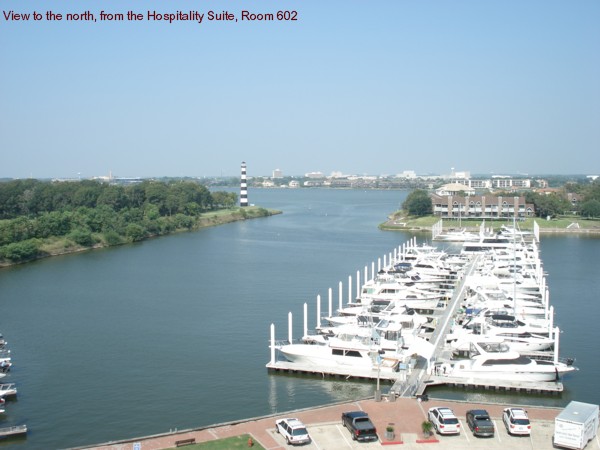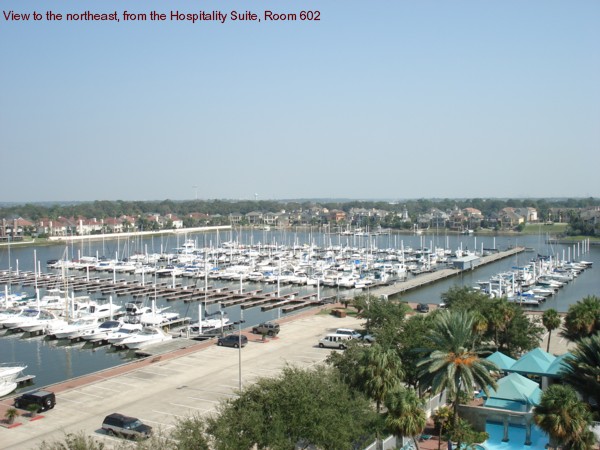 My photographs are not as good as I thought they would be. That's a fact. So, I propose that the many photographers who took all those photographs at the reunion submit their best to help record the event. If you will send to my address below, or e-mail to me, the best five to ten photos you took we can tell the story with pictures. I especially need a good photo of the photo opportunity at the Lone Star Aviation Museum, as well as one or two from the banquet photo opportunity where all of the Catkillers were present.
Other photographs of interest would be special group shots, special moments, events that record a memory or encounter. Just help me out by identifying those in the photos by name. All photos submitted, if used, will be credited to the person who took the photo, so I need that information, too.
Your comments and impressions are also important, so if you have a story, a special encounter, an impression, or an opinion, please send those, too. I will gather the material, put it into appropriate order, and make it a part of this reunion report. I especially seek your input concerning the memorial service. John Hillman did a remarkable job with that portion of the program, but let me hear it from your perspective. I also need help with names of our speakers and guests. Thank you in advance.
Examples of the photos I seek are below, as are two ways in which you can communicate with yours truly, and you can see in the Catkiller group shot that one of our members is hidden. Send one that is complete, and you get the slot. The photo of Honorary Catkiller Steve Harrison and some of those who served with his brother, Lee, is a stand-out. You might have a better one: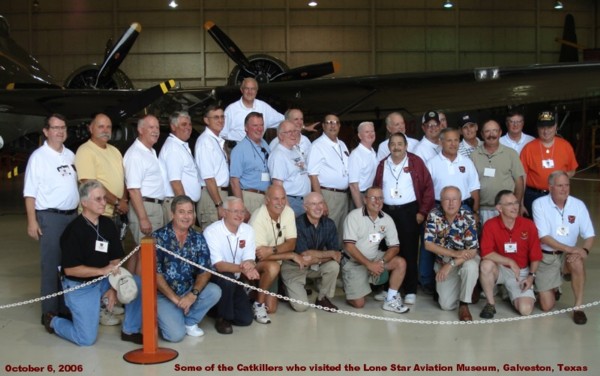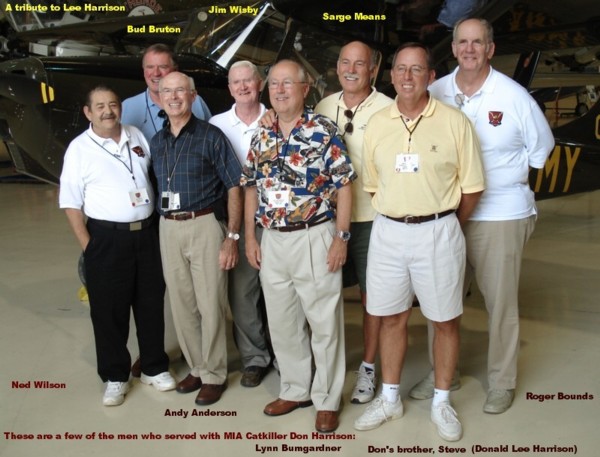 CATCOM Editor: Donald M. Ricks,
E-mail: donrix@peoplepc.com
OVERVIEW OF REUNION EVENTS:
Reunion Committee: [overview by Sandy Drechsel]
Program for the Reunion Banquet was done by Janice Chapman, sister of Jacque Bruton. Bud was instrumental in putting together the program [and what a great collector's item it was. This was worth the price of admission to the banquet!]
Catkiller private label wine for the Reunion Banquet was suggested by Jerry Bonning [Not only was the wine labeled with the Catkiller crest, but also the bottles were filled with some very good wine. Thank you, Jerry, for this excellent quality gift and attention to detail. Everyone appreciated the high-class touch this added to the reunion!].
"Goody Bag" items [which also contained maps, pamphlets, flyers, directions, lists, rosters, etc., a marvelous collection of helpful items]:
Catkiller candy was suggested and ordered by Becky Davis.

Catkiller photo DVD: Catkillers: The Silent Warriors and Catkiller Reunion Favorite Songs 2006 (including "What the Captain Really Means") was prepared by Bud Bruton and family.

Catkiller Reunion 2006 music CD was prepared by Grayson Davis and family.

Letter from President George H.W. Bush (President Bush's secretary recently told Grayson that he wrote the letter himself) was organized by Grayson Davis (note: Grayson Davis contacted President Bush (41) about locating/bringing back the remains of Lee Harrison; so President Bush does have some "history" with the Catkillers). President Bush (41) was also made an honorary Catkiller.
Grayson Davis' comment regarding President Bush:
"Having worked for a state senator earlier in my career, I know who normally writes the [president's] letters. He did, however, hand write the personal note from Maine when I first contacted him about trying to drum up support to find Lee and Steve in the early 90's, when he was traveling on a private business trip to Maine. This was quite a shock, because none of the other politicians that I wrote lifted a hand. On his return, he then sent a two-page letter that only he could have written, because of the detail as to who he had visited and what was said.

[Note from Grayson (12-21-06): I would like to point out one mistake that I made in telling about President Bush's help with the search for Lee and Steve. I said that he was on a private business trip to Maine. I meant to say that he was on a three week private trip to Vietnam. I wish I could find the letter because he talked with many Vietnamese government officials, many of whom he named in the letter, as well as leaving a copy of our information with the new head of the US consular office that had just opened in Hanoi. It was more than I ever expected out of him. People ask me why I like him so much and it was because of this extraordinary effort for people he did not even know. I wasn't exactly fair to him as I addressed the letter from one former aviator to another, knowing that he was extremely proud of his military service in the navy.]

I attended a luncheon at which he was speaking several months later, and our tickets allowed us into the gathering before he spoke. Everyone wanted to shake his hand and crowded around him. I thought if he comes over I would introduce myself and thank him for his efforts on behalf of Lee and Steve [Harrison]. All of a sudden there he was, standing in front of me, so I introduced myself as having written him about our MIAs several months before and thanked him again.. He said, "Mr. Davis I do remember," and then he reiterated what he had written in the letter. I was touched by his genuine sincerity. I'm picking up his [Catkiller] shirt tomorrow, with his name and Honorary Catkiller above the patch, and I plan to take it over to his office this week."
NASA Astronaut "Meet/Greet" prior to the Space Center Houston Tour. Army Master Aviator Astronaut Doug Wheelock met privately with Catkillers and their families for an extensive meet/greet on Saturday, October 7th. Astronaut Wheelock is scheduled for his first trip into space in 2007. In 2008 he will spend time on the International Space Station. Astronaut Wheelock was made an honorary Catkiller on October 7th. He received a Catkiller polo shirt and patch.
Ken Eckel, a Southwest Airlines pilot who owns a mint condition Bird Dog generously agreed to contact Larry Gregory, President of the Lone Star Flight Museum in Galveston regarding the possibility of moving his Bird Dog into the museum for the duration of the Catkiller Reunion. Larry graciously agreed. On Saturday afternoon, October 7th; a group of Catkillers and their families traveled to Galveston for a photo op with the Bird Dog.
Texas Congressman Ron Paul, a Vietnam Veteran, arranged for a U.S. Flag to be flown over the U.S. Capitol in honor of the Catkillers. The flag was presented to the Catkillers by his representative on Friday, October 6th. (When Congressman Paul found out about the Catkiller Reunion (through my good friend, Johnette Norman), he made every effort to rearrange his schedule so he could present the flag personally; we did not know until Thursday afternoon (Oct. 5th) that he could not, in fact, participate in the presentation (he's up for reelection).
Speakers:
Friday, October 6:
Ed Miler
Jim Wisby
William Everett
Glen Troha - read the Crew Chief tribute to the Pilots
Saturday, October 7:
Bernie Bruns, Catkiller Battalion Commander
Steve Harrison, brother of MIA Lee Harrison
Comments we received:
My girlfriend said this was the most fun weekend of her whole life."
My wife came to a Catkiller Reunion for the first time; she was so impressed by how nice everyone is and it made me so happy that she was finally able to share in a very important part of my life.
Lloyd Oake had never come to a Catkiller event; his wife e-mailed us and said that he found out about the reunion when he read about it in one of his Veterans' magazines. He told his wife, "I have to go." And they did.
[By Sandy] For many Catkillers this was their first ever reunion; to a man, their comment was "I can't wait for the next one and I think this time I can get my wife to come." Personal reflection: My first Catkiller Reunion was in the 80's at Fort Rucker and I was the "second wife." I was really nervous about going because I was not a "part" of that part of Carl's life. We stayed at one of those motels, you know, the kind with two double beds in the room. Not long after we checked in, there was a knock at the door, then another and another and another, until we left the door open. Before long every available surface in our room was occupied. To my dying day I will never forget my first impression - even though most of these guys had not spoken with or corresponded with each other since the day they left Vietnam - it was like there was no elapsed time - it was like they had finished a mission and had gathered in the O club to pick up where they left off the night before. I continue to be amazed by the awesome camaraderie. The work this past year has, quite literally, been a true labor of love.
Thursday, October 5: Nothing planned. Hospitality suite opened to receive early arrivals.
Friday, October 6 [comments by Don Ricks]:
I arrived at noon, checked in and got my Catkiller shirt and goodie bag. The hospitality suite was open, so there was a lot of activity going on. I stumbled into a reunion committee meeting, uninvited, and listened as those men did what they do best: they continued to plan minor reunion details, things that you wouldn't see unless you knew what was going on. Those men put in their love, time, (lots of) money, and intellectual resources to make this and past reunions what they have been. Simply put, anyone selected and who agreed to a committee position did so, mainly, because they committed to organizing a memorable event that you wouldn't even have to think about. Just let everyone be there and have fun. They certainly met their goal, and more. Thank you Carl, Jerry, Paul, Bud, Ray, Charles, John, Bob, and Sandy!

About 12:30, Sandy said she could finally get away (with Carl's blessings), and she and I rode down to a nice sea-side restaurant in San Leon and had some delicious seafood at the Topwater Grill. What a relaxing time that was for me, personally, and I learned a lot about Carl and Sandy from our time together. Sandy must have enjoyed the quiet time, too. Thank you for that treat, Sandy!

Catkillers and their spouses and guests continued to arrive all afternoon, and the hospitality was constantly humming. About five o'clock, committee members began to move all their material from the 6th floor check-in room down to the Marina Plaza Ballroom for the Friday evening cocktail hour and Latin-American buffet:

As soon as most of us finished eating, Charles Finch got things started things off (didn't he do a great job!) by asking certain distinguished attendees to say a few words, including Texas Congressman Ron Paul, a Vietnam Veteran, who was scheduled to speak to us. However, due to a more pressing political event (he is up for reelection), he could not be present. Instead, a representative spoke to us and gave the Catkillers a letter recognizing our organization and a flag that had been flown over the White House. Here is a photo of her presenting Carl Drechsel those things, with the reunion committee looking on:

Here are a few photos from that event: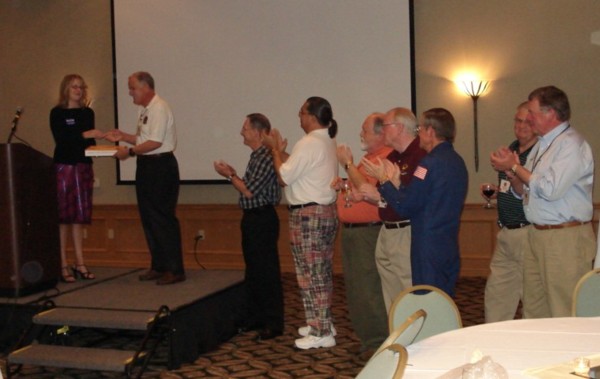 Speakers that evening included two 220th RAC commanders, from the 1968-69 period, and the 212th Combat Support Aviation Battalion commander, Colonel Bernie Bruns. Jim Wibsy and Ed Miler were also at the Lone Star Flight Museum: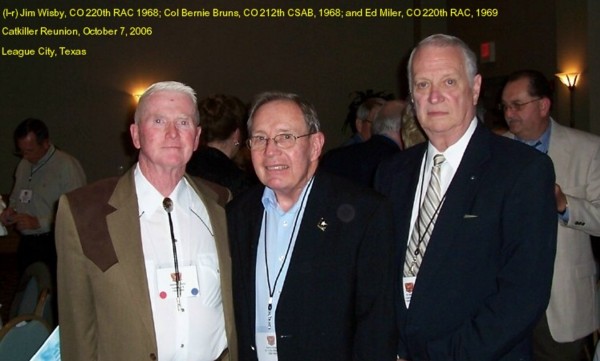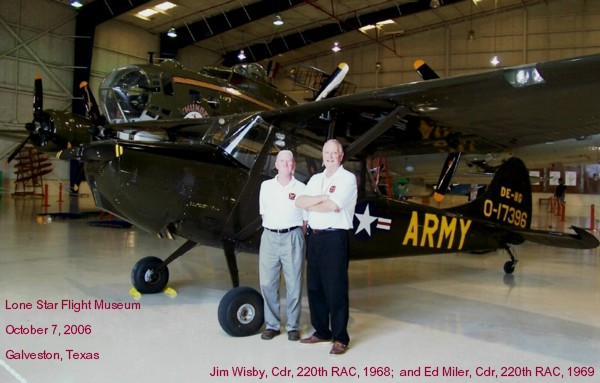 William Everett, from the 1965 era Catkillers, presented a very interesting and informative discussion about unit activities in the initial deployment days. Bill's efforts have helped obtain hidden but recorded unit history, and as soon as we can get together we plan to jointly make that history available at one of our web sites. Thank you, Bill, for that good briefing and for your presence at the reunion.
Glenn Troha proudly stood and read the Crew Chief tribute to the Pilots, written by Rich Buster (of Grass Valley, CA), and a standing ovation followed as each pilot stood and cheered and showed their respect to the crew chiefs. This was a good moment for all. Thanks, Rich and Glen.
On a personal note, at the table at which I sat the evening of the banquet were four men named "Glenn." There was Glen Troha and his handsome son, David; Glenn D. "Hoochmaid 6" Stewart (photo below) and his two beautiful children (Shana and Glenn Jr.); and Glenn Evans and his son, Caleb. Jim Wisby sat at our table, and there was another lady with Glen Troha, but I can't recall her name. I enjoyed the company of each of these men and was pleasantly surprised to learn that Glenn Evans, and former crew chief from Euless, Texas, has an interesting career as a pilot, too! It is amazing the accomplishments and activities our members have engaged in during the period since Vietnam. Glenn Evans, if you read this, please send me an overview of your life since Vietnam. It would be interesting reading in a later newsletter. The same goes for any of you who would like to share an overview of your experiences.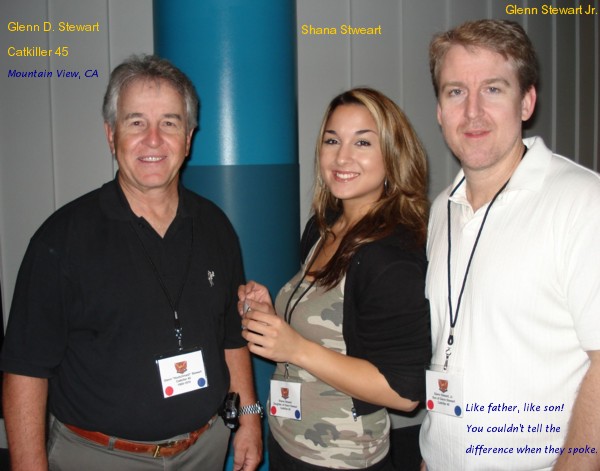 Steve Harrison recently sent this personal note to Carl and Sandy, and I share this with you as it is actually directed at all who attended: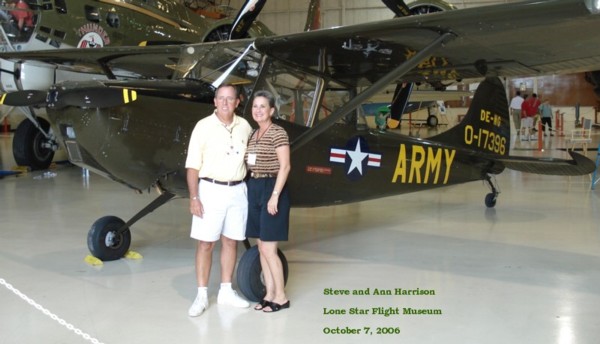 "Sandy & Carl:

Ann and I cannot express adequately our thanks and gratitude for the tremendous reception and acceptance by the Catkiller members and families. We immediately felt the family acceptance and camaraderie from the entire group. I am unable to put into words the emotions and answered prayers that occurred during this event. Just know that I am grateful to each and every member of the Catkillers and look forward to many more reunions.

I would like to share with everyone that as a MIA family this reunion (in lieu of Lee's remains) brings a tremendous closure to this part of our lives. I will always be thankful to everyone for the kind comments and stories that were shared with me. Your concern and interest in my family was overwhelming and as a family we know that everything possible was done to rescue Lee by those he served with. Please know that this reunion is the most honored event that I have ever participated in and thanks to everyone for allowing Ann and I to be there.

Your friend and honorary member

Steve"
Carl and Sandy responded with a message so well-stated that I thought all of you might want to read the typical sentiment and feeling that is, obviously, pervasive within our hearts as a group:
"Steve & Ann,

We were all so very grateful that you both felt that you could take the chance and come to the reunion. Honestly, this is the greatest bunch of guys I have ever had the privilege to meet. We are so happy to hear that you both felt comfortable and that you were made to feel part of the family - because you most certainly are.

Everyone continues to mourn Catkillers that were KIA or MIA. I cannot begin to imagine what your family has gone through for more than the past 40 years. Never having a final resting place for a family member must be one of the most difficult things anyone would ever have to face. Catkiller Reunions are always special but this Reunion was probably the most special one I have ever attended - in large measure because you and Ann were there and because your comments about Lee and how difficult his absence has been for your family truly touched everyone in the room.

I know that all Catkillers (and Catkiller wives or significant others) were honored that you accepted the position of "Honorary Catkiller." There was never a question in anyone's mind about that. If the loss that you and your family suffered was eased in any way by your attendance at the reunion, well, that makes every hour all of us worked to try to make the weekend special completely worthwhile. You will probably never really know how much you honored the Catkillers by taking a chance and coming to the reunion. You and Ann are now officially part of one of the closest knit group of individuals that I have ever had the privilege of knowing.

Thank you for your heartfelt comments. Your contact information is included in the Catkiller Duty Roster. We hope that you and Ann and other family members will be able to come to the next reunion.

Carl & Sandy Drechsel"
Saturday, October 7:
NASA/Space Center Houston Tour: We all enjoyed this, so if you have an opportunity to visit there it is well worth the entry fee.
Those who visited the space center departed about 9:30 a.m. in private automobiles. As Paul and Trudy Brennan and I stood in the lobby waiting for someone to navigate to the space center, Quinton "Andy" Anderson walked up and informed us that he had room in his SUV for some riders, and the main message was that he knew how to get to the space center. Paul and I wasted no time in signing on with Andy. That began one of the most pleasant mornings I have spent in many years. Not only was Andy Anderson a good driver, but he was also a good tour guide and area host! Andy is one of the most pleasant men I have ever met.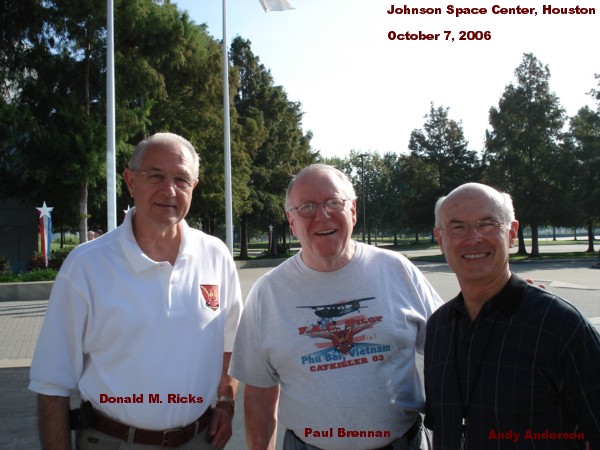 Our trip to the space center included a private meeting with a dynamic young colonel, army aviator and test pilot, and an astronaut (all the same person!). We stood in line only a short period and were shown to a private room where we would meet Colonel Wheelock: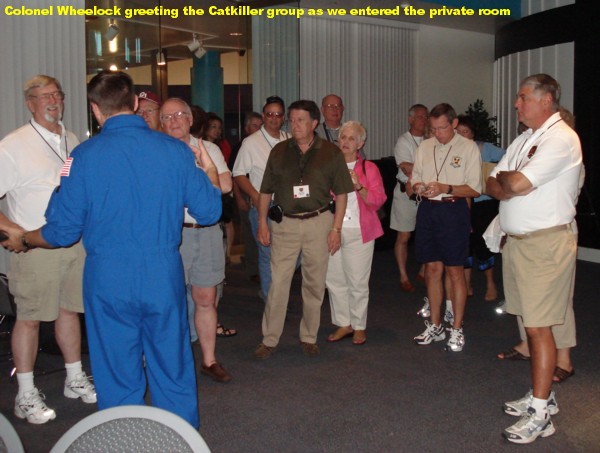 There we sat, for about forty-five minutes, being awed by this young colonel who looks too young to have had so much experience, but that he did have! He is an army aviator, army test pilot, navy test pilot, and a bright star as an astronaut. He will be the mission commander on the 2008 space launch, and the payload commander for the 2007 mission. This articulate gentleman made all of us proud to be in the same room with him. Carl Drechsel presented Colonel with a Catkiller shirt and a unit patch, and we all gave an enthusiastic standing ovation to Colonel Wheelock afterwards. From there we went on an interesting tour of the space center.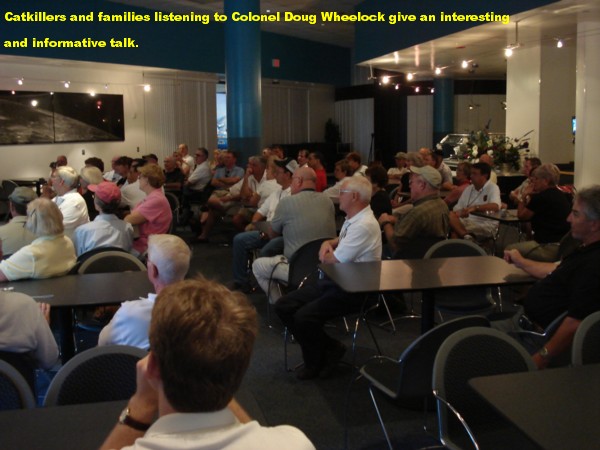 There were many photos taken, some in groups and some individual. I have chosen one that expresses well the spirit of our group meeting: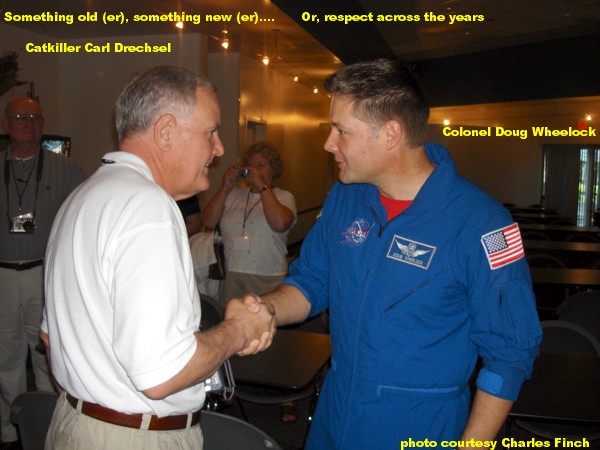 Lone Star Flight Museum:
After the space center tour, Andy Anderson drove Trudy, Paul and I down to Galveston, We stopped at an Italian restaurant and had a good lunch and some interesting conversation before showing up at the museum. Again, I can't say enough about how interesting it is to discover what our fellow Catkillers do for a living and in recreation. Andy is a successful financial consultant, Paul is a big cheese at Coca Cola. It was fun listening to those two talk and share their experiences. Then we went to the museum to meet Andy's son and grandsons (photos were taken showing the three generations):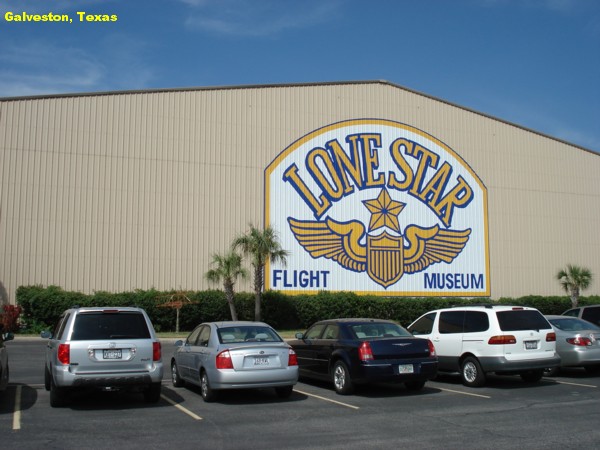 There were cameras flashing constantly, and you have seen above some of the group photos. When Andy Anderson had his crew gather around that bird dog it presented a memorable opportunity for his family. Others will smile when they see these photos.: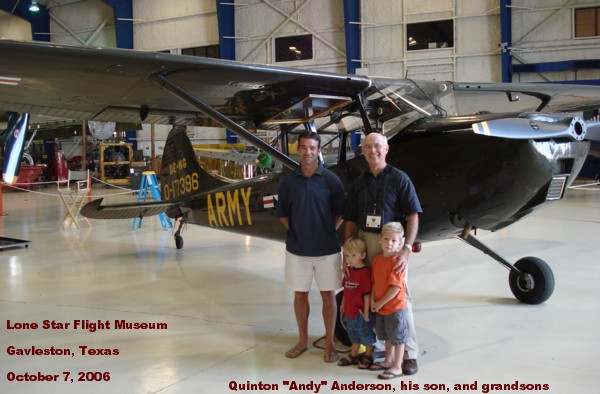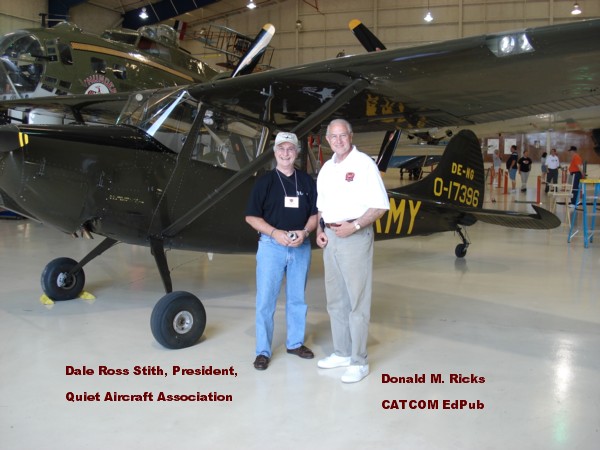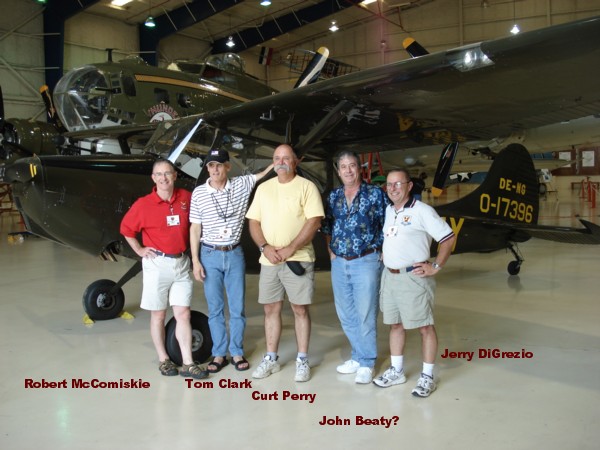 Cocktail reception: (see Scott Cummings' web site)
For a look at who showed up, Donna Cummings took photos of all attendees as we came through the lobby and before entering the banquet room (very nice job, Donna!). This list is available at Scott's web site (Catkiler Homepage):
Attendees and their photos
Reunion group photograph of all veterans: (Still looking for that "best" group shot.
After the invocation, we enjoyed a good meal of steak and chicken, or at least that is what I ate (a photo of my plate before digging in):
Several Catkillers surprised us with an early-year song, one that I have asked Jay Snell to provide a copy of the words and a brief on song and its significance. When he responds, I'll pass along his comments. These guys were good!
John Hillman came to the microphone and showed us how emotional and moving a memorial service could be. A slight alteration of our previous service in Las Vegas was a special addition for each person present, and I believe that Grayson Davis suggested we implement the welcomed change, which went like this: John first explained the significance of the memorial table (Sandy Drechsel wrote an article for a local Houston publication, and in the article she included a discussion of the meaning of the items placed upon a single empty table, under spotlight, and placed at the front of the room). Here is the discussion from her published piece, which repeats what John said that evening: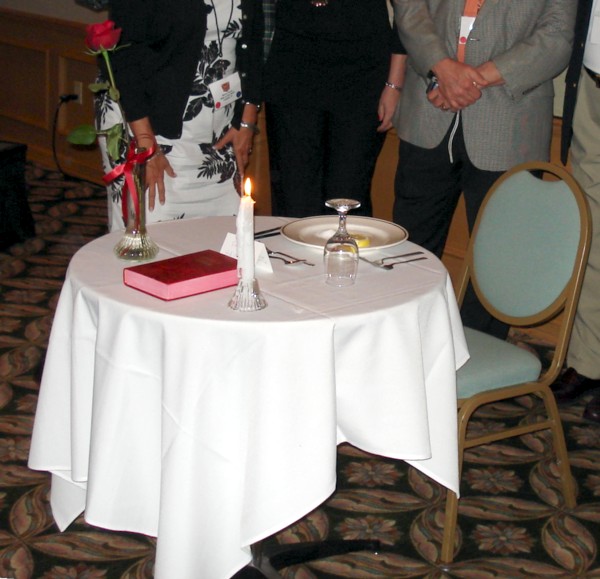 "There is a long-standing military tradition that is continued at every Catkiller Reunion. A table is reserved at the front of the room; it is reserved to honor absent comrades in arms. The table is round, a circle having no beginning or end, which illustrates everlasting concern for these warriors. The tablecloth is white, symbolizing the purity of their motives when answering the call to duty. The single red rose displayed in a vase reminds us of the life of each of them, their loved ones and friends. The vase is adorned with a red ribbon, a symbol of our determination to account for those classified as missing. The candle with its flickering flame is symbolic of the fragile nature of our lives. A slice of lemon on the bread plate is to remind us of the bitter fate of absent Brethren. A pinch of salt symbolizes the tears endured by the absent and their families. The Bible represents the strength gained through faith to sustain those lost from our country which was founded as "One Nation Under God." The glass is inverted to demonstrate our Brother's inability to share the evening's toast. The chair is empty, for they are absent. As the name of each Catkiller who was killed in action, missing in action, a prisoner of war or has died since leaving Vietnam is read, everyone in the room stands in silent honor and a chime is sounded after the reading of each name. At the end of the memorial section of the formal program, a toast is given in honor of those no longer physically among the Catkiller family...."
As John called the name of each person whose name honorably rests on the killer-in-action/missing-action list, those who had either personally served with or knew him would answer the roll call for the missing Catkiller, "Hear," and there were multiple persons answering during the roll call. Then, a bell was rung before the next on the list was called. Folks, I could actually feel the spirit and emotion of those moments, and I am surprised that John Hillman, a remarkably strong and caring individual, got through this event as well as he did. It was an awesome emotional experience for everyone who attended. There were tears in my eyes immediately after hearing the first "Hear," and the sound of that bell opened the flood a lots more. I don't believe there was a dry eye in the place as the last name was called.
Reunion Raffle: (This was so fast that I missed it. Some help here, please! Paul Brennan got a lot of money out of Doc Clement and John Hillman. Wait till you hear about that! If someone wants to write about it, I'll post your input
HONORARY CATKILLER, PRESIDENT GEORGE H. W. BUSH:
Our 2006 Reunion Chairman, Carl Drechsel, will present a Catkiller shirt and an honorary membership as a Catkiller to President George H. W. Bush in Houston this week. Below is a photo of the shirt he had made for the event: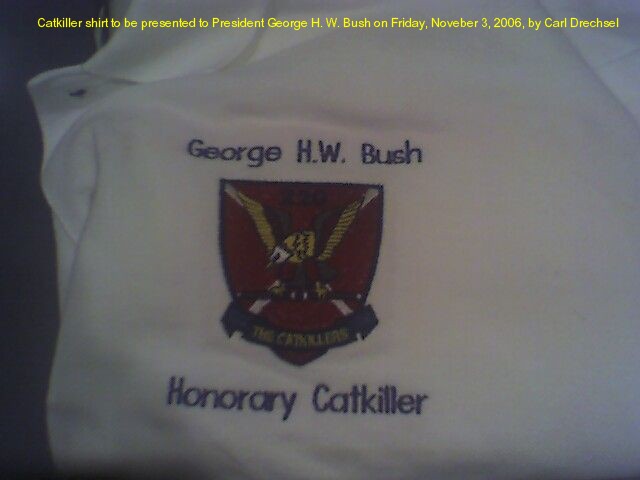 MOTORCYCLE MEMORIES, BY JOHN H. HOLIHAN, CATKILLER 40, 1967
John is an avid biker and a very good writer. I have enjoyed his straight-forward style and subtle humor many times. I am certain you will, too. We met for dinner while I was living in Denver, but he and Debbie couldn't make the reunion, this time:
SOME BIRD DOG HISTORY, FROM BOB CORTNER
For those of you who were in Birddogs at Stewart, here's a little reminder from the past. No tears allowed, I was in the first T-41 class. And for those of you where in Vietnam in '67 around Christmas, here's a picture of my "FIRST" combat mission, almost my last. If you'll notice, the seat is still pushed back but my back seat who was a chubby Marine Maj, exited the A/C as I was shutting off the switches. Still wondering how he did that. Oh well, couple of touch and goes and a full stopper and I was cleared to go be a target once again. And for those of you where at neither place, Here's wishing all a great weekend. Hope all get a chuckle or two out of these. Bob
YO-3A GROUP PHOTO, WITH NAMES
This photo came from Dale Ross Stith regarding the YO-3A group photo at our web site. This one contains the names of all in the photo:
"Carl and Sandy:

Attached, please find a 1970 group photo of the 220 RAC Lockheed- Army YO-3A Platoon in a revetment at Hue Phu Bai.

Mr. Kurt Olney (YO-3A 69-18007 USA Crew Chief), or Platoon Commanding Officer (USA Col (ret) Michael Howe), or I will send the names, available contact info, status, and some one liners for your Power Point Presentation in the next several days.

Thanks for our recognition by the Catkillers. I am looking forward to the reunion.

Dale Ross Stith
President, Quiet Aircraft Assn, Inc
Lockheed Field Support Team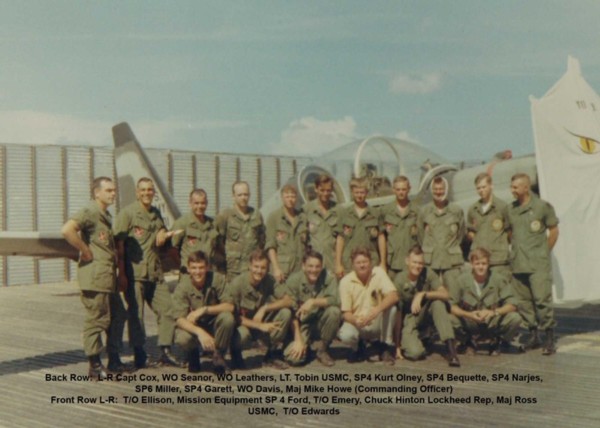 LOST CATKILLERS FOUND:
Jose A. Munoz checked in from Miami, a Catkiller from the 1968-69 era:
Just to let you know, I was a crew chief in the third platoon in Da Nang 1967/68. I am glad I found your web site through Jan Smith my old friend.

I recently made contact with Ray Caryl and Jimmy Wall.

Have you heard from crew chief, Batee, Purvenas, Turecky, Brodeur, Boyce, they were in Da Nang during my tour.

Best Regards,

Jose A. Munoz

PS: Off course you can post my name and email (jmunozfaa@yahoo.com). My telephone number is 305 716 4316.

I was with the 220th in Da Nang 67-68, as a 0-1, Crew chief (SP-5).
Charles Finch sent this e-mail regarding a found Catkiller:
"I have talked to Gerry Bowen, and hopefully some of you will remember this enlisted man who worked in the hangar in the 68-69 time frame. I recognized him immediately. I sent him some DVDs and CDs of what we put out at the reunion.

He was the one who painted a lot of the airplanes names such as THE BEAR, NASTY NED and others.

Charles Finch"
"Charles:
After our talk the other day I started to dig though my box of photos from VN. I still have many pictures from the 220th. I have pictures at the hanger, the volley ball court, several of the EM, officers, barbecues (next to the mess hall, the new EM club), Christmas '68, several pictures of the company at Xmas party, Ft. Wisby, flights over Hue, several missions out to the Ashaw Valley, can't remember the spelling. One or two shot when I was sent to Camp Eagle for Pathfinder school. Many aerial shots in and around Hue and north. A couple pictures of some of us from Calif getting S----- on top of the old water tower, but you didn't hear that from me. It appears that I arrived in mid June, Long Ben, Da Nang, Phu Bai and the last month or so I was at 212th. HCC at Da Nang. Flew into Dong Ha couple times and somewhere East when the monsoons came. Worked mainly in the hanger but we all flew some time in the back seat. I painted a few flight helmets with logos and a couple plane nose art, one I remember because the pilot was from Calif and like myself, was painted with a grizzly bear and named ''The Golden Bear"

Some names I remember: Barnett, engine repair, Sammy Cooper, sheet metal, Foust, one of the maintenance crew chiefs, Love, orderly room or at least in Co's office, Cpt. Goodspeed, Cpt. Grass, Cpt. Tyson.

Enough of that. Here's my mailing address and my e-mail:
Gerald Bowen
254 Beverly Pl. Calif 94044
(650)355-8052 phone & fax
gerald-bowen@worldnet.att.net

I scanned a couple pictures.
Good talking to you. We'll talk more.
Gerry Bowen"


Charles [Finch],

Sorry for the belated response to your August email. Glad to know you enjoyed the twelve minutes of Catkiller film. I am just happy I was able to salvage it onto DVD before the 8mm film deteriorated too much. Like it did for you, it brought back quite a few pleasant memories of my time with the Catkiller brotherhood. They were a great group of guys! My time with them was all too short as I joined the unit in September of 1969 and rotated out in February of 1970. But the time I did have with them was indeed memorable!! Based on your comments, I must have joined the unit just after you went to the Coachmen. You said you thought you might have seen yourself in the film. If I can get a copy of the DVD Made, I'll send you one. The DVD is definitely clearer than what you see on the computer QuickTime version. In addition to the movie film, I also shot some 35mm pics in the club on two other partying occasions. The decorations in the club date the pics as being near Christmas/New Years of 1969/70. I am attaching them for your enjoyment and other Catkillers. Maybe you will find yourself in one of them!!

I know you and the other committee members have put in a lot of hard work getting ready for the forthcoming reunion. Looks like it is going to be a great success. As I told Don Ricks earlier, we have had some long standing obligations that will preclude us from being there to participate in the experience. But our thoughts will certainly be with you. Looks like there will be a good turnout and I have every confidence everyone will have a great time. Best wishes to you and the other guys.

Pat Webster
Catkiller 44.

P.S. About the picture of the "Kittycat". Prior to joining the 220th, I was with the 21st RACs 1st platoon at Marble Mountain in DaNang. The picture was hung over our operations shack's mission planning table. I have not the foggiest idea of why it was placed there (or by whom)!! All I know is that every time we went out on a mission, we took a long contemplative look at it before we left to kick the tires and light the fire!