This is a repeat from the 3rd quarterly newsletter, but the link is important enough to keep atop this newsletter. Our link to Catkiller group reservations page at Penn's Landing in Philadelphia is below the photo. You may begin making reservations using the link:
In the lower right hand corner of Hyatt Hotel wed site photos are usefuul links to further information. On the first page photo is a link to seventeen photographs of various hotel areas, and another to a nicely done fact sheet regarding the hotel. Look around the site, and when you see a photo, check the same lower corner area for other links.
Make your reservations anytime you desire, the earlier the better.
Sandy Dreschel has provided a very useful and important interactive communication site for reunion business and information. Please click on the link below. This site contains the original announcement, a survey, and will in the future contain any other official announcements or initiatives in support of the reunion committee's efforts:
back to top
The October/November issue of Air & Space Magazine contains a review of Jim Hooper's book A Hundred Feet Over Hell, written by George C. Larson, who served as a MACV adsvisor in II Corps. The reviewer flew many hours in the back seat of an O-1 in Quang Duc Province. If you don't subscribe to this outstanding magazine (their articles are very informative), use the following link and view page 76 of Reviews & Previews:
Jan Smith, Catkiller 41, advises the following (click on the links):
"For anyone in the DC, VA, MD area, Jim Hooper will be autographing A Hundred Feet Over Hell on 17 Oct., at the Air & Space Museum, on the Mall next to the bookstore. He'll be there from 1400 to 1600.

Next day, October 18, he'll be out at the Museum next to Dulles Airport doing the same thing."
A Hundred Feet Over Hell received another pretty neat review in the Vietnam Helicopter Pilot's Association (VHPA) newsletter [yes, written by a helicopter pilot]. Jim Hooper says, "It's kinda neat when the rotor-heads start saying nice things about their starched-wing brethren."
back to top
So many perspectives and remarkable revelations ooze from the effects of the book that so well documented the lives of our pilots, ground crews and support efforts. Here is a very informative statement and interview between Walt Sheil and Jim Hooper. This revealing insight into the life of a war correspondent speaks of a background I did not fully know of and appreciate before reading the interview. I hope you enjoy it as much as I:
back to top
Jim Hooper's book, as well as others published about the Cakkillers, resulted in an increase in our unit's presence on the internet. As a result, we have enjoyed hearing from many who served with the Catkillers from its activation to deactivation. This next message from Antonio F. Armagno, recipient of the Distinguished Flying Cross, demonstrates how media and communication play an important role in recording the whole story. Tony, thank you for not only your service to our country, but also for taking the time write and share your experiences. As your note also lifted the pilots in recognition, we also thank you for your contribution to the in-house history of our unit. Catkiller pilots are a big part of the story, indeed, but each of those pilots recognize our enlisted men who ensured equipment and assets worked well when needed.
"I was amazed to see the Catkiller article in Air & Space Magazine. I flew with the Catkillers during Operation THOR, during the period 3—7 July 1968. I do not remember my pilot or pilots names; however, I do remember we did destroy a lot of targets in the DMZ. We performed bomb damage assessment (BDA) for B52 strikes and naval gunfire using the heavy cruiser USS BOSTON. We were constantly under fire, but my pilots were great. I do have some photos — also my map used for targets. I received the DFC for this action and hope my pilots received it also; there skill is the reason I am here today. Hope to meet with you all soon.

Tony

PS. I flew for Provisional Corps Vietnam (PCV). I was attached to the 1st Bn 83d Artillery and also flew everyday to register my battalion's 8 inch guns.

Antonio F, Armagno
tarmagno@mac.com"
---
Information Request:
Catkiller Tomas Elliott send in this request for assistance by anyone stationed at Marble Mountain:
"I am looking for some assistance with locating anyone that was stationed at the Marble Mountain Air Facility in Da Nang in 1968. I was a crewchief there and we sustained a direct hit with a 122mm rocket. Our hootch took the 3rd rocket and two soldiers died. Since this hootch was used as a transcient barracks, I did not kwow the two soldiers very well, I spoke to them casually and do not remember their names.

I have searched the net all over with no success. If anyone remembers that incident, please forward my email and information to them.

Thank you and God Bless.

Tomas Elliott"
back to top
Catkiller Jerry Bonning advises he will again head up the effort to produce and sell RAC Wear, just like the quality items he offered for the reunion in 2003. The purpose of RAC Wear is the same, too, in that all proceeds help defray expenses. I expect Jerry has the figures as to our income figures the previous offering, but I recall it was a very beneficial venture for raising money. I have enjoyed wearing several shirts from 2003 and look forward to restocking my wardrobe with replacement items. So, when you are asked to consider purchasing RAC Wear items, know that any money made on the sale goes to benefit everyone who attends the reunion. If you can't attend, perhaps you can help out by ordering a nice t-shirt, gold shirt or patch.
Thanks for once again taking on this monumental task, Jerry! More information follows as production and pricing arrangements become available. Here is a preview sample of one of the shirts: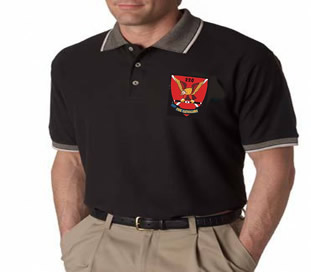 back to top
There are three RAC unit reunions this month, either in south Alabama or the Florida Panhandle. I plan to attend the reunion at Enterprise, Alabama, but will also travel with that unit via bus to Baker, Florida, for a fish fry and a fly-in. Below are links to web sites announcing their respective reunions. Come on out and have some fun! Don Ricks
back to top
"I was a USMC infantry platoon commander in 1967 and transferred to the 3rd Marine Division Bird Dog Section around March of 1968. We picked up our flight gear in Phu Bai and lived at Dong Ha. Marine, Air Force and Army pilots picked us up in 0-1's, and we flew all over I Corps, especially Khe Sanh and the DMZ calling in close air support, artillery, and naval gunfire. On August 4, 1968, an Army pilot took me across the Z into North Vietnam, [going] after 4 artillery pieces shooting at Con Thien. Even though we were zig-zaggin left to right, a bullet came up through the floor of the plane and went up my right calf and stopped at the knee. We went back to Dong Ha and landed. I went into surgery and was transferred to Japan, and then Jacksonville, Fla., where I recovered and went on casualty calls for 15 months.

Are you some of the Army guys who gave us "hops"? I have never been able to connect with other 3rd Mar Div AO's, such as Charlie Richardson, Captain "Happy" and others. I have attached a couple of photos. One shows two AO guys going to the shower while the ammo dump at Dong Ha exploded in the background. If you are the guys, I would like to meet with you, if I am eligible. Also, I have written a book, and the link below my name is for my website.

Please let me know if anyone remembers when I was shot. I would like to thank that pilot again for getting us back to Dong Ha. My radio call sign was "Southern Foxtrot" for a while, and then "Klondike Foxtrot." They used my first name instead of my last, because someone else in the section had "Southern Tango."

Semper Fi

Fred Tomasello Jr., Author, Walking Wounded: Memoir of a Combat Veteran"
E-mail Fred
Below are the photos attached to Fred's e-mail. Speaking for the group, Fred, any Marine that served in the 3rd Marine Division is always welcomed at our reunion or anywhere we gather, so make plans to attend. That statement rings loudly, specifically, and with great enthusiasm for anyone that flew during combat missions with the Catkillers. If someone remembers, they will certainly get in touch with you. Look closely, guys; this could be you! Don Ricks.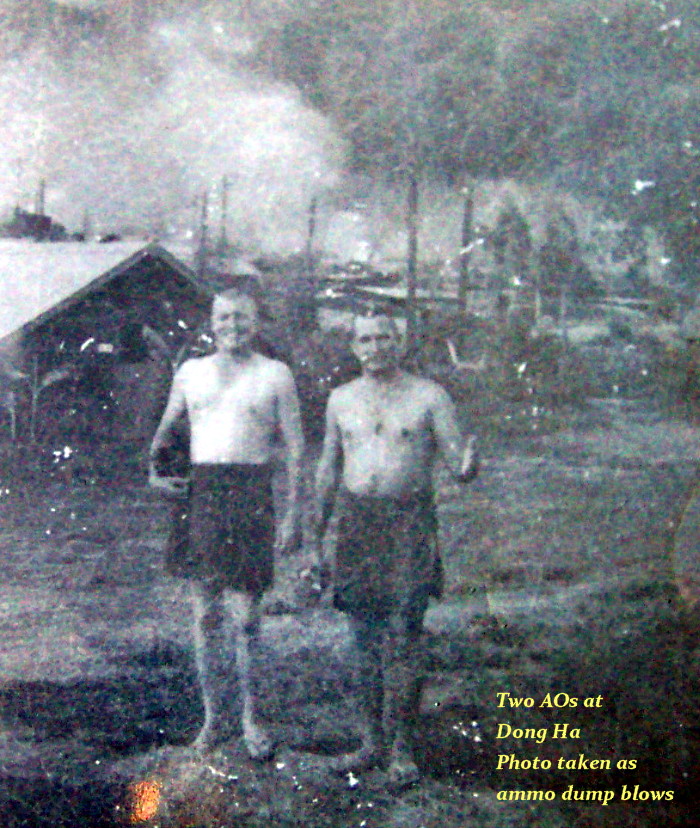 The Marine AO mentioned as "Captain Happy" was probably Bob Happe, an AO for the 3rd Marine Division. The below photo shows Bob and Doc Clement at Dong Ha. The photo above showing two AOs and the exploading ammo dump in the background appears to also be Bob Happe: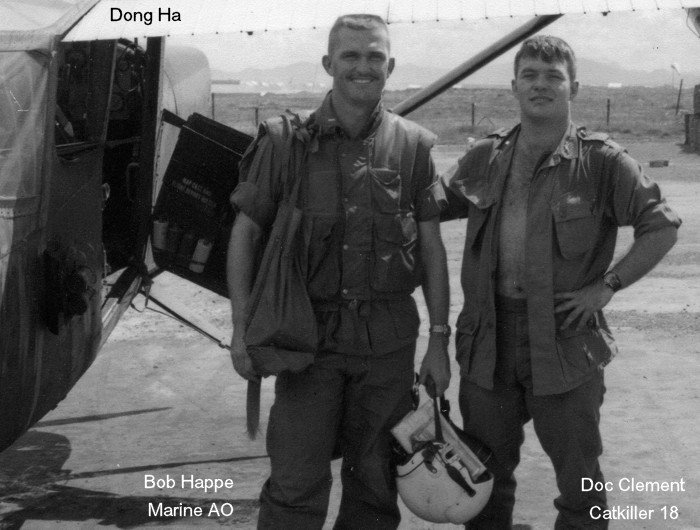 back to top
These e-mail addresses were reported not available or not known to the e-mail service provider. If you know these members and have a valid e-mail address for them, please forward this report to them. If they wish to continue receiving notifications from the editor, please ask them to forward their valid e-mail address to the editor and Bob McComiskie, Keeper-of-the-List:
Alec Knight: alec.knight@sbglobal.net
Joe Klutts, Catkiller 14: NOKEY@compuserve.com
John Michael DeMots, Catkiller 42: jmdemots@mfire.com

back to top
This message came from Catkiller Mike Pate, who is now on the roster. Welcome to the list, Mike! We look forward to seing you in Philadelphia in 2010:
"I just found your web page on internet. I was stationed with 220 RAC from the end of 1969—71. I didn't see my name on roster. I was Spec. 5 Michael Pate. It's good to know there are quite a few of us left. I was a mechanic in the 4th Platoon [address on file]

Thanks
Mike"
---
This information came from Brown Cabell, Catkiller 14/09, and we almost immediately received a response. Thanks to Brown and Randy Jones, Catkiller 03/16, for their input:
I was thumbing through an old (2000) copy of the VHPA (Vietnam Helicopter Pilot's Association) Directory tonight and under the deceased section I found the following entry:



CW2 Lonnie Joseph Odom
Lineville, Al 67/3-67/5 (Hometown & Ft Rucker classdate)
01/08/97 Auto accident (date of death & cause)
AR 68 Gunships (U.S. Army, RVN '68 flew UH-1C)
69-70 220th RAC

Brown
Response from Randy:
Don: Lonnie (Lighting) was our supply officer---a true scrounger--if you needed it Lonnie could get it. He found out that the 1st Marine Div. was moving out of DaNang and he convinced me and a couple of other stupid guys to drive a duce and a half to DaNang to buy up as many air conditioners and small refrigerators as we could haul and bring them back and sell them!! We made a couple of bucks and didn't take a single round!
Sorry to hear of his passing.

Randy
back to top
This past weekend, October 16—17, I attended a reunion for the 219th RAC at Enterprise, Alabama. My purpose for being there was to meet those who attended and to honor a friend and fellow classmate, Franklin Lee Weisner, who is a Headhunter and an MIA. I spoke briefly at their banquet on Saturday evening. On the 16th, attendees had a full day of activities at Fort Rucker, and on Saturday we took two busses down to Baker, Florida, for a fly-in and a fish fry with members of the 199th and 221st RACs. Sam Givhan and his crew put on a very good lunch of delicious catfish, and they also had Bird Dog rides (four birds were there giving rides)from noon until about 3 pm. Many of those who put their names in ahat were selected to take rides in one of the four Bird Dogs present. Al Davis, 221st RAC, gave rides in an old side-car motorcycle. Everyone appreciated these perks, and all had a good time. We rode back to Enterprise and enjoyed an excellent dinner at the Enterprise Country Club. I am certain their web sites will have a full account of those events. Here are some photos I took of the event: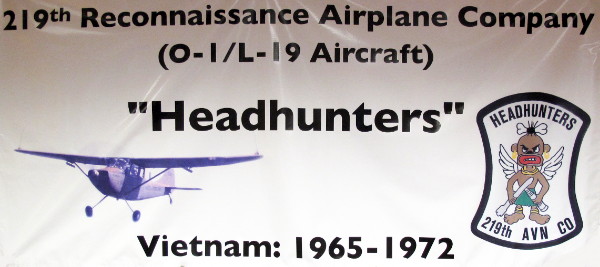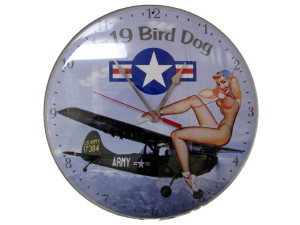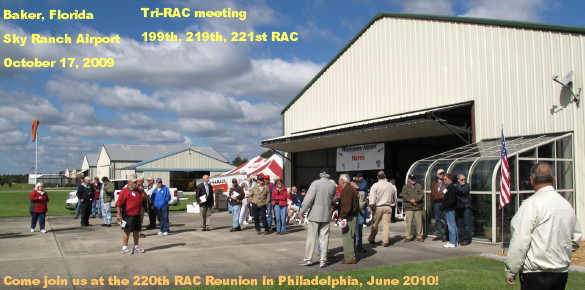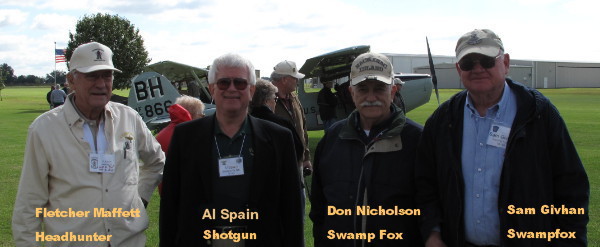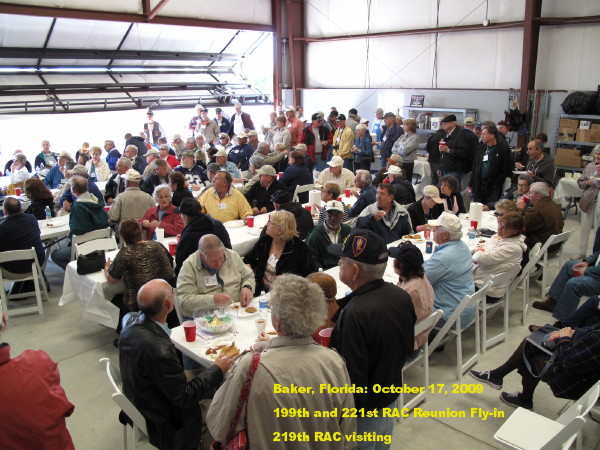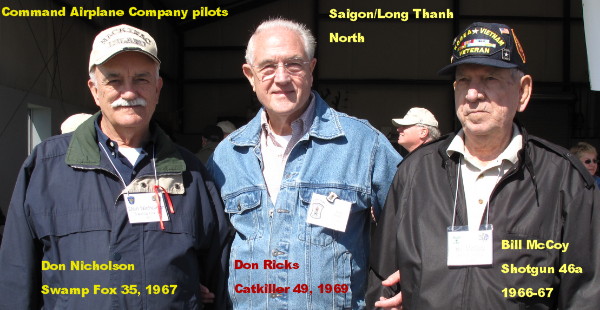 back to top
I visited the Sunbelt Ag Expo at Moultrie, Georgia, last Tuesday and ran into Warren B. Taylor. Warren gets busy at this time of year and has worked at this event for some time now. That is why he did not attend the 2006 reunion in Houston. Warren has a new e-mail address and will be able to view our newsletter after the show is over this week. We took a photo to show him at work among the equipment at the shipping and receiving warehouse, which he manages. Never-changing Warren asked me to say hello to all who know him and that, if possible, he will be at the reunion in Philadelphia:

back to top
The initiative at this following site speaks for itself. I have a nephew who is a navy seal and know they go through more than the average American would ever think humanly possible. This is a tough job, and I cannot believe even one of them would violate their oath, much less three of them! On faith in our well-trained Navy Seals, please sign the petition: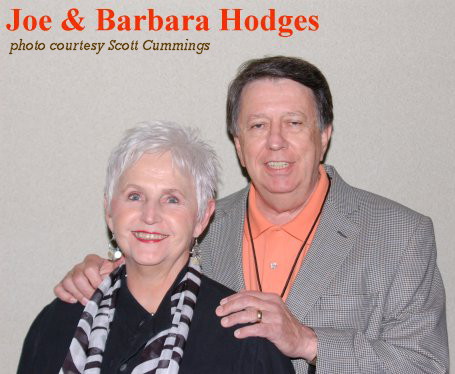 In memory of Joe Hodges: Catkiller Joe Hodges died today, December 15, after a lengthy battle with brain cancer. We send condolences to his family, friends, and comrades. Joe wrote a letter regarding his army experience in Vietnam and his cancer in 2008, and he sent in for publication in our CATCOM newsletter. Remember Joe as you read his words, especially the last paragraph (read the article at the end of the web page):
Joe Hodges Article: Facing Fear, Vietnam and Brain Cancer
Notification letter from Joe's roommate in Vietnam, Ray Alexander:
Sad to report that Joe Hodges died of brain cancer this morning at 9:18 am in Columbus, Mississippi.

Among his other accomplishments, Joe was awarded the Silver Star for an action south of Danang in which he provided cover and air support to protect a Marine unit from a much larger NVA force.

After leaving the Army in 1969, Joe started a career in the insurance business. He retired recently from State Farm with nearly 40 years of service.

He is survived by his wife, Barbara, daughter Allison (Jack) Horner of Mobile, AL, son Paul (Cyndi) of Birmingham, AL and sister, Linda Jamieson (David) of Point Clear, AL ,several grandchildren and many, many friends.

Joe attended the Catkiller Reunions in Las Vegas (2003) and League City (2006).

To know Joe was to recognize his slow drawl, his quick wit and his intensely loyal friendship. He was one of the good guys--a "second generation" Catkiller who really made his year in Vietnam count.

Regards,

Ray Alexander
Catkiller Whisky


---

Visitation: Thursday December 17th 6:00 – 8:00 at Memorial Funeral Home 716 North 2nd Avenue, Columbus Ms 39701 (662) 328-4432
Also at 10AM Friday December 18th. Prior to the service.

Memorial Funeral Home, Columbus (obituary posted)

Funeral: Friday December 18th 11:00 at First United Methodist Church 602 Main Street Columbus, MS 39701 (662) 328-5252
Burial will be at Lee Memorial Gardens in Verona, MS.

In lieu of flowers donations can be sent to:
Mississippi State University Joe Hodges State Farm Endowment or First United Methodist Church, 602 Main St., Columbus MS 39701

Cards and notes of sympathy can be sent to:

Barbara Hodges
807 19th Ave N
Columbus, MS 39701

Paul & Cyndi Hodges
708 Ridge Way Circle
Hoover, AL 35226

Jack & Allison Horner
460 Winslow Dr
Mobile, AL 36608

Comments:
I have just read your newsletter which included a letter from Joe Hodges. I am married to his sister Linda, and Joe has been a close friend for almost 28 years. I want to thank you for publishing his thoughts on serving in Viet Nam and his battle with brain cancer. Unfortunatly it saddens me to tell you that Joe passed away yesterday morning at about 9:30 AM. My wife Linda and his wife Barbara were with him.

His funeral will be on Friday of this week and I know of two of his closest friends and former comrads in arms will travel across county to be there. I don't think that there is anything other than serving in combat that makes men closer to one and other. Again thank you for publishing his letter. Joe was a good man and he will be missed.

Dave Jamieson, Fairhope, AL



---

Thanks for the info about Joe….he was a Platoon member in Danang while I was there….great guy, just like the letter indicates.

Norm MacPhee


---

Thanks, Don. What a touching story. As I was reading Joe's story, he mentioned Ben Hartman. We were classmates in flight school. Do I recall that Ben died in a Beaver crash in the central highlands? I was in the 221st Jan 66 – Jan 67.

Bob Gee Shotgun 22