This page now complies with W3.org's requirements for HTML codes/CSS styles (see Cat Bar certification tags).
As we remember those who served and the many that died, it is comforting to know we have citizen warriors who answer the call for freedom and our way of life. Every person is important, and even the lowest from our unfortunate social classes rise to the top of our long honors list. Typical it is not, but this following story reminds us to be kind to every child and to honor all who serve. We are a fortunate nation to have so many stand in that never-ending line of dedicated men and women who now guard us at home and abroad. God bless them all!
Please review this web site for an exemplary story of bravery and sacrifice:
Here is another perspective, sent in by Jeff Thompson, Navy AO:
Ed Miler, Catkiller 6, send this link—an impressive and reflective video with a song you will enjoy. Turn on your speakers:
back to top
Greetings from the Great Northwest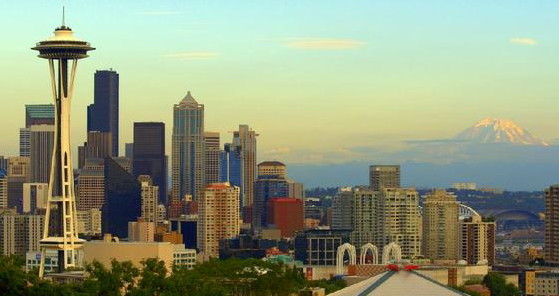 Home of Fort Lewis, where the 220th Aviation Company
was organized on 15 April, 1965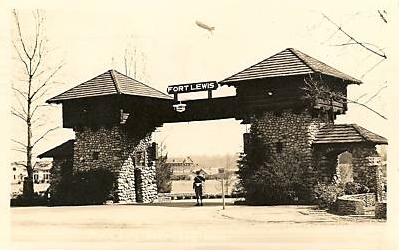 MARK YOUR CALENDARS!
Plan a July 11th arrival, 12-14th time of your life, and departure on the 15th, for the 2012 Catkiller Reunion in Seattle Washington. You may even want to come early and stay late while you enjoy a mini-vacation in the area at the height of our summer season. Hotel rates will apply for 3 days before the reunion and 3 days after the get together.
The hotel will be the DoubleTree Guest Suites, Seattle Airport/Southcenter with unlimited access to more than you can imagine—via the new Light Rail from SeaTac to downtown Seattle—plus many other opportunities within 100 miles or an hour or so in almost any direction.
There is a KOA Campground near the hotel for those who may wish to make this an RV outing. In Fact, here is an "Available Activities" page to help with many decisions regarding what to see and do in the Seattle area (information compiled and presented by Charles Welsh):
At this time we are looking at only three scheduled events — a very informal pizza/salad buffet welcome "mixer" (cash bar) in the hotel atrium on Thursday evening, second, a 220th and associates crew breakfast for all those who served and worked with the 220th (separate breakfast for the ladies to discuss Seattle opportunities), and, third the traditional sit-down Banquet (cash bar) on Saturday evening.
We will take a "straw poll" on the registration sheet to see if there is enough interest for those who might like to refresh any memories of Fort Lewis — or see it for the first time.
Friday will be a totally free day for individuals or "era" groups to do your own thing with the opportunity for many mini-reunions of old friends during the day and evening. We will be offering assistance to ensure that your time during these few days is well spent. And rest assured that the Hospitality Suite at the DoubleTree will be available for your R and R time.
We solicit your assistance in three things:
Contact others you think may be interested in attending.
Send us up to three of your best photos from Viet Nam for use in the Hospitality Suite and Banquet. These photos should have information attache—who took the photo, where, and year. Send to catkiller2012@earthlink.net
We would like to have some short war stories from you. Up to three of them, limited to two single-spaced typewritten pages from your time with the 220th. Your name, time frame in country and location should be included. There should be no offensive material in the stories because we hope to publish these on the web site and possibly even a tell-tale booklet (at cost) after the reunion. These can be from anyone in or who worked with the 220th.
The attachment to this notice gives you a preview of Things To Do in and around Seattle. We will have more information for you later. Come prepared to enjoy every moment of this reunion and your visit to the Great Northwest.
Present Committee Members are:
Charlie Welsh, 1965—66
Gene Wilson, 1966—67
Lloyd Oake 1967
Al Paulsen, 1970—71
Norm MacPhee, 1966 (Chairman)
Dick Wolfe, 1970—71
Jack Bentley, 1968—69
Rod Stewart, 1967—68
Dick Tobiason, 1966—67
We are looking for additional assistance from all year groups who served in the 220th during 1965-1971.
Our email, if you wish any information or would like to volunteer to join us is:
Your Reunion Committee
back to top
"My wife and I want you to know how much we appreciate the time and effort you Catkillers have expended on our behalf, especially the gift of the "T" Shirts. The hard days of cancer are finally upon us, and they are easier to bear thanks to you all and your concern.

Jerry Curry"
Editor's Note: When you pray, please remember Charlene and Jerry Curry as together they face this challenge.
---
Here is an interesting request, like looking for a needle in a hay stack, but miracles happen every day, thank God! So, anyone from the 1970s era, be a miracle worker.
"I was a helicopter pilot with C Battery, 4/77th Aerial Rocket Artillery (the Griffins) stationed at Camp Evan. On Feb 19, 1970, Major Craig Leyda and I were shot down on the far side of the Ashau Valley. Ed Billet and John Carter picked us up on the ammo bay doors of their Cobra to fly us back to Evans. As we were leaving the Valley, a Bird Dog flew by. We waved when he went by, and he turned right around, came alongside, and took pictures of us. I was wondering if that Bird Dog pilot might have belonged to your unit, or if anyone from your outfit has ever seen those pictures? Anyway, if it's at all possible, I would sure like to get a print. The attached photo is one that was taken on approach to Camp Evans.

The way I found out about you guys is from an artillery observer by the name of Joe Brett, who used to fly with you. He sure spoke highly of [the 220th RAC].

Anyway, I know this is a real long shot, but I sure would appreciate it if you'd ask around your guys.

Loren Gee"
There is an amazing account of this action by Loren's pilot. See it at this link: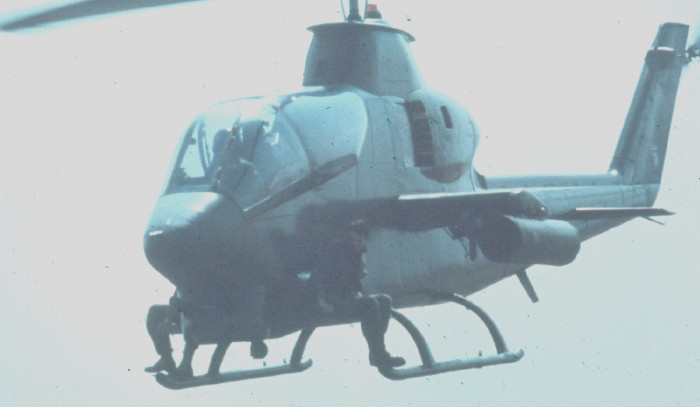 Broken Link removed: Evacuation incident: Interview of MAJ Craig Leyda, 9th Cavalry Regiment
---
Motivational speaker Anthony Robbins said:
"The way we communicate with others and with ourselves ultimately determines the quality of our lives."
For us, the ultimate purpose of this newsletter is to better our communications. There are many emails coming my computer on a weekly basis, most devoted to communication. Once in a while the effort we all have enjoyed facilitates the joy of discovery and reconnection. With the latest comes a far-reaching connection from the past, which you might find interesting.
With all his excitement evident, Jim Hooper, author of A Hundred Feet Over Hell, shared this communication. Our navy friends, especially, will appreciate the special nature of this exchange:
"Here's one of those amazing connections that would be extremely unlikely without the internet. A few months ago I wrote a review of a new book on the Doolittle Raid, which two days ago prompted a comment from another reader, asking if I was the son of James Hooper who flew off the USS Hornet. I asked that he contact me via my website, and this is what appeared:"

"Jim : I emailed you yesterday about the USS Hornet. My great uncle, Wilfred "Fritz" LeBlanc, was a gunner in VT-11 with your father [James Hooper]. On Dec. 12, 1944, an Avenger flown by your father crash-landed in the ocean immediately after takeoff from the deck. Your father and the radioman (Trobaugh) survived, but Fritz went down with the plane and neither were ever recovered. I tried to track down men who had served with Fritz a few years back and had limited success. I saw your name on the book review and remembered your dad's name and took a shot. What are the odds? Anyway, I don't know how much your dad ever shared with you about his time flying from the Hornet in WWII or the guys he served with, let alone Fritz, but would be interested in discussing it with you at some point.

Sincerely,

Shane Harvey"

"Hello, Shane:

Three years after suffering a debilitating stroke, my father died in 2000, at his home near Honokaa, Hiwaii. Sadly, all his photo albums and logbooks were stored in a very damp garage and had turned to pulp. I do remember a photo taken from above of him in the cockpit, looking over his shoulder at his radioman.

The story I remember about the crash was that after launching, he banked right (apparently SOP to minimize propwash coming back down the deck); when he attempted to bring the aircraft wings level, there was no left movement in the stick. He at first considered the idea of landing on another carrier, but when he relaxed left pressure on the stick, it moved further right and the bank increased. He put both hands on the stick and pushed-pulled left. There was still no movement. Worried they might end up rolling inverted, he closed the throttle. The Avenger's right wing hit the water and they did two or three cartwheels, the tail breaking off aft of Trobaugh [radioman]. They unhooked their harnesses and the fuselage sank out from under them, following the tail section and your great uncle. There was the strong possibility that an aileron control cable had slipped a pulley and jammed — or a tool had been left inside during routine maintenance, and accomplished the same thing.

As you are probably aware, the previous day they had been hit while bombing Clark Field. The engine quit and my father pushed the nose down and dove from about 10,000 feet, leveling off below 500 feet and frantically trying to restart the engine. He said he looked to one side and saw a heavy caliber AA gun trying to lead him. With coughs and wheezes, the Pratt & Whitney R—2600 fired up. With it running very roughly, they slowly climbed to clear the 4,000—foot mountains that lay between them and the fleet. The engine quit or lost power at least twice before they had enough altitude to head for the Task Force. Because of the danger of losing power on final approach to the carrier, he put it into the water. They were rescued by a destroyer and transferred the same day back to the Hornet. There was a photo of the three of them eating a celebratory bowl of ice cream.

A few years ago, I found a website dedicated to VT—11. On it was a photo of the pilots, to include my father, celebrating Christmas, 1944, in the wardroom. I left a message, heard nothing in reply, and the site disappeared soon thereafter.

I would be grateful for any additional information you might have.

Kind regards,
Jim
back to top

I recently spoke with John Herring, Catkiller 26, 1968-69, who lives in Clarksville, Tennessee. John gave permission to use his address, phone number, and e-mail address, so you can contact him easily:

John Herring, Catkiller 26
2880 N Hinton Road
Clarksville, TN 37043-8307
(931) 362-3874
jjherr@charter.net

---

William Livingston checked in last week. He worked worked with the 220th at Phu Bai and later relocated to Danang to crew the U6:

"Don: Thanks for the quick reply. Yes, that is me on the roster. CPT Sapp was my commanding officer. I was assigned to the 220th as mechanic on Bird Dogs, but the unit had a U6A Beaver that was not airworthy. I had previously been assigned to a depot maintenance unit, 245th Transportation Company, in Finthen, Germany. The unit rehabbed Birddogs and Beavers,and since I had experience on repairing the U6A I was given the job to get [the U6] flying again. So, when I was not working on Birddogs, I worked on the Beaver. It took about 4 and half months to get it done. After the repairs had been completed, and the aircraft had been test flown and released, it was sent to Marble Mountain at Danang (to the Royal Coachman). The 212th CAB commander, LTC Lovett, was using it to get his flight time. They did not have anyone in the unit to maintain it, an since my name in the log book and the repair records, the powers that be decided that I would be sent to Danang as crew chief on the Beaver. I did not want to go and fought the move, but I lost. I also crewed the U21s. I flew with WO Buddy Ligginstoffer and WO Ben Smith.

William Livingston, SP5, 71-72
Mechanic—Crew Chief
1st tour 1966—67 with 92nd Aviation Company
Retired November 1983

Other guys with whom I served in the 220th [these names were added to the roster]:

SP5 James Jeffcoat
SP5 Gary R Love
SP5 Eddie F Whitmore"

back to top

You might enjoy visiting these following sites. They contain information about two highly-recommended books recently introduced on the market. When you read one, please let us know your opinion:

The Bird Dogs' Tale:

by Bobby Jack Woolley.

The author has presented the combat service of the Bird Dog aircraft in a comprehensive manner that covers the ten-year period, 1962-1972. The intent is for The Bird Dogs' Tale to serve as a record of how O-1 service contributed to the overall combat effort that occurred in Southeast Asia during the Vietnam era.

Information concerning the disposition of each O-1 that served in Army, Air Force and Marine aviation units is presented. Brief histories of each aviation unit are also included.

Of significance, an accounting of each service member who lost his life participating in its combat service is also recorded. The accounting of each aircraft and those who lost their lives during O-1 operations is an important and unusual content of a combat related book. The Bird Dogs' Tale is that story.

About the Author:

Bobby Jack Woolley graduated from Texas A & M in 1964 as a Distinguished Military Graduate and served 23 years as a career Regular Army officer before retiring from active duty in 1987. He flew in an O-1 as an artillery observer during his first Vietnam tour with the 1st Brigade, 101st Airborne Division, 1965 -1966.

After completion of his ground-duty tour, he returned to the States and completed the Army's fixed-wing pilot qualification course in 1967. He returned to Vietnam during 1967 with the 203rd Hawkeyes with duty in northern II Corps. At mid-tour, he transferred to the 199th Swamp Foxes in IV Corps and served as pilot, platoon leader, and as a unit standardization pilot.

In 1968, he returned to Fort Rucker and served for two years as an instructor pilot transitioning student pilots to be qualified in the O-1 Bird Dog, as well as serving as an OV-1 instructor pilot. Upon retirement from military service, he began his book project with the intent of providing a comprehensive record of the Cessna O-1s combat service in Southeast Asia during the Vietnam era.

Class of 67: The Story of the 6th Marine Officer's Basic Class of 1967:

by Jack Wells.

Vietnam was a war like no other, fought in a place that few Americans could find on a map. Yet this is where the United States suffered enormous loss of life. In Class of '67, former Marine lieutenant Jack Wells introduces to us forty-four lieutenants—his classmates in Marine Officer Basic Class 6-67—all but one who died in Vietnam. This is not a pro-war book, but a fitting memorial to dozens of young men whose futures were bright, and whose contributions to their country would have been notable. Wells reminds us that these men were not only brave, but put country before self, no simple gesture in a war where casualty numbers were high, and where death was more than a possibility.

One classmate, 1st Lt. Mike Lafromboise flew with the Catkillers of the 220th and you can read his story and some of those men who flew with him.

About the Author:

In Class of '67, former Marine lieutenant Jack Wells delivers a moving and fitting eulogy to the forty-three lieutenants who were in Marine Officers Basic Class 6-67, and who died in Vietnam. Another classmate died years later in Lebanon. As the war escalated, the number of Marine officers sent into battle increased dramatically. The highest eschelon of Marine commanders were greatly concerned about the high casualties, but with the war raging, and with Marines never backing away from a fight, or trying to protect their men, the casualties continued to climb. This book is a memorial to those men who made the ultimate sacrifice for their men and country. As Wells introduces each of the forty-four, readers will be moved by the enormity of loss: loss of youth, loss of leadership, loss of the best—and the brightest. Whether we support a war or march against it, nothing diminishes the significance of what each man sacrificed for country and family.

back to top

Many of us and our family members live with serious medical situations, and as warriors we should fight these events as we fought for our country. In our remarkable history of working and living in foreign locations, we have been exposed to potentially serious environmental pollutants. It is our vigilance and pro-active visits to our doctors that help us discover and then to make necessary, sometimes difficult, decisions to meet any challenge. Charlene Curry, wife of MG Jerry Curry, is bravely fighting the effects of cancer, and it is a family fight, with faith actively invloved. Here is a paraphrased testimony from another of our great fighters, which shows how faith, pro-active steps, and tough decisions contribute:

"Charles Finch, Catkiller 19, recently had symptoms which prompted him to seek medical review and a biopsy of his thyroid. Pathology results indicated presence of cancer cells, and on consultation with several doctors he decided to proceed with their recommendations to have his thyroid removed. Surgeons quickly removed the thyroid, but pathology tests determined there was no malignancy present. Charles is recovering and is going to be okay. He does not second guess the decision to have his thyroid removed and recommends that if you have any medical concerns, symptoms, or uneasiness about your health—please have it check right away. Early detection saves lives."

back to top

Three of our Catkillers attended the September 9—12, 2010 reunion. Rod Stewart has volunteered to provide a brief on their experiences. Needless to say, all had a good time, and the 183rd put on a great reunion!

back to top

When the 183rd RAC put itself back together a few years ago, they had the same tools to use as the 220th—a web site, internet and a few of the old guys to get the ball rolling. Lists were made, people contacted and a reunion planned. I have been asked to report to you fellow Catkillers, on my observations of the latest Seahorse reunion. It was a good one - with the expected old friends, tall tales, liquor and laughs. But subtle differences produced different experiences for me as I reunited with another of my birddog companies.

Observations:

Numbers, about the same as ours – wives, kids and guests included. The 183rd invited all interested parties, calling it an "All Birddog Reunion". A couple of other Birddog units were represented—including 3 pilots from the 22Oth, Doc Clement, Charlie Finch, and me. Several aerial observers, one of which was a Vietnamese backseat from Phan Rang, and even some gunship guys added to the interesting mix.

Location was in Colorado Springs, with the Air Force Academy and NORAD giving a military connection, just as the USS New Jersey did for ours. There was a memorial service in the iconic chapel nearly equal to the emotion of ours aboard at dinner. They planned a fly—in of Birddogs, but it was canceled by AF security at the last minute. Big disappointment as one might have been a Seahorse bird I use to fly—the only flying one that was in the war. There were good tourist attractions, and resort amenities were plentiful and varied. Weather was nearly as hot as Philly but not as steamy.

The usual mixers and dinners were staged both at the resort and the Academy. A large meeting room was secured for display of memorabilia and administration. Unfortunately, the resort required all drinks to be purchased from a distant bar, so not nearly as much socialization was had there, unlike in Philadelphia where we had a guest room that we controlled. Lesson learned.

But I must say there was something different about the overall atmosphere with the 183rd that differed from the two of ours that I have attended. It was so palpable that I spent much thought on why. Charlie Finch even asked if I noticed it.

There seemed to be more unity of people and purpose. Notably, there was a lack of positions or ranks – name tags emphasized only when and where served. Omitted were call—signs or rank in Vietnam or later service. There seemed to be no cliques.

There was also much less talk about or show of financial success or personal social status. Leadership group was made up from all periods of the war. The 183rd even has a "Robin Hood" fund where those who can, stuff a can with money to assist attendance of those who could not otherwise afford to come.

Some of this resulted by design, having been set out during the early discussions before their first reunion years ago. It was reemphasized at the business meeting at this reunion. They want the history and deeds of the unit to be most important, rather than those of individuals or specific periods of service.

I think much of this may be because their founding leadership came from the oldest members—the 'boat people' who trained, deployed and served together when the company first was formed. Many were from the Southeast and shared similar backgrounds and experiences. This provided a bigger base of organization - most impressively by the Army wives (who mirrored those who made our reunion work) who had been reunited or had stayed friends since the 60's. Anyway, food for thought.

One guest speaker had a new book for sale titled A Birddog's Tale. It's a scholarly history of the O-1 in SE Asia—a most interesting read. Another guest speaker was of special interest to me. He was from the DoD office that seeks out information on, and the recovery of, our missing brothers. He gave a presentation on current efforts and ongoing cases—one of which was that of Catkiller 49, Lee Harrison. I was given the official digest of what was known and what questions are still being asked about his loss and events afterwards. (I will include this for the web site—please see if you know any information they are seeking.) Included was the identity of my backseat when we saw Lee and Steve get shot down. I have started my search for this observer anew and any help would be greatly valued. I will also try to retrieve and share the entire 1968 documents on this subject that I believed had been lost. These will be valuable additions to our unit history.

As I said, the 183rd reunion was a good one and I plan on attending their next one in two years—where ever it is. Questions? I am at Rodonisle@aol.com

—Rod Stewart

If you have not checked the roster lately, you should take a look. If you do not see a thumbnail size photo added to your line, send your best shot—one you would want displayed. If you have a better one than displayed, please send in your favorite for exchange. For those who know something about editing a photo, the size I use is approximately 125 X 125 (roughly), with the pixel size reduced to 72 dpi (most monitors can't display more than 72 dpi). Send your file to donrix@catkillers.org or donrix@catkillers.org. Thanks. Don Ricks.

back to top

At the end of July, Bud Bruton, our 2010 reunion chairman, and his wife, Jacque, and their children visited the home of Jerry and Charlene Curry at their mountain-top home in Virginia. Bud carried several gifts from the Catkillers and extended our best wishes to the Curry family. Please continue to remember Charlene in your prayers as she and her family face the challenges of cancer. The Curry family motto, CURRE IN PUGNAM translates to "Run Into Battle," which is the confidence and strength of character Charlene conveyed as I read her book, The General's Lady.

Bud Bruton sent these comments and photographs to share with Catkiller and our friends:

"[The Curry's] live in a fantastic home on top of a mountain west of D.C. I have enclosed a picture of Charlene holding the bowl that our gift was to replace. She is not well and was in a lot of pain but was so gracious with us. She has a fantastic smile and an equally fantastic personality.

The General was so cordial and so easy to talk with. I think they both were surprised with the gifts and were so appreciative. Bud Bruton"

A bit of history can be seen in the Curry Coat of Arms (right photo above). The St. Andrew's cross (white cross in the right photo) is the main feature of the arms of most British families bearing the name Curry. This accounts for a post script Bud placed at the bottm of his e-mail: "General Curry said that he got some of the design of our Catkiller patch from his family seal, which we photographed." Now you know how the design started. Perhaps General Curry could tell us who finished the design.

Gene Wilson, one of our historians, adds this comment to the above information:

"As I continue to come upon notes of history that are stashed away, to add to the last paragraph of the latest 4th Qtr CATCOM—Dewey Grocox's entry for the historical movement from Fort Lewis, and his time in Phu Bai during 1965-66, tells us that Gustof Fagerson, from Texas (a fellow crew chief/mechanic?), designed the 220th (We Observe) unit patch on an engine crate. MAJ Curry added the white cross from his family crest into the patch background, approved the final design, and it was then made up in Hue. Dewey may be able to add any further information.

Gene"

back to top

" As I was going through a lot of old photos, particularly looking for anything that I had sent home from the 220th, in 1966-67, I also came across these special days in our family history, which occurred some 20 years after I departed Phu Bai.

Our younger son, Doug, earned his Navy "Wings of Gold" and went on to fly an A-6 off the USS Eisenhower (from the Persian Gulf). He was in the initial attacks during Desert Storm I. His other duties included patrol of the northern border of Iraq from the Mediterranean Sea. Selected by his peers as the number one pilot in his Squadron during that cruise, he was assigned as a Project Manager in Navy Weapons Testing at China Lake, CA. However, Doug left the Navy after 9+ years, in early 1997, for several personal reasons, among them being his conviction that the Navy was not doing a very good job in cleaning up their "Tail Hook" issues. He had no problem landing a position with MEMC Electronic Materials, Inc. in St. Peters, MO, and is now the company's Strategic Marketing Manager in Europe and the Far East. He and his family live in St. Charles, MO.

After earning his Army Aviator Wings, as a Medical Service Corps officer, an Honor Graduate, #number 2 in his class, our first son Chris was assigned to a UH-1 Med Evac unit at Fort Ord, CA. He always felt badly that his younger brother was in the real fray of things, but his unit was never sent to the action, since the 7th Infantry Division and its supporting units were not sent over there. However, he got plenty of flying time, covering a lot of the entire West Coast for med-evac and MAST missions, plus a couple of deployments to Central America during that time.
After that tour, Chris applied for Med School, became an Army doctor and was assigned to the 10th Aviation Brigade at Fort Drum, NY (his Dad's former unit, when he was Battalion Commander of the 10th Aviation Battalion at Fort Lewis, WA—before the regimental system came along). Chris served as the Flight Surgeon of the 1—10th Aviation Battalion, and then as the Brigade Flight Surgeon, where he was one of the few flying Docs being retained on flight status at that time in the Army. Chris eventually served in Afghanistan while assigned to Munson Army Hospital at Fort Bragg when he was deployed to the Field Medical (Evac) Hospital at Bagram AFB, as an Orthopedic Surgeon. He retired in 2009 as the Chief Hand Surgeon at Brooke Army Medical Center in San Antonio, TX, after 24 years of service and is currently in private practice in Sacramento, CA.

Between these two events, my wife, Ellie—and their mother—underwent breast cancer surgery, which we had been tracking that spring (1987). She insisted on delaying the surgery until after Doug's graduation in May, but I also insisted that we tell them what was going on and that we would take care of business before Chris' graduation in August. Ellie's surgery, recovery, and survival (and still being with us) is a miraculous story. Chris was the only flight class member who had a father still on active duty - and who was also an Army Aviator. I am proud to have had the honor of being selected and "volunteered" as the class speaker for the graduation ceremony at Fort Rucker. It was an event that we will always remember, because his brother Doug was also able to be there from his flight training, then being held at Kingsville Naval Air Station, TX. It was a "wild" summer. Following all of that family excitement, I retired from the Army the next year (1988), after 30 years of active service.

While I was a Catkiller, Chris turned three in December 1966. Doug had his second birthday right after I returned home in June 1967. They are "super" men in the Wilson family today!

So much for a bit of ancient history—old photos bring back great memories. So far, along with a few rough spots, life is still good!

Donald E. "Gene" Wilson, U.S. Army, Retired (Catkiller 5/3, 1966—67 )"

back to top