220th Reconnaissance Airplane Company




July 2004 CATCOM E-Newsletter (updated August 2, 2004 (afternoon))



"Catkillers"
and Family,
and all Friends
and Brothers in Arms,
in memory of those who have served
DEATH OF CATKILLER CWO FLOYD CASTREN:
Al Paulsen sent the following message traffic regarding the passing of CWO Floyd Castren:
"Al:

Floyd Castren passed away at the Veterans Hospital in Fargo, North Dakota, Wednesday evening. Funeral services will be at the First English Church in Menahga, Minnessota, on Monday, June 28, 1 P.M.

Visitation on Sunday evening at Cardini-Behrens Funeral Home, in Menahga, from 5 to 8 P.M.

Floyd went into low blood sugar coma about three weeks ago and was not able to communicate much during that time.

If you have any questions, please e-mail me at rlindy@wcta.net

A friend of Floyds
Roger Lindroos"
Al responded to Roger's message, and Roger sent this additional information:
"Thanks for the return note. Will try to cover all of your questions.

The funeral home name and address:
Cardini-Behrens Funeral Home
13 2nd St. NW
Menahga MN 56464
Phone 218-564-4548

Regarding a contribution in Floyds name, the Diabetes Association would certainly be appropriate but as an alternate there is a first responder group here in Menahga that is totally volunteer, composed of trained emt's, nurses, etc that have responded to Floyds house 3 times in the last several years. They usually arrive within 5 minutes of being called by 911 and provide care until the ambulance arrives about 20 minutes later. A great organization. They are not funded by the city, only by donations and fund raisers. They are now working on buying a defibrillator.

If that sounds good to you, the address is:

Menahga First Responders
c/o City of Menahga
115 2nd St NE
Menahga MN 56464

Phone 218-564-4557

His son's name, address is:
Eric Castren
734 Main St SW
Menahga MN 56464

Phone 218/564/4865

Thanks for caring,
Roger"
From Al: An alternate point of contact is Floyd's son, Eric Castren. Eric is an RN with Life Flight out of Fargo, ND. I talked to his wife this afternoon by phone. Their email is emcastren@yahoo.com and phone number is 218-564-4865.
Charles Finch sent an e-mail stating he will send a contribution in the name of Floyd and from his Catkiller friends:
"Don:

Reference Floyd Castren.

Talked to funeral home today. Said there was an abundance of flowers for Casey and that all florist were closed anyway today. Viewing was this afternoon. Thought the idea of a donation was money better spent to remember Mr. Castren.

Talked to Casey's son's wife and told her we would be making a donation to the Managha First Responders, in memory of casey. She was very excited, as she said they were so involved with Casey the last several years.

Check for $100 is in the mail to the Menagha First Responders.

She said she is aware of the Catkiller website, but I was not sure if that was your newsletter or the Cumming's website.

Anyway, both people in Menahga had heard of the Catkillers, which still makes me proud.

Funeral services for casey tomorrow.

Thanks for the heads up, Al Paulsen , Roger Lindroos and others who alerted us.

Our sympathy to the family.

Charles Finch
706-467-9389"
This message came from Al Paulsen regarding the passing of Floyd Castren:
"I received the announcement below regarding the passing of CWO Floyd "Casey" Castren. Floyd was a Catkiller (67-68) and a classmate of mine in flight school (WOC Class 67-2). He became the proud father a bouncing baby boy while he was attending flight school.

After graduating from Ft. Rucker, we both attended the Aircraft Maintenance Officer course at Ft. Eustis, VA, enroute to RVN. We enjoyed flying together while at Ft. Eustis. I'll never forget the "training" flight we made down to Kill Devil Hills to walk the path of the Wight Brother's first flight. It was a magical moment for us fledgling flyboys to stand in the shadow of the monument to Orville and Wilber on the shores of the Atlantic.

We also almost bought the farm when we had a close encounter of the worst kind when we tangled with the wake turbulence of an Electra that had taken off from Newport News' Patrick Henry Airport. We were in a T-41, Casey in the left seat, me in the right. It was dusk with a light breeze from the northeast. The Electra had departed runway 07 moments before we turned final, cleared for runway 02. We were nicely set up with full flaps, power off, prop full forward and trimmed for an easy glide. We could see the Electra climbing out about 2 miles off the departure end of his runway.

At 20 feet and easing back on the control yolk for a centerline landing we ran through the latent wake turbulence. Suddenly our left wing dropped, almost hitting the ground as the plane rolled through 30 degrees in the spinning air. Casey applied full power and full right aileron. The nose came up steeply as the engine roared to life. Casey and I both pushed on the control yoke to get the nose down and wings level while I wheeled in some nose-down trim to reduce the effort required. It worked! We announced to the tower that we were aborting that landing and going around for another try! Thanks to Casey's quick reaction time and skilful handling, that powerful engine literally pulled our fat out of the fire and for that we were both grateful and much wiser pilots.

In September 1967, we were on the same flight to Saigon. We parted company at Long Bihn. I went to Pleiku to the 219th RAC, Casey was assigned to the 220th. I believe he probably became the 220th RAC Maintenance Tech.

A couple of years ago we tracked each other down and corresponded via email.

Casey suffered from long-term poor health due to the ravages of diabetes. He was a courageous and tough fighter and made it to our flight school class reunion in March 2003 at the Riviera Hotel in Las Vegas. I know he wanted to attend the Catkiller reunion, but his condition stood in the way of his ability to be there with us.

Here is a photo that I took of Casey and three other classmates at the March reunion. Casey is in the red shirt, second from the right.



Casey was a true and courageous member of the Catkillers and our "Band of Brothers."

Your prayers for Casey and his family are appreciated.

Al Paulsen
Catkiller 03 (70-71)"
MEMORIAL SERVICES JOHNNY MOORE:
Johnny Clay Moore, loving husband, father and friend passed away on April 25th 2004 at the age of 54. He was a Tacoma resident born in Clarksdale, MS on May 26th 1949 and he lived every one of those 54 years to the fullest..

He spent most of his childhood in the south, graduating from Leachville High School in 1967. After High School he started studies at the University of Arkansas and then joined the Army with his closest friend, Jimmy Turnbow in 1968. He served in Vietnam and went on to retire as a 1st SGT after 23 years of service in 1990.

The Army took him all around the world and when stationed at Fort Lewis, WA after the war not only did he fall in love with the Pacific Northwest he fell in love with his first wife Barbara Banker. They were married in March of 1972 and together they had 2 children, Crystal Arlene and Charles Grant.

The Army sent them to many places such as Germany, Korea, Pullman, WA, where he was the ROTC director and rifle coach, and then onto Fairbanks, AK where he retired at Fort Wainwright.

After retirement he earned his Associates Degree in Business at the University of Alaska Fairbanks, became the President of the VFW Post #3629 and took full advantage of all the Alaska had to offer. Being an avid lover of the outdoors he began working the summer seasons at Denali National Park.

In 1998 he moved back to the Pacific Northwest and settled in Tacoma where he married his best friend and soul mate Karen Williams. They were married in July of 2000 and shared 5 great years together. They enjoyed life and loved to get out on their new Harley Davidson Ultra Classic.

Johnny was a realtor with Crescent Realty and loved getting in touch with his fellow brothers he served with in Vietnam via email and attending reunions. He also became a member of the Catkillers, a moderator for the Black Lions and an administrator for the First Infantry Division.

Johnny enjoyed life, loved to laugh and make others laugh, and always had a story or joke to tell. He was a man with a wonderful heart and spirit. Johnny's sense of humor and love of life will be missed by all.

Johnny is survived by his wife Karen Moore; children; Crystal Moore and Charles Moore; stepdaughter Jenny Williams, all of Tacoma; sisters; Sandra Gail Dietle, LA, Janice Kay Robertson, MO, and Linda Sue Stevenson, TX brother Donnie Moore, MO; and many Aunts, Uncles, cousins and friends.

The memorial services will be held on Friday, July 16th 2004 at 1:00pm at Yahn & Son Funeral Home, 55 West Valley Hwy S, Auburn, WA. There will be a full military ceremony to follow at 3:00pm at Tahoma National Cemetery, 18600 SE 240th St, Kent, WA. A celebration of life will follow in Lakewood, WA.
This is a recent e-mail from Rich Buster:
" I was a crew chief with the "Catkillers" and served in Viet Nam from May 10, 1968, to December or 1969. After returning to the states Johnny Moore, Dennis Jenkins and myself became roommates and close friends. I'm feeling a big empty place next to my heart now. The news of Johnny's death was overwhelming.

Although Johnny and I went for years without seeing each other, we could pick up the phone and continue on like it was only hours ago that we last talked. Johnny was so much fun to be around and had an easy way of making Dennis and I laugh, even when things were looking down. I will miss his crazy wit forever. He was a good friend.

Johnny had just called me a day or two before the accident and left a message for me to get back to him. We were planning on getting together. I procrastinated and didn't call back soon enough. I feel so bad that I didn't call him right back. I hope any of the other guys that had this special bond that we had never puts off making that call. The years are catching up to all of us now and each day is becoming more and more precious.

Thanks for maintaining the site on the internet. I look at it as often as I can, and I visit Scott's site too. It does my heart good to be able to glimpse at the lives of all the guys that we served with and know that the time we spent over there wasn't wasted. We made life-long friendships that have endured the years.

Good luck, God bless and thanks again . . . . . .

Rich Buster"
UPDATE ON KAREN MOORE
To all of the Catkillers,

Karen came home from the hospital here in Tacoma on June 5th. She got the casts off her legs before she came home, is getting around on a walker and is making great progress in her all around recovery. She is still wearing a brace to keep her torso in line for the injuries to her pelvis and vertebrae but should be able to take it off in about a month. The shoulder she had surgery on is still pretty sore but is slowly getting stronger. She had physical therapists coming to the house for the last couple weeks to strengthen her muscles, bones and mind and because of her fast recovery she will start going to an outpatient clinic next week.

Jenny, her daughter, and I have been living here with her at the house to help her out with everything. We had both been wondering why we hadn't been able to find employment for the last 7 or so months and now we know why, we were meant to be here to help Karen.

If any of you have stories you would like to share about Johnny, one of Karen's cousins is putting together memory boxes for the family and she is collecting stories to put into them. Her name is Elizabeth and her email address is elizabeth@memoriesunlimited.com.

Again I want to thank you all for your prayers, support and kind words during these tough times.

Crystal
SERIOUS NEWS FROM BUD BRUTON
Charles "Bud" Bruton, Catkiller 18, sent an e-mail message last week informing us that his doctor recently diagnosed prostate cancer. Being a positive thinker, Bud sent this message asking for personal experiences and testimonies, so if you have input, please send it along to Bud. We wish you well, brother, and the best of a clear and thoughtful mind as you make your decision:
"I will be in Vietnam from the 29th of June till the 24th of July. After my return I will be making my decision on the type of treatment. It does seem that surgery is the way to go, even though it is the most evasive.

If you want to tell the guys, to see if anyone else has any info, that would be fine. The more input one has, the easier it may be to make a decision.

Thanks for your help. I now have two e-mail addresses, and both are checked daily, except while I'm away:

bbruton@brutonfinancial.com
cwb1242@yahoo.com

Bud"
KEITH KLETT IS A LUCKY MAN! HAVE YOU SEEN YOUR DOCTOR LATELY?:
Keith Klett recently had a fortunate visit to his doctor, and Kay Klett tells Charles Finch about it in an e-mail. Keith, we hope you continue to improve and soon return to a normal routine. Keep us informed, and take it easy (and thanks for the flower fund support):
"Hi Charlie,

This is Keith Klett's wife Kay sending you a note. First off, I am sending today a check for the fund. So sorry to hear of all the death and sickness the Catkillers are having.

WE too have had a big scare. Keith went in for his annual physical and now has had an Angioplasty. He had an artery (left anterior descending) 95% blocked. The doctor. said he was a lucky guy . If it went unnoticed he would have had a massive heart attack. He is back to his normal life now and things seem to be working well again. (This one could be heredity heart problem)

I was having concerns on the AG thing, after reading the newsletter for the Catkillers. We are always doing the yearly physical and now am glad it was caught.

Have a nice day and we will keep in touch.

Kay Klett
NED WILSON IN SURGERY (7-20-04)
This note came today from Sarge Means:
Don:

Inasmuch as you are the "go to" guy for us, here's something you might forward to the membership.

I had a call last night from Phil Lowentritt. He alerted me that Ned Wilson was here, in Alexandria [Fairfax], (VA) in the Inova Hospital. He gave me Ned's phone number and I called Ned. It seems that as I am writing this Ned is "under the knife:" He is having a six way bypass of his heart performed. As I understood Ned, he and Marion were in the area, vacationing and visiting family. Ned felt lousy and went into the hospital. Now, I didn't understand this exactly but, after diagnosis, it was discovered that Ned was suffering from double pneumonia, followed by a heart attack, or vice-versa. No matter at this point, I guess. The main thing is that tests were run and voila, here comes the bypass. Ned told me much of the past few weeks is vague; he was in and out of consciousness. But the hospital staff was able to get him stable, get him up and exercising -- now there's a new experience for Nasty Ned!!! -- and strong enough to withstand an operation. I shall try to reach some of the family in a day or two and pass on any info I receive to the Catkiller hotline.

For those in different year groups: "Nasty Ned" Wilson was in flight school -- Dec '67 - Aug '68 -- with Lynn Bumgardner and me. We all arrived in Phu Bai around the same time -- Sep '68. Ned had been in the service longer than we, was already a senior captain, and took over one of the platoons. He was a delight to be around. He and Marion were the first folks I saw upon entering the hotel at the reunion last year. Basically, he looked just the same as he did in VN.

I'll keep you posted.

[Sarge Means]
We don't yet know which area of the hospital Ned is in at this moment, but Inova Hospital [Fairfax]can be accessed at this web site:
Inova Hospital, Fairfax, Virginia
UPDATE 8:00 PM, July 20:
Ned had triple by-pass surgery at 7 AM, this morning, and he is now in ICU recovering. Doctors discovered Ned's heart had several blockage points in the 80-95 percent range and suggested the surgery, which they have now completed successfully. The next 24-hours are the most critical for recovery. Ned's eyes are open, and he is on a respirator. Marion, Ned's wife, and I spoke briefly, and she said he had been ill for some time. They are staying with friends in Fairfax and have been there several weeks. Marion says Ned is doing great!

More information when available....

Don Ricks

Marion's cell phone number is 985-966-6105, if you would like to speak with her.
UPDATE 8:30 AM, July 25, from Sarge Means to Charles Finch:
Steph and I had a very nice visit with Ned and Marion Wilson at Fairfax (VA) Inova Hospital today (Sat, July 24). We stayed a little over an hour. Ned was sleeping -- soundly -- when we walked in but Marion wanted to awaken him. In no short order he was his old jovial self.

He underwent triple bypass surgery three days ago. At first it was thought he might need six but turned out he's in better shape than he thought! He showed us the scars. The main one runs from about under his adam's apple to just above his navel. He also has smaller ones on his ankle and under his knee, from where the replacement veins were taken. He really is in good spirits, and I think he looks better than at the reunion; and that's after major surgery and waking from a two hour nap!!! It was fun to be in the room with him again. And Marion was wonderful, very upbeat and supportive. They're a good pair.

I found out a little more about Ned's "situation." He and Marion, their daughter-in-law and their grandson had started out over a month ago on a major summer journey. They stopped in Savannah, and the North Carolina beaches before wending their way to friends, here in VA. Ned woke up one night and told Marion he couldn't breathe. She thought they might go to the emergency room. However, in a few moments he felt fine. The sequence happened two more times. On the third occasion Marion said, "Let's go." Multiple tests were run and Ned was diagnosed to have double pheumonia. The doctors also thought he might have had a heart attack. Amongst the many tests run was an angiogram, which found the blockages.

Ned spent over 20 days in Intensive Care, 17 on a respirator. He does not remember much of it and Marion said the family really thought Ned wasn't going to make it. A funny line from Marion. "I saw a priest walking down the hall and I approached him. I said, "I'm Episcopalian and my husband is Southern Baptist but we love Catholics, could you say a prayer for Ned?!' " He did, and came by on subsequent days and, voila, Nasty Ned Wilson is making a comeback!

They both hope Ned will be released Mon and expect to be in Northern VA at least another two weeks. Steph and I plan to get together with them next week once Ned is out of the hospital. I'll try to keep the news flowing.

[Sarge Means]"
Added comment, taken from a personal note to Charles Finch:
"Charlie: Can't remember; did you get to talk with Clyde or was it only by e-mail? Do you know that latest with Bud? I spoke with Bum [Lynn Bumgardner] and Virginia last week. He had to have another operation on the prostate but was feeling okay and going back to work, not flying, tho. I told him about Bud and he was going to try to get in touch with him.

[Sarge]"
UPDATE 12:10 PM, July 26, from Sarge Means to Ed Miler:
"Marion told me her phone hasn't been working well. Here's Ned's cel number; let's hope it's on: 985-966-0231. His daughter-in-law's (she was traveling with them but might have started back to LA today, I think): 985-373-4376. She can probably give you the number of the folks with whom Ned and Marion are staying. (I had it in my pocket on Sat but couldn't find it this morning; this getting older is for the birds!!!)

I just called Ned's hospital room so I could give you an update. His roommate answered and told me that Ned was discharged this morning. (So now I truly regret misplacing that phone number) Funny story is that neither Marion, her daughter-in-law, their hosts, nor even Ned, remembered to remind each other to bring clothes! Therefore, Ned was discharged in his hospital togs..........and I can tell you from my visit that was not a pretty sight!!! Hell, in years past Ned would have walked out of there bollicky-bare-assed and not have been bothered a bit!!!

[Sarge Means]"
Update on Ned, July 30, by Sarge Means:
" He's back in the hospital. Apparently he was out of the hospital 1 1/2 days. He tried to urinate and couldn't. He said whatever they are supposed to do to kickstart the kidneys wasn't done. Urine backed up, lots of pain, ambulance called, catheter installed, problem kinda solved. (He had also fallen a couple of times at the house)

We visited him last night. He didn't look as good as earlier in the week but he said he feels okay, just sore, as you can imagine. His sense of humor is still intact, tho it hurts him to laugh. We ran into Marion and her girlfriend in the lobby just coming back from supper and had a long chat. She said he had really looked and acted poorly yesterday morning and the hospital was thinking he was going to need lots of rehab; he was very weak and unsteady, couldn't go from bed to chair. However, she said that his transformation during the day had been remarkable.

They have no idea how long he'll be in. Marion said that he's been in the hospital -- save the day and a half this week -- for the past seven weeks and wouldn't be surprised if the medical bills are approaching a million dollars. This is going to be a test of the Prime for Life Option that military retirees choose. We'll check in with him again next week

For those who might want to call: hospital - 703-391-3416/ friends' - 703-758-8259 [Sarge Means]"
FOUND CATKILLERS AND E-MAIL UPDATES:
Welcome John Michael DeMots!
"Catkiller 42 checking in.

I was 42 during 70-71. I was the one covering Lefty Wright when he got his tail blown away up in the tri-borders area. I flew a lot with Rick Gates and John Beaty was the platoon leader.

After Viet Nam I visited Lefty, Bill Valentine and Sundowner Serria on a road trip about the summer of 73.

My e-mail address is jmdemots@mfire.com

Let me know about who you have heard from and when the next reunion is. What ever happened to Yosearian?

Later,

John Michael DeMots Catkiller 42, 70-71"
Jimmie Scruggs, the widow of Terry Scruggs, sent this note and a new e-mail address:
"Hello Everyone,

This is Jimmie. I wanted to give all of Terry's contacts my new email address, so I can stay in touch with everybody. Thank you so much for your prayers and support during all of this. My family and I appreciate it.

Jimmie Scruggs (CatkillerKin) JimmieScruggs@yahoo.com
Jimmie, we hope and pray that all is well with you. It has been only a short time since Terry left us, and we know your heart is still heavy with your loss. May God bless you and the family.
There were two e-mail bounces when the July newsletter announcement went out. Anyone knowing their e-mail address, please let us know:


Don Long Catkiller18), donaldlong@aol.com (user unknown).
Herb Johnston (Catkiller), hbbjohn@bellsouth.net (user unknown)
Joe Mead checked in with this statement:
Hi:

I was working in the Operations office 1969-1970, probably typed your flight records and listened to you on VHF radio.

The decades go by, but those days feel like they just happened. Worked for a variety of officers including Cpt Brennan, Cpt Grass, and Cpt Grace.

My partners in crime were Buster, Andy, Sgt Early, Bill Ledford and the AO's from the 101st.

Working from midnight to 8 AM sure was interesting, saw who lost a fight or even a guy who tried suicide.

No other period of my life can match 1968-1970; I was a draftee and had worked 4 summers in a local cemetary before I graduated from college. Witnessed a ton of military buriels and honor guards. My heart goes out to those guys and the grieving families. Those memories will be fresh till I am pushing up dasies.

Sgt Joe Mead, Catkiller Radio
themeads@optonline.net
Catkiller Crew Chief Rich Buster checked in, and you can read his message under the memorial announcement for Johnny Moore. He is now on the CATCOM e-mailing list as: Therealwoodguy@aol.com, and he served in Vietnam from May 10, 1968, to December 1969.
Larry Huston has a new e-mail address: huston10@alltel.net
MARINE BACKSEATER CLYDE "TANGO" TRATHOWEN:
This is from Charles Finch, who has has more information, but here is his short brief on Tango:
Clyde Trathowen was a Marine officer who flew in our backseats out of Dong Ha between November 1968 and July 1969. He did spend some of those months in the bush, also.

I tell you this only because if it was not for Lanny Thorne, another Marine backseater, who came to our Catkiller reunion in Vegas, we may have never found TANGO.

Tango is living in the Tampa area. High school principal. Served 20 years in the Marines. First marine to be assigned to CENTCOM when that was put on the ground in Florida:


Trathowen, C R
5805 Heronpark Place
BRANDON, FL 33510
813-685-2841


I would hope those of you who knew Tango would send him your regards. He was one of the best, and his memory has not faded in the slightest. He clearly remembers Bounds, Bentley, Sarge, Pepe, Bum and all of the rest.

Charles Finch
THE REUNION, AUTHOR UNKNOWN:
CSM (r) Gary Huber sent this to several of us, and it is so good that it qualifies for a special place in our newsletter. Thanks for sending it, Gary:
"My father-in-law (WWII - Pacific - Air Corp fighter aircraft mechanic) brought this back from one of his reunions:

See you at the Society of the Fifth Division Reunion, Sept 3-6, 2004 - Indy!
Best regards,

CSM(r)G.L.Huber
glhuber@msn.com
www.csm-gh.com
9679 Heron Bay Road
Bloomington,IL 61704
(309-662-0604)
National Webmaster for:
The Society of the Fifth Division
www.societyofthefifthdivision.com

FLOWER FUND DONATIONS:
Charles Finch volunteered to manage the flower fund, and if you desire to contribute to this effort, please send your donation to Charles at the following address:
Charles Finch
1331 Parrott Trace
Greensboro, Georgia 30642

Phone 706-467-9389
Cell 706-338-8756
MISSING AN AWARD? TRY THIS LINK:
"I got a pleasant surprise the other day from the U.S.Government, of all places! On a whim, I sent a request to the National Personnel Records Center for a set of medals that should have been awarded to me during my time of service. Not expecting much but in a rather timely manner I first received ALL of my medical records, orders, forms and any other paperwork that was generated on me by the Army. Not only that, a couple of weeks later I received all the medals that were (or should have been) awarded to me. All at no cost. All I had to do was submit a request in writing along with a copy of my DD214 form. If you don't have that, you can request all your forms by your SSN.

I didn't throw all my medals away like John Kerry but there was a couple that I never did have. It was interesting to go through the paperwork to recreate a timeline and there was even some names I had forgotten on some of the orders.

Worth taking a couple of minutes to do this so your kids can do what they might want to do with them when we kick the bucket.

National Personnel Records Center

Ed Arthur
67B20 @220th '68"
INTERNATIONAL BIRD DOG ASSOCIATION ANNOUNCEMENT (OV-10 FOUNDERS DAY )
This is a time related item but hopefully some will view this and visit the open house:
"On Saturday, July 17th the OV-10 Association is having their "Founders Day" open house. All IBDA members are invited and if you fly a Birddog in, the lunch is free.

Several other types of Observation aircraft, such as O-2's, L-17's, T-6's, etc., are also participating. Additionally, you will be able to see the future location of the "FAC" museum which is housed at their home base.

The OV-10 Association is based at Meacham Field, Fort Worth, Texas. For further information check their website at http://www.ov-10bronco.net/

Larry Flinn
IBDA Communications Officer"
QUITE AIRCRAFT ASSOCIATION REPORT
This came from Dale R. Stith:
"Gentlemen,

We recently had a very good reunion in the OV-10 Ready Room at the Vintage Flying Museum in Ft Worth. Thanks all of you for your support in spreading the word and getting ot done. Our group isn't as large as yours and probably wont't be because of the small number of aircraft, people, and limited time in service, but we having lots of fun and we're growing.

During our meeting we were contacted by the producers of the Discovery Channel "Tactical to Practical" and also interviewed by Mr. Stephen Wilkinson who writes the "Man and Machine" column for Popular Science. We have provided some of our video to the "producers" and some stills to Popular Science.

I've seen at least three super YO-3A photos on your web sites and I copied one the photos (YO-3A landing or taking off toward the camera) and submitted it to Popular Science in NY,NY for the article (planned for the Septemmber or October edition). I believe the photo was taken by Reuben Chandler, so I credited the 220 RAC as the source and Mr. Chandler as the photographer in the photo record). I also submitted one of Paul Garin's great photos of YO-3A 69-18007 in the revetment at Hue Phu Bai. I credited 220 RAC/Paul similarly. PS: YO-3A 69-18007 is now at Cable Airport in Upland, CA. It is being prepared to fly again, hopefully within two years.

I have sent approximately 20 (total) images of our QT-2PC and YO-3A aircraft and I expect they might use as many as five or six in the article, but I'll have no choice as to which ones they will "fit" to their story (to which I do not have access).

Paul's images were high resolution and easily formatted to the Popular Science requested 300 dpi 5" x 7" format. However, The "Chandler" photos were low resolution and when formatted to 300 dpi and came out fuzzy.

Could you send 300 dpi versions of your "Chandler" photos to me or directly to Popular Science?. If so, they would like to have all of the candidate images on Monday.

Don't "sweat it" if my request is too much and too late (I was alerted only today), because we have lots of other good images to offer now. Some are perhaps as good as yours.

Final note: Our hosts, The OV-10 Bronco Association and the Vintage Flying Museum were super and gave us a great facility in which to reunite. They proudly display a "Bird Dog" front and center in their museum. The OV-10 folks are organizing a "FAC" Museum that you'll want to know about. I'll pass on what is available as I get it.

Attached is a photo of a 221 RAC Bird Dog at Soc Trang, RVN. We were associated with the "Shotguns" , had access to their bird, and shared some facilities with them. They have started a website too. I'll be checking it out soon.

Thanks again,
Dale Ross Stith"
Attached is a photo of 221 RAC Bird Dog at Soc Trang, RVN.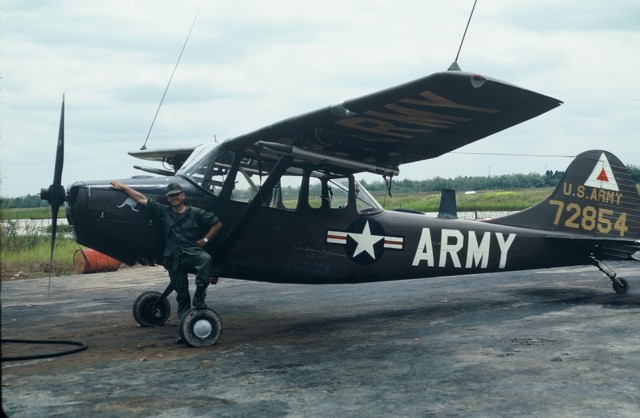 221st AVIATION COMPANY "SHOTGUNS" WEB SITE:
The 221st has a web site with names of some of their members (e-mail addresses, too). I question the unit name, as it seems the correct name would be a RAC. Anyway, check it out, as you might have a lost classmate in there somewhere.
Web master Monte E. Caylor's message (thru Dale R. Stith):
"I have a web site for the 221st Avn Co in RVN and have heard rumors that the 221st had a role in the QT testing in Viet Nam. Is there any thing you can give me to put on my web about this?

Thanks

Monte E. Caylor
International Program Specialist
Redstone Arsenal Al 35898
Com: (256) 313-0908
monte.e.caylor@redstone.army.mil"

221st "Shotguns"
WORLD TRAVELERS ON THE MOVE:
You gotta envy these two guys. They seem to be everywhere, and with their big hearts it is good these quality diplomats travel so much: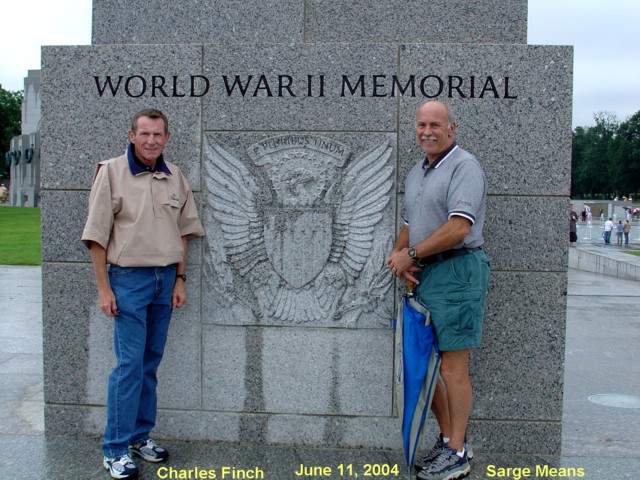 Is it possible that either CSM (r) Gary Huber (left) or CW5 Sarge Means (right) leads a double life?

THREE OLD GAPERS IN NEW HAMPSHIRE:
On 9 July, Jerry Digrezio, Bob McComiskie and Curt Perry met in Nashua, New Hampshire, at Martha's Restruarant. Curt, who sent the photos, was on a trip to Maine. Jerry lives in nearby Hollis, and Bob came up from Boston. These mini-reunions are great fun. Thanks for sharing the photos: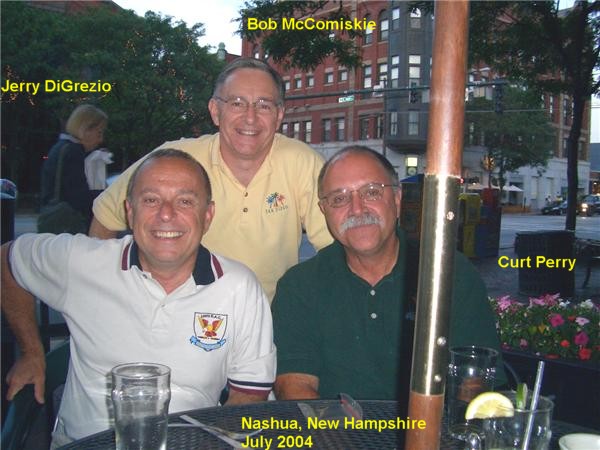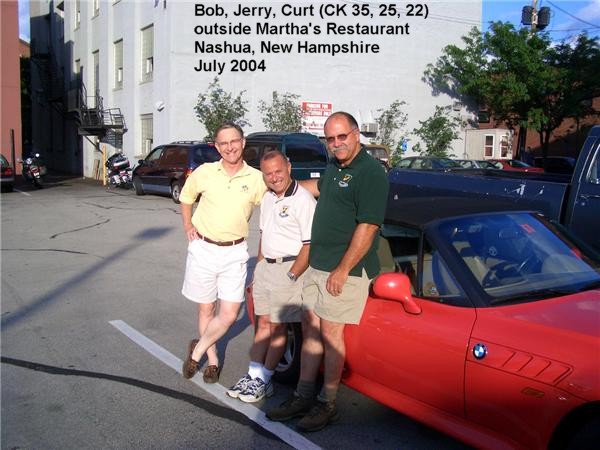 SO YOU DON"T LIKE THOSE PESKY MOSQUITOES...
This is interesting:
Pass this on to anyone who likes sitting out in the evening or when they're having a cook out. So you don't like those pesky mosquitoes, especially now that they have the potential to carry the West Nile Virus? Here's a tip that was given at a recent gardening forum. Put some water in a white dinner plate and add a couple drops of Lemon Fresh Joy dish detergent. Set the dish on your porch, patio, or other outdoor area.

Not sure what attracts them, the lemon smell, the white plate color, or what, but mosquitoes flock to it, and drop dead shortly after drinking the Lemon Fresh Joy/water mixture, and usually within about 10 feet of the plate. Check this out---it works just super! May seem trivial, but it may help control mosquitoes around your home, especially in the South and elsewhere where the West Nile virus is reaching epidemic proportions in mosquitoes, birds, and humans.
NEWSLETTER PRAISES:
Someone asked me why I don't publish your nice comments about the newsletter.Okay, I will, this once. Today was my birthday, and Charles Finch e-mailed to say I was doing a great job. Thanks.
I appreciate the comments (and the compliments), and it is a pleasure to keep the newsletter going. Here is one e-mail from Tom Clark, typical of many that you have privately sent. One of the greatest gifts we can give another is love, including any act of kindness, word or deed that will lift up those around us. Thanks for taking the time to share your impressions of the newsletter, positive and or constructive, for e-mailing and calling those who have need of your contact and compassion. We are not alone, there is always someone who cares, thanks to a great group of Catkillers and Friends:
"Don,

Just a note to express my thanks for a superb newsletter.

I'm sure I share the sentiments of all recipients that your efforts and the inputs of your contributors are greatly appreciated.

Best regards,

Tom Clark "36""
THE WONDERS OF SPACE FLIGHT AND THE PRIVATE CITIZEN:
To see photographs of the recent private venture space flight, visit this link (for some fantastic photos):
SpaceShipOne, Burt Rutan's entry for the X-Prize
NEWSLETTER UPDATES:
The size of the newsletter might grow during the month. Please check back. The last date updated is posted at the top of this page.