220th Reconnaissance Airplane Company




August 2004 CATCOM E-Newsletter (published August 8, updated August 25, 2004 (morning))



"Catkillers"
and Family,
and all Friends
and Brothers in Arms,
in memory of those who have served
EDITOR COMMENTS:
Significant events in our lives seem to have smoothed out from the last few months, and I am happy to not report any major crisis. Bud Bruton should be back from Vietnam, and he faces a major decision regarding medical treatment. Let us keep Bud in our prayers as he takes steps to meet this challenge.
Today, I spoke with Eric Castren, son of Floyd Castren, and he passed on his thanks and appreciation for the calls and condolences received from his father's friends and army buddies. I also spoke with John Hillman's daughter, Heather, and she said her dad was doing okay (see below).
Len and I are back at home and are doing fine. Thanks for the calls and best wishes. Don Ricks started back working for the FAA on Tuesday, 23 August, exactly one month after the motorcycle accident.


UPDATE ON NED WILSON:
Ned Wilson has been moved to the Mount Vernon Inova Rehabilitation Center, Fairfax, Virginia, and his room phone number is: 703-664-8556. Ned stated that he expects to be released from the hospital on or about Thursday, August 19.
UPDATE ON JOHN HILLMAN:
John Hillman and I spoke via cell phone Sunday, August 15, and here is what John says about his most recent visit to his doctor:
"I saw my doctor about a month ago, and he went over the most recent series of tests. After he finished I asked him what all those figures meant, in layman's terms. He said that he was "ecstatic" about the positive results. They will now check me every ninety days, for a year, and it seems the cancer is in what he termed, "remission." Of course, there is a chance for a recurrence, but if the results stay as they are for a year, we will go to an every six-month check series."
Those words are good news to us, John, and we wish you continued success in future tests. Regardless, it sounds like you have a good medical follow-up plan.
Another part of John's recovery is that he is now fully retired and has plans for some excellent leisure time activities. Jack Bentley, who lives out near Show Low, Arizona, and John will soon get together for some Elk hunting. Have fun, Jack and John!
If you want to help run up John Hillman's cell phone bill, contact him at: 918-857-6054; e-mail at: Catkillerjsh@aol.com.
UPDATE ON JIMMIE SCRUGGS:
This e-mail came from Jimmie Scruggs, and it points to the discussions that have come to this newsletter regarding medical history and claims. Those of you who were courageous enough to provide these discussions should be proud that your initiative has helped others and continues to encourage such action as Jimmie reports. Jimmie, we are very happy to hear the good news:
"Hello Don,

I wanted to share good news with you. I was advised by several people to apply for VA benefits, since Terry served in Viet Nam and later had lung cancer. Well, I did apply and sent 4 letters from doctors stating his medical history. I was told it may be a long drawn out thing and to expect to apply more than once. I applied late June and received approval in 6 weeks time. God had a hand in that ! I will be drawing VA benefits each month, and now I will be able to keep teaching at the Christian School.

I miss Terry so much but know he is in a better place and feeling no pain. I am doing okay I guess. Family and friends have been so good to me.

Jimmie Scruggs"
AIR FORCE MUSEUM FLY-IN:
This is from the IBDA editor:
The first "Liaison Aircraft Fly-in" at the USAF Museum will be held on Sat. 23 October 2004 and is a one-day event involving all types of liaison aircraft. Planes will be staged out of Greene County Airport (I19), which is located eight miles SE of the Museum, on the west side of Xenia, where a safety and mission briefing will be conducted the morning of the 23rd. Aircraft will then fly to Wright Field and land on the grass between the runway and taxi-way behind the Museum. Activities include flying and static displays and will be open to the public. Aircraft will depart the Museum field late in the afternoon on Saturday, no overnight stays are permitted.

Pilots selected for the fly-in should plan on arriving at Greene County Airport no later than Friday afternoon, 22 Oct, and spend the night to be available for the early briefing on Saturday morning. The Museum is open seven days a week, so early arrivals could spend some time there. If you have never been, it is a "must see" facility.

This first event is limited to 30 liaison aircraft total, and we think that 12-15 Birddogs will be requested. The Museum staff is sending letters to the pilots who signed up for the event that was canceled in 2002 and once it is determined how many of them want to attend this year, the Museum will make the final decision in the selection of planes for the remaining slots.

This is a "military" event so the Museum is asking for aircraft in military colors and the pilots should be prepared to dress in flying suits if available. If not, then this would be a good time to "show the colors" and wear an official IBDA Birddog shirt. The event will be well publicized and covered by a wide range of media types so this will be a good time to show off your Dog. "Clean 'em up and load 'em up!"

If you are selected to participate in this year's fly-in, there will be some further requirements that must be met such as the typical minimum insurance values and a bit of personal information needed for background checks. (The field is still an active AF Base with the normal security requirements) The requested information will be gathered later by the Museum staff.

Final details are still being worked out, but the event is on and we need to support it as much as we can. The level of participation at this one will help the Museum staff decide if the fly-in is a viable event and their plan to hold one in the fall of every even year can be followed.

As we receive details from the Museum, we will pass them on. Project officers are Larry Flinn at C24712@aol.com and Steve Frushour at Frushour4@aol.com.

All IBDA members are invited and encouraged to attend. Aircraft not on the fly-in allocation can be left at Greene County Airport during the Museum event.
NOW, A LITTLE FOLLOWUP:
If you were one of those who have already received the initial paperwork from the Museum, it is very important to fill it out and get it back to the Museum as soon as you can, if you plan to attend. As soon as the Museum folks finalize the initial group of invitees, they will put out the word to everybody else, and so will I.

We are working on securing rooms at the BOQ on Wright-Patterson for everyone at a fair price. So far, I have a price of $27.00 for one bedroom suites and $36.00 for two-bedroom suites. We have reserved rental vans for our use, cost to be shared.

The weather in Ohio during Oct is usually very good with clear skies and million-mile visibility, let's hope that is true this year. In addition, the temps are in the 50-60 degree range so the Dogs should perform quite well.

Here is our chance to get the IBDA in the public's eye and probably help recruiting. Please give the event some serious thought.

Let me know now if you are interested in attending if you have not already done so.

Larry Flinn
IBDA COMM
This is added from the July edition of the IBDA Bark:
LONG RANGE PLANNING:
If you're the type who likes to put things on the calendar a little ahead of time heres a stretch:

October 21 - 24, RAVEN reunion, San Antonio, TX.
TEST YOUR MEMORY, FOR A GOOD CAUSE:
This is a request for input from Ed Arthur:
"What unique phrases do you remember that were neither English or Vietnamese? Like "You bic?" or "bookoo" (beaucoup) "dinky-dau," etc.

I have a friend, who's a phd in linguistics and a vet as well. He's doing a study on that crazy language we used there. If you can remember some words and phrases send them to me with the translation, and I will forward them on to him.

Thanks,

Ed Arthur 68-69
invisionit@cox.net"
WIN A TRIP TO VIETNAM!
This was sent by Jo Wisby. If interested, visit the following link for additional information: VFW's Return To Vietnam Trip Web Site
If you received a Purple Heart while serving in Vietnam, you could be one of 12* lucky vets to win VFW's "Return to Vietnam" trip. This in-country tour from April 8-17, 2005, will visit Saigon, the Mekong Delta, Cu Chi, Hue, the DMZ ,Hoi An, Marble Mountain and China Beach. Airfare, accommodations and meals are included. Don't miss this chance to revisit battle sites and to share your experiences with fellow Vietnam vets.

Entries must be received prior to the drawing on Nov. 15, 2004. Winners will be notified by mail or e-mail in early December. To claim their trip, winners must send a copy of their Purple Heart documentation to VFW National Headquarters by Dec. 15, 2004; and their passport by Jan. 15, 2005. Note: Previous VFW-sponsored trip-winners to the Army-Navy Game and the 20th anniversary of the Vietnam Veterans Memorial funded through the Kahle Fund are not eligible.

* Three winners will be selected from each VFW Conference.
FOUND CATKILLERS AND E-MAIL UPDATES:
Grayson L. Davis (Catkiller45/03) has a new e-mail for personal correspondence: gldtag@houston.rr.com
A LITTLE BIT MORE PHU BAI HISTORY:
Alan O'Hollaren's 212th CAB photo annual for 1971, page 9: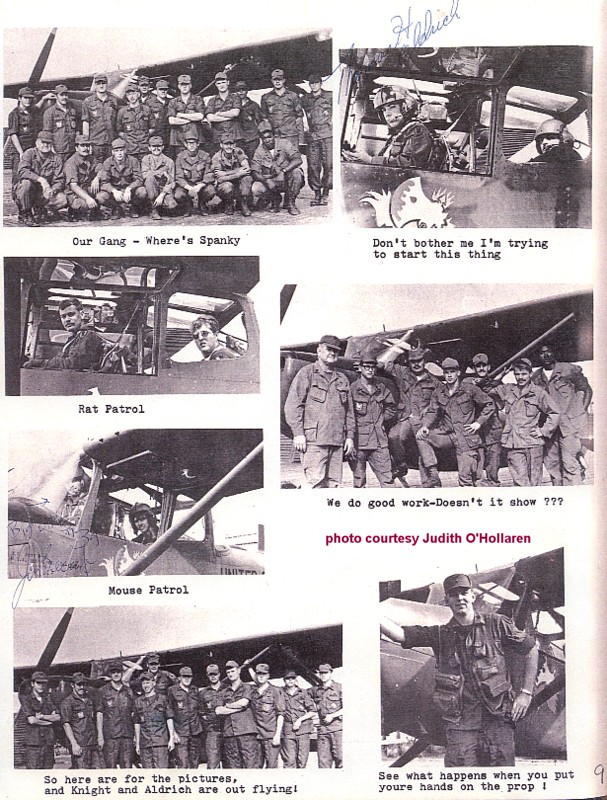 57TH ANNUAL NATIONAL BUSINESS AVIATION ASSOCIATION MEETING AND CONVENTION
Paul Smith, Catkiller 18, sent this reminder about the upcoming NBAA Meeting and Convention:
If any of the Catkillers would like complimentary entry registration to the National Business Aviation Association (NBAA) 57th Annual Meeting and Convention, October 12,13,14 in Las Vegas, Nevada, they should let me know right away, so I can send them activity information and have them fill out a registration form which I will forward to HQ in Washington.

Thanks,
Paul Smith [e-mail: Psmith@NBAA.org]
QUERRY FROM QUITE AIRCRAFT ORGANIZATION
Here is an e-mail from Dale Ross Stith, and if you can help with these names, please contact Dale
Do you recall two Marines that flew our YO-3As for the 220 RAC out of Hue Phu Bai in 1970:


(Then) Maj. David L. Ross

(Then) Lt. Tobin.

Here's some related info:

I believe that Ross is a member of a Purple Heart group in TN, perhaps an officer in the group. I believe that he was also awarded the Navy Cross.

I have Tobin's middle initial, but can't find it at the moment. We want to welcome them to see quietaircraft.org / YO-3A.com.

Do you now about the Vietnam Archives at Texas Tech? I believe that they have the largest archives outside the US Gov. We are placing our Quiet Aircraft records there, and I recommend them to the 220 RAC. My contact there is Mr. Ty Lovelady. You can find the site by clicking on the above named archives.

When riding you might want to see the Vietnam Memorial near Angel Fire, NM. It is a memorial from a father to his son. It's in a beautiful mountainous setting and was impressive when I last saw it in '90. I imagine it to still be in operation. Go to Taos and take the big loop around Taos mountain counterclockwise to Angel Fire, Red River an on. It is my all-time favorite place to tour.

Dale Ross Stith
FINCH AND WISBY IN KENTUCKY LAST WEEK:
Charles Finch and James M. Wisby got together for some important church work up in Kentucky last week. They sent a photo marking the occasion. From the smiles, things must have gone well:
NEWSLETTER UPDATES:
The size of the newsletter might grow during the month. Please check back, and if you have input for the newsletter, please send it in. The last date updated is posted at the top of this page.