IN HONOR OF
COLONEL THOMAS "TANK" MEEHAN, USMC,
DECEASED OCTOBER 16, 2012: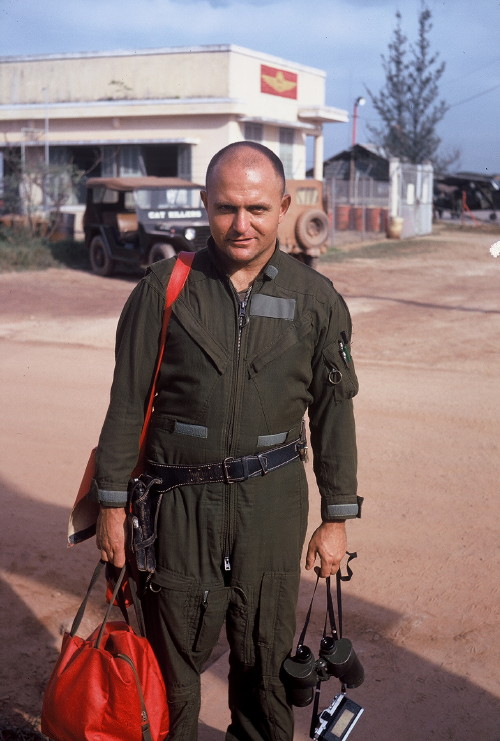 PURPOSE:
"Major Thomas "Tank" Meehan of the 12th Marine Regiment, 3rd Marine Division, was the Marine Corps liaison officer to the Army's 220th Aviation Company, the Catkillers. As such, it was his job to keep the Catkillers away from the political infighting of those who wanted to tell them how to fly and when to fly" (A Hundred Feet Over Hell, Jim Hooper, Chapter 1, page 1). Since the 220th was under the operational control of the 3rd Marine Division, Meehan was an invaluable addition to the 220th bringing knowledge of Marine Corps operations and wisdom which accompanies maturity to a bunch of young, fresh out of flight school army officers, each with a different view on how things ought to be done. Tank was an invaluable asset to the company and assistant to the company commander.
EVENT:
June 14, 1937 - October 16, 2012

Col. Thomas Francis Meehan USMC Ret.

Col. Thomas Francis Meehan, USMC, Ret. , age 75, of New York, died peacefully on Tuesday, October 16th, 2012, at Walter Reed National Military Medical Center in Bethesda, Maryland. Born June 14, 1937, in New York, to the late James Meehan and Josephine Cullen Meehan. He is survived by his loving wife Maria C Fox Meehan, and daughters; Mary-Mclarnon, of Watertown, NY, Joy Deardorff (Tim), of Temcula, California. Also left to cherish his memory are his grandchildren; Matthew, Marissa, Joshua, Nicholas, and Sydney. He was preceded in death by his two daughters, Kelly Meehan-Silard, and Kathleen Meehan. He was the brother of Sister Maureen, John Meehan and wife Tina, and the late Conan (James) Meehan and his wife Karen Meehan. Col. Thomas Francis Meehan, was retired from the USMC, with over twenty-five years of service.

Funeral Information:

Mass of Christian Burial will be offered at 8:45 AM Tuesday, December 18th at the Ft. Myer Chapel, Ft. Myer, Virginia, with military graveside honors immediately following at Arlington National Cemetery, Arlington, Virginia. Those planning to attend are asked to meet at the chapel by 8:15 AM.
ACTION:
On behalf of the Catkillers and Friends, Charles Finch made from our Benevolence Fund a donation to the Semper Fi Fund in memory of Colonel Thomas Tank Meehan.
FUNERAL ARRANGEMENTS:
Maria Meehan: " I wanted to let everyone know that the funeral date is December 18th (Tuesday), at 8:45am at Arlington National Cemetery. There will be a service in the Chapel at Fort Myers and then burial with full honors. If you have questions you can also contact the Funeral Home at www.InterFaithFunerals.com.

In order to provide numbers to caterers please email me directly as to whether you will be able to attend the reception following the internment at irishlib@yahoo.com."
COMMENTS:
Hello Mr. Ricks,
You have probably heard that my father, Thomas "Tank" Meehan passed away. So many people sent Maria wonderful e-mails about my father, very kind, very moving and I think they gave her strength during this terrible, terrible, terrible time. She's going to copy them all and make a booklet for me. Please thank everyone for their thoughts and kind words.

Mary Meehan

---

Tom Meehan has been an acquaintance of mine since 1958-59 at Boston College, in USMC and FBI.
I set forth info of a great Marine and father, May He Rest In Peace.
I found your group on internet and thought you and his Marine colleagues would like to know. [the obituary is sent courtesy of Dan Sughrue]

Dan Sughrue
Bow, NH

---

Here are a two photos from my change of command in 2004 at Ft Bragg, NC, at the JFK Special Warfare Center and School. Not the best of Tank and Maria but something a little different. As a little background, I met Tank at the University of Maine (1987) while getting my degree and commission in the army. I had just finished a six year tour in the USMC as a RECON Marine. You can imagine the ribbing I got from Tank about crossing decks! He was a damn good mentor and a great friend. He saw fit to keep me under his wing and provide sage words of advice that helped me have a successful career.

Thom Mundell



---

Tank is working magic from Heaven

March 4, 2013: I am not sure that anyone is still visiting this site but I wanted to let you know that Landstuhl Hospital, with the assistance of Vivian Wilson who heads the Fisher House here, are working on a room to be set aside as a Hospice room so that those patients and family members do not have to travel back to the States as they approach the end of life. I have to say that without Vivian and Col. Holcomb (B.General select) this would not have been possible. Also Dr. Harris and Beth Wolfe in Oncology they have been trying to get something established for a while. The legacy that Tank left has enabled this to happen. Thank you Lord for giving others the opportunity to end their days surrounded by friends and loved ones in a familiar setting. God Bless everyone.

Maria

---
FUNERAL SERVICE, ARLINGTON NATIONAL CEMETERY: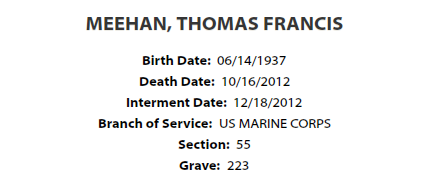 Below is a series of photos taken at Tank's funeral last month by my step-son, MSgt Jerre Thomas, USMC, Ret. I might add that Jerre was so pleased to be representing me at the services for a great man, Col "Tank" Meehan, as I was so pleased that he could do it for me. He also was happy to meet some of the men that I served with in Vietnam, and of whom I have spoken so often.

Ed Miler
Funeral Photos by Jerre Thomas, MSgt, USMC, Retired:
| | |
| --- | --- |
| Photo 1 | Photo 2 |
| Photo 3 | Photo 4 |
| Photo 5 | Photo 6 |
| Photo 7 | Photo 8 |
| Photo 9 | Photo 10 |
| Photo 11 | Photo 12 |
| Photo 13 | Photo 14 |
| Photo 15 | Photo 16 |
| Photo 17 | Photo 18 |
| Photo 19 | Photo 20 |
| Photo 21 | Photo 22 |
| Photo 23 | Photo 24 |
| Photo 25 | 3rd Marine Division AO Patch |