CATKILLER HISTORY, 1971:
A TRIBUTE TO ALAN O'HOLLAREN:
Transferred from the 2nd Quarterly 2003 newsletter:
International Bird Dog Association (IBDA) Members: Minard Thompson sends the following to all:

"Alan Ross Vincient Michael O'Hollaren died on January 9, 2003. Alan was one of Army Aviation's biggest supporters and promoters. He was a Birddog pilot in Vietnam and after the war he continued his Army career through the Individual Ready Reserves (IRR) flying at numerous bases around the country. In recent years he worked for the Army's Aviation Safety Center.

I was notified by his wife [redacted] on December 29, 2002 that Alan's cancer tumor was not in remission as they had hoped and that Alan had used up all of the chemotherapy that he could handle. When [redacted] wrote she said that Alan was trying to keep his spirit up, but he was loosing weight quickly and she could see that it was difficult for him to maintain his positive attitude. I met Alan during one of my tours with the Army Reserves at Ft. Bliss, TX where we flew the C-12 aircraft together. He always had a smile on his face and he consistently had that "can do" attitude that made him easy to like and a pleasure to work with. His request was that each of you who knew him hold fast to your fondest memory and cherish it in your hearts.

[redacted] wanted him to be buried at Arlington Memorial Cemetery—and he will be—on February 5, 2003, at 1100 hours. It is only fitting that he be buried with his comrades in arms that he served with for so long. The next time you go out flying in your Birddog remember Alan and his love of Army Aviation. If you look upwards through the skylights you will probably see him smiling back at you from above.

Rest in peace Alan,

Minard Thompson"
A SPECIAL NOTE FROM [Redacted]:
She refers to the above letter for Minard Thompson:
"Mr. Birddog (a.k.a Minard Thompson) is as eloquent as ever in his kind words about Alan. Alan lived and breathed Aviation and safety. He could hear a &round motor" from miles away, and usually could tell you what was flying before anyone else could guess. Although he didn't often tell anyone, he was also qualified as an aviation maintenance officer, but no one ever held that against him! He did NOT, however work at the Army's Aviation Safety Center. He was an Aviation Safety Inspector at FORSCOM (aka Pentagon South - Paul Brennan can tell you about this), and traveled worldwide promoting aviation safety in the military community. Thank-you for passing this on to the rest of the Cat Killers and myself, and thank-you for your kindness, too. It is a wonderful tribute."
Now, for some history:
"While it is on my mind, on the back side of Alan's Cat Killer plaque, there are a few signatures. One is Brown Cabell (CK 14/9) with whom you are in contact; Will Nunn (CK 42), whom Alan said is the son of Senator Sam Nunn and should be relatively easy to locate here in Georgia; Ted Novetzke (CK 19); and what looks like Bob Foster (CK-30). The company commander was Cpt. David C. Sapp, XO; CPT Charles L. Goodrum, Jr., 1st Platoon Flight Commander; CPT Randy F. Jones, and OPNS Officer—CPT Thomas J. Shaver. Others of the Fly Boy persuasion who signed his book were Lt. Richard Behrens, Lt. Kirk M. Knight (nickname - Seal); Lt. Jim L. Lewis; Lt. Douglas H. Scherer; WO2 Jim Becroff (CK-39) (nickname - Big Otis); WO1 Thomas Hohmann (CK-37); CPT Robert Holt (CK-69); CPT Larry Van Horn (supply officer); CPT David A Diedrich (nickname - Hero); CPT Norwood S. Sothoron; CPT Stanley L. Cherrix (Section Leader); CPT Richard P. Almond, Motor officer; LT Thomas H. Aldrich; Ray Mizell (CK-40); Steve Nelson (CK-64); WO2 "The Baron" Baronowski (CK-41); and someone who listed himself as "Bayou B----" Watson (CK'33). The unit First Sergeant was Pedro F. Toves. This was in 1971. I hope that you are either in contact with some of these guys or maybe someone will know them and can get the word out about your reunion."
Thank you for the valuable history input, [redacted]! She said it all.
212th Combat Aviation Battalion Units (part of the 212th effective 18 August 1967):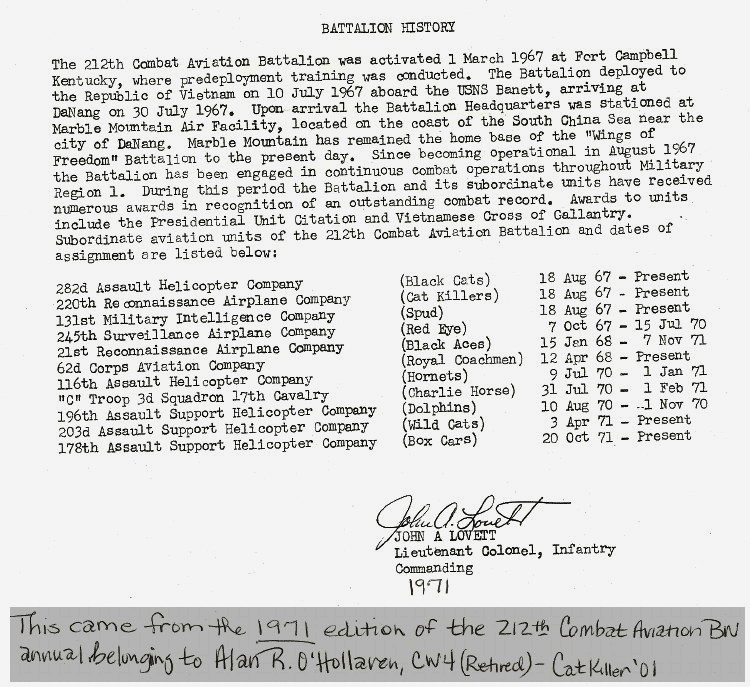 The annual for 212th Combat Aviation Battalion (CAB) Annual, pages 1—21, will soon appear on separate pages linked from this page.