CATKILLERS ON THE ROAD
The plan was for Donald Pepe, Catkiller67-69 ; Chuck Goodrum, Catkiller 5; and Donald M. Ricks, Catkiller 49, to ride our motorcycles out to Las Vegas and attend the 2003 reunion organized for our Vietnam era unit. Don Pepe lives in Jacksonville, Florida, and had the longest ride of the three. Chuck Goodrum lives in Atlanta, and just before the departure date, he decided to travel along Interstate 40 (I-40) with Don Ricks, beginning on October 15. Don Pepe was to leave a day later and travel the southern route, along I-10, a distance of just over 2,300 miles. The trip from Spring Hill, Tennessee, to Las Vegas was about 1,930 miles, and a few more hundred miles from Atlanta.
Chuck Goodrum departed Atlanta and traveling via backroads was to meet up with Don Ricks at Bolivar, Tennessee, by mid afternoon on the 15th. Don Ricks departed Spring Hill, Tennessee, about 9:30 am on the 15th and had a short ride of about 170 miles to Bolivar, traveling down Hwy. 31, west on Hwy. 412, down a short stretch of the Natchez Trace to connect with Hwy. 64, and then west to Bolivar.
Don Ricks arrived in Bolivar about one o'clock in the afternoon, stopped by the courthouse and reviewed county land records (Isaac Ricks lived there and was a large land owner in the early 1830s), had lunch at a local Mexican restaurant. After lunch, he visited Danny and Jerry, barbers at the barbershop across the street from the courthouse, and discussed the upcoming motorcycle trip. About half passed 2 o'clock that afternoon, Don repositioned his bike, a Candy Red 2003 Honda Goldwing, down the street to a parking lot adjacent to the Bolivar Inn, the planned meeting place. The local police officers continued to cruise the road in front of the parking lot all afternoon, probably wondering why this old man sat waiting on a young-looking motorcycle. Chuck did not arrive until just after four o'clock that afternoon.
Chuck rode up on a red Honda ST1100, packed well with enough gear and clothing to make the four day trip that would take him across nine states. They greeted each other as old friends, but neither had ever met in person. E-mail messages and unit history had prepared each to know something about the other. Both being six feet tall (Chuck a little taller), each in their early sixties, and each prepared for the long trip, they embraced hands and shared a broad smile. The adventure trip was on.
After a few minutes of small talk about the events of the day, their bikes, and the thrill of the trip, Don asked Chuck if he wanted some refreshment or food or if was ready to head down the road to Memphis. Chuck said he has already eaten lunch at Corinth, Mississippi, and was ready to go. They had reservations to stay the night at the Navy Inn at Millington, just north of Memphis, and their route would take them west along Hwy. 64, then a short mile or two on Route 205 to I-40, an immediate right along Hwy. 385 to Millington, a distance of about seventy miles. They departed, with Don Ricks leading the way.
The distance from the parking lot in Bolivar to the intersection of Hwy. 64 and State Route 205 is 43 miles. Just after turning onto Route 205 and heading north, they picked up speed to about 45, the posted speed limit. They had gone only about a quarter of a mile when Don heard the sound of tires screeching from behind. Chuck was following in the right tire rut of Route 205, so Don looked back through his right rear view mirror and saw Chuck's red motorcycle struggle to stay on the edge of the road, seemingly with a control problem in the narrow gravel shoulder section, veer to the right into the shallow ditch (just missing a telephone pole), up into the yard about two feet and immediately return to the ditch, at the speed they had originally maintained. There was no evidence of his bike slowing down. This action took only a few seconds, from the time Chuck left the road, entered the ditch, and the bike struck the first of two brick pillars over a low culvert that served the owner's driveway. The closest one to Chuck was a mailbox post or pillar arrangement, and the structure on the opposite side of the gravel driveway was a duplicate of the mailbox structure. The culvert was very low, as there was not much depression from the road to the bottom of the ditch, a factor which might have saved Chuck from more serious injuries. For a more detailed account of the accident, click on the following link:
Chuck's Accident
Charles L. "Chuck" Goodrum is now released from the hospital and is at his home in Atlanta, recuperating from the following injuries: a compound fracture to his left leg, just above the ankle; a broken collar bone; and several broken ribs. A fortunate report for a man who performed such acrobatics at the age of sixty-one. At last report, Chuck was using a wheel chair and a walker. You can contact Chuck at his home address:
Chuck Goodrum
2009 Jebs Court
Kennesaw, GA 30144
Phone (after 9 PM and on Sat-Mon at 7 am): 404-213-7283
God bless you, Chuck, and may you continue to heal rapidly and get back to work soon.
On The Road Alone, Memphis to Las Vegas, Nevada:
Following Chuck Goodrum's accident, Don Ricks rode his Honda Goldwing, GL1800A, out to Las Vegas, alone, and here is a photo of the setup for the trip: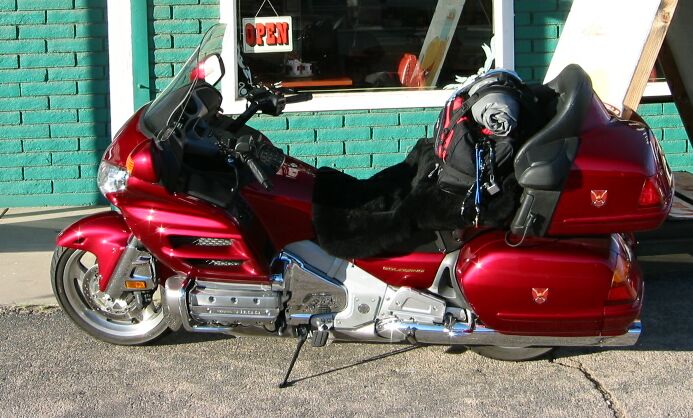 It is a stock bike, with the following equipment:
A sheepskin seat cover (sides removed with a seam ripper; perfect for the long trip). This from www.sheepskin.com (low back sport seat cover, $39.99). Best deal made all year!
A $10 multi-pocket nylon/canvas travel bag purchased from K-Mart and stuffed with clothes and personal items. This was mounted on the passenger's seat and used as a back rest.
There are two brass bridle rings (one on each side) to help anchor the travel bag, and these were mounted on the passenger hand grips for the visible bunge cords to secure the bags. A Kawasaki chain lock also secured the bag against theft on the road.
A Tulsa belly pan protects the underside.
Big Bike running lights compliment the already strong headlights for added visibility, day and night.
A Gerbing heated jacket liner for those cold mornings.
A Heat-Troller for controlling electric's supplied to heated gloves and the vest (heated gloves not needed on this trip).
A Nalgene 3-liter water pack (a must on the roads out west). This was mounted around the travel bag and used as a ready water source on the move or at a stop.
A Canon Powershot S30 camera, with 128 MB flash card and battery charger.
A pair of silk long pants for wear under the next item.
A pair of Roadgear XCaliber overpants, excellent on the road, hot or clod.
A Roadgear Caliber Riding Jacket. This item is worth every penny paid.
An HJC Symax flip-face helmet (with clear and sun shields).
Silk glove inserts for cool mornings (used with Joe Rocket summer gloves).
Tour Master winter gloves (for cold mornings)
Joe Rocket summer gloves (for those hot days and used most often in this trip)
Texas Boot Company Wellington boots (mink oil water proofed and polished).
Acrylic winter weight socks for comfort and warmth (regular socks would have been okay on this trip).
A credit card and a cell phone.
Day one, from Spring Hill to Millington, was a total of 219.6 miles. Day two was uneventful. Perfect weather would be a blessing the entire trip out to Las Vegas and back to Tennessee, so at no time was there a weather concern, just some cool temperatures in early morning. Don rode his bike a total of 656.7 miles from Millington, Tennessee, to Erick, Oklahoma. Gas receipt computations for gas mileage included these figures: 44.2, 40.5, 44.8, 39.2, and 37.6, using regular 87 octane fuel, My normal and average cruise speed was a steady 78 mph, indicated.
Day three from Erick to Holbrook, Arizona, was a total of 659.3 miles, also uneventful. Gas mileage computations were: 41.7, 40.0, 44.8, and 46.4, and at times the octane rating dropped to 86. There was no noticeable engine performance drop.
Day four, from Holbrook to Las Vegas, Nevada, was a nice run., a distance of 394 miles. Gas mileage computations were: 42.4 and 52.4. That last figure can be attributed to a a good part of the 171.5 mile segment ridden along historic Route 66 at 55 mph. Here is a look at some of the country along that route, just west of Ash Fork, Arizona (note the perpetual blue sky!):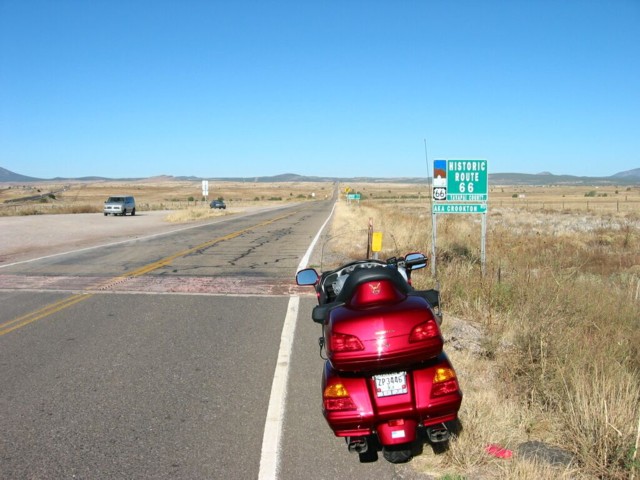 Meeting Up With Don Pepe (and an interesting ride):
Donald Pepe had proceeded along I-10 during the last two days, and our plan was to meet at the point this photo was taken; however, Don was not available on his cell phone for the better part of that day. Don Ricks proceeded on to the next possible meeting place, Kingman, Arizona. He sat at the intersection of I-40 and Hwy. 93 for several hours, until establishing phone contact with Don Pepe. The wait was boring, but something deep inside told Don Ricks to wait for Pepe to make contact before proceeding to Las Vegas. So, he sat, and for good reason.
Don Pepe finally called, using a phone card purchased for that particular call, because his cell phone was not then in a Sprint service area. Don Pepe's bike had had an alternator failure about 50 miles south of Kingman, somewhere down on Hwy. 93. Don's course of action was to purchase a new battery and to disconnect his headlight in order to reduce the load on the ailing alternator. This took some time, and he arrived at the meeting point at about four forty that afternoon. After refueling and getting a refreshing drink, Don and Don were ready to hit the road. One problem had to be overcome, but if they could reach Las Vegas before nightfall, it would be a major problem.
Don Pepe's engine required an rpm levels that allowed the battery to maintain a charge state, and that meant a road speed of about 55-65 mph. It would be critical in order to maintain his tail light for safety during night operations. Since the distance from Kingman to Las Vegas was 107 miles to the city limit of Las Vegas, and nightfall was less than 90 minutes away, timing would be critical. Don Pepe was without an operable headlight, so they proceeded along Hwy. 93 in formation, Don Ricks' Goldwing leading, again.
Their maximum possible speed was only 61 mph, as Don Pepe's bike maintained a green charge state only at that speed. When they arrived at Hoover Dam, there was an unexpected police checkpoint. Luckily, they spent only a few minutes at slow engine speeds and were quickly waived through the checkpoint, and the police officers did not notice that Don's headlight was not working. The pace through Hoover Dam was restricted to 15 mph, and cars preceding the pair did not exceed the speed limit. It was about ten minutes before Don and Don could resume their required faster pace. By the time Hover Dam was in the rear view mirror, twilight surrounded their route. By the time they reached the city limits of Las Vegas darkness had descended, and only one bike had headlights. Don Pepe's bike had a weak taillight. Being hit from the rear by passing cars was a real concern for both men.
Traffic increased to a moderate flow as they entered the interstate system and along I-515/93, and by the time they progressed beyond I-515 and onto the limited access portion of Hwy. 93, traffic was heavy. Traffic speed exceeded 70 mph, a noticeably faster pace than the formation could maintain. Don Pepe tucked up close to the Goldwing, and they remained in the middle lane for safety. In a tight formation they increased their traffic speed to near 65 mph until arriving at the Eastern Avenue exit. Upon exit, the traffic was again heavy on the north-south Eastern Avenue. They worked their way south to Sahara Avenue among the near bumper to bumper traffic, with no problems except for the lower engine speed which continued to drain Don Pepe's new battery. A right turn onto Sahara found them in lighter traffic, and their speed increased. They arrived at their destination, the Palace Station Hotel, in a rush of traffic coming off I-15, but the parking garage was only one turn away. Both breathed a sigh of relief as they parked their bikes on the second floor garage space and walked up to the hospitality suites opened for those arriving early for the reunion. Home free! Hopefully, Don will write about the experiences of his trip and share them with us.
Catkillers Ride Again (A bike ride through the Valley of Fire):
The weather was a beautiful blessing throughout the reunion, and the sky was especially nice and blue on Monday morning when Catkiller bikers began to gather outside the hotel entrance about ten o'clock: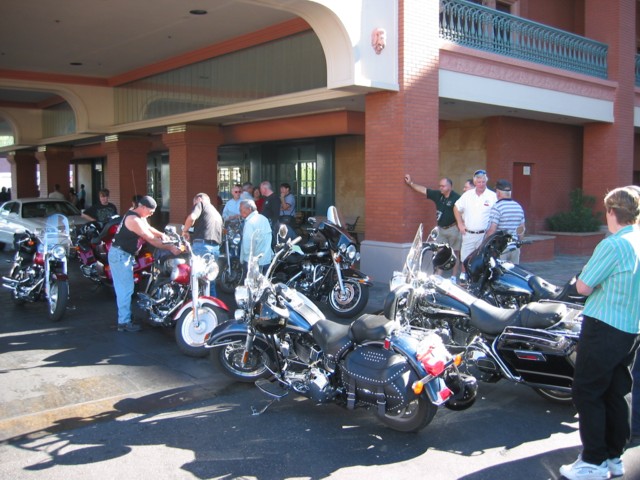 Jerry DiGrezio planned a bike route out to the east, toward Lake Meade, and after a safety talk from Johnny Moore, we headed out. Highway 147 took the party eastbound to the Lake Meade National Recreation Area, on a trail that revealed spectacular scenery: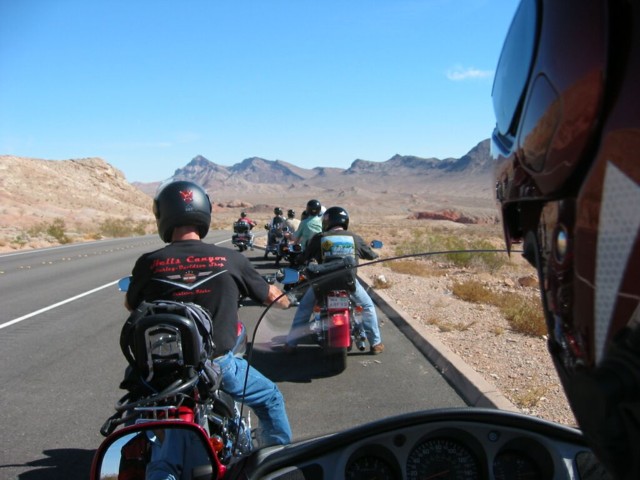 We travel through the national park area and stopped at a turnout along the way to take a drink of cool water, photographs of one another, and to look for snakes (not really!). We were having such a good time that none seemed to be in a rush: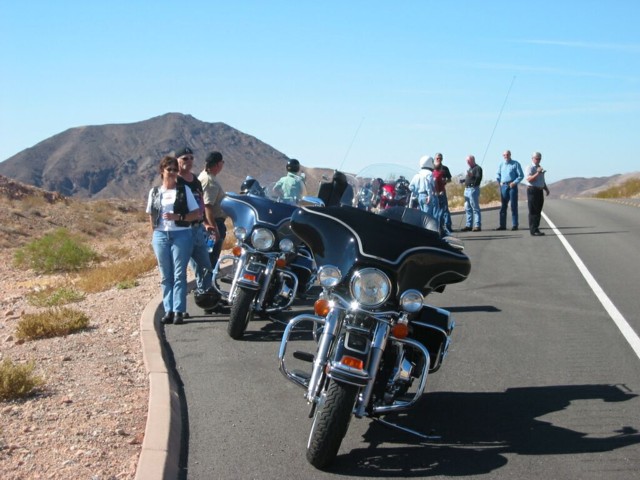 Just south of Overton Beach, we turned west along the scenic route to I-15, through the Valley of Fire State Park, a twenty-four mile trip through some even more spectacular semiarid dessert landscape but filled with colorful terrain formations. We stopped at the entrance to take a photo and to pay our fee (honor system was in effect), and here is the photo result: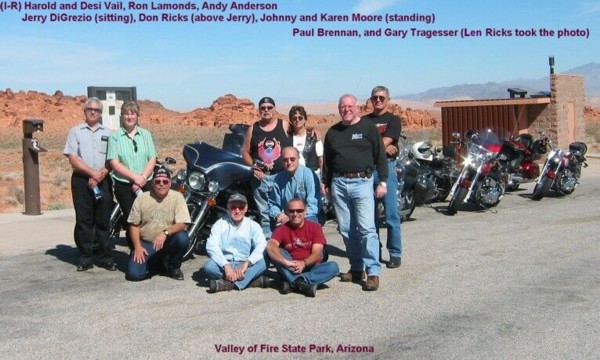 We decided to continue our westbound heading and to join I-15 for a faster run back to Las Vegas. It was a fun trip, with Len Ricks taking fast action movies of each rider along the way. Harold Vail should have that footage. We passed Nellis Air Force base on the way in and witnessed a formation of delta wing fighters making a 180 degree overhead approach into Nellis. It was a sight to see! We all make it back safely, if not directly (Las Vegas traffic was an experience), and in time for the evening banquet. A good memory for a group of very good bike riders, indeed.
REUNION REPORT
The Reunion Wrap-up Report is now available for viewing. Just click on the words "Reunion Wrap-up Report.".
The Three-Day Ride Home To Tennessee:
Departure from Las Vegas began at six o'clock on the morning of October 22, and in the early morning darkness traffic was light, all the way to Hoover Dam. I stopped for a photograph and caught a police officer giving a citation to a speeding motorist, probably for exceeding the fifteen mph limit through the area. There is now a security checkpoint on both sides of the dam, and all large vehicles are searched. Larger eighteen wheel trucks are prohibited without a specific permit to cross: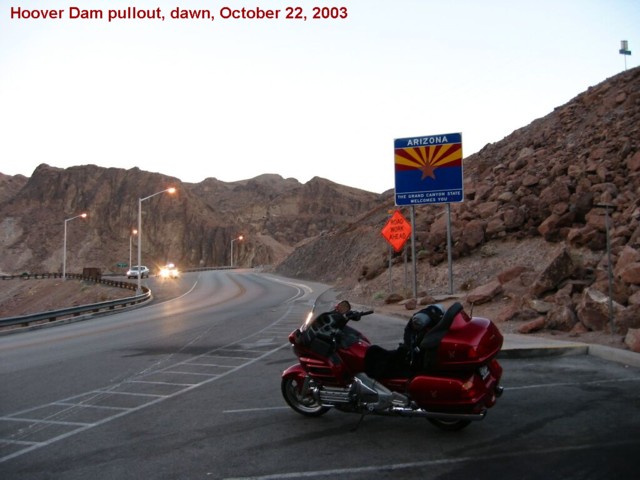 As the sun came over the mountains east on Highway 93, the morning temperature at Hoover Dam was in the low sixties, but as the bike and rider progressed south through the valley the temperature dropped about ten degrees, then climbed back into the sixties just north of I-40. The four lane highway allowed for a sixty-five mph speed and proved to be smooth and with no traffic. There is a nice little cafe (food receipt lost, so the cafe name is missing) on the right, just before I-40, and a stop there proved to be a real treat. The lady owner was friendly and asked for an entry into their guest book. Another biker came in just after I had ordered breakfast and asked if he could join me. We introduced ourselves and struck up a nice conversation. Bruce Janssen was on a single ride to where ever the road took him, he being on a nice looking opposed-engine BMW that would probably take him anywhere he desired to go. We took a few photos of the antiques scattered throughout the cafe room and and parted after a filling western breakfast.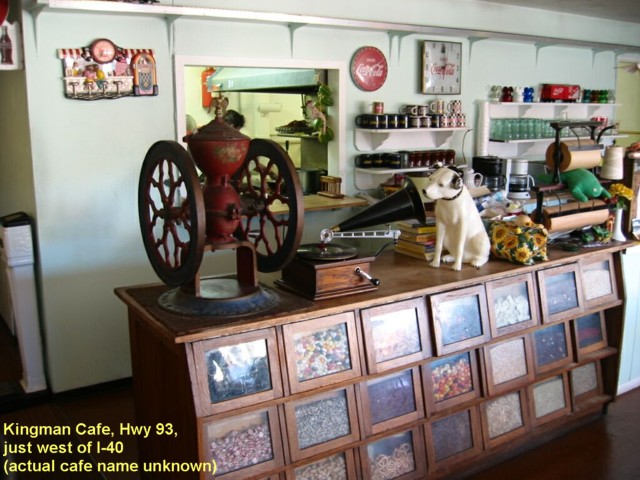 Bruce and I took one photo of each standing beside of a beautifully restored antique Wizard motorbike (we also had an opportunity to speak with the bike's owner, a friendly elderly gentleman and father of the cafe owner):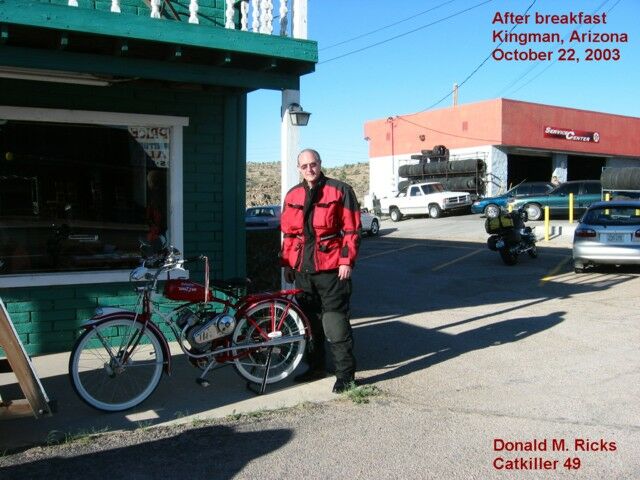 After joining I-40 at Kingman, the road is pretty much a cruise control event. Traffic was scarce and progress certain, as long as the gas held up. Stopping about every two hundred miles to gas up and stretch my legs I arrived at Santa Rosa, New Mexico after 719 miles that evening. I took a few photos along the way, as this one at the Arizona Divide shows: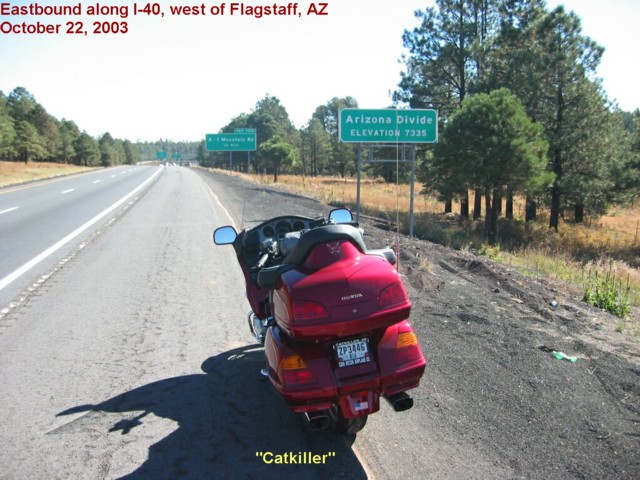 Making reservations along the way is not necessary, and in some cases more expensive than just taking a chance at finding a room. The trip out to Nevada was more expensive, by reserved motel-rate comparison, than the return trip. I found a nice, comfortable room at the La Loma Motel, located on Historic Route 66 in Santa Rosa. The motel owner was a veteran and took my charge card for the $25 fee, tax included. A Mexican restaurant next door provided a large and much needed full stomach after the long day's ride. The bike was secured in front of my room, so the feeling of security made for a full night of sound sleep. Let me interject here that security was not an issue at any point out and back along the trip. Perhaps it was timing , the season, or just luck, but I felt secure and comfortable everywhere visited. Gas receipts for the day's run show the gas mileage computations as: 37.8, 44.8, 45.0, 46.1, and 46.1 MPG.
I had arrived in Santa Rosa after sunset and departed before the sun came up, so there is no photo record of the motel stay. After a short ride eastward, the next Route 66 exit was at Tucumcari. Any rider passing up this town will miss a nice ride down the main street, which is rich in eating and sleeping places. If you want a reasonable room, try Tucumcari. I stopped at an inviting restaurant and gift shop named Del's and had a splendid breakfast (nice, friendly ladies serving!). I charged my camera's battery as I ate and bought a few presents at the gift shop. Music of the 60s played continually, as seemed to be the case at all establishments visited along the way. After breakfast. I took a few photos, and met another biker as I departed (his Goldwing is in the photo):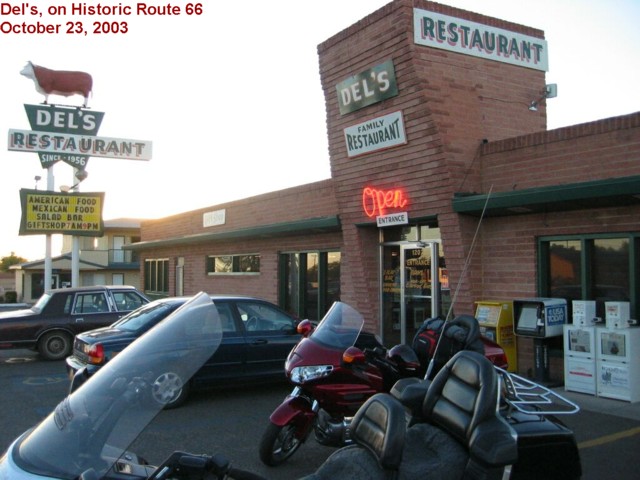 The terrain east of Tucumcari would suit the landscape tastes of the Easterner. From that city eastward is land populated by grass, trees, and greener scenery. I-40 is as near perfect as any road in the country, for its length, and state highway workers seem to keep the road clear of debris. I did not encounter a single obstacle in the road. Just to the west of Amarillo, on the south side of I-40, is the largest cattle feed lot and processing plant I had ever seen, and the smell almost knocked me off the bike. Cattle in small pen lots covered the right side of the road, and I sped up, as if passing an 18-wheeler.
As the sun rose higher temperatures also climbed, and the Nalgene water carrier proved to be a useful item and a ready source of cool water. I had mounted the contained (normally worn on your back, with adjustable shoulder straps) onto the back part of my travel bag, so the lower part of the water bag rested on the passenger seat and out of the sun. This protected area remained cool, and the water proved to be refreshing all day long.
The scenery along I-40, in panhandle of Texas, is much nicer than you might think, so don't be surprised when you start enjoying the countryside. It isn't the desert-like environment most people envision when they associate the area with what they have heard about that part of Texas. The area is flat, and winters are probably very cold due to the prevailing northwest wind.
I knew the day would be a long one, and since I-40 traffic volume increased west of Sayre, Oklahoma, I decided to see some of the state. Oklahoma highway 152 would be a straight run eastbound to highway 9, which joins a four-lane highway just southwest of Fort Smith, Arkansas. This route south of Oklahoma City proved to be a less traveled route, with unmatched scenery. I don't believe we shall ever run out of beef in this country, if the evidence seen along this route holds steady. The speed limit was commonly sixty-five mph, and most of the road surface was perfect for a bike. By night fall, and 673.9 miles later, I arrived at the Interstate Inn, at Roland, Oklahoma. Again, the room allowed for the bike to be at the front door, and I got a good night's sleep in a king-size bed, all for a total of $34.60. Gas receipts for the day's run show the gas mileage computations as: 45.2, 46.4, 48.1, and 45.5. The last two computations were for the 65 mph run off and south of I-40, proving that when you slow down gas mileage improves.
Early the next morning brought a feeling of hunger, and the only place I like to satisfy such a breakfast hunger is at Cracker Barrel. The one at Conway, Arkansas, was pleasant, and the service and food good. I met a man-wife biker team, who also had a GL1800, and struck up an enjoyable conversation. They were impressed at the total miles per day I had experienced the previous days. At Conway, I took highway 64 eastbound, as that route to just north of Memphis is nearly straight and take a rider along some nice scenery. Upon arrival in Memphis, I took highway 205 south to Chuck Goodrum's accident site in order to further record the scene of his accident. Some of those photos are at the above accident link.
Leaving the area, I joined highway 64 eastbound to Bolivar. I stopped at the courthouse barbershop for a few minutes to inform the two barbers, Danny and Jerry, about the accident and to add a few details about my recent experiences. At one time, long ago, Danny rode bikes and was amazed at the modern-day distance possibilities along our interstate highway system. Travel along highway 64 is about like Historic Route 66, minus the historical markers. That route runs along and through some beautiful Tennessee countryside, and with a few old motels and restaurants one would have the same enjoyable feeling on a Route 66 ride. I turned left at the intersection of the Natchez Trace for a nice and enjoyable run north to highway 412, then west to Columbia, Tennessee.
At the point where Hwy. 412 turns into a four lane highway, west of Columbia, I almost went down. My steady speed eastbound lured me into a fast mode, and when the 270 degree right turn came up suddenly I foolishly entered the turn too fast. There is only one way to safely come out of a too-fast entry into a turn: straighten up and slow down. If you don't have room to accomplish such a maneuver, as I found to be the case while in the turn, you MUST immediately lean the bike over and let the bike and tires do the job. Catkiller was immediately at the steepest angle of curve attack even before experienced, and the guy behind me probably thought he would have to help pick up the pieces. The curve was conquered, but I had a need for some slow speed reflective time for some thirty minutes afterwards. By the grace of God, I arrived at Spring Hill, Tennessee, unhurt and a more experienced rider, about sundown that evening. I had recorded 530 miles of travel that day, for a three day trip total of 1,923 miles. Gas mileage computations, entered into my Excel spreadsheet maintenance and mileage chart, included: 39.5 and 46.1. Since the tank remains low, I have not computed the last mileage run. Home at last, and I had a great, great time on the road alone. It would have been great to have had Chuck as a riding partner there and back.