FROM PRIVATE TO GENERAL

—BUT FIRST—

THE 97TH ENGINEER BATTALION (CONST)
Brigadier General (Retired) Michael A. LePeilbet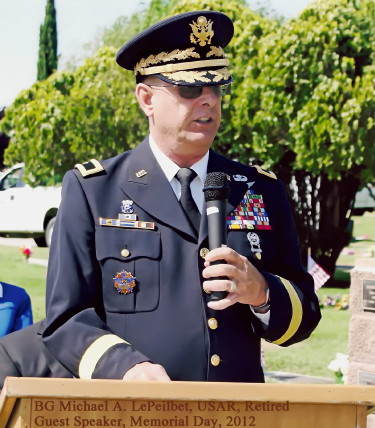 Michael A. LePeilbet is a Placerville, California, native and attended El Dorado High School. He is one of five sons of Pearl Harbor survivor LeRoy LePeilbet, Sr., each of whom served honorably in the armed forces of the United States of America. He currently serves as one of forty Senior Senators in the California Senior Legislature, and lives in Northern California with his bride, Linda. They have five children and seven grandchildren.

His Awards and Decorations include: Expert Infantry Badge (E.I.B.), Army Aviator Wings for Califonia, Basic Parachutist (Jump Wings), General Staff Badge (California State Military Reserve), Legion of Merit, Soldier's Medal, Meritorious Service Medal, Army Commendation Medal with oak Leaf cluster, Army Achievment Medal, Army Good Conduct Medal, AUSA's Distingiushed Service Award and the Honorable and Ancient Orders of Saint Barbara the Patron Saint of the Field Artillery. General LePeilbet also has many more California Army National Guard and State Military Reserve Medals and Ribbons.
The First Four Years: Germany and Fort Riley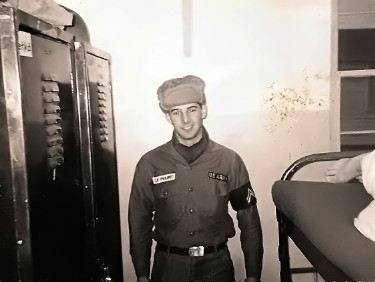 Michael entered military service in 1966, and after basic training attended Advanced Individual Training (AIT) at the Crane Shovel Operator Course (MOS 62F, Heavy Equipment Operator), given by the 4th Engineer Specialist Training Brigade, The United States Army Training Center, Fort Leonard E. Wood, Missouri.

Michael served as a squad leader during Basic and AIT. Upon graduation, he received orders to the 97th Engineer Battalion (Construction), then stationed at Verdun, France. However, as he arrived in Europe in 1967, the political climate had dramatically changed for the Americans, due to the the French government's decision to leave the North Atlantic Treaty Organization (NATO). As NATO forces began to depart, the unit to which Private Michael LePeilbet had previously been assigned departed France as he arrived, and new diversion orders directed him to Pirmasens, Germany, the new home of the 97th Engineer Battalion. He served in Company C, first as the company armorer and then as a Cable Backhoe operator and the company tool room keeper. The following photographs were taken during his tour in Germany (roll your mouse over photos for additional info):
Reward Time:
The crew with the best battalion record as being ready for REFORGER received a free three–day leave plus two weekends off duty. Winners were SP4s Michael A. LePeilbet, Colby, Brandon, and Larry G. Little. The men chose to visit the area around Berchtesgaden Recreation Area at Berchtesgaden, Germany. They stayed at the Alpine Inn and toured the Salt Mines at Salzburg, Austria. What a great vacation!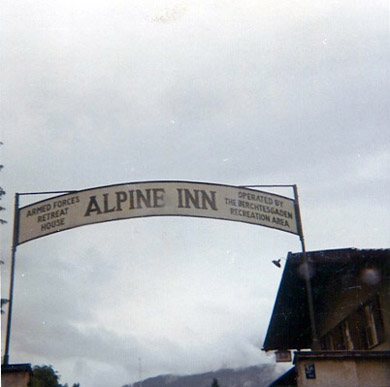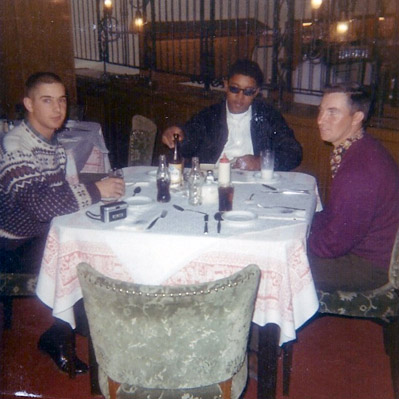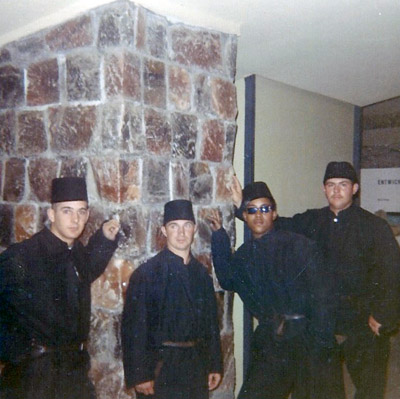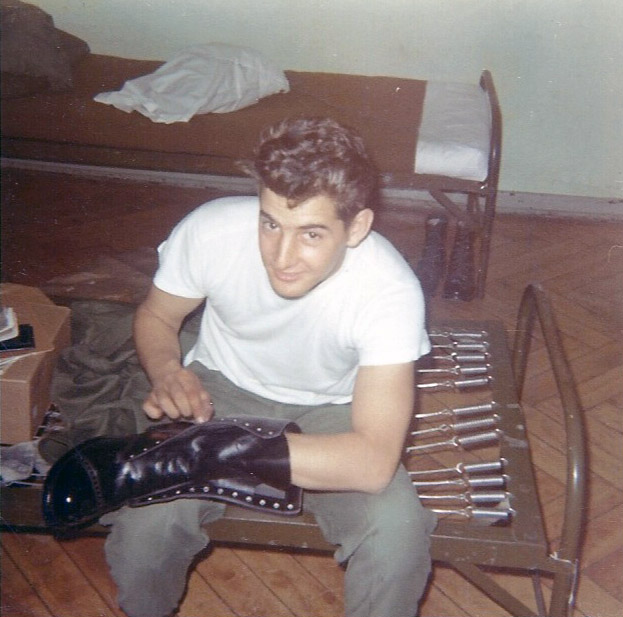 Mementoes From Germany: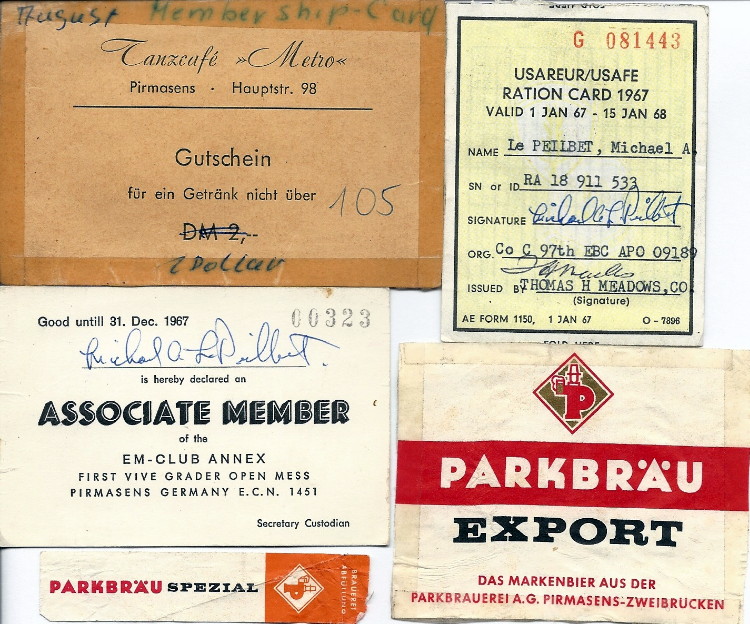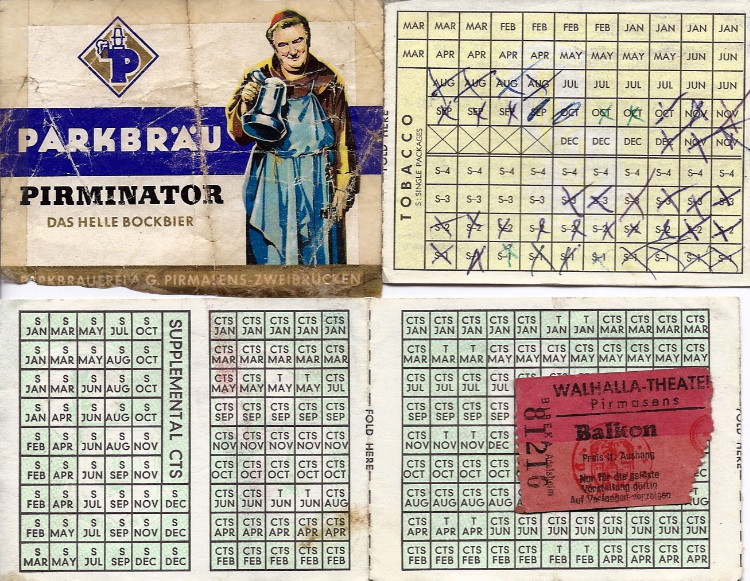 Fort Riley, Kansas, 1968–69:
Within the photographs of Colonel Albert A. Dupont are some of the ones that will help tell the pictorial story of the 97th Engineer Battalion's relocation from Pirmasens, Germany, to Fort Riley, Kansas. Michael A. LePeilbet was one of those soldiers who experienced the preparation and relocation phases, which began when the battalion newsletter, The 97th Constructor, first provided movement notification to the unit in early 1968. Here, SP4 Michael A. LePeilbet, guidon bearer, looks on as his new commanding officer takes command of Company C at Fort Riley, Kansas. 1LT Scrimpsher was previously a platoon leader in Germany and also moved with the unit from Germany to Kansas. Captain Wayne R. Holland is shown in a promotion photographs above, which pictures Michael LePeilbet and others.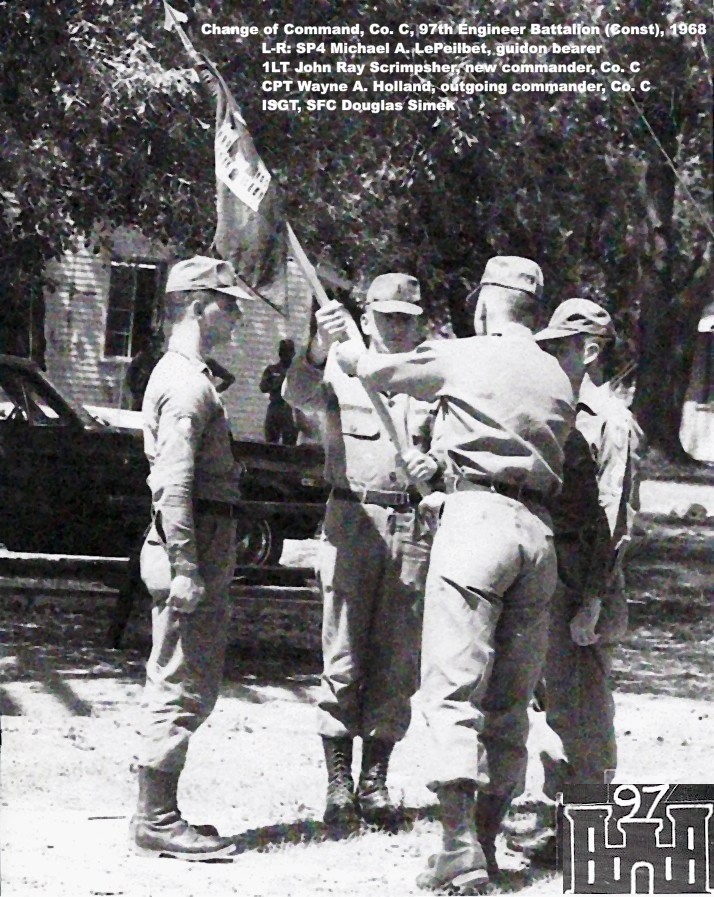 From Active Army to the California National Guard:
Michael LePeilbet's service in the United States Army culminated with an assignment as First Sergeant, 348th Military Police Company at Bakersfield, California. While participating in summer training at Fort Irwin in August 1973, the commanding officer of the 381st Military Police Detachment commended Sergeant LePeilbet for his technical skills and was very complimentary of his leadership ability, good judgement and how well he related to the men he supported. Seeking additional responsibilities, he was then assigned as Provost Sergeant, 63rd Army Reserve Command.

In 1977, Michael transferred to the National Guard and graduated from the California Military Academy, with a commission as a second lieutenant. He served as Platoon Leader for the 40th Military Police Company, where he received a Letter of Commendation from his commanding officer who cited, "Your tireless efforts and high standards during AT77 (Level II ARTEP) contributed materially to the success of your platoon," which in turn contributed to the success of his company's training goals. He later transferred to the Field Artillery Corps and served as Executive Officer, Fire Support Team.

During the period of September 1981 to March 1982, he served as Fire Support Team Chief and received insightful comments from his senior rater that would predict Michael's move into command positions, "Educationally, LT LePeilbet is in process of completing the Field Artillery Officer's Advance Course through correspondence course. He is a master at adaptability as demonstrated at JTX Gallant Eagle 82. He is inventive and flexible when on field operations. I recommend that he be assigned to a command position and promoted to the next higher grade as soon as possible."

On 24 February 1983, 1LT LePeilbet assumed command of Headquarters and Headquarters Battery, 40th Infantry (MECH) Artillery. In June 1983, Captain Michael A. LePeilbet completed Unit Commander School. An officer's evaluation report from his LTC rater confirmed completion of the Command and Staff Course while serving as a Captain, a strenuous but highly productive period of his service with the California National Guard. The rater and senior rater recommended promotion and utilization at positions at Battalion or Brigade level.

The senior rater, a colonel and commander of 40th Infantry Division (Mech) Artillery, continued an increasingly growing list of senior officer who recognized the captain's command potential, "A solid officer with long range potential for increased responsibility and rank. His personal and continuous involvement in unit matters resulted in increased strength, retention, morale, and a lowering of AWOL percentage to the best in the Division Artillery. Mature, articulate, and one that can be relied upon during time sensitive situations."

The following photographs are from those intensely busy years: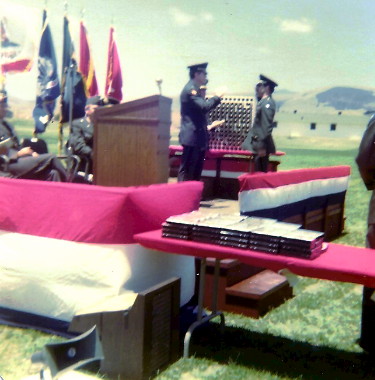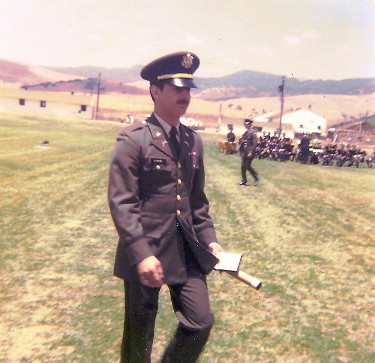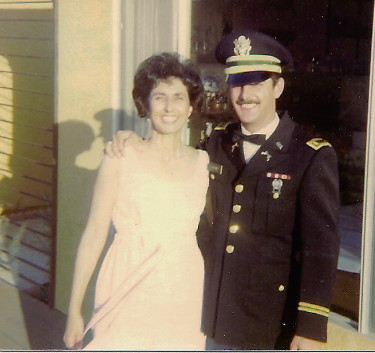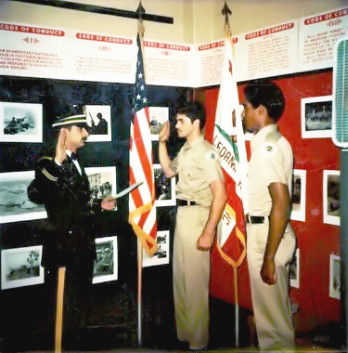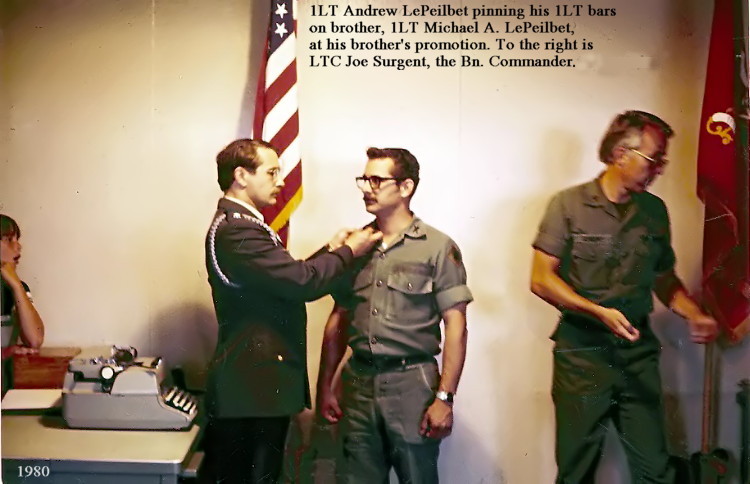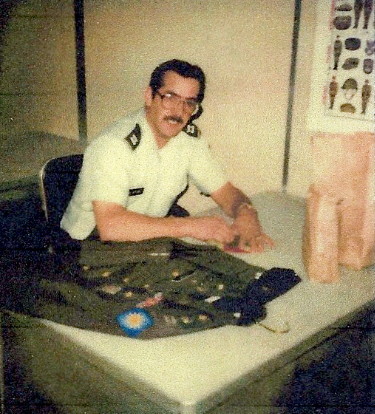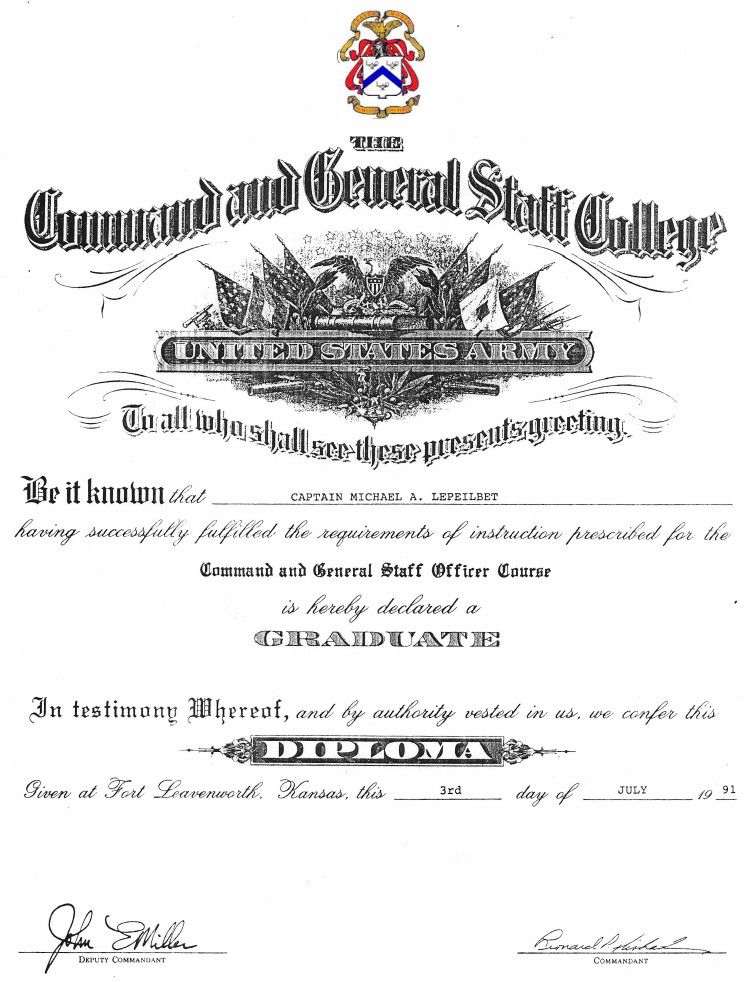 As his chain of commanders took note of and consistently recommended, increased responsibility and higher rank followed as Michael LePeilbet served with distinction within the California military community. He excelled in staff positions as S2 of the 2–144th Field Artillery Battalion, California Army National Guard, Personnel Officer of that unit, and a following tour as the S4 Supply Logistics Officer, 361st Basic Combat Training Unit, Chico Battalion. As an experienced major, Michael served as Battalion Commander, 102nd Infantry Battalion, 1st Brigade. Following promotion to Lieutenant Colonel, while serving as battalion commander, he then assumed duties as Deputy Commander, 1st Brigade, at Sacramento, California. Other higher level staff assignments include Assistant Provost Marshall, then Provost Marshall, at State Headquarters, Sacramento; G1 and G4, and Personnel Officer at State Headquarters; and Commander of the State Liaison Program for the Office of Emergency Services (O.E.S), California.

Michael A. LePeilbet was promoted to Brigadier General in 1997 and retired in 2000.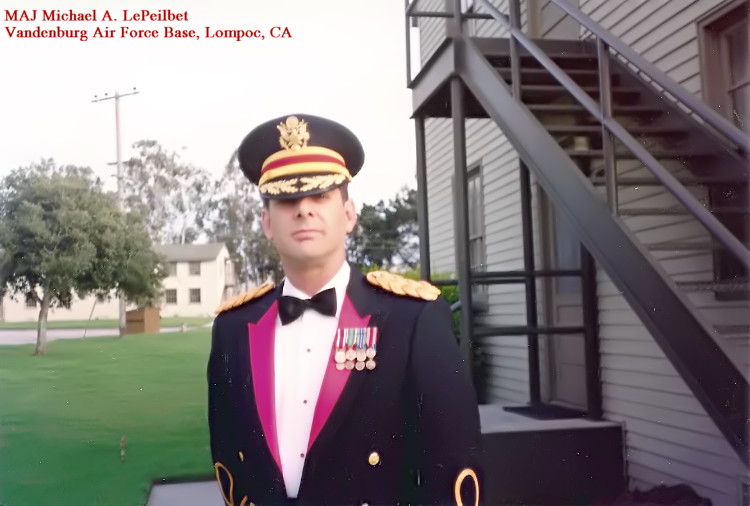 <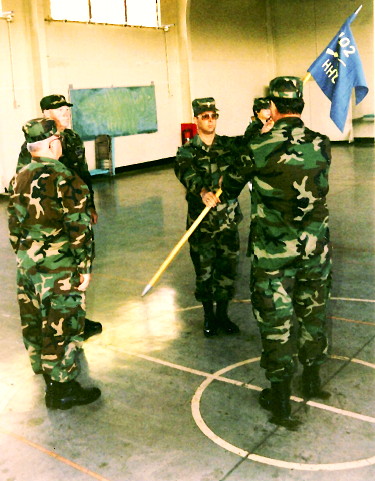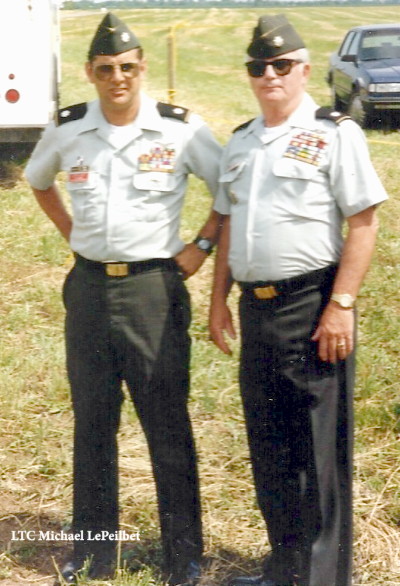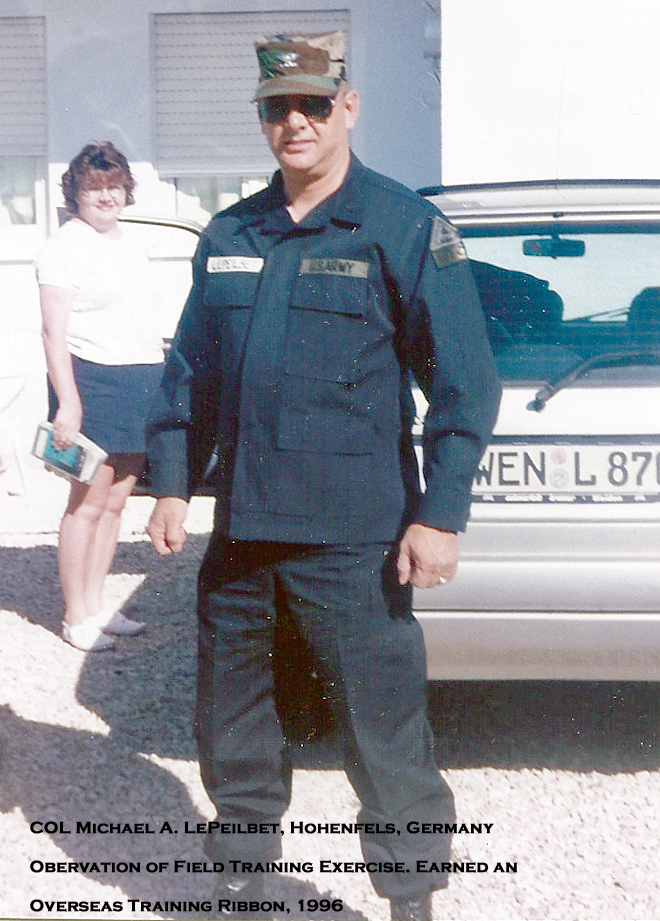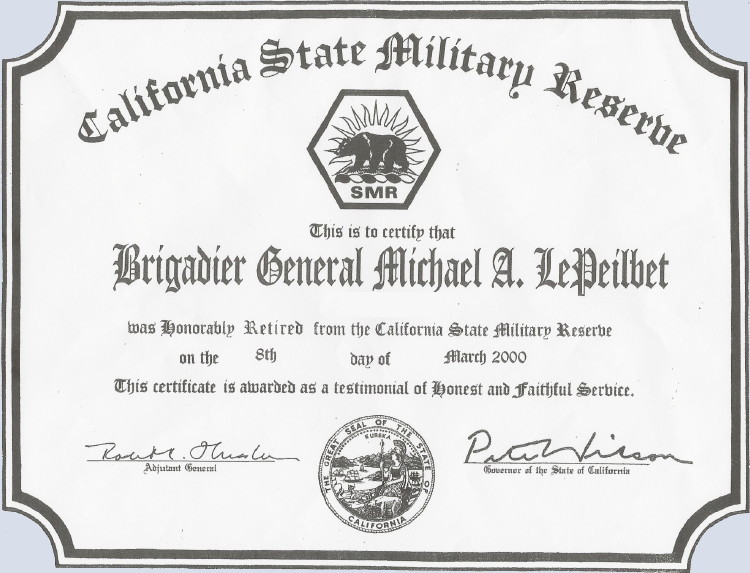 From this little fellow to a Brigadier General. Not bad for a farm boy!