OBAMA ADMINISTRATION UPSETS VETERANS' GROUPS:
Please write your senators and congressmen and let them know their leadership is needed now more than ever before. We need strong men and women to serve our country and to make the right decisions that keep us strong as a nation. Allowing any decrease in benefits for those who guarantee our freedoms and way of life is not an option. We have lost too many men and women doing their jobs voluntarily for us on the battlefront, wherever they served. Helping them and taking care of them is an obligation not subject to review by a new presidential administration, nor the House of Representatives. Even the thought of taking such policy action is reprehensible! Let them know how you feel about this issue and their expected performance. Let's keep on top of this!
Here are sonme recent articles to brief you on on-going discussions and possible actions (I'm sure there are others; merely Google search for "Obama vs. Vererans"):
Plan to bill veterans insurance for treatment draws fire
Why Does Obama Want Vets to Use Private Insurance for War-Related Injuries?
Barack Obama and Joe Biden: The Change We Need
Use the following link to locate and correspond with your representative (I have sent an e-mail and a letter). If the link does not work, send a message to the site administrator:
Contact Your Representative
Thanks to Paul Brennan for bringing this to our attention (Snopes.com checked).
RESULTS:
The Obama Administration changed their plans: Obama Drops Vet Insurance Plan
CATKILLER REUNION, 2010:
Former Catkiller Reunion Chairman, Carl Drechsel, recently passed the chairmanship for our next Catkiller reunion to a talented volunteer, Charles "Bud" Bruton. Catkiller Bruton quickly scheduled a meeting of reunion committee members to prepare for our reunion in early 2010. Bud announced the reunion location as Philadelphia, Pennsylvania, but has not set specific dates.

While there are several experienced reunion organizers, currently standing ready to complete the necessary work, Bud states that we need representation from our enlisted members and backseaters. From those two groups, we specifically seek interested volunteers to serve on the committee, currently scheduled to meet in Philadelphia, arriving June 25 and departing June 28, 2009. If you want to contribute your time and energy and can meet in Philadelphia in June, contact Bud Bruton (bbruton@brutonfinancial.com) for further information and instructions. If you want to contribute your skills and talents in other areas, contact Bud Bruton.
THE YEAR AHEAD:
Each of us might have a different view of our national and personal condition, based on our own individual economic circumstances, but we are alive, we have opportunity, we have determination, and we are optimistic. These are elements necessary for survival. You will make it, and so will I!
I usually sit down at my kitchen table about this time of year and list blessings and challanges of the previous year, just to see where I have been and how I got there. It is useful to look back, in order to "strain forward" even more effectively during the coming year. Counting my blessings is a lifting experience, and it is sobering to acknowledge attitude is very important, even in times of trouble and stress.
So, even if conditions seem gloomy, let's have a reunion and eat, drink and enjoy the fruit of our labor with one another.
I hope your coming year will be a blessing.
READER COMMENTS:
Before you read Rob Whitlow's letter, a brief statement is in order regarding our anticipated 2009 reunion. It appears we will not be able to arrange a reunion this year. There will be a statement issued soon to establish a date and place for a reunion in early 2010. The chairmanship is set, and we now await his direction and announcements:
"My name is Rob Whitlow. I flew with the Cat Killers as an AO for the 1st Marine Division from MMAF and Chu Lai (Quang Ngai detachment) from Feb 67 until my tour ended in Feb 68. Have been in touch with a couple of former 220th pilots over the last few years and received this recently from Jim Wall of Greenville, SC.

Would be interested in your reunion dates and location for 09. Also, would like to have access to a roster of 220th pilots, if it is available. [Bob McComiskie is our official Keeper of the Roster and has been asked to send him our list.] If possible, could you forward information along to me at this address: blackcoat3@verizon.net

Much appreciated! Hopefully I can make arrangements to attend. Also, please convey my personal greetings to the 220th pilots who brought me back safely from a lot of close calls!

Semper Fi,

Rob Whitlow"
LETTER FROM JOHN HILLMAN, CATKILLER 46/3:
Join me in a prayer for John and Charles. Both are in need of our fellowship, prayers and love. God be with you, John, as you endure the process:
"Brother Catkillers:

I am witting this letter for a couple different reasons, neither of which have to do with sympathy, empathy, pity or woe is me. The primary reason is to try and impress upon all of you the need get yourselves checked out regarding your heath. Charles Finch touched on this a little when he had his recent bout with Bell's Paulsey. Guys, we were all exposed to not only enemy actions but a hostile chemical environment as well. Everyone needs to get a check-up with an eye toward Agent Orange related problems, the sooner the better. Early detection should certainly go a long way in treating problems which may take decades to develop. I think Charles' Dr. said it was a question when and not if. Do not misunderstand, my glass is always half-full not half-empty, it seems to me the play here is to FIND OUT and not be like most of us and think if we ignore it, it will go away.

It appears my Cancer has returned and I get to go through Chemotherapy again, for the third time. I found out last week after a series of tests to determine why I was so anemic and to account for a moderate weight loss. I have Non-Hodgkins Lymphoma, a form directly associated with exposure to Agent-Orange. As I've said before, this is a little bump in the road, a chip light at run-up, I'll deal with it and be back at 100% before too long. I'm not bad at all now, just dealing with fatigue and my Poker schedule has been reduced a little due to short stamina...reduced schedules suck. I'm missing a lot of money...a concept more difficult to deal with than the Chemo.

Once again guys, go get a check-up and screened for Agent Orange exposure, do it for your family, your friends, and for your Catkiller Brothers. Everyone wants to see you at the next Reunion.

John S Hillman
Catkiller 46/3 "
READER COMMENTS:
Tom Murray heads up an organization that takes students and other groups back to Vietnam for missionary and assistance work. You can contact him at: thomasemurray@hotmail.com
"I'm an old Sundowner AO. I've had extensive VA counseling over the last five or six years. I flew with John Hillman and consider him to be one of the most skilled and courageous pilots anywhere in the military. I've been to VN six times in the last four years. I expect to return this summer. I built a school in A Luoi that opened Noember 15, 2009. I've always thought of taking one last flight over the DMZ out of Phu Bai with John one of these summers. I'm not sure how we'd find a plane, but it sure would bring back a lot of memories.

In repsonse to his letter I think is is important to say getting checked once is not enough. There is recent indication that a lot of the Agent Orange problems, especially some of the cancers, can surface 30 to 40 years later without prior sysmptoms. Many of the typical types of testing do not uncover the problem.

Staying on top of your health, being consistently vigliant with each minor problem is the key. Being stubborn and not going to the doctor like many of us tough, crusty old guys is a real bad idea.

Tom Murray"
HOT LINKS:
Thanks to Jerry DiGrezio, we have some very informative links to follow for information you might want and need. Just click on the following web site link:
There is also a new web site created to do the following (you may join, if you think this is for you), provided by Charles Finch:
"Commencing with the launch of its US Marines website on the Marine Corps Birthday in 2003, Togetherwerserved.com has produced a series of US Military community heritage websites specially created to enable current or former serving US Servicemen and women to reconnect with old friends and share in the camaraderie of others who served.

TWS's attractive profile page design provides a unique place to record a Serviceperson's service history including the display of service photos and memories, medal ribbons and breast insignia in as-worn format, era-specific unit patches associated with assigned Units and many other features that helps ensure a Serviceman's contribution to his Service may never be forgotten.

With possibly the most comprehensive units, battles and graphics databases available, TWS's advanced search capabilities are second to none making TWS a highly effective military locator. "
Their newsletter is also informative:
"A monthly online publication of Army.TogetherWeServed.com, a commercial entity in no way affiliated, authorized or endorsed by the US Government, Department of Defense, Department of the Navy, or any of its agencies.

Opinions and views expressed herein are not necessarily those of Army.TogetherWeServed.com, the U.S. Government, Department of the Navy or the Department of Defense.

This ATWS Newsletter is published and distributed for informational purposes only and should not be considered official Army or DOD policy, regulation or doctrine. Contact your command's administration section concerning all current Army policy, regulation and doctrine issues.

All photos used in this online publication are official US Department of Defense imagery and cleared for public release, unless otherwise indicated.

Please send any comments, quality improvement suggestions or story ideas to: admin@army.togetherweserved.com.

Maj W.T. Prater (USMC/Ret)
Administrator/Editor"
Finally, Charles Finch also sent this link to some interesting Vietnam War Resources:
A HUNDRED FEET OVER HELL:
I received the following email from the marketing manager for MBI Publishing, regarding the upcoming publication of a book by Jim Hooper:
"I wanted to let you know about a forthcoming book about the Catkillers from author James Hooper, A Hundred Feet Over Hell: Flying With the Men of the 220th Recon Airplane Company Over I Corps and the DMZ, 1968-1969.

I would love to send a review copy A Hundred Feet Over Hell, once it becomes available in April 2009 for your review on the Catkillers' web site."
When I receive the book, I will read it and pass along my careful review to the publisher and this newsletter. Congratulations, Jim, for your hard work that will now be published.
Here is a link to the specific Zenith Press marketing sheet product details for the book:
Don Ricks
COMBAT ACTION RIBBON:
Jack Bentley, Catkiller 16, sent in an interesting report on his efforts to secure a service ribbon for his father. Perhaps there are others who might benefit from Jack's discovery and work:
A couple of years ago I was reading an article about the Marines and became aware of the Combat Action Ribbon. I did a little research and found that President Clinton had made it retroactive to December 7th of 1941. My Dad was a Marine in the Pacific during WWII and had seen action on Bouganville, Guam (where he was wounded), and Iwo Jima.

I did a few interviews with my Dad and determined to my satisfaction that he was eligible for the award, so I wrote the narrative and sent it through the appropriate Navy channels. On June 14th (the day before Fathers Day), the good ole Secretary of the Navy came through with the award being delivered to my Dads home in Green Valley, Arizona. You would have thought that the Old Marine had been awarded the Silver Star! He was humbled and proud to receive the award. I make mention of it in case someone out there is in the same situation. It was certainly worth my time, and I'd be happy to help anyone do the same.

Jack Bentley
NAVAL AVIATION MUSEUM, PENSACOLA NAS:
During the last six months I have visited the Naval Aviation Museum twice, and both visits were interesting and informative. Some of the best assets are the retired military members who volunteer at that facility. Most are naval service connected, and their knowledge, interest, and enthusiasm present for visitors a remarkable level of volunteer service. Here is a link to the facilitries web site, and following is a photo of a Bird Dog hanging beautifully in the center of the main building:
Naval Aviation Museum, Pensacola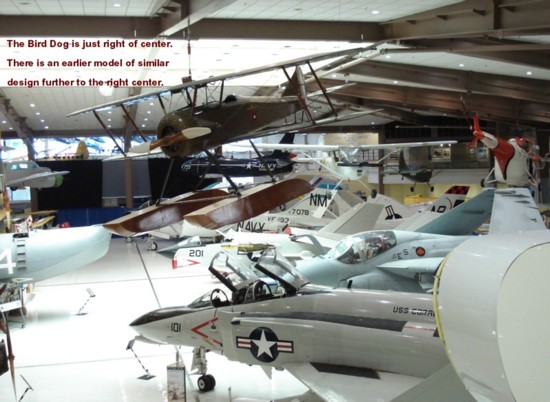 Read the article about this Bird Dog at the following link:
Bird Dog write-up
The bases' A. C. Read Golf Course restaurant offers the best made-to-order breakfast you will find on the Gulf Coast, and you can have it for just a few bucks! The breakfast buffet had delicious creamed beef on toast!!! Those navy guys always ate so well!




There is a nice Naval Inn just a block from the facility and a seafood restaurant beside the inn, both right on the beach!

Another coastal facility, which just came on board as a new resort , exists in the Virginia Beach area. Retirees will enjoy this facility which is near some good seafood areas.



CATKILLER LEE HARRISON'S STATUS CHANGE ANNIVERSARY:
This note reminds us that as long as we live in the hearts of others we also live through them:
"Catkiller Brothers:

Tomorrow is why I sent this. January 14, 1980 is the day the Army changed Lee's status from "missing in action" to dead.

Grayson sent me this from the Army Times. I did a quick scan and made this attachment.

Seems like yesterday that Gaper was putting someone through Catkiller Puff at the club.

We who knew him will never forget him or his service.

Charles Finch
Catkiller 19"