Las Vegas, Nevada,
October 19-21, 2003
The 2003 Catkiller Reunion Report:
Scott Cummings posted this simple statement at his Catkiller web site: "The reunion was a great success!!!; pictures coming soon." That true and correct statement conveys the sentiments and impression of all who attended the reunion. It was a success, and everyone had a great time!
Available photos will appear at the web sites, soon. Those used in this report are perhaps not the very best available, but time and busy schedules will soon allow individuals who took photographs to reveal the hundreds of excellent photographs that will forever record this unique event. When they come to our attention, we will post them at the web site.
---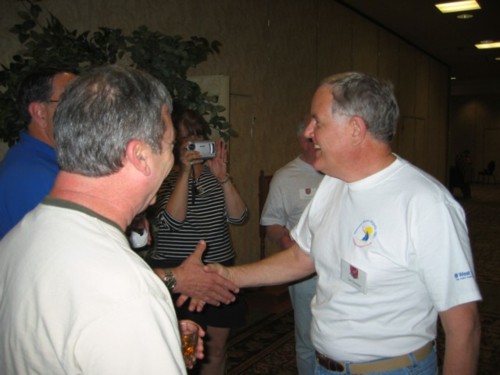 Reunion staff members opened the hospitality suite at mid-afternoon on October 18, and attendees began to congregate there with big smiles, handshakes, and even a few hugs until late at night. The look on Carl Drechsel's face, as he shakes hands with Scott Cummings, provides a sample of the typical elation we all felt.
---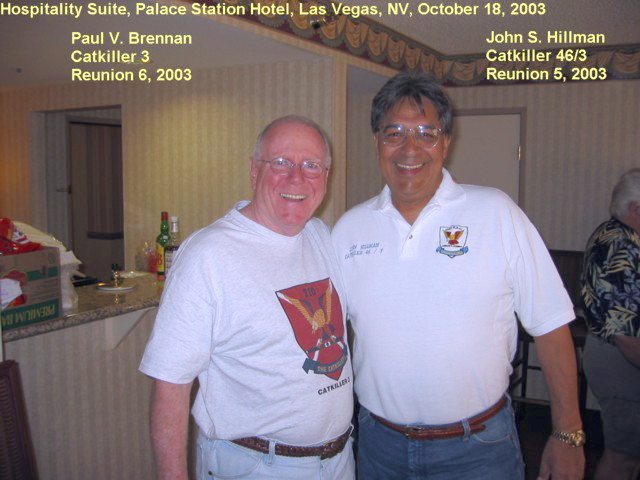 When the hospitality suites opened at ten o'clock the next morning, this scene was repeated, until almost all the attendees had passed through the room. Check-in was a pleasure, and seeing that special face of a friend from long ago was priceless. Staff members continued to fine tune arrangements and to solve last minutes situations that insured for a smooth operation throughout the reunion. Jerry Bonning went to church, John Hillman took care of a banner mix-up, Paul Brennan worked on final plans for our banquet room, Jerry DiGrezio had the awesome task of setting up banquet placecards and nametags, Charlie Finch did a dozen things, and on it went all day. Raffle tickets went on sale that afternoon, and there were Catkillers and their assistants all over the hotel taking care of last minutes details. Didn't the reunion staff do a great job! Didn't you just feel like lifting them up on a high platform and toasting the heck outta them? You know who they are, so look for their smiles in these photos. They served well and worked hard for a memorable reunion. Thanks for the memories.Here is a photo of two of those smiles on Reunion Six and Five.
---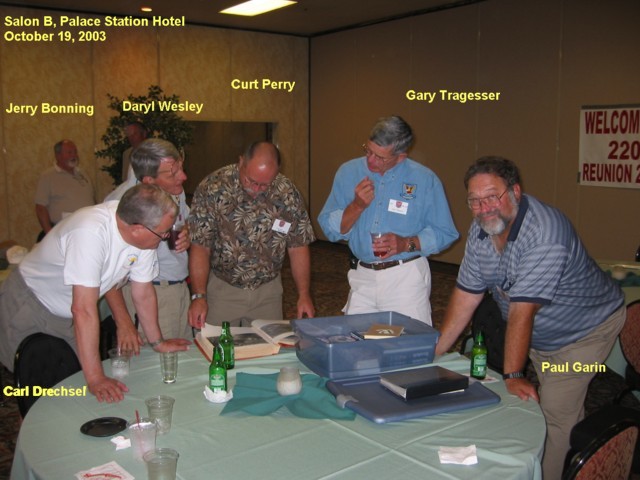 Later on Sunday, Paul Brennan moved the gathering up to Salon B, the same room in which the banquet would be held on Monday. This allowed for more interaction between attendees, and this is where most of the photographs were taken. It was in this room that most received their name tags, check and rechecked the dinner list, gathered for group photographs, and made plans for the evening. There were photo albums scattered about at various tables, computer disks filled with old photos and brought to the occasion, and rosters of Catkillers and Sundowners to be updated. A typical small group gathering was caught in this photo (Paul Garin brought a CD of super photos!):
---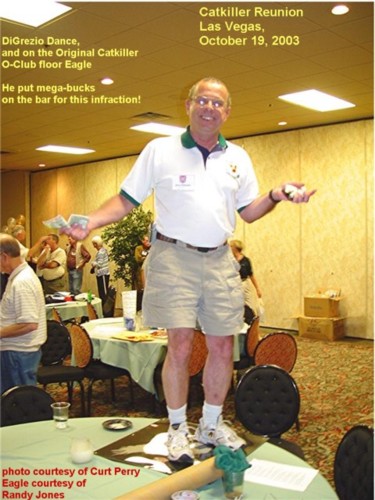 As the crowd grew, things got off to a good start when the Sundowners, instigated by Joe "Beans" Brett, placed a large sum of money on the bar and challenged the Catkillers to top their initiative. There was an unheard-by-none-but-Catkillers bell sounded throughout the large room, Catkillers hovered about an inch above the carpet, broadly smiling, and communicating telepathically came up with a brilliant plan. Being good hosts, and not wanting to embarrass the few Sundowners present, it was agreed that a more roundabout method of meeting the challenge would unfold. Jerry DiGrezio was quick to step up onto a table and did an ugly (very ugly) impromptu dance on the original Catkiller Eagle, this item last seen (in 1971) in the center of the O-Club floor. Randy Jones, owner of the Eagle, probably cringed at this flagrant violation of Catkiller protocol, but thereafter the bartender had her hands full for several hours. All in good fun, the challenge was met in Catkiller style:
---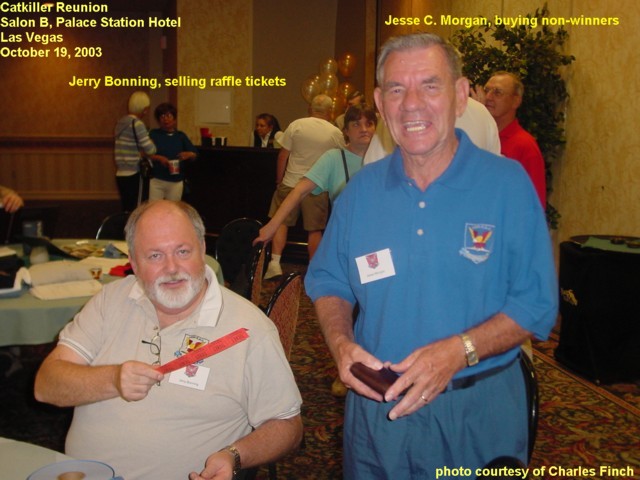 Monday morning our heads were bad, but that didn't stop fun-loving Catkillers from seeking the latest news about others, making plans for the day, playing golf, or making a safe and scenic motorcycle run out to the Valley of Fire state park. One thing is certain: everyone knew there were Catkillers and Friends of Catkillers residing at the Palace Station Hotel. Catkiller shirts and hats of all kinds were seen throughout the hotel, our members being very visible due to this particular and widespread show of Catkiller pride. Just look at the photographs taken Monday at Salon B, well before the banquet. Raffle tickets went on sale that afternoon, and there were many takers:
---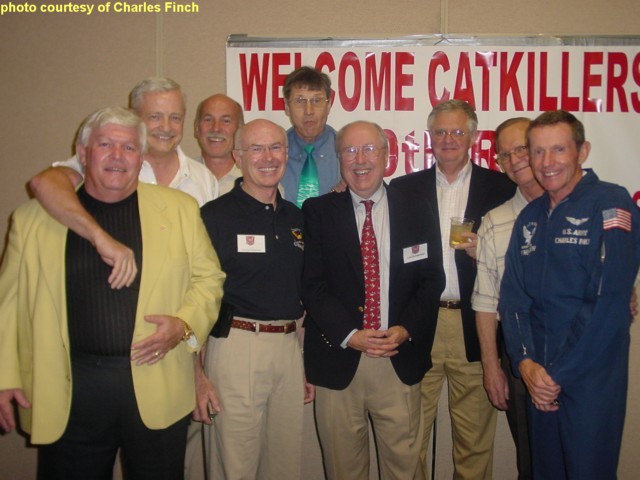 Photos from that afternoon commonly display smiles and upbeat hearts as old friends met , some for the first time in decades:
---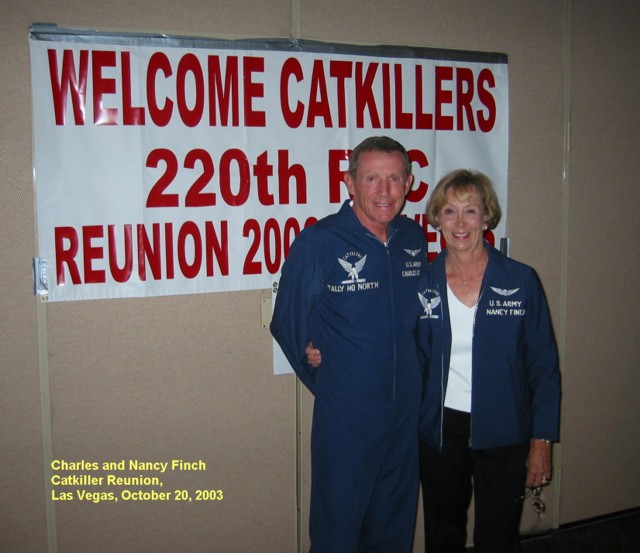 Banquet activities began at the reception table outside Salon B, at the Palace Station Hotel. Attendees cheerfully wrote out checks for the banquet dinner, raffle tickets, and overhead assessments. Dinner tags and name tags were handed to each attendee, and everyone soon found their table choice for the dinner and activities that were to follow. Our competent and articulate master of ceremonies (MOC) was the enviable Charles Finch, who looked dashing in his jump suit, appropriately dressed for the finest Cat House party! So dashing and handsome was he that we are obligated to share this treasure for the benefit of all you gapers (Nancy looked good, too):
---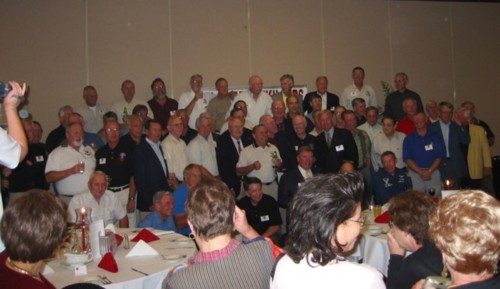 From six until seven o'clock that evening there was a wonderful comforting sound of many conversations throughout the room. Photographs, handshakes, hugs, and backslapping laughter were on progress at every table. Fellowship flowed like fine wine, and old friends linked arm in arm stood against the "welcome wall" to record the special event. There was a call for all Catkillers to gather against the wall for a group photograph, and camera flashes lit up the room. The actual count was not recorded, but the photographs will tell who was there:
---
Sooner than anyone expected, the hotel staff began delivering food items, so everyone settled down at their table. Don Ricks gave the invocation, and the food was good. During the dinner, conversation centered around those at their table, until Charlie Finch introduced Paul Brennan who spoke and introduced the reunion staff members. All received a big round of applause as they were introduced: Paul Brennan, who lead the staff and kept the mission focused; John S. Hillman, who served as executive cat and who often interjected wise and truly useful counsel; Jerry Bonning, who had a very big hand in arrangements at the hotel (as well as the R.A.C Wear guy); Jerry DiGrezio, who handled operations; Bob McComiskie, who keeps the list of known Catkillers and Friends; Don Ricks, the newsletter editor; Joe Brett, who helped arrange golf t-times and offered additional advice and assistance throughout the last eight or nine months; and Charlie Finch, who came in as a strong hand to help with many last minute arrangements, including the dinner menu. There were others who served behind the scene, provided counsel and advice and support, who wish to remain anonymous. The staff did an excellent job and were honored with a standing ovation. Well done, and we thank you for your sacrifice and keen focus on the objective that produced an excellent climate for the event.
---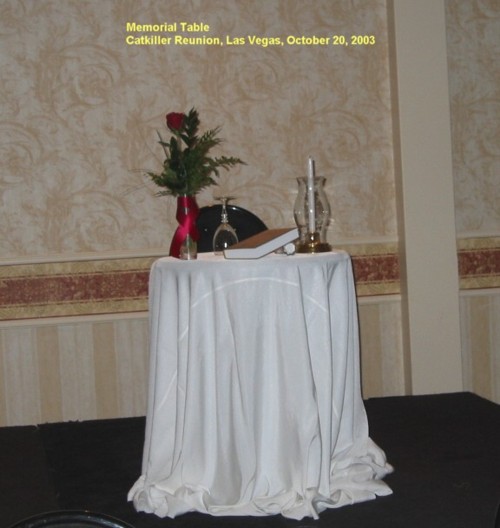 Charles Finch introduced John S. Hillman, Reunion 5, who was eloquent in his speech and tribute to those Catkillers and brave backseaters who are missing in action, killed in action, or are deceased after the war. A very emotional time for everyone, indeed, and not a dry eye in the room as John presented a spotlighted table, below, and spoke of its ceremonial meaning. No words could express the heartfelt emotional outpouring in private thoughts and respect as we honored those who are missing from among us; you just had to be there:
---
The MOC asked Scott Cummings to talk about his web site, and all who listened realized what an impact Scott's initiative has had on the gathering of so many Catkillers and Friends into this event. Scott received a well-deserved standing ovation from the audience for his long-appreciated efforts. His web site continues to serve as a beacon to other lost Catkillers and friends. Thanks, again, for all your hard work, Scott.
Don Ricks was asked to speak about his web site and the CATCOM newsletter, and he encouraged those attending to participate in the writing of this after-reunion letter by submitting a summary of their activities, impressions, or suggestions. Though not specifically stated at the reunion, the newsletter has been useful as a means to provide up-to-date communication about people and the reunion, two of the focus and mission points of the newsletter. Continued use of the newsletter as a communications tool will depend on the interest and desires of all Catkillers and Friends, and the frequency of the newsletters will depend upon the amount of news articles submitted and pertinent for all who might read the newsletter. Your ideas are part of the decision-making regarding the frequency of the newsletter. Photos from the reunion will be posted when time permits.
Joe Brett, a Sundowner extraordinaire, was asked to speak, and he gave an inspiring account of why the Sundowners are so closely aligned with the Catkillers. Mutual respect and admiration easily find common ground. For instance, Joe Krebs sent this e-mail shortly after returning home:
Travel to Vegas - Bucks
Lodging in Vegas - More Bucks
Gambling in Vegas - Too Many Bucks
Spending time in the company of real heroes - Priceless

Thanks for inviting us.
Joe Krebs
Sundowner Kilo
---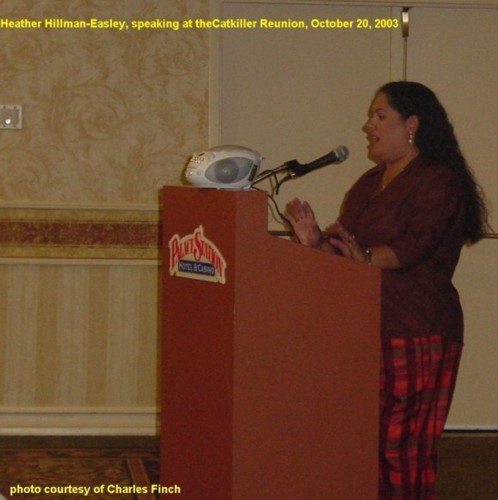 Heather Hillman-Easley talked about her photo CD project and how obtain a CD:
---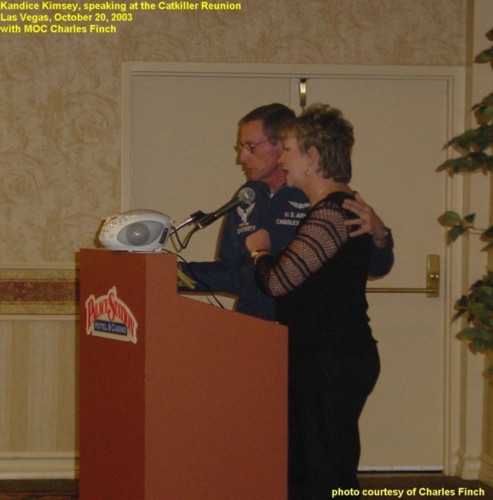 Kandice Kimsey stood and spoke about her recent experience with her Catkiller friends and to thank them for the emotional support and friendship many had provided during the last year. She seemed to have had a grand time visiting and interacting with all present, and we were honored to have her and [Redacted] as guests that evening:
---
Donald Pepe gave a surprise slide presentation that, with remarkable accuracy, captured the essence of our mission and tour of duty in Vietnam. It was at times both funny and sobering, especially those photographs depicting combat action results. It was a dangerous mission, there were days and weeks of youthful fun and the sheer joy of flying that little Bird Dog (above and below the clouds), but there was always the threat of that unseen enemy changing the course of a day's activities by interjecting a lethal weapon of war. Your photos and music were well-joined in concert to present all these points, Don, and we appreciate your insight into the true nature of the Catkiller mission and way of life.
---
The guest speaker at the banquet was Charles "Bud" Bruton. Bud presented a very interesting overview of his recent trip to the old Catkiller operational area in northern I Corps, including a trip across Freedom Bridge and into Vietnam, north of the Ben Hai River. The photography was amazing, and the story, his perceptions, and accounts of contacts with the Vietnamese people captured and held the audience's attention. We were all challenged to return to that area of Vietnam and to see for ourselves not only see the effects of the war period on the people and their land, but also the community progress made since the war.
---
One interesting comment made by Bud was that the average age of Vietnamese people now living in the area places them as yet not born or very, very young during the war. Thus, there was no sense of anger or hatred toward the visiting Americans, and the host people were eager to show the Americans around and interact with them. Bud and his wife, Jacque, plan to revisit Vietnam this June or July to show her the country. Gaining this travel experience would certainly benefit anyone planning a return visit. Bud invites you to contact him, if you are interested in such a trip. A recent e-mail from Bud contained the following invitation to all Catkillers: "I would love to organize a trip in mid 2005 for CATKILLERS to go back to Phu Bai." The "Vietnam Now" story was very interesting and informative, Bud, and we thank you for the excellent, professional presentation and the time and energy required to put the material together.
---
Jerry Bonning and [Photo redacted by request] did the honors and handed our sixteen raffle prizes. Eight raffle prizes were drawn on blue tickets, and eight were drawn on the blue tickets. See photos of other winners at the reunion photo pages. The winner of the sought-after Catkiller Clock, by Leon Skeen, was a very lucky Joe Hodges.
---
The official portion of the program ended, but there was no move to the exit doors, perhaps to the restroom, but those in attendance stayed there and at various locations well into the night. As Scott stated, "The reunion was a great success!!! Several who attended the reunion have e-mailed their feelings and thoughts on the reunion, and one sent by Curt Perry is typical:
"Gentlemen, Thank you so much for your work, effort, blood, sweat and tears. You made the reunion much more than I ever expected. I was a little hesitant about going all the way out to Vegas, but I'm so glad I made the trip! I enjoyed listening to the old stories, even the various versions of the same story. I was at a time in my life, getting close to retirement, wondering about what I had done, forgetting just who I was. Those days in Vegas just brought everything back, seeing the guys of my era and those I only read about was as rejuvenating as anything could be. No one had really changed much in all those years, It was as if we all had gotten off the plane from Vietnam and landed in Vegas to meet up one more time. I guess more than anything, who I am is, "I am a Catkiller!!!!"
Nothing more has to be said.
Thank-you so much, Curt Perry Double-Douche [Catkiller 22]"
---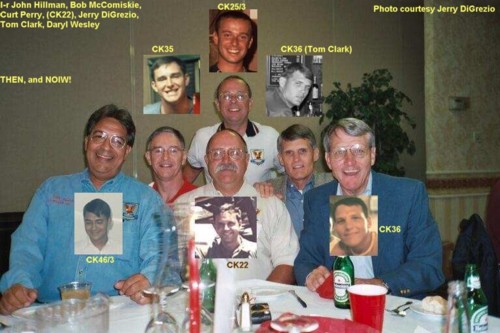 Finally, as many of you have noticed, the majority did not hold onto the youthful, don't-get-in-my-way bravado seen in those long ago photos. Here is a testimony of that point, but, all-in-all, some held together fairly well; some better than others. In the words of that great old song, "Everybody's beautiful, in their own way."
In closing, we, the staff, thank you for this opportunity to serve. The results were outstanding because of an outstanding group of men who daily lived and experienced in Vietnam the camaraderie displayed in Las Vegas. A keen look at the group photographs taken during the event reveals the mutual respect and feelings of admiration and equality that exists between those in the photos. It is a testimony of the regard each feels towards the other. It was an uplifting experience to meet once again. God bless you, each and every one.